Taking a look back at all the way's Airtable changed this year.
Happy December! We figured this month would be a great time for some reflection. So we're taking a moment to look back on everything we released—from new views to new ways to sync your data and more.

Here are all the ways the Airtable platform has improved this year.
Rather watch your content? Don't worry, we made a video just for you.
---
Join us on Thursday at 1 PM EST/10 AM PST for a very special year-in-review featuring Airtable co-founder Andrew Ofstad.
---
A new way to build applications
In 2021, we introduced a brand new way to create complete, interactive applications in Airtable.

Interface Designer is a feature available in open beta that lets teams build visual—and interactive—interfaces using the data already in their bases. By creating custom interfaces for your teammates, you can display the information that's critical to them and avoid distracting details.Read about it here
A few new views

Views are absolutely essential for many people that rely on Airtable for their day-to-day work. They connect all your data in myriad ways. And we strengthened that spine this year with Gantt view and Timeline view.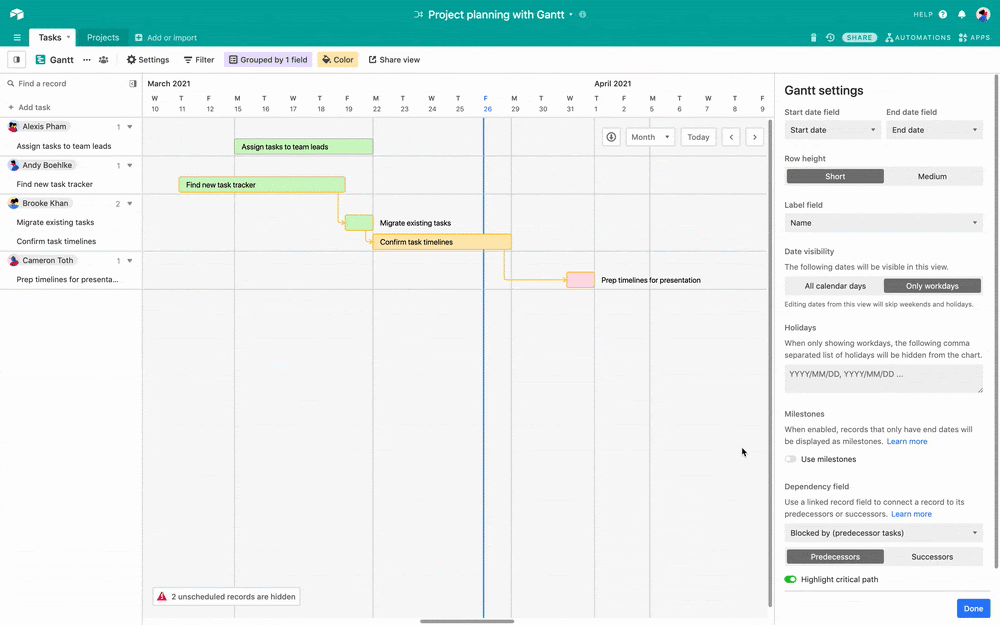 Our first new view was Gantt. Gantt view is a wonderful way to quickly track a project's deliverables by start and end dates—along with their dependencies. It's especially helpful for complex, multi-step projects.
Timeline view
We didn't stop with Gantt view though. We also released Timeline view, a highly flexible way for teams to visualize information over, well, time.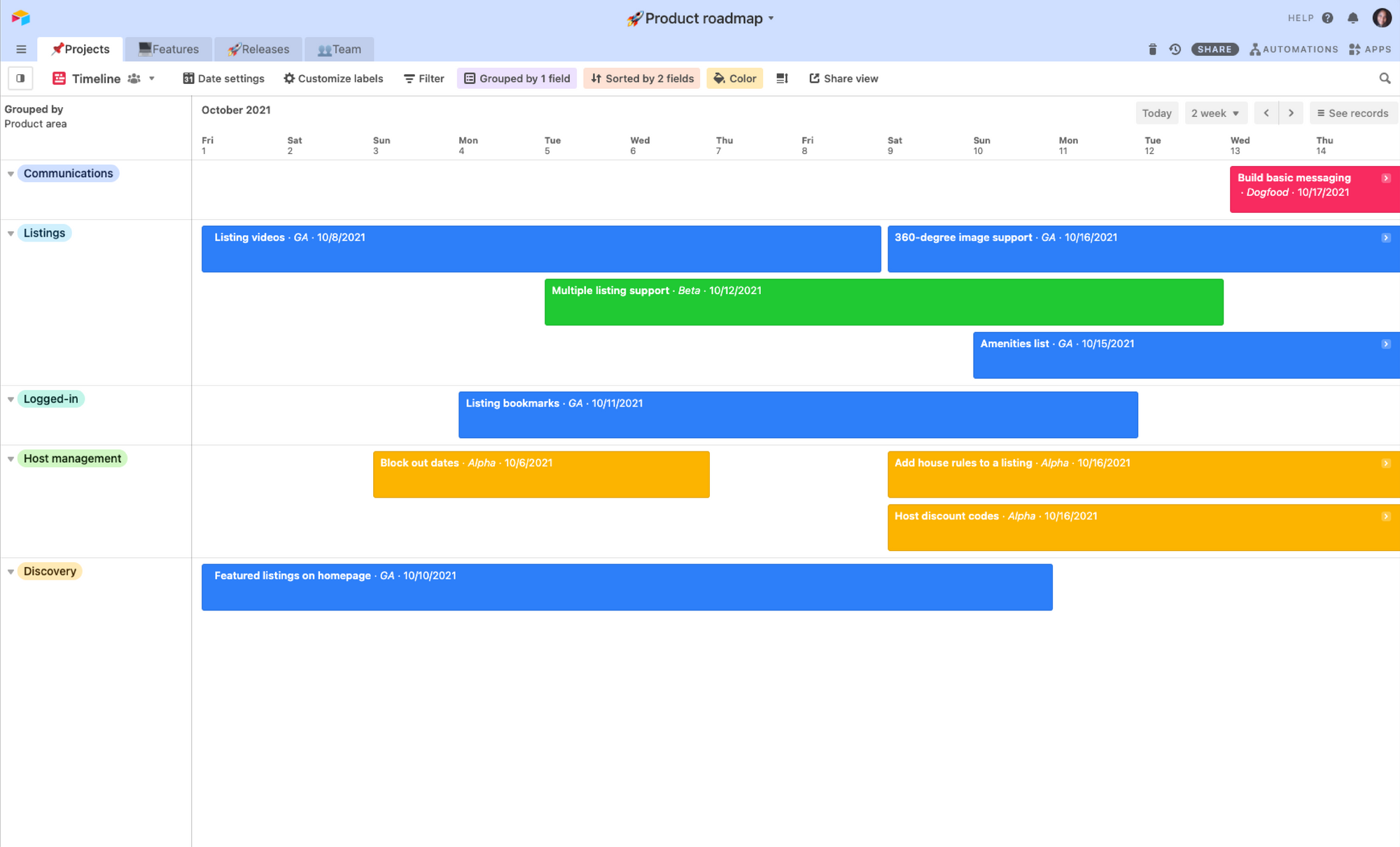 This view groups records by fields and displays them neatly on a horizontal timeline, so your team can see what's coming in the next day, week, or month. With Timeline view, you can check each team members' weekly workload, schedule your content to run on certain days, color-code your data based on importance, and much, much more.
Even easier view management
We've also taken strides to make views more useful and user-friendly with a few enhancements to how you find them. This is especially helpful for those users who use a ton of views.

That starts with favoriting views. Have a view you absolutely love? Tap the star to the left of its name and it'll be added to "My favorites."  

Next, collaborators can organize each of their views into collapsible sections when they open the view sidebar. Think of view sections as folders—they're handy ways to categorize a lot of views under one name or theme.

Got a lot of views in a lot of view sections? Good news: you can now expand or collapse all of the sections at once. Simply right-click on any view section and choose "expand all" or "collapse all" for a clean sweep.
Mobile muscle
We know our users rely on their phones and tablets for keeping their work up-to-date when they're away from their computers. That's why in 2021, we committed to making Airtable even better on mobile.

That started with new mobile views, like Kanban, Gallery, Grid—allowing users to see their data how they wanted to see them. We released a brand new calendar for Android and iOS. And we added new mobile features like @mentioning others in comments, record coloring, advanced filters, and making it even easier for users to find the base they were looking for with a recently opened tab on mobile.
And finally, we've released a new, faster way to update your data on the go. From editing notes to checking off completed tasks, you are now just a tap or two away from moving your work forward.
External source sync
With external source sync, you can continuously pull in data from outside platforms, integrating it directly into your Airtable workflow. This ensures your team is working in an Airtable base that's always up to date and serves as a centralized place to see progress on all parts of a project.
We've added sync integrations with Salesforce, Jira Server and Jira Data Center, Zendesk, Github Issues, Google Calendar, Google Drive, and Box.
Learn more about external source sync
Automations abound
Automations got work done this year. From Automated email digests to integrating with best-in-class services like Google Workspace, Outlook, and Hootsuite.
We refreshed the automation interface, making it cleaner and easier to use. We added a new automation trigger, letting you start your automation at a scheduled time. We created Email previews in automations.

Finally, we added the ability to use formulas and lookups in automations.
New features for admins & power users
As more teams across their organizations use Airtable, admins need new and improved tools to manage users—and usage—at scale. And Airtable is ready for even the largest enterprise organizations.
In 2021, we announced new functionality to help manage Airtable at scale, including:

A streamlined new Admin Panel experience
New ability to create and leverage User Groups
New security controls and improved monitoring tools
Improved performance and base management settings
Learn more about our updates for admin and power users
And more to come
And that's not all; we also unveiled updates to our help center to make it more useable, new advanced filters to help you find the information you're looking for, faster, bulk editing field permissions, and so much more.

From new views to quality of life updates, we believe these features are going to help teams work in all-new ways, to reach all-new outcomes. We thank you for all the enthusiasm, constructive feedback, and the never-ending supply of ideas.
If you think 2021 was packed, just wait until you see what we're cooking up for 2022.