A flexible, fresh way to visualize and track your resources, events, projects, and more over time.
Update: Timeline view has been enhanced with new features to make managing your resources a cinch. Learn more here.
Every team across every department and discipline is motivated by the same thing: time.
Content teams, for instance, schedule dates and times to publish content. Product teams handle multiple tasks each day to inch closer to product launch. But not every team has a visual way to understand how their time commitments line up. When every team member is juggling various initiatives and schedules, tracking a project can get hectic fast.
Introducing Timeline view, a highly flexible way for teams to visualize information over—you guessed it—time.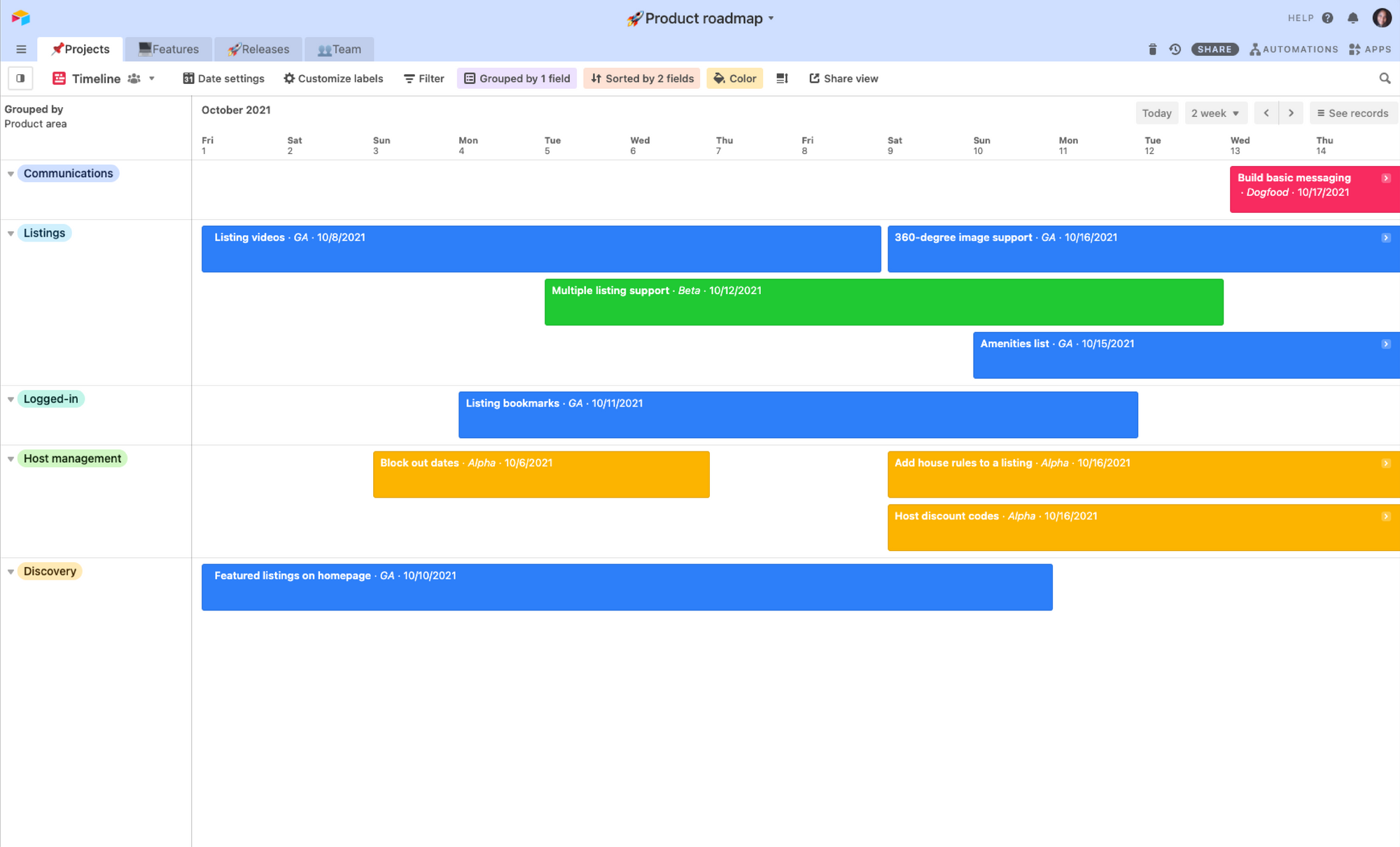 Our newest view groups records by fields and displays them neatly on a horizontal timeline, so your team can see what's coming in the next day, week, or month. With Timeline view, you can check each team members' weekly workload, schedule your content to run on certain days, color-code your data based on importance, and much, much more.
Some key features accompanying Timeline view include:
Groupings: Similar to Grid view, Timeline view allows for multiple levels of grouping, with each level being collapsible so you only need to see the most relevant information.
Swimlanes: Records that are grouped together are displayed in a horizontally-scrolling timeline we call a "swimlane." Several records can sit side-by-side in the same swimlane; if they overlap, they stack on top of each other so nothing gets lost.
The ol' drag-and-drop: Easily change deadlines and reassign tasks using the drag-and-drop shortcut. When you shift a record in Timeline view, that record will update throughout your table in real time.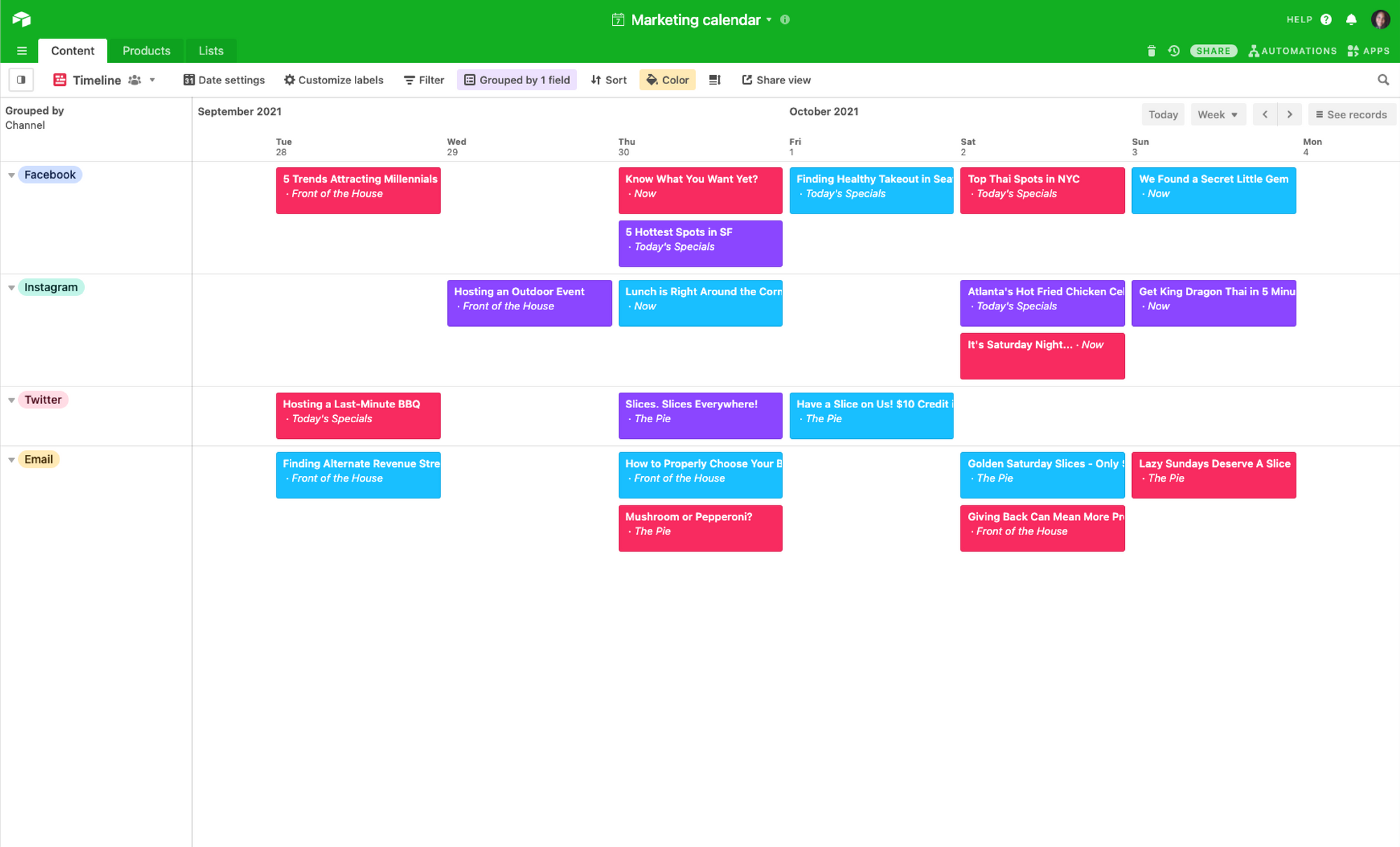 Who will benefit from Timeline view?
Timeline view is particularly useful for teams who need to visualize project phases or assign deadline-oriented tasks, like content teams, operations teams, and production teams.
Timeline view is perfect for:
Marketing calendars: Marketing teams can plan their content calendars by scheduling individual pieces of content to run on specific days, in specific channels. Teams can choose between Calendar and Timeline views depending on their unique needs and how they want to see their projects laid out.
Product roadmaps: Track goal progress and coordinate tasks across teams in a more visual, laid-out roadmap.
Managing resources: Group your records by assignee, so you can view each team member's workload over time, making it easy for managers to see who's busy and who's free to tackle additional tasks at any given moment.
> Learn more about the best product roadmap software
How is Timeline view different from Gantt view?
Timeline view might sound familiar to Airtable users with Gantt view experience, but the two are actually pretty different.
Gantt takes a more targeted approach to project tracking and is designed to map dependencies between tasks. A team working on a new marketing automation tool, for example, can benefit from Gantt because it allows users to see every single step in the process and note any risks. Meanwhile, Timeline view allows teams to visualize any set of records over time while grouping them by field. This is a helpful option for content teams that need to schedule articles in different channels over the course of a week.
And in Timeline view, each swimlane corresponds to a group of records—several records can coexist in the same swimlane, while Gantt view corresponds to a single record. Airtable gives users both views to meet unique needs and use cases.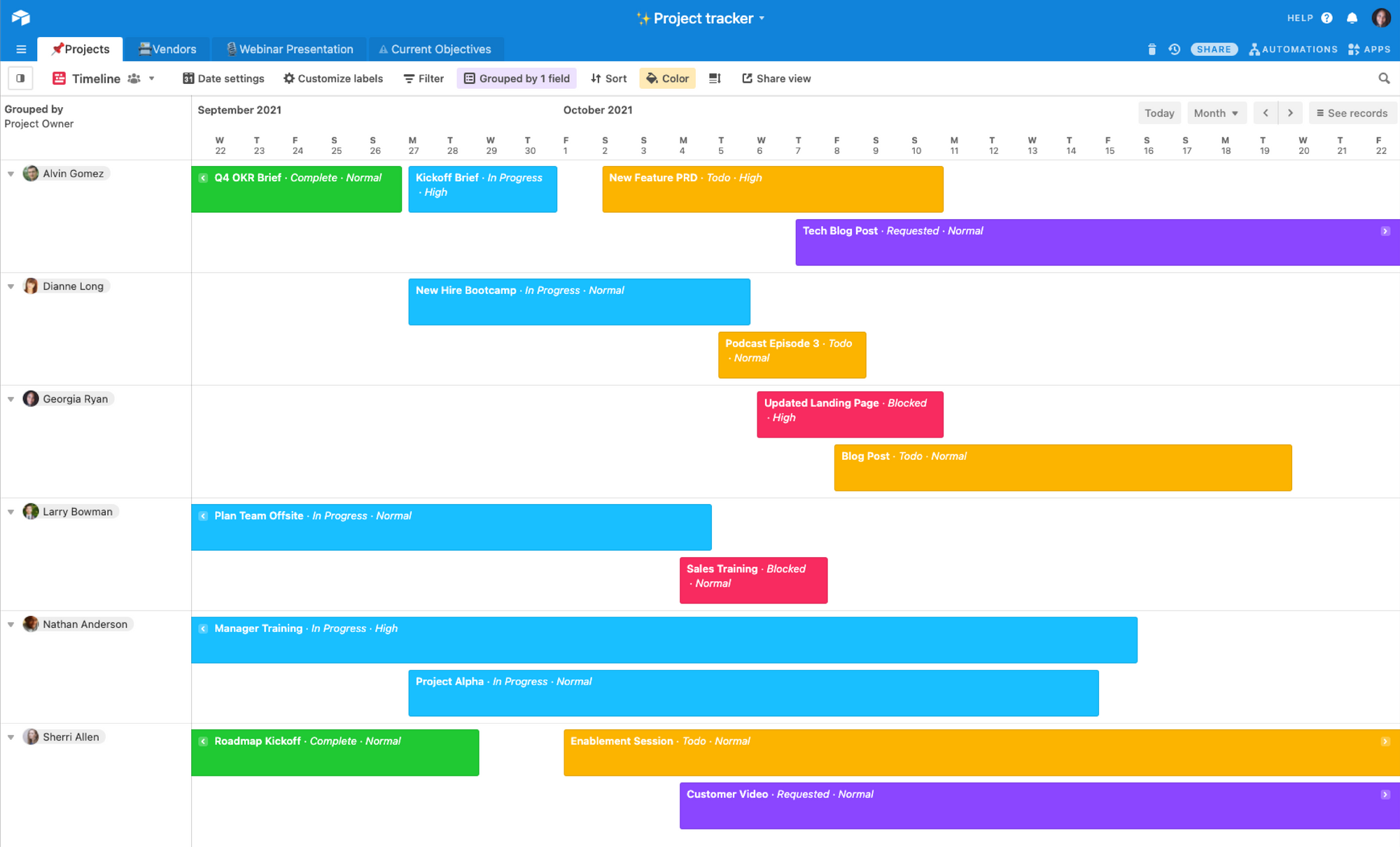 Start mapping your workflows today
Airtable Pro and Enterprise customers can get their work rolling with Timeline view today. To add a Timeline view, head to the top left corner of your base and click the "Views" button, then select "Timeline" from the list of view types. Choose your date fields, select the records you want to group, and watch your data stream into one simple, organized timeline.
Check out our support article for more information, and start using Timeline view in your base here. Not an Airtable user yet? Learn more about our pricing plans and select the one that best fits your team's needs.