Calling all admins! We've made updates to help you manage users and ensure security as you grow.
The world's largest and most successful organizations use Airtable to do just about everything, from producing Oscar-winning films to rolling out life-saving vaccines.
These mission-critical use cases are only made possible by administrators. Admins have a lot on their plates, from managing user access to guaranteeing security so teams can build custom applications without any issues. And as more teams across their organizations use Airtable, they need new and improved tools to manage users at scale.
Today, we're announcing new functionality to help manage Airtable at scale, including:
A streamlined new Admin Panel experience
New ability to create and leverage User Groups
New security controls and improved monitoring tools
Improved performance and base management settings
Streamline tasks with a redesigned Admin Panel

First up is a change you'll notice pretty quickly: a complete redesign of the Admin Panel. The Admin Panel is an Enterprise plan feature that lets administrators proactively manage their users, control access and security, and understand how teams are using Airtable.
Because we know efficiency is always top of mind for administrators, we simplified the panel's visual design to streamline administrative tasks, saving you time and precious clicks to filter and search for users, provision/deprovision users, and more.
We also added new functionality so you can: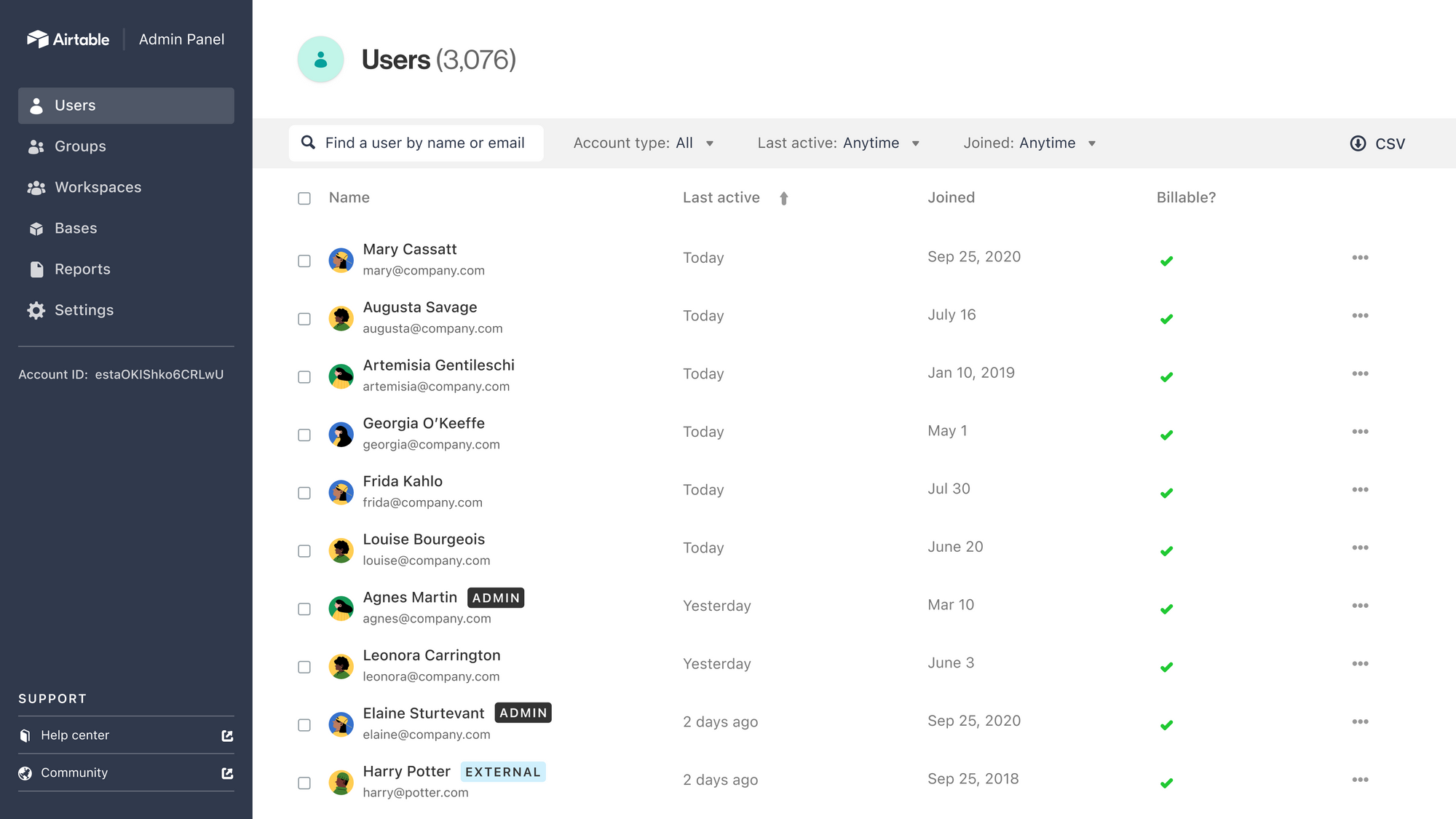 Manage teams with user groups

As organizations scale, individually managing users' access and permissions can be arduous. That's why Airtable is announcing the general availability of user groups for our Enterprise customers. User groups let you create groups of users, reducing the work needed to manage access to workspaces, bases, tables, and fields with teams.

With user groups, creators on Enterprise plans can easily:
Ensure security with audit logs & enhanced sharing restrictions
Security allows orgs to safely conduct business and do what they love. That's why we released audit logs, which help admins monitor activity and identify potential risks. Customers on our Enterprise plan can retrieve audit logs programmatically through an API or manually via the Admin Panel. If you're retrieving logs through the Audit Log API, you can also connect it with a third-party security information and event management (SIEM) tool, and proactively set up alerts.
⚡ Pro tip: For organizations on the Enterprise plan, we also offer an Enterprise API that allows admins to programmatically manage users, bases, and workspaces in addition to the Audit Log API.
We also released workspace sharing restrictions to give you more control over who has access to what data. This feature allows admins and workspace owners to restrict invitation and sharing capabilities on a workspace, to limit who can access more sensitive information.
Scale processes with improved base performance & management

As your list of stakeholders gets longer, your organization's base performance shouldn't falter a bit. As a first step, we've improved loading times for bases with 10,000+ records, which has resulted in much faster base load times for users in large bases.
Take it from Cody Stanaszek, a platform engineer at Hulu who reported experiencing 60% faster base loading times, letting the company "scale even more effectively as we continue building more advanced workflows on Airtable."
This experience has already been piloted with Airtable's largest customers and will be rolling out to all Enterprise customers over the coming months.  
To deliver more meaningful improvements over the upcoming months, we've created a new engineering team dedicated to performance. We'll continue to make improvements to large Airtable bases, including:
Faster loading times
Smoother interactive performance
Increased record limits
We're also excited to announce several new changes to the overall view management experience, which make it easier to manage views at scale in large bases. These features, which will be rolling out in the coming weeks, include:
---
Airtable is committed to supporting you with our new Admin Panel and user groups, security controls and monitoring tools, and improved base management and performance features.
When your org grows, your workflows should, too. We'll keep you informed as we continue to make updates and refreshes.
Interested in an Enterprise plan for your organization? Learn more here.