Synced information gives teams critical insights that they can act on.
Airtable recently rolled out powerful new features that let you sync data from outside sources and streamline even the most complex workflows.  
We've added sync integrations with Jira Server and Jira Data Center, Zendesk, Github Issues, Google Drive, and Box. What this means: teams working on projects with multiple handoffs and interdependencies have better visibility into related projects that will affect their work. An engineer is struggling to debug a program? Syncing Jira data with an Airtable base alerts product managers that they should delay rolling out the program to customers.
Read on to learn more about syncing data from outside sources, and about what's next in Airtable: automations that help you take actions at the right time and under the right conditions.
Syncing data in Airtable
Here's a quick refresher on synchronizing data in Airtable. Syncing data, when it's between two Airtable bases, essentially turns one base into the source of information and another into the destination base. Let's say one team has generated a complete set of contacts for your company inside a base, and you don't want other teams creating separate, confusing or duplicative contact lists. Syncing information automatically (or manually, if you prefer) between bases means everyone has access to the same contact list across teams. No matter which base you're in, you'll have a single source of truth to refer to.
Syncing from outside sources
The same principle applies when you're syncing from outside sources (available to Airtable customers on Pro and Enterprise plans). With external source sync, you can continuously pull in data from outside platforms, integrating it directly into your Airtable workflow. This ensures your team is working in an Airtable base that's always up to date and serves as a centralized place to see progress on all parts of a project.
Google Drive and Box
Now you can sync from Google Drive and Box, which lets anyone working on a project see images and files in one place. For example: Let's say your in-house marketing team writes 10 blog posts each week. In an Airtable base, they're tracking authors, deadlines, notes, and links to drafts. A team of freelance designers creates each blog post's corresponding image, which is dropped into Google Drive.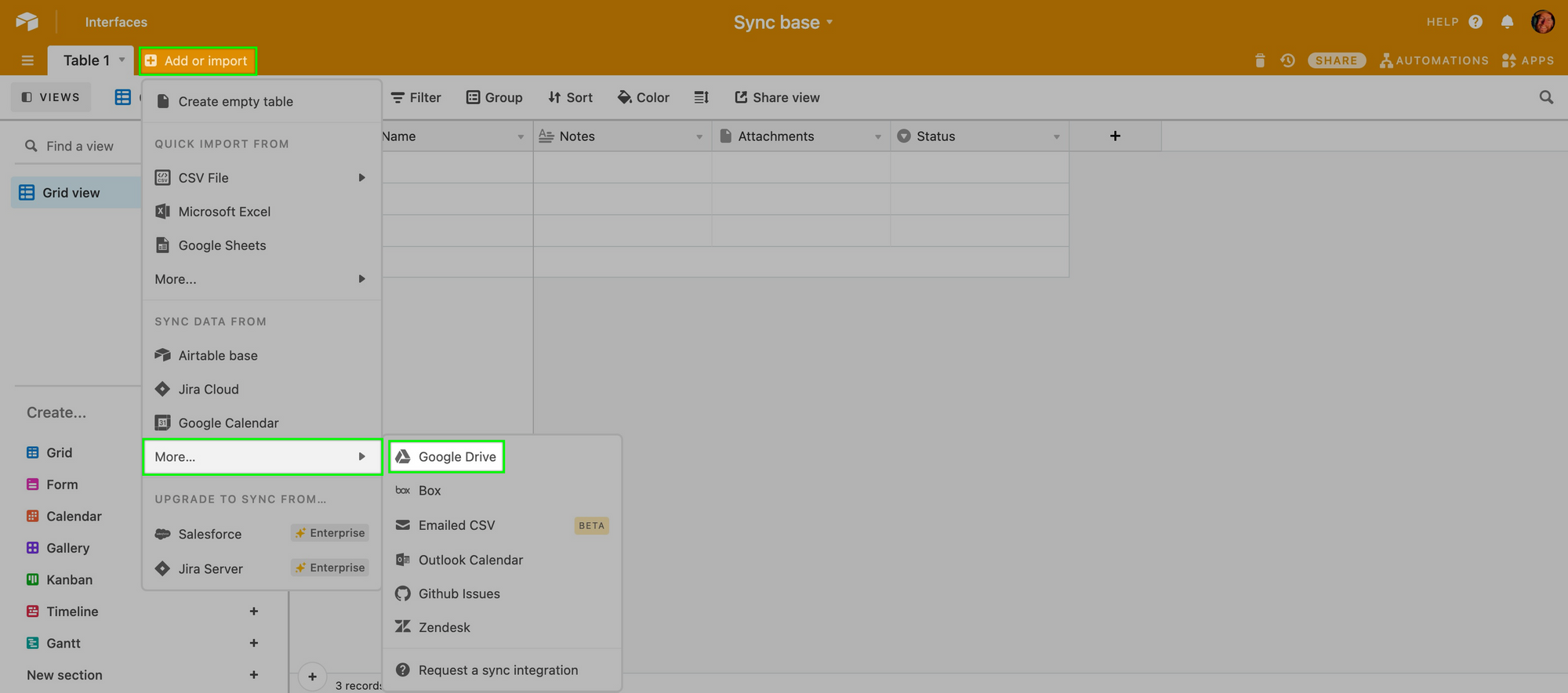 But every week, a marketing manager must track down designers to check the status of images. What's ready? What's in progress? What needs tweaking? Creating an external source sync to Google Drive lets everyone involved in blog creation see the exact status of each image. Automated sync pulls information into an Airtable base every 5 minutes, so marketing managers and authors know right away when an image is ready. No need for a manual status check. The sync works similarly with Box.
Github Issues & Jira
Up-to-the-minute updates are also critical for product teams, who constantly reshuffle staff and resources as they build out products. At the beginning of any product development cycle, team leads working with a product roadmap in Airtable may estimate new features will take days or weeks to create. But as their engineers encounter hurdles, timing and staffing needs change. We designed syncs with Github Issues and Jira so that changes like these can be reflected automatically in Airtable, meaning product leaders can adjust their roadmaps accordingly.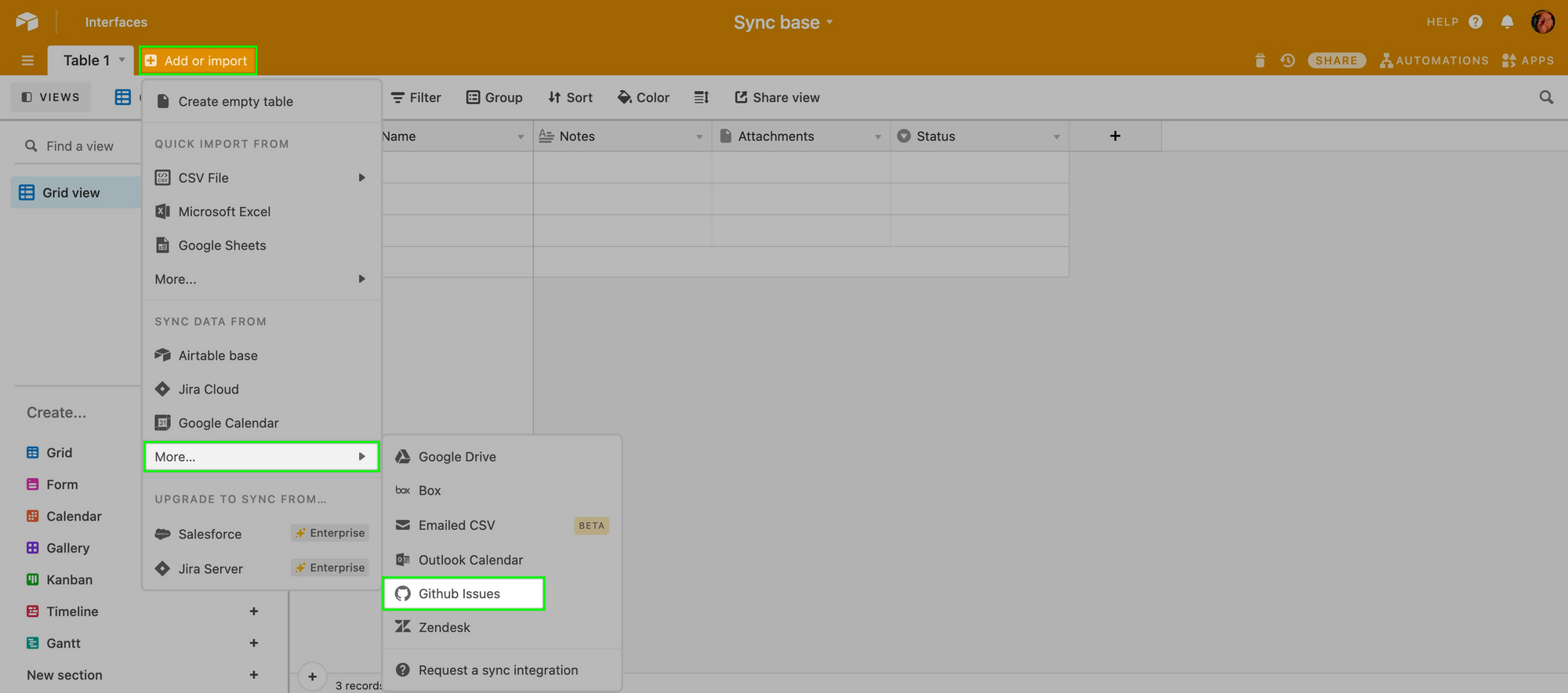 Zendesk
Let's say your product team is tackling a long list of tickets that came in through Zendesk support. Customers provided valuable feedback about what needs improving in the product, but it's unclear which tickets product managers should address first. In Airtable, creating a sync between Zendesk and an Airtable base lets product leads categorize and view tickets that meet certain criteria. For example, a ticket might be attached to a larger account, and therefore more valuable to your business, and worth resolving first.
Strategic automations
Once you've built external syncs, how do you take that flow of information to the next level? In the coming months, Airtable will introduce conditional logic for automations that lets you further streamline workflows. With conditional logic, automations can trigger different actions based on the type of information in the record.
Sign up for Airtable to stay informed about conditional logic and other exciting product releases.