Meet Chris Dancy, one of the world's most connected people.
Long before anyone tracked their steps, Chris Dancy was tracking just about everything.
Perhaps you've heard the phrase "quantified self." In Dancy's case, the concept gets cranked up a notch. NPR described Dancy as "arguably the most quantified self in America."
He used a Lotus 1-2-3 spreadsheet in the '80s to catalog his Michael Jackson memorabilia. As his interest in tracking his activities grew, Dancy wound up using—or wearing—some 700 sensors and devices to monitor everything from his REM sleep to ambient sounds to the optimal number of minutes before he should shower.  
His experimentation with wearables and self-monitoring now spans 15 years, and Dancy is calling himself a "mindful cyborg." As the rest of the world catches up to the idea that tech guides their everyday lives, Dancy, a former healthcare executive, has built a full-time career advising groups on how to live well with technology.
"In 2008, (the monitoring made me) the odd man out everywhere—with friends, family everywhere," says Dancy. "By 2015, people said, 'Hey, you're really onto something.' In 2022, people can't race fast enough to be me."
Want to track your goals like Dancy? He does it all in Airtable.
A base for life hacking
Though he once charted goals for himself alone, Dancy has now roped in the whole family. Dancy, his spouse, and their 10-year-old child all use Airtable to map out life goals, which fall into six categories (health, home, work, financial, service, family). They revisit the goals annually and monitor progress on a dashboard that's always visible in the breakfast nook of their Houston home.
In the family Airtable base (dubbed the "DareTable"), Dancy built automations to track every family expense and email sent. He journals daily in a separate base, the CareTable, by submitting a form. (If he's ever without internet access, he types up the journal entry in an Apple note and manually inputs it later).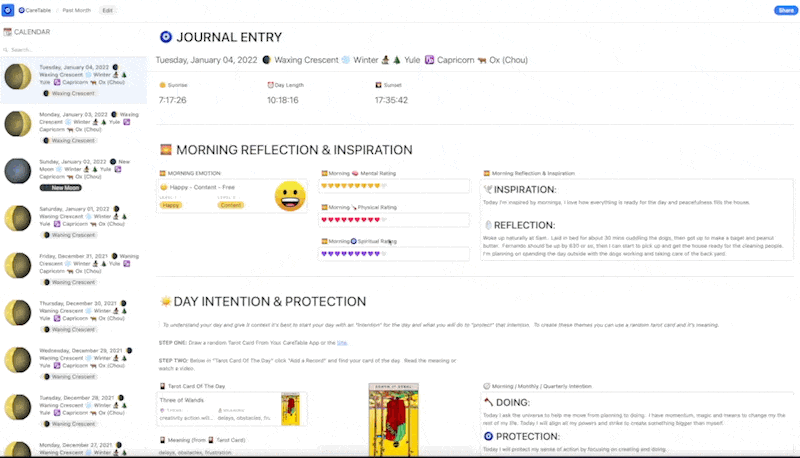 Everyone can see daily and weekly tasks in the DareTable, noting how those track toward larger goals for the year. Tasks include everything from watering the plants to filing receipts to managing the Home Depot credit card.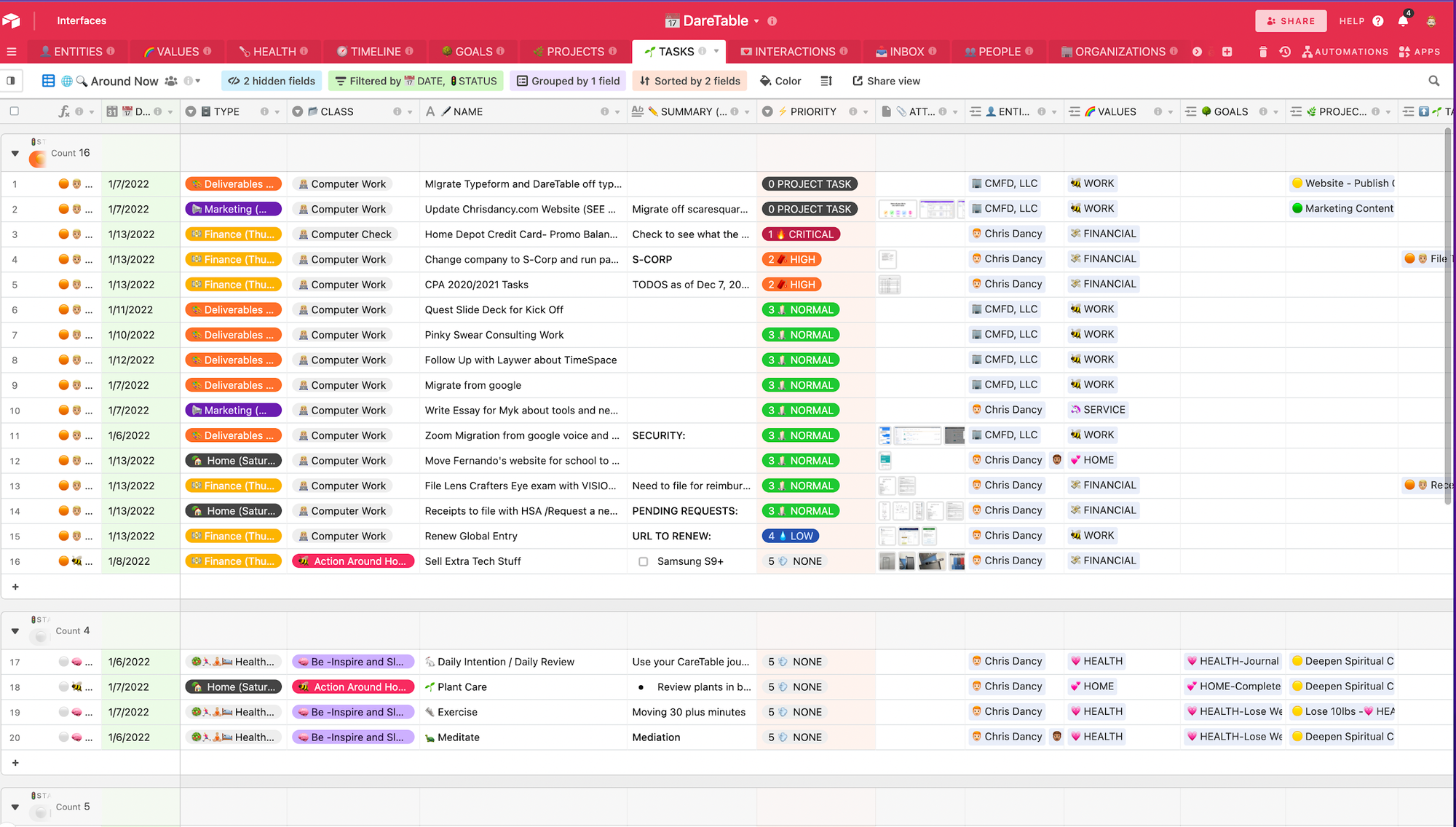 A dashboard view for the week shows them which family member spent the most time working on each area (health, work, finances, etc.) Even family pets—Sunny and Rockette the dogs, Luna the cat—have their own fields, to give the family visibility into upcoming appointments or health events.
A value system for goal-setting
To an outsider, all the monitoring might seem like overkill. But Dancy says using Airtable helps his family clarify what they care about. It's a handy decision-making tool for the things they should (and shouldn't) do.
"When you create an Airtable base—you're forced to say what's important, your strengths and weaknesses, in step one," he says. "At the end of the day, Airtable forces you to externalize your values."
Does a task or action help the family move toward a goal? Then it's worth doing. If it doesn't, it isn't.
Learn how to set SMART goals with Airtable.
Beyond vanity metrics
Dancy wasn't always so goal-oriented. In 2002, he was chain smoking, binge eating, and binge-watching Netflix. He lived for "vanity metrics"—social media likes and followers, for example. "I was an early adopter of the tech that ruined you," he says.
It dawned on him that the tech was right, but his priorities were wrong. The "likes" he got were mostly for photos of bad behavior. He may have had a fan club, but his followers weren't his friends.  
He wanted to continue using his many devices, but in a way that helped him correct his worst habits. Stayed at the bar an hour too long? He built a geo-fenced app that would send him a text message telling him to go home. (At two hours, the bartender got a text, and at three hours, messages went out to all his friends.)
If Dancy had one piece of advice for goal-setters in the new year, it would be to stop listing the negatives: quit smoking, quit drinking, quit coffee, etc. "Stop measuring what you don't want to be, start measuring what you want to be," he says.
Visualize who you want to be at the end of your self-improvement stint, and use technology to help you stay accountable to that goal.
We know it's not about 10,000 steps, it's about where they take you.
Dancy says he's finally arrived at a place where technology is working for him, as opposed to the other way around. He and his family are less concerned about hitting certain metrics and more concerned with using it as a guide. "We know it's not about 10,000 steps, it's about where they take you," he says.  
---
Use Airtable to hit your goals in 2022
If you want to take a page from Dancy and nail your new year's goals, you don't need to create a complex base. Here are a few simple ways to get started.
Get more exercise
See how Jason from our Support team uses Airtable as an exercise guide, or how Jacob Seymour uses it as a gym and fitness tracker.
Find a new place to live
Check out our templates for finding a new apartment or upgrading your current spot.
Track your budget
See 9 ways to use Airtable as a budget tracker, or check out how Hannah Clark uses it to monitor her monthly budgets.  
Practice more self-care
Musician Andrew Ledford uses Airtable to log daily meditations, and Beth Rucker tracks her mental health with it. Athlete and blogger Joel Runyon uses it to tick off items on his bucket list.
Change your diet
Check out Airtable's grocery list template. Or, see how Braydon Phillips turned Airtable into a nutrient tracker, and Natalie Jost made it a meal planner.