Introducing a new way to support all of your most complex workflows: conditional logic.
Teams of all sizes use Airtable Automations to power their bases and subsequently, take control of their work.
And now, there's a way you can automate even the most complex workflows and adapt as your org grows. We're excited to share that starting today, conditional logic is available to Airtable users across all plans. Send the right notification to the right teammate or route social media posts to their respective channels, all based on your records' values.
Conditional logic lets you trigger groups of automation actions only when certain conditions have been met, ensuring your automations are primed to do exactly what you want. Once you've set up conditional logic, Airtable will check the first conditional group you've set—if the conditions for a group have been met, the actions in that group will run.
⚡ Pro tip: You can absolutely have standard actions and conditional actions in the same automation. The standard action will be sent every time the automation is triggered, while conditional actions will only be sent when conditions are met.
So why incorporate conditional logic into your automations?
Share the right info with the right team
Conditional logic lets you take a more targeted approach to automations, which is particularly helpful for, say, bigger teams that are already overwhelmed with notifications. For example, say you're a part of a large company and you want to deliver updates to relevant teams without necessarily notifying, well, everyone.
Rather than setting just one action or going out of your way to create countless separate automations, conditional logic allows you to create branches of actions that run with just one trigger. One example is an automation that sends emails to the appropriate teams when a campaign is in a particular funnel stage.
This automation has been configured so that when a campaign is in the "Conversion" funnel stage, an email will be sent to the involved teams—in this case, the teams are Paid Media, Growth, and the CMO.
When the campaign is in other funnel stages, like "Consideration," emails will be sent to different teams. Now, teams will only be notified about campaign progress when it's relevant to them.
Create more complex workflows
Thanks to conditional logic, you can now automate even your most detailed and nuanced workflows. Let's say there are multiple DRIs you need to notify throughout the product launch process, but each person has their own notification preference.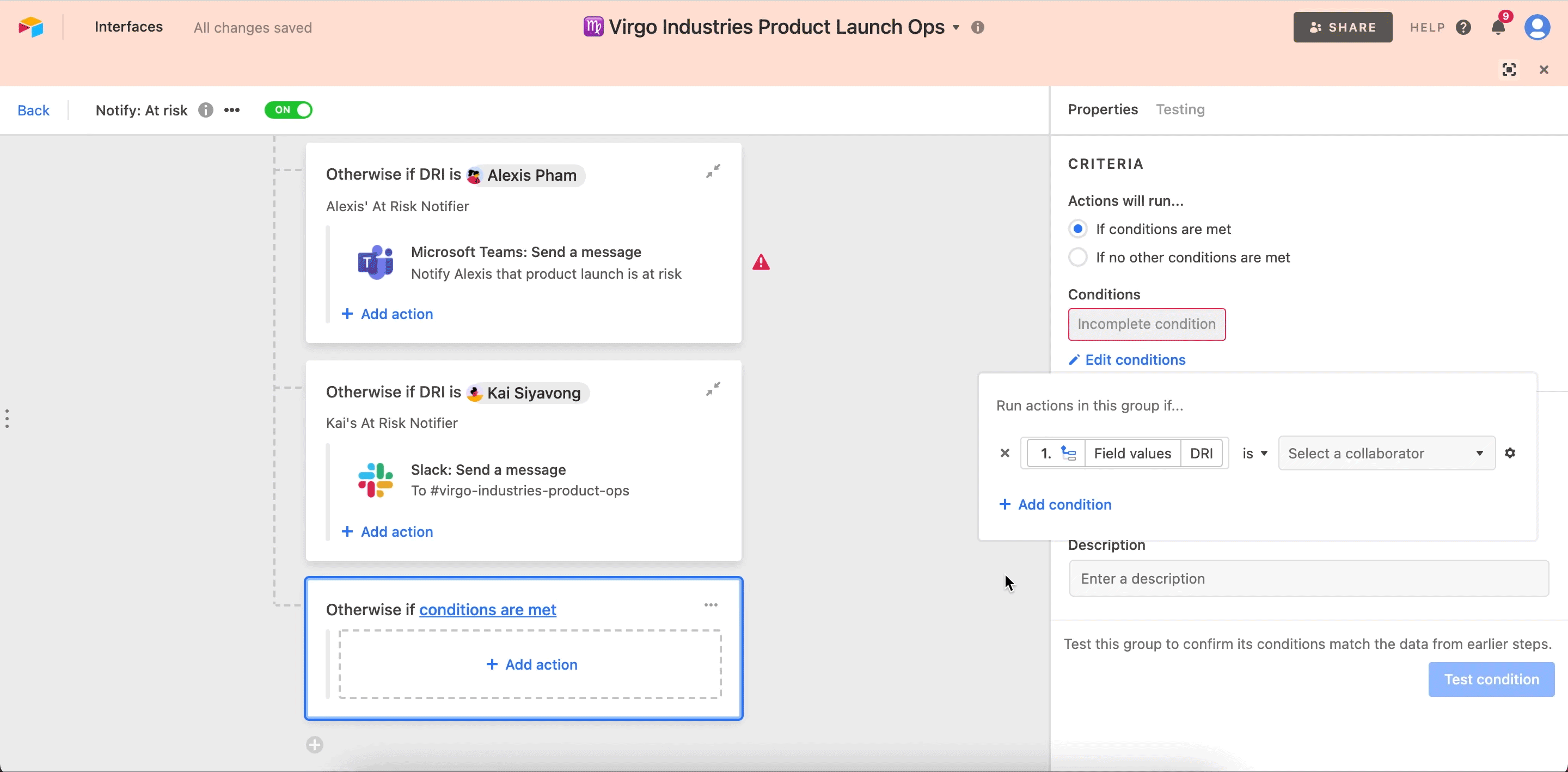 You'll see here that conditional actions have been set to notify respective DRIs when the product launch is at risk. If the DRI is Alexis Pham, they'll be notified in a Microsoft Teams message, while Kai Siyavong will get a Slack notification if they're the DRI.
Team members will receive alerts when the record pertains to them, in the way they'd like to be alerted—all with just one trigger. No need to manually create a bunch of automations to get the job done.
Another example of a complicated workflow to automate is the recruitment process. What if you want to customize the instructions that applicants receive, depending on the team they applied to?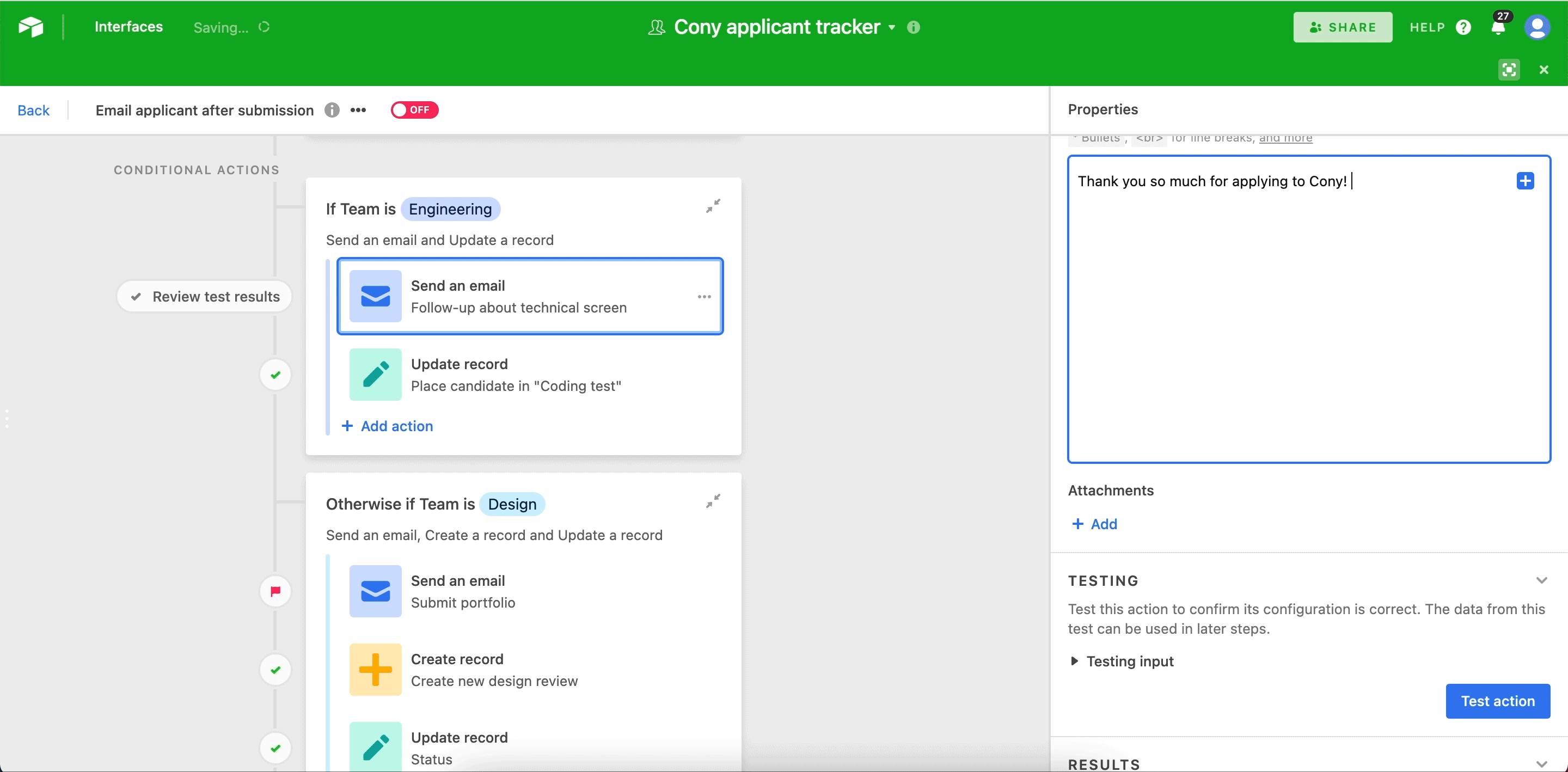 In this recruitment base, we've created an automation that sends all applicants emails when they've applied to jobs—a straightforward automation.
Where conditional logic comes in is when the team is identified. If an applicant applied to the engineering team, they'll receive an email created just for engineering applicants regarding a technical screening. Design team applicants will receive emails asking for their portfolios, and so on.
---
Automations are already primed to take repetitive tasks off your plate. Conditional logic lets you consolidate numerous actions and hone in on your exact needs, so you can set even the most complicated workflows on autopilot while you focus on the more urgent stuff.
Conditional logic is available to all Airtable users! Check out our support article for step-by-step instructions on how to add conditional logic to your automations, then try it out for yourself in your base here.