We created an Airtable app to predict the success of reality TV show contestants. You can build your own to see which projects deserve your time.
When you decide how to prioritize work, you probably consider a few factors. Like who asked you to complete a project, its deadline, and how the project ladders up to others or fits into the big picture.
With pilot projects in particular, it's tricky to judge which will garner real results and which might fizzle out. But Airtable can help you build a scoring system that helps you decide where your time and energy is best spent.
This type of scoring system can be a game-changer that helps you, for example, invest in the right client partnerships, determine which verticals will make the most successful targets for marketing teams, or pick content that will get the most eyeballs.
From reality TV to reality
Over the past few weeks we've been tracking NBC's American Song Contest as a way to show more people how to use Airtable. The artists on the reality show are performing songs they hope will be America's next big hit.
The app we've built in Airtable uses data to help us predict which artist is most likely to succeed—on the show, and in the long run. Our pop-culture scoring system is a hoot (let's face it—tracking Snoop Dogg's social media following is much more fun than tracking your Q2 budget), and is heavily weighted toward social media.
But the system can also have serious implications in the real world.
During the semi-final round, we were able to accurately predict two out of three artists who were most likely to move forward (the one we didn't get right was the runner up in our Airtable app).
During the semi-final round, we were able to accurately predict two out of three artists who would move forward.
For many up-and-coming songwriters, the exposure that comes with being on a national TV show is enough to launch a successful career. And these days one of the best ways to measure exposure is on social media. Big numbers on social platforms like YouTube, Spotify, Instagram, Twitter and TikTok can directly translate to record deals, sponsorships, and, of course, ad revenue.
We've been monitoring growth across those platforms all season long, and now our app is giving us the confidence to predict which artists will really win in the end (no matter who's crowned on May 9).
Our aggregate scoring app, explained
Here's how it works. Every day the base is automatically updated with each artist's total social media following, broken down by platform and total number of followers gained throughout the competition (more on how to link these platforms to Airtable in our latest blog post).
In another table we've created a weighted platform system, a mix of values we've chosen to determine success. In the case of this competition, Twitter and Spotify are getting 3X the weight compared to other platforms. Because the show is a music competition, success for artists is largely dependent on how many people are listening to their songs. (And, Twitter had the most social traffic about this competition.)
That weighted system links to our artist table through a formula, a sum of followers gained across platforms with each platform multiplied by the weight we've given it. It's expressed like this.

If you were running a similar project, you could easily change which social platform you value, and will therefore shift your results. In this scenario, no matter which platform we prioritize, the same five artists bubble up to the top—indicating that their success is steady on all fronts.
Turning a TV scoring system into a weighted workflow tool
Several other companies have launched similar apps in Airtable. The Zendesk for Startups team has done this masterfully. They built an Airtable app that helps them inform which client partnerships are most likely to be successful. It led to a 233% increase in referrals to their startup program.
The team at Zendesk realized the need for this kind of visibility while working with VC partners. Qualified startups will apply for free access to their program for six months. Ideally at the end of the program they convert to Zendesk customers or partners.
When Brad Bowery, the Director of Startup Customer Acquisition, started he didn't have any visibility into where the referrals to the program were coming from. He didn't know which VCs, of the 250 VCs they work with, were regularly submitting high-quality candidates or which verticals were most likely to succeed.
So Bowery created a scoring system in Airtable ranking each startup on a scale of 0-100, his formula weights factors that are valuable to his team, like funding levels, quality of investors, backgrounds of founders, and other internal data. When he started, only 15% of the startups in the program came from VC partnerships, and now 50% do. "What really moved the needle for us is Airtable and that visibility," Bowery says.
Tracking social sentiment and its impacts
In the run-up to the first American Song Contest episode back in March, we wanted to know how the world was feeling about the show and its hosts, Snoop Dogg and Kelly Clarkson. Would the show bolster their reputations, and could we measure that change over time?  
To tap into public sentiment, we pulled data from social media analytics firm NetBase Quid into the Airtable base.
Sentiment scores in social media numbers for both hosts took a dip right around the first episode, but then rebounded over the eight-week period, a pattern that roughly matches the trajectory of the show's ratings.

Which contestants rose to the top across the U.S.?
Again using data from NetBase Quid, we looked at which contestants stirred up the most conversation and social media chatter in different regions of the country.
Overall, the hands-down winner of the national social media conversation is Oklahoma K-pop star Alexa, whose song "Wonderland" is propelling her to the show's final rounds. She's also consistently ranking in our top five for social media gains. Her name and song appear in the most common overall terms associated with the show and in social media hashtags in all regions.
Other interesting words popped up in regional conversations, like "Willie Nelson" as the most-mentioned person in the Central region. (Texas contestant Grant Noche cites Willie as a musical hero, and Willie is from host Kelly Clarkson's home state.) Connecticut came out strong to support state representative Michael Bolton and his song "Beautiful World." Bolton had a high (#5 overall) gain in social media followers over the course of the show, and a high aggregate score for all factors, according to Airtable's analysis.
Predicting the winners of the show
Whether we prioritized followers gained, songs downloaded on Spotify, or an increase in YouTube views, five artists consistently topped the list. While only one will win on the show (our bet is on ENISA), we believe all the artists below will gain traction over time and have successful music careers. Maybe they're just a flash in the pan now, but they're gaining enough real momentum to pull away from the pack.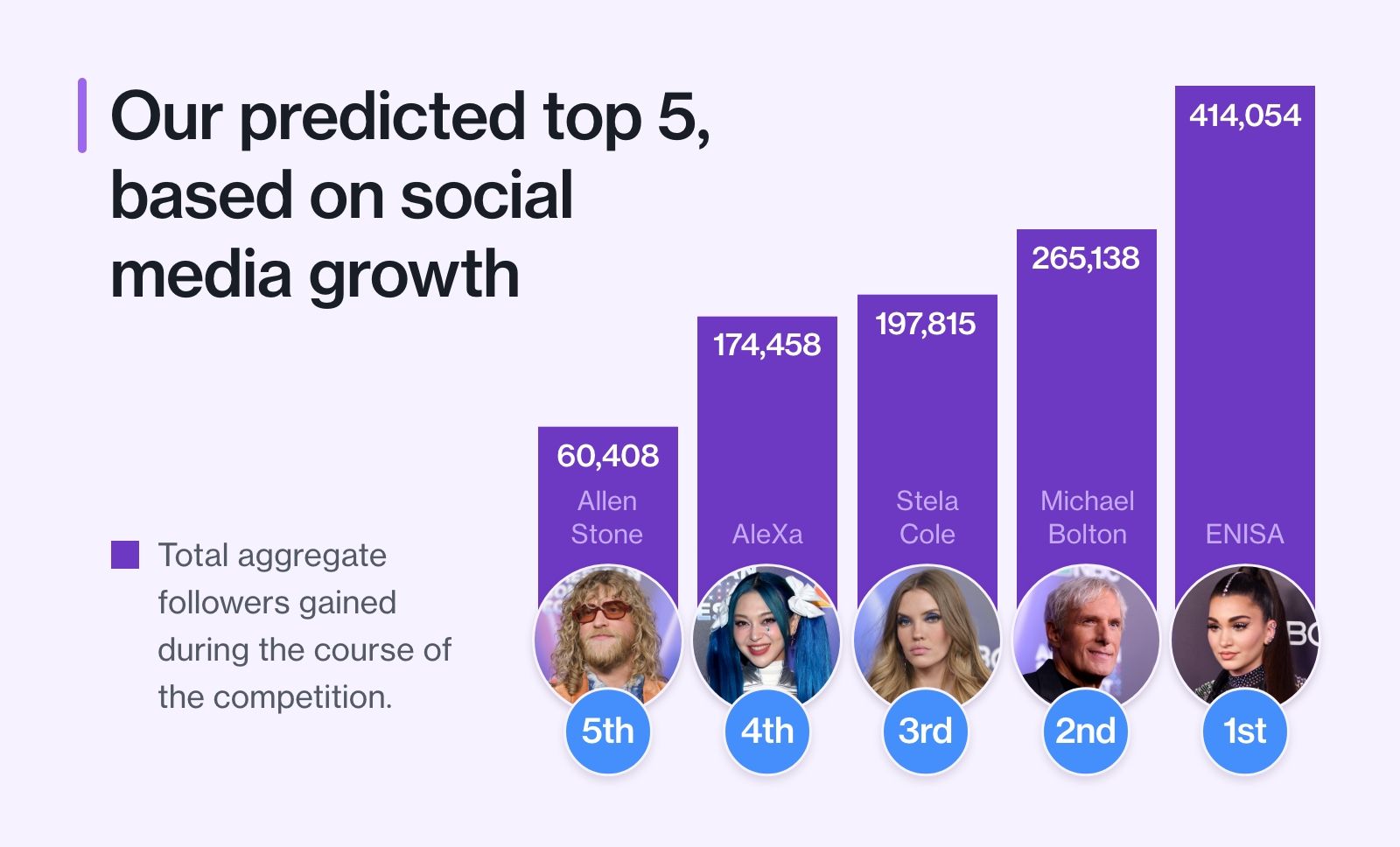 No matter which platform we prioritize, the same five artists bubble up to the top.
Want to see how the contestants are faring on social media? Check out their standings here.
And let us know about any scoring system you create in Airtable. We'd love to see what you create. This type of tool can help you make unbiased decisions grounded in facts.  If you know what has worked in the past you can apply this formula to determine what's most likely to lead to real results in the future.
Follow Airtable on Twitter or Instagram to see how the competition is wrapping up.