Valentine's Day may be over, but our latest batch of updates is here to stay.
Roses are red,
Violets are blue,
We're loving this month's updates at Airtable–
And we think you will, too.
Sure, Valentine's Day may be over—balloons deflated, chocolate wrappers strewn about—but our latest batch of updates is here to stay. Which, when you think about it, is way better than flowers.
This month, we have some exciting features and community news for you. Let's dig in.
Say hi to more Interface Designer functionality
Introducing gallery view, record grouping, and chart enhancements in interfaces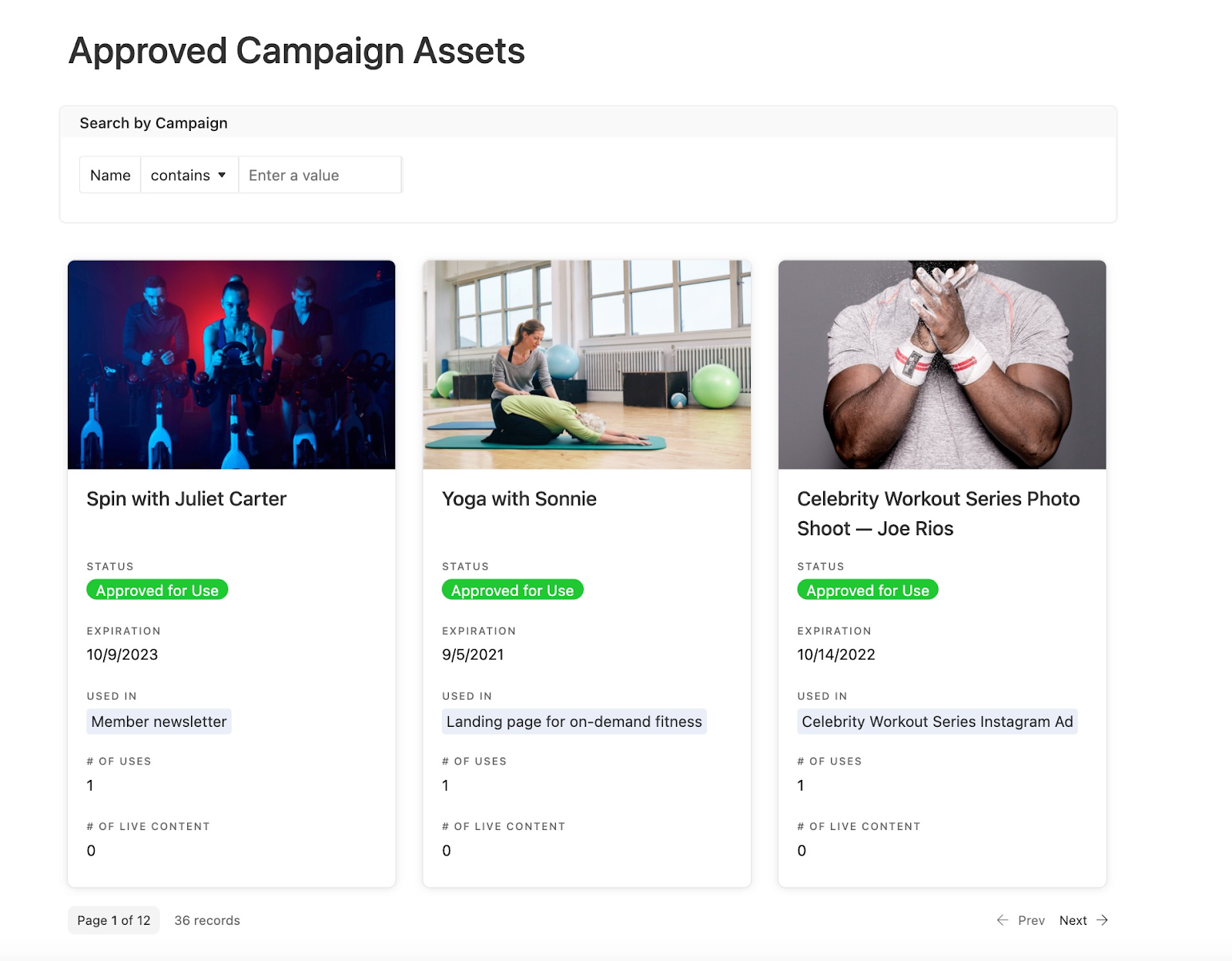 Collaboration just got easier with even more ways for creators to relay essential information in interfaces. Check out some of the improvements we made to Interface Designer:
Gallery element: Our latest element displays visual thumbnails from your base side-by-side, allowing you to view multiple images or info at once. This element is perfect for asset reviews, team directories, or a list of resources.

Record grouping in record review: The record review layout makes triaging convenient. Now, it's truly a no-brainer thanks to a new ability to group and collapse sets of data. Creators can also color code groups and go up to three layers of grouping, so teams can easily get to the most relevant information.

Chart improvements: Creators can now chart multiple segments on a single graph using the chart element, allowing for comparative analysis. You can compare your budget spending by month year to year, or map your org's projected vs. actual revenue. We also added a percentage value to each segment so you can quickly understand your pie and donut charts.
Oh, and here's some bonus content for our Interface Designer fans: we've created a blog series to highlight all of the dynamic elements you can use to build your interface, and when to use them. Check it out here.
Start building faster with a new onboarding flow
Users will now be guided through their first base setup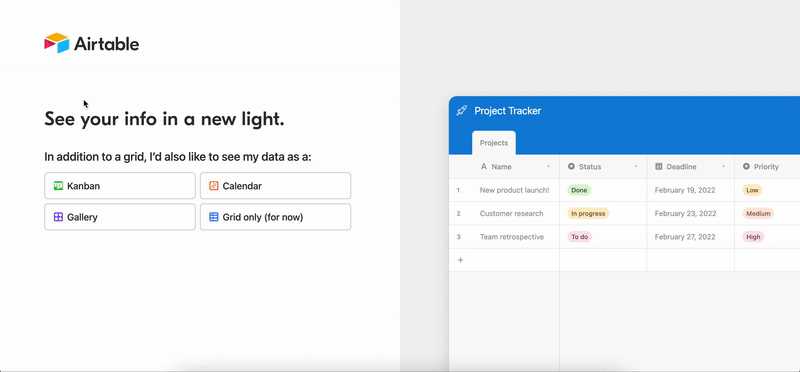 New users often have the same questions when they join Airtable: where do I start? What should I do first? We've created dozens of templates to choose from, but sometimes you just want to see how it all works.
And now, you'll have the answers thanks to our new Guided Onboarding experience, which walks you through setting up your first base. Invite your friends to join Airtable today to try it out.
New users can check it out here
Our Universe base of the month
An anti-oppression resource database
Tahirah Walker, PhD built a comprehensive base of resources on important topics like justice, equity, and inclusion that anyone can access. Educators, activists, and self-taught students have one handy place to find social justice podcasts or a video series on racial history.
Learn more about Airtable's product plans
Our Chief Product Officer gives you a sneak peek of what's to come
In our latest Table Talk, we sat down with Chief Product Officer Peter Deng to discuss Airtable's vision, key themes for the company in 2022, and how we're addressing the feedback we get from customers.
We also dive into community-requested topics like:
Permissions in Interface Designer
The future of automations
Updates to expect this year
Settle in and hit play–you don't want to skip this one.
---
And that's that for February! There's so much to look forward to this year at Airtable, and we can't wait to unwrap more of these updates (you know, like chocolates). 💝  
Don't forget to follow us on LinkedIn and Twitter to stay in the know.