Tips for improving data access across teams with Airtable and Unito.
Making decisions without data is like driving without headlights. At night. In the fog. Sure, you can probably make your way around a familiar neighborhood, but eventually, your luck will run out. Many teams realize this, but does everyone?
If not, that's usually because accessing data can be difficult. When data is siloed within a few roles, on a single team, or (gasp) with one person, it can be challenging for other groups to make use of it. You can mitigate this by electing data champions throughout your teams, making sure they have the right tools, and a few other tips and tricks you'll find below.
---
Nominate a data champion
What is a data champion? Put simply, it's someone who volunteers to become their team's expert on data. That means anyone—in any role—can become one.
The practice comes from the research community. The University of Cambridge uses data champions to promote the proper handling of research data in each department.
By nominating data champions throughout your business, you're giving each team a resource for any data questions they might have and helping spread good practices. Becoming a data champion should be voluntary; pick someone who shows interest.
Think of having a data champion like having a fire captain on each floor of your building. Anytime a data-related issue comes up, that's the person you go find. Whether you need a new dashboard, help building a report, or numbers to support your initiative, the data champion is your go-to resource.
This gives teams the ability to make better decisions, justify decisions, and more. All without always going to the same data specialist.
Outfit them with the right tools
Are your employees still collecting data manually? Or paying for complex data processing tools that are difficult to use? Either way, they're likely wasting precious time and not getting the insights they need.
The right data tool should strike a balance between being robust enough to do what you need while being simple enough that anyone can learn to use it. Sometimes that means picking a dedicated solution, but often you can find a workaround that lets you keep tools in place that you're already using.
→ Leverage a current tool's reporting features: While they might not be designed to serve as data tools, many of the programs you're already using have some kind of reporting feature. A project management tool might be used to report on the time spent on specific tasks, for instance. That information can become valuable data in the right context.
→ Choose tools that are easy to use: If the tools you're using for data analysis are too complex, you might need a new tool. To make sure everyone can use it, give all your data champions a free trial and see how long it takes them to get comfortable. You can also poll your data champions to understand your teams' needs.
→ Automate your process: No one should collect data manually in the 21st century. See what automations the tools you're currently using have available. You can often find native integrations that automatically send data from your tool of choice to an external report.
For instance, Airtable has a number of automations that can automatically send data from your bases to other tools. Otherwise, you might want to look into a separate integration solution.
Redefine data
What does "data" mean in your business? User signup numbers? Total deals won? Blog views? It's possible that one of the reasons your teams don't feel comfortable wading into the data pool is because they don't fully understand what "data" means. There are so many potential data points that it's tough to focus on what's relevant to your team.
The truth is every single team—and every role—uses data. Content marketers need to know how their content helps bring in qualified leads. Support teams need to know how many tickets they close and how quickly. Development teams need data, sales teams need data, and so on.
"Data" are the numbers people can use to gauge the effectiveness of their work. By that definition, every team can use data to drive their initiatives, confirm hunches, and make better decisions.
When data champions have the right tools and they're looking at the right numbers, they can empower teams to get more done and make a bigger impact on the company at large. The challenge: making sure everyone in your organization understands that data is accessible, malleable, and useful to all.
---
Automate reporting using Airtable and Unito
With Airtable, you can build the data tools your teams need. That includes databases, reports, and dashboards that you can view in different ways, along with a variety of apps.
Reporting is how you communicate important data to stakeholders, teammates, and other collaborators. A great report can lead to actionable insights that keep everyone working in the right direction. It can also surface potential problems ahead of time, help people find solutions, and ultimately drive a project across the finish line.
If you're already using Airtable, you can build a number of reports that make data more available for all teams.
The Airtable Universe has a host of templates built specifically for reporting, including this automated resource management report. By combining this template with Unito, you can quickly build reports that show real-time updates sourced from other tools.
Unito is a no-code workflow management solution with the deepest two-way integrations on the market. In just a few minutes, you can build a flow that automatically syncs information across multiple Airtable bases—each one like a workbook inside a spreadsheet. That means you can keep everyone up to date, no matter where they're working from.
Say you want to sync data from a project management tool like Asana to a report. You can do that in just a few steps with Unito.
First, you'll connect your tools and pick the team resource base on one side and an Asana project on the other.
Next, you'll set up your flow to sync new work items in one direction from Asana to Airtable. That means new Asana tasks will automatically create new records in Airtable.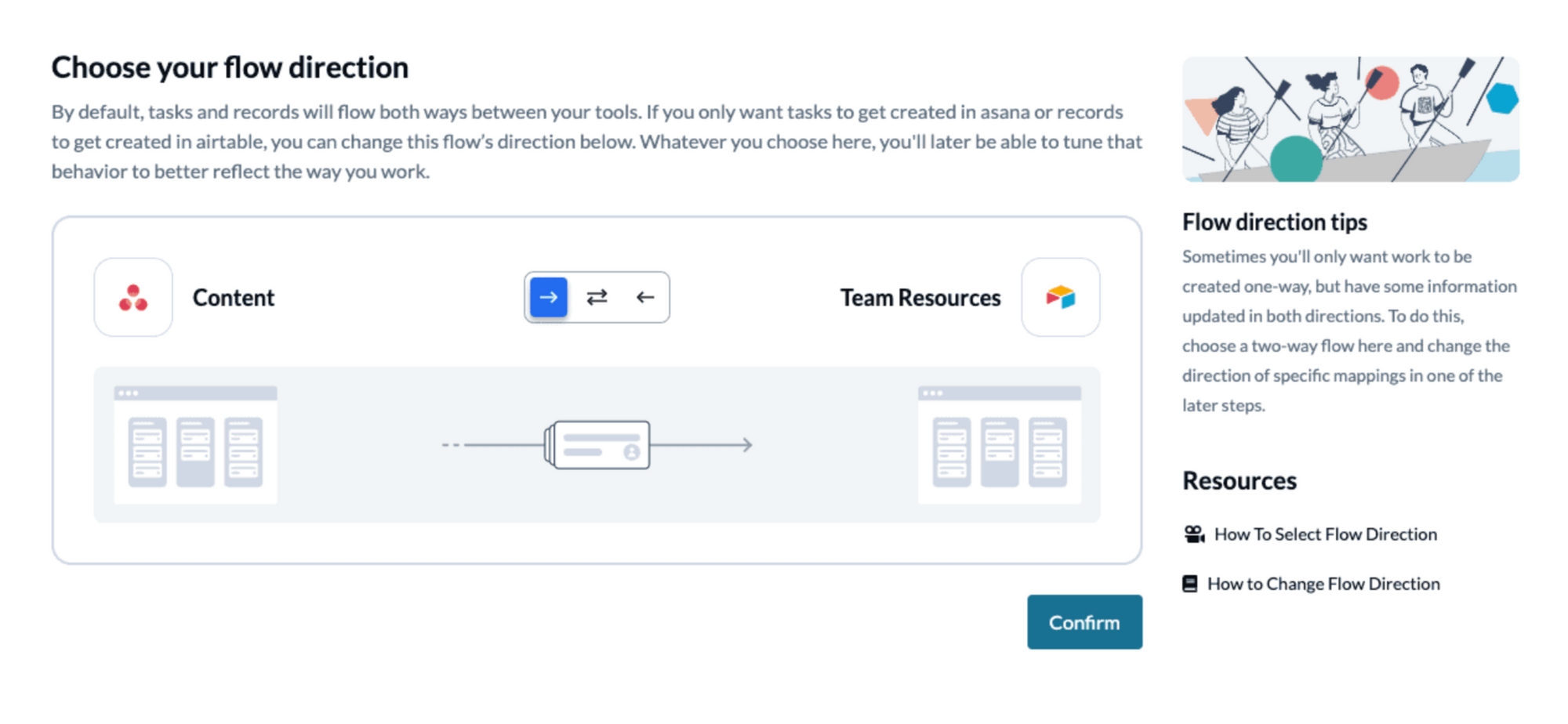 After that, you can build rules that control the flow of information from Asana to Airtable. You could filter out Asana tasks without a specific assignee or label, for instance.
Once you've set up your rules, you can customize field mappings to send information from Asana to the right place in Airtable. Most similar fields, like due dates and descriptions, are automatically mapped.
Just like that, you've set up an automated report that tells you exactly what each team member is responsible for. You can tailor this report to show the estimated time it will take to get things done, overdue tasks, and more.
Data for everyone
Data is powerful. It helps everyone make better decisions, prove the impact of their initiatives, and do what they can to help the company move ahead. When data is difficult to access or interpret, it's not that useful to anyone. But when you nominate data champions and give them the tools they need, you give everyone in the organization the ability to use data well and carry off a win.