Create and publish compelling blogs, videos, and more with different ways to see your work.
Content marketing involves lots of important workflows, from managing the calendar to tracking resources. To create and publish content that resonates, teams need to see and engage with the data making up these processes in different ways.
Airtable Views make this possible for content marketing teams of all sizes. With just a click of a button, teams can see what's going live this week on a content calendar. Or, they can tap into a customized view that shows how content ties to overarching marketing goals.
With views, you can create customized experiences for team members so they can quickly plan deliverable dates, check off tasks, and get content out into the world.
Getting started in Airtable
It all starts with Grid View, your default view whenever you create a new table. Grid view provides a familiar, spreadsheet-like interface that allows teams to kick off work by inputting and organizing content ideas, topics, and relevant details.
Airtable has made it possible for us to streamline our processes so that we can think about our content at a much higher level, and ultimately serve our customers better.
You can easily add columns—called fields—for things like content titles, keywords, target audience, publication dates, and more to surface as many details as you need for your data. Once you've customized this main view, you can then create other views that display this same data in new ways.
Manage deliverables with Calendar View
Content marketing involves adhering to strict deadlines and managing multiple content pieces simultaneously. Our Calendar View offers a visual representation of your content schedule, making it easy to manage and track deliverables.
View your upcoming content on a daily, weekly, or monthly basis. Check your calendar every day to make sure content is going out the door on time, or take a look at the next month and plan ahead.
There's a lot you can do to customize your Calendar View. You can create records directly in the calendar, for example, by clicking the plus button on your chosen date. And the drag and drop function means you can rearrange due dates whenever you want–simply move your record to the new desired date.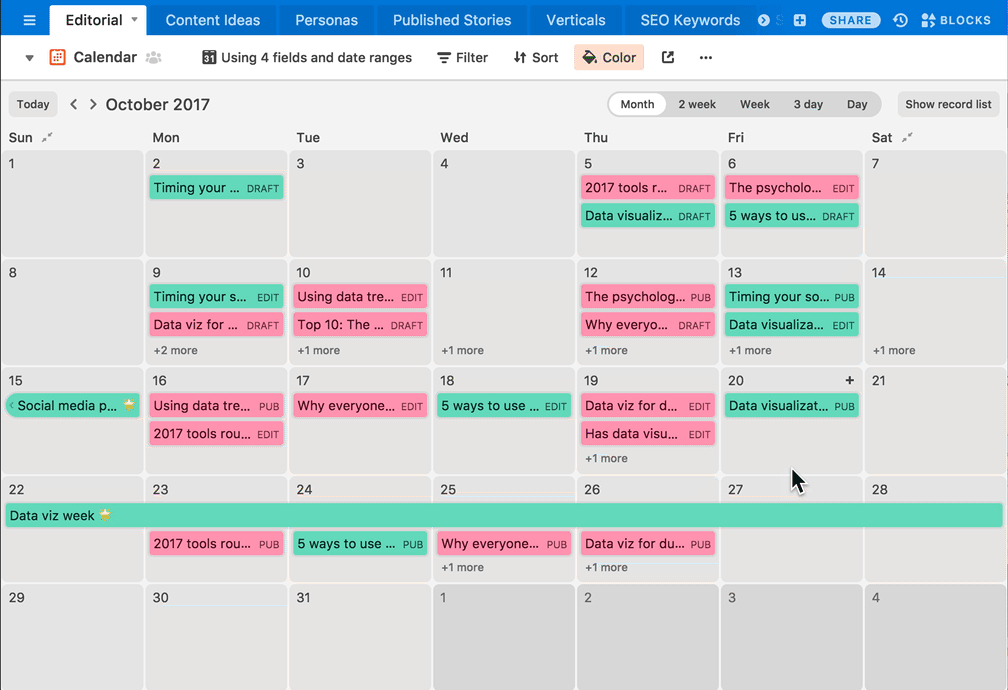 Our recommendation? Use coloring to differentiate types of content. Seeing lots of yellow records representing interviews, for instance, might remind you to add more product-related content to the schedule. Or, you can use coloring to denote deliverable status–seeing a "not started" red record that's scheduled for publishing this week is unmissable.
Connect content to marketing campaigns with List View
List View is invaluable for keeping your content marketing efforts aligned with campaigns.
That's because List View allows you to order your work in levels, from projects and tasks to campaigns and deliverables, so you can see exactly how your individual assignments support department-wide goals. List View lets you bring in data from other tables so you can see these levels without having to click back and forth.
When it comes to content marketing, we recommend using List View to create three cascading levels: campaigns, deliverables, and then individual tasks for each deliverable. You'll have to create this view in a tasks table, then connect your deliverables table and campaigns table.
With these levels, your team can clearly see how their work ladders up into the overall campaign. List View is also ideal for showing executives progress when they request updates.
By connecting the important parts of your projects, content marketing teams can work through tasks quickly and meet all of your due dates.
Intake ideas with Form View
Start filling your deliverables table quickly by creating a content ideas form to capture pitches from your team and beyond–similar what Cory Shrecengost did for his team at Dropbox.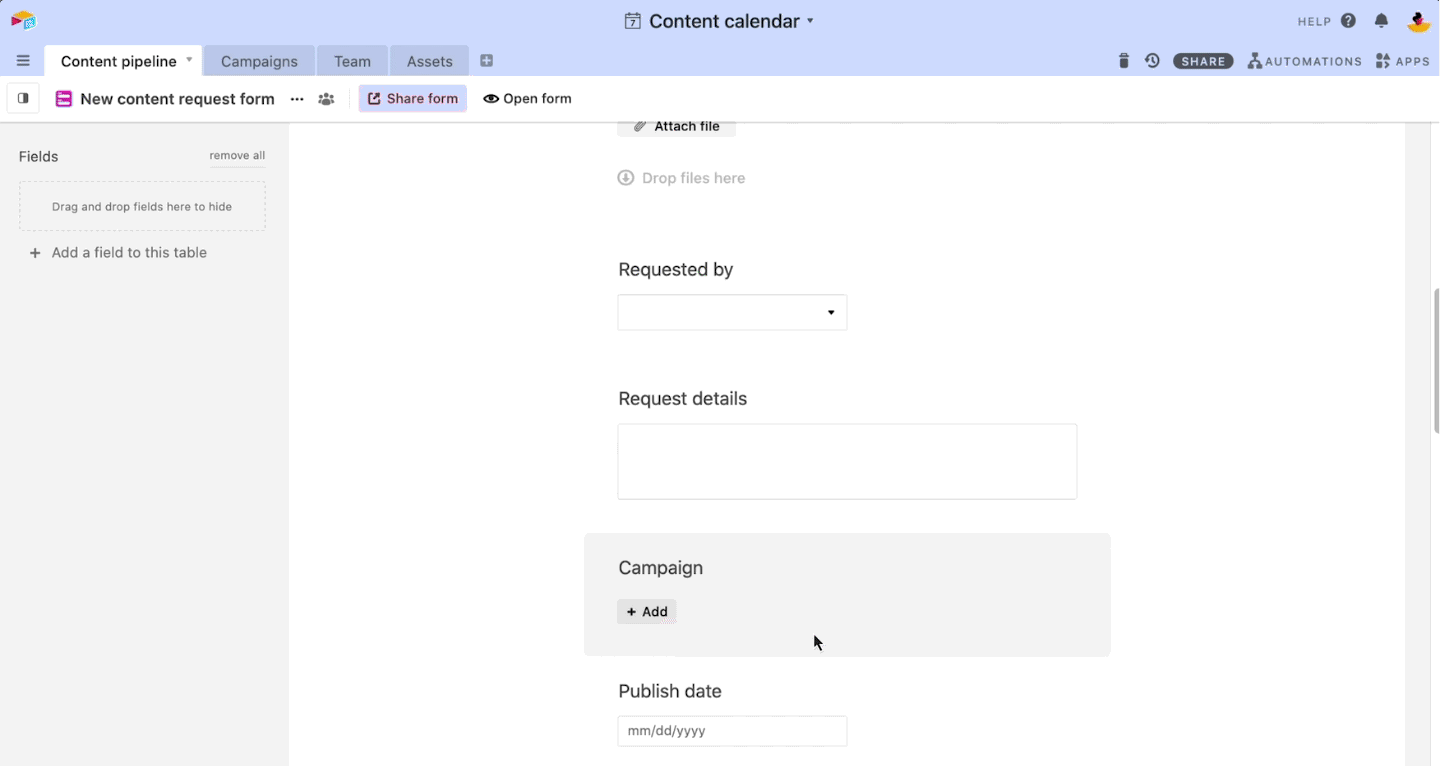 Airtable's Form View lets you turn responses into deliverables and drop it into a grid view automatically. In this context, it's an easy way for colleagues to pitch ideas when they have them–and an easy way for you to sort and pick the ideas to turn into stories.
"We've been able to produce blogs three times faster than we were before Airtable. In the last three months we've seen an increase in blog traffic by 30% which is huge for us," Cory says.
To set up a form, we recommend starting by asking yourself what kind of information you want to collect. Knowing what answers you want will inform the questions you pose on the form. Some information you might want to collect in a pitch form include:
Name of idea
Name of idea submitter
Type of deliverable (video, ebook, blog, etc.)
A one-sentence description of the idea
Specific campaign the idea is connected to
Attachments with additional information
But Form View can be used for any workflow that requires collecting information from others. Create customized forms to onboard freelancers by capturing info such as their expertise, availability, and contact details. The information collected automatically populates your Airtable base, so you can refer to it whenever you assign content or need to process invoices.
Learn more about how to onboard and manage freelancers in Airtable
With Form View, you can streamline onboarding or intake processes and ensure smooth communication with teams.
---
A well-structured content marketing plan is essential for achieving your marketing goals. Airtable provides content marketing teams with a robust set of views that facilitate collaboration, organization, and efficient management of resources–all in one place.
Have blogs and videos that need reviewing? Check out our content marketing blog on how to manage content reviews in Airtable.