5 tips from a pro on how to conduct a content audit, and why every company should.
Think of all the content that companies create—reports, planning documents, sales collateral, blogs. While some content pieces are well-read and well-used, others quickly wane in relevance. Still others may not be useful at all (like landing pages for one-time events).
The best way to size up what's great vs. what should go: a content audit.
A content audit lets you spread all your content out on the table and give it a thorough once-over. Why did your company create the content? Do all the links work? Are the graphics up to date? Could the piece be re-edited or re-purposed to be more effective? In a content audit, you'll unearth the answers to these questions and more.
Why conduct a content audit?
While marketing teams create most companies' public-facing content, plenty of other teams have content stockpiles that need editing and organizing. This could be a product marketing group's one-pagers, a technical team's documentation, or an education department's stash of white papers and PDFs.
No matter what type of content you're wrangling, periodic content audits help you see which content is most popular and effective, which could be improved, and which should be tossed into the digital (or actual) dustbin.
For tips on conducting a content audit, we turned to content strategist Holly Munson, who's something of an expert on the topic. Munson spent years conducting content audits for clients, and she's spoken to conference crowds about connecting a content audit with user research. Her Airtable web content audit base has been copied 425 times.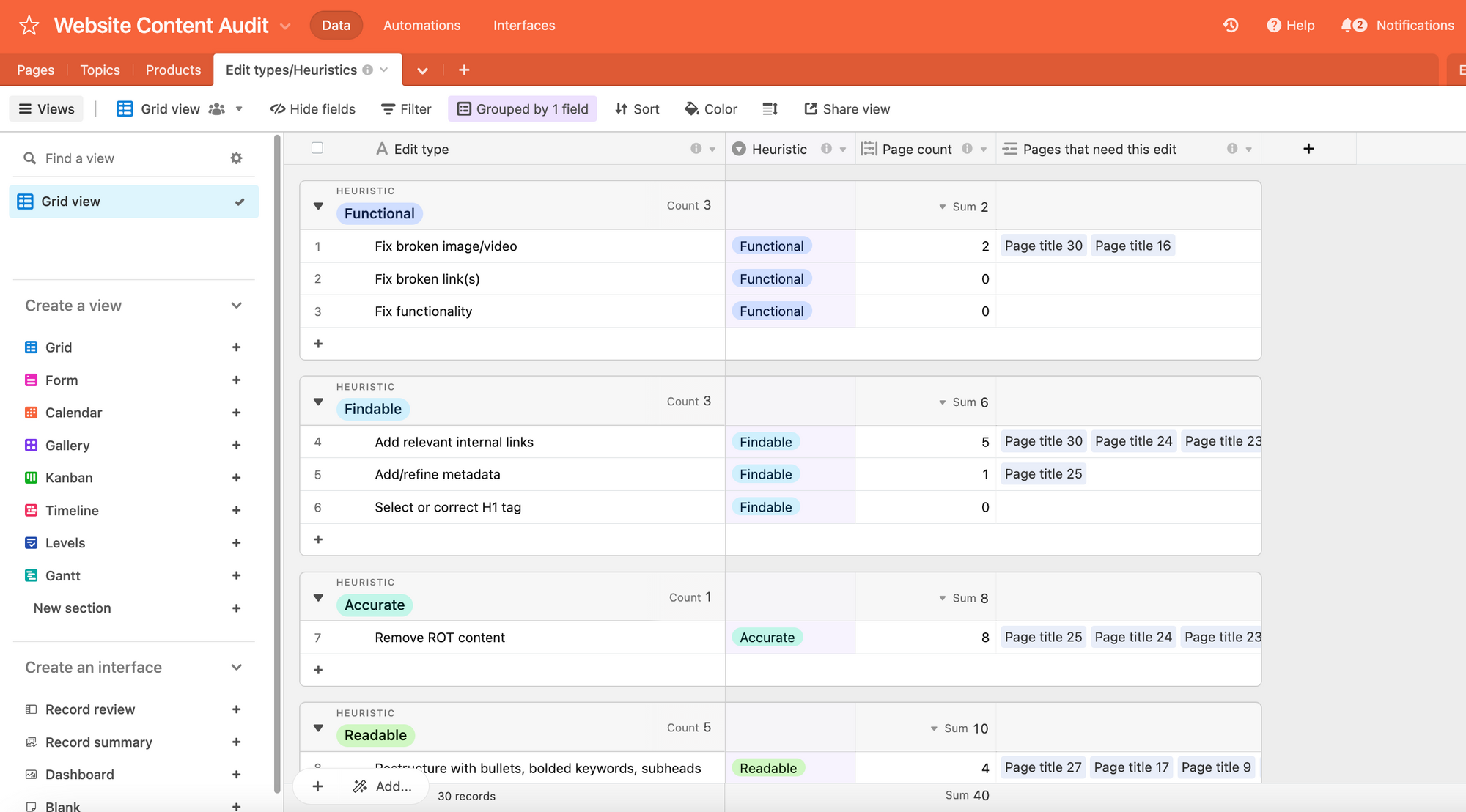 Now a senior content designer at the language-learning app Duolingo, Munson says one key to conducting an effective content audit is not to make too many assumptions at the start.
"If you start out with a hunch, like most of our content is too long—let the data substantiate that," she says.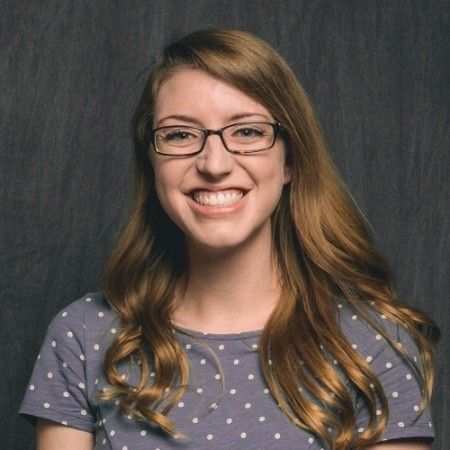 If you start out with a hunch about your content, let the data substantiate that.
If possible, try not to conduct a content audit alone. Find a collaborator in your company to act as a sounding board as you go.
"A content audit can be tedious, but it's really important work," Munson says.
Read on for more of Munson's tips.
Tip 1: Determine the scope.
It can be intimidating when your boss hands you a mountain of PDFs for a content audit. But it doesn't have to be, says Munson.
First, set specific goals for the content audit: This audit will help us improve our landing pages, or This audit will help us generate more leads.
When assessing content, it might be tempting to be overly critical, pointing out every poor design choice or spelling mistake.
But if you're assessing how content measures up in a specific area, you'll look at individual pieces differently. At the end of the exercise, suggest just a few impactful content changes that help the company hit objectives.
Tip 2: Divvy up work reasonably.
A content audit can be conducted quickly when there's that not much to audit. But some companies have tens of thousands of web pages, hundreds of annual reports, and so on.
When Munson finds herself with heaps of audit work on a tight timeline, she divides content into categories and pulls a representative sample from each.
Are there 500 documents in one category and 2,000 in another? Munson suggests pulling 10 pages here, or 20 pages there to give company leaders and decision-makers a quick sense of the quality of content and how to maneuver.
"It's not perfect, but it gives you a quick signal on the areas to improve," she says.
Tip 3: Know the difference between inventory and audit.
Perhaps your company needs a simple content inventory, not an audit. Understanding the difference can save you a lot of time.
A content inventory captures the "what's there" aspect of content, Munson writes in her content audit tutorial. For such an inventory, you don't need to make judgments about each content piece. Simply record what it is.
A content audit focuses more on "what's there, how well is it doing, according to whatever our heuristics/goals/metrics are?" Munson says. For example: in an audit, you may assess content for qualities like accuracy, readability, or discoverability on the web.
An audit conclusion could be: "We have 30 pages about Topic A, and 75% of those pages are in PDF format. That content is accurate and readable, which is great, but to help with findability, one of our key goals, we recommend incorporating pieces of that content into the interface as contextual help."
Tip 4: Identify gaps in content.
An audit can tell you where you may need to add content, based on a simple tally.
Let's say you're an insurer working in three areas—auto, home, and renter's insurance. After a content audit, you discover that your website contains 30 blogs educating consumers about auto insurance but only 5 about renter's insurance. Seeing the numbers can help you identify gaps and know where to send your content creation team next.
If you're using Munson's content audit system in Airtable, look at the Topics table in your base and the "page count" column to see the distribution of content about each topic.
Tip 5: Connect the dots to other parts of the company.
Marketing content plays a critical role in the customer journey. But it doesn't exist in a vacuum.
When you're sizing up content, consider other sources of information, like UX research, that can tell you whether your content is hitting the mark.
Perhaps your UX team has conducted in-depth customer surveys. After a content audit, you might come to a conclusion like: "80% of [key audience] in this survey said this topic is important to them, but only 5% of our pages mention it." Or, "80% of [key audience] said this topic is important to them, but most of the content about this topic is not clear or consistent."
→ Check out our content production templates
Most companies generate a stack of content, then use a content audit later to assess it. But if you're using Airtable, you might not need the audit step at all.
At market research firm NewtonX, Head of Brand and Marketing Jackie Cutrone built a content operations system in Airtable two years ago, using a base to see the status, priority, and categories of all content pieces.
Each week as she and her team assess NewtonX's content needs, they use Airtable filters and views to see which content they already have and how to fill in the gaps.
"We're building our audit in real-time," Cutrone says. "This is our single source of truth. The audit is always done."