Customers, community champions, and partners came together in San Francisco to explore what's next for our organizations in a world where every industry is reinventing itself through software.
"The accelerating pace of change is forcing us all to confront the fractures, the data silos, inside of every company." — Howie Liu, CEO at Airtable
Strengthening connection, achieving transformation, and accelerating your pace of change: these topics, top of mind for so many leaders in 2022, were central themes at the Airtable Leaders Forum. Customers, community champions, and partners came together in San Francisco to explore what's next for our organizations in a world where every industry—from movies to manufacturing—is reinventing itself through software.
What can we learn from companies who've successfully transformed? That, by breaking down silos and increasing connection, it's possible to move quickly, together. And that this combination of speed and alignment enables you to reinvent your impact on your customers and the world.
"To us, the future is really clear. The window between conception and delivery of every product and every business needs to be faster than ever," Howie Liu, Co-founder and CEO of Airtable, said in his keynote. "The world is moving faster and faster, every market is changing, and this necessitates that all of the parts of every company are able to move together, not just quickly, but in unison.
Leaders from LinkedIn, iHeartMedia, and Netflix shared their pivotal moments of transformation—where, with no choice but to change the way they work, teams forged new paths to reconstructing the customer experience.

LinkedIn has grown to 850 million members in more than 200 countries and territories worldwide. "Beyond social networking and being a job board, LinkedIn has a recruiting platform, marketing solutions, sales solutions, a learning platform, and more," Sarah Sgarlato Pierini, Senior Research Program Manager at LinkedIn, said in her session. "Our mission is to create economic opportunity for every member of the workforce."
iHeartMedia has become the world's leading distributor of podcast content, and attracts 456 million podcast downloads each month. "It was really a pivotal moment for the company… in bolting on a new department that was focused on podcasting," Carrie Lieberman, Senior Vice President at iHeartMedia, said during her session. "We did that at the most amazing moment in time when the podcast industry was about to explode. There were a lot of things at stake to make sure we did it right, and to also do it quickly because there wasn't a lot of time to waste."
Netflix went from being a movie distribution company to a movie production company and revolutionized an industry in a handful of years. Today, the platform has more than 200 million subscribers around the world. "Our whole goal is to support and show the artists and the artistry and the talent in the most incredible light possible," Olivia-Diane Joseph, Program Manager at Netflix, said during her session. "We understood that, in order to be able to scale and move quickly, it's not just about scaling and doing more, it's about scaling, doing more, and doing them faster."
From the keynotes and customer sessions some key takeaways emerged that apply to any organization looking to grow and evolve. These five takeaways illustrate how leading organizations tackle transformation head on, by changing the way they use and connect data, and increasing empowerment at the team-level.

Takeaway #1: You can move fast and move together
Breaking organizational silos was a central focus of all speaker sessions, with company leaders encouraging the audience to rethink the sacrifice they're often forced to make: move quickly or move together.
"Bridging the siloed data, fixing the misalignment between departments, and [streamlining] disconnected processes—that's what's needed to keep up with the accelerating pace of today's world," Howie, co-founder and CEO at Airtable, said during his keynote.
Netflix once felt this pain, Olivia shared, with creative teams producing incredible work that the rest of the company was blind to. "We were doing all of this great production stuff, and there were all of these cool trailers and teasers and featurettes, and all of this incredible stuff that we're creating, but we couldn't find it all easily," she said. "We wanted to figure out, how do we create this space where, if someone in Brazil wants to use an asset that someone created in Korea, [they can easily find it]. How do we connect those dots?"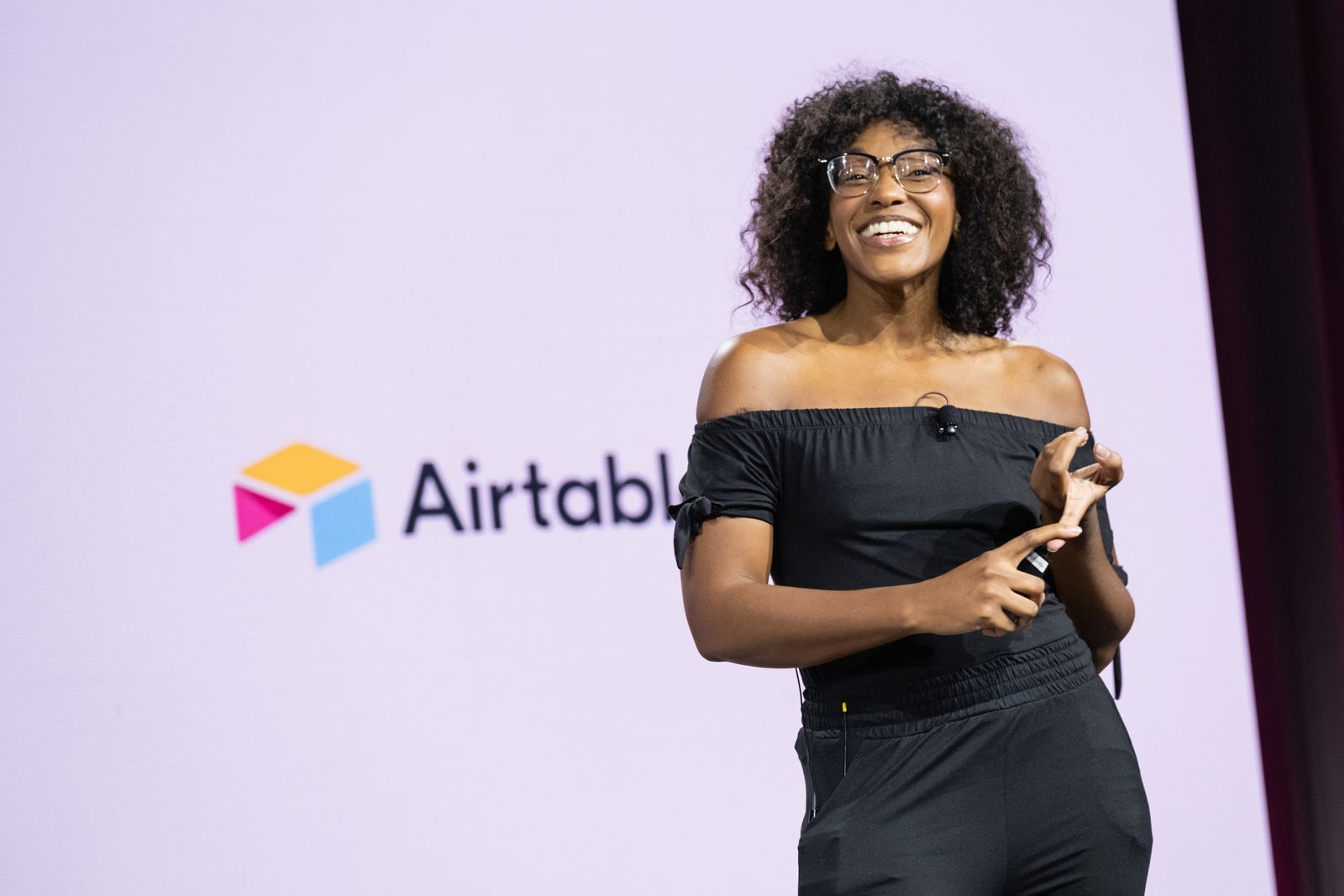 The way forward, Howie explained, involves aligning teams around shared information they can trust. "Information is what flows around companies. Companies live and die today by how quickly they can align around information, make decisions, and act on it," he said.
The need to balance speed and connection was echoed by Ray Wang, CEO at Constellation Research: "Companies who can make faster decisions, manage their processes more efficiently, and orchestrate information and data all together—those are the ones who are going to win."
Takeaway #2: Connected data creates aligned teams
Individual teams have more tools and more power to make decisions than ever before. But, without a way to connect the data living in disperate tools, this team-level autonomy exacerbates blindspots and creates data silos.
Sarah at LinkedIn, explained that connecting data via a single source has bolstered her team's outcomes and helped them scale at a pace that was previously impossible. The design organization at LinkedIn, which includes the UX research team, has more than doubled in size over the last six years, growing to 328 team members at a 2.5x growth rate.
"Working in a hybrid world, having a single source of truth and a holistic way to track things is paramount," Sarah said. "It's allowed us to make decisions more quickly as a unit, with a certainty that comes from shared, trustworthy data. More reliable data means that our researchers can focus on the storytelling, which helps our stakeholders empathize with the findings and understand the value behind our suggestions."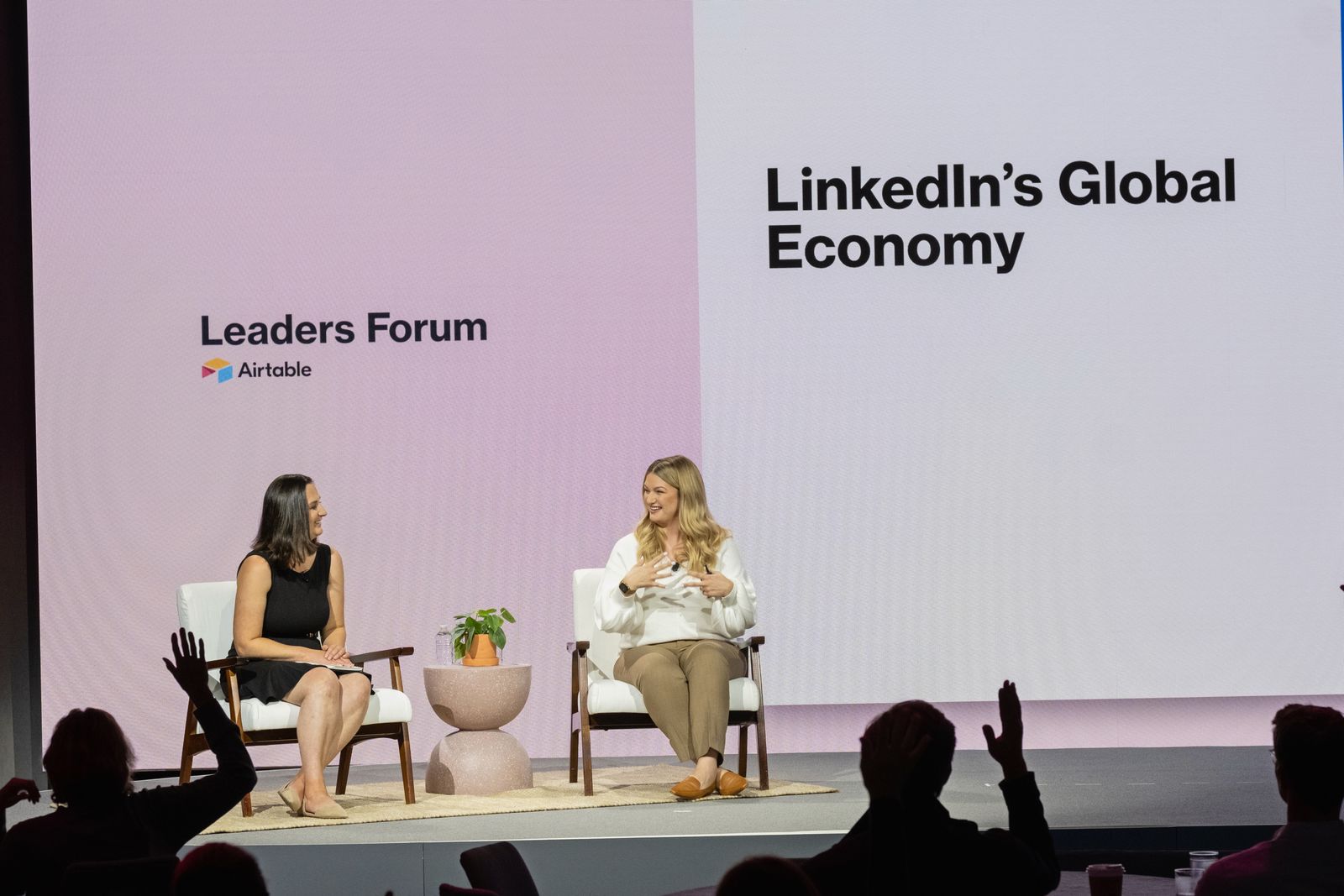 Sarah uses Airtable to create this single source of truth: "Aside from project tracking and comms, it provides us with a research calendar, which rolls up into a design org calendar. It helps us live up to the commitments that we make to our research participants around data handling, and it even manages our various office hours."
Takeaway #3: We need the flexibility to work how we want
Connecting and sharing data should not come at the expense of speed of work. Local autonomy of our teams to decide how they want to work and make decisions gives teams the freedom to move quickly.
"When you think about the hundreds of millions of applications that need to be in every single company, in every part, every facet of every operation, there's no way that we can use all of those off-the-shelf," Howie said. "These applications have to be built, by the people closest to the work, by every team and company for themselves."
Carrie at iHeartMedia shared her search for just that kind of flexibility as she transitioned her team to podcast production. She and the team chose Airtable to manage the production and metadata organization of thousands of podcasts, reaching more than 34 million people monthly.
"Marketing teams, publishing teams, business development teams, sales teams… These are very different teams with very different workflows but they all need access to different parts of the same data," Carrie said. "We needed a solution that could be flexible enough that it could work for all these different teams, and share the information in certain ways."
Connected apps offer a new way for enterprise companies to build apps on top of shared data, resolving org-wide fractures and enabling teams to make decisions according to information from across the company, not just from within their silos. At 2022 ALF, Airtable declared the new north star as a connected apps platform enabling companies to do just that.
"A connected apps platform makes data not only operationalized, but also accessible and actionable across the enterprise," Howie said. "Companies not only need apps that are individually flexible and tailored, but also that connect together to connect the entire enterprise to move quickly and as one."
Takeaway #4: The role of IT is changing
With many IT folks in the audience, speakers stressed that bringing organizations together includes viewing IT as a strategic partner to help build and scale connected apps. IT should be a critical player in avoiding the silos and tool fragmentation that make it impossible for organizations to move in unison.
"IT's role is changing from the role of gatekeeper to a strategic partner within companies—inside the organization, if you don't have a good business and IT partnership, it's hard to engage," said Ray of Constellation Research. "The good news is, technology has empowered every department and almost every individual to make changes and to also create some barriers and guideposts, to avoid getting into too much trouble. Cooperation [between teams and IT] is happening more and more, and that makes a big difference."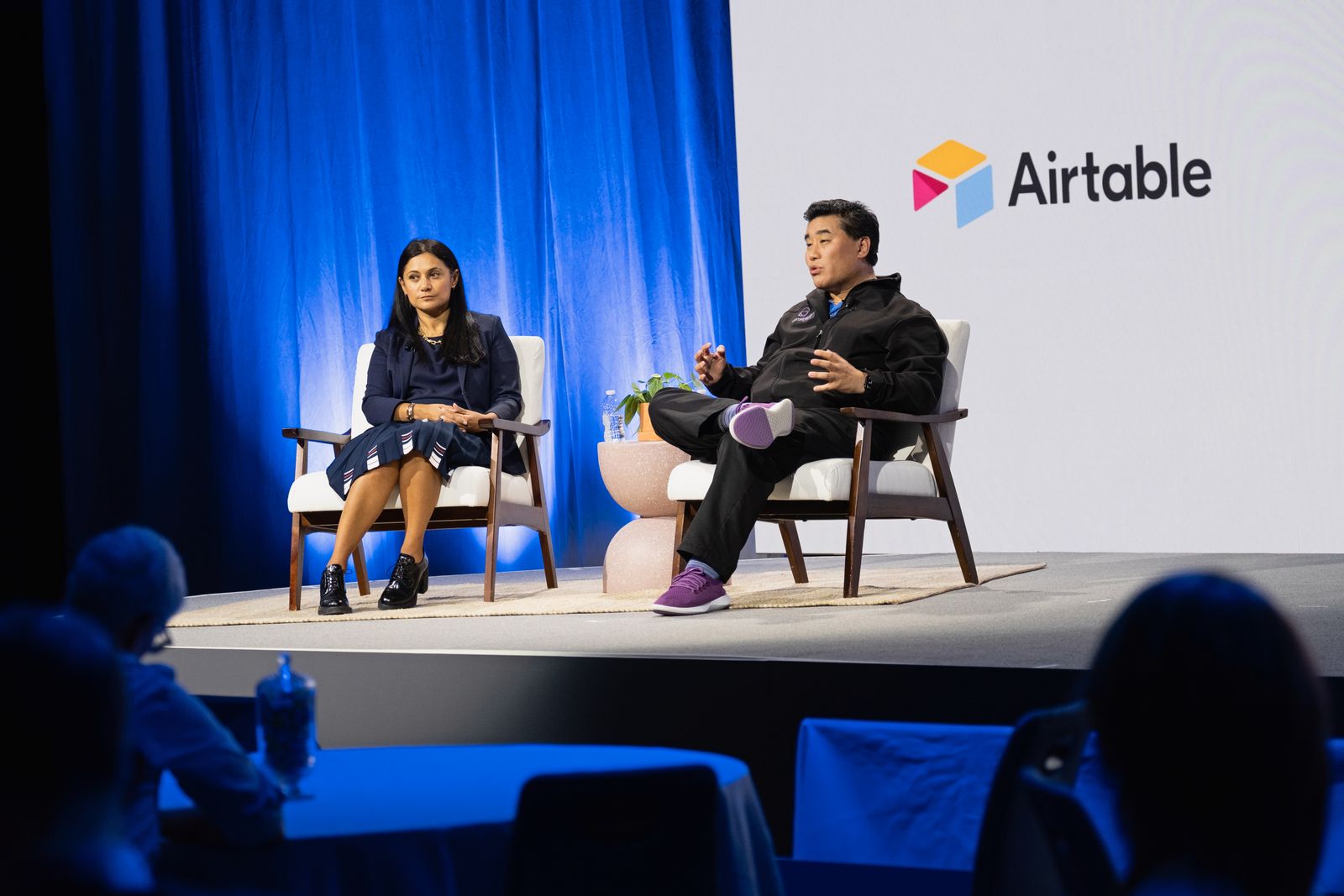 Takeaway #5: Transformation is necessary
Borders, Blockbuster, Sears, Kodak. These companies once had the resources, talent, and finances to remain successful, but they failed to adapt, and were leapfrogged by digital-first competitors. What became clear through every session at Airtable Leaders Forum is that connected apps bring alignment across the organization through shared data, while giving teams the flexibility they need to move quickly. This can be transformational for organizations trying to compete. When information is flowing and connected, the enterprise is unstoppable.
Transformation, however, is only achievable when you harness the full power of your team's talent—which means doing things together. As Meow Wolf founder Vince Kadlubek illustrated in his talk, connecting people and elevating their talents can lead to truly amazing things.
Meow Wolf, an arts production company that creates immersive experiences, brings together thousands of artists to collaborate on a single experience. Their art installations are visited by millions globally, and they're designed to unlock imagination—which, Vince hopes, will transform the world. They use Airtable to manage the creation of this work across thousands of artists, making sure everyone is in sync and making progress together.
These unique experiences "allow the participant to free themselves of their own context and become whoever they want." Vince said. "They don't have to live by the rules they've been living by, and that's transformation."
He continued: "It all starts with agency—this process doesn't occur if the participant doesn't have control of their own experience. With agency, they're empowered, and that empowerment leads to a basic process which is exploration, and through exploration there is discovery. Exploration and discovery can only happen in the context of the unknown."
Stay tuned for more customer stories and examples of connected apps in the coming weeks, as we unpack all the content from the Airtable Leaders Forum.