New features to help you build, connect, and share apps across your organization.
Today most teams have the autonomy to choose the software and tools that work best for them. While this allows teams to move fast, it can also create massive data silos, misalignment, and disjointed collaboration. There's critical data spread across dozens of applications, and no team has access to all of it, which can cause work to slow way down.
But leaders should reject the choice between moving fast and moving together.
The Airtable Connected Apps Platform™ lets every team create powerful apps built on shared company data. Teams can customize, share, and connect those apps across the organization, all on the same platform.
Create a network of connected apps in your organization
Building apps in Airtable isn't new. Product teams at world-class companies like LinkedIn create apps to capture and report user insights, empowering them to make better product decisions. Meanwhile, marketing and content teams at companies like Equinox build apps that help them pitch, create, and publish high-quality content quickly.
To help teams create better connected apps and break down the silos in their orgs, we're working on new features to make those apps more powerful, more secure, and more connected.
These new features include:
Verified data: Publish and surface key data so everyone can build apps with the same, accurate information. Verified data is currently in development and will be available in early 2023.
Data map: Visualize connections between data points, so you can build, manage, and scale work. Data map is currently in development and will be available in early 2023.
Two-way sync: Automatically update data across multiple apps to ensure information is always current. Two-way sync is currently in limited availability for Enterprise customers. It will be available more broadly in early 2023.
Interface Designer: Transform your data into intuitive and interactive interfaces that can be quickly customized for each team member. Interface Designer is now generally available for all Airtable users with updated and more powerful features.
Permissions: Ensure the right people have access to the right info. Easily control access to your app by granting permissions to the entire app, just the interface, or even just information relevant to the user.  Granular interface permissions are now available for Pro & Enterprise customers.
Apps by Airtable: Get started faster with apps that can be used straight out of the box—each is custom-built for an essential use case, and based on industry best practices. The first set of these apps will be available in early 2023.
Redesigned home screen: Discover and access the apps your organization relies on, right from the new home screen. Enterprise customers can opt into the new home screen today; it will be rolled out to all users over the next few months.
Here's how your team can use these features to move quickly, and as one.
Connect your organization through shared data
Behind every great organization is a treasure trove of important data. This data might be the employee directory that helps leadership effectively staff projects and manage resources, or it may be the list of product SKUs that teams require to plan their work. Regardless of what the data your team works from, these new features will help you maintain its integrity, quickly translate it into insights, and connect it across your org.
Verified data
Organizations build bespoke apps for specific needs, but even separate lanes of work are often deeply interconnected. Unfortunately, the most important data—the data that many teams or projects rely on—can be hard to identify and access.
With verified data, you can identify and promote accurate, up-to-date information, ensuring your team is working off the right inputs. That means that when teams create new apps, they're built on top of trusted data.
A media company, for example, might publish and mark their production schedule as "verified data." Now, teams can build their social media calendar, localization schedule, campaign planning, and field events in full confidence, knowing they're working from the same, trusted source.
Data maps
As your org grows, the data does, too. The premiere of a TV show at a media company of 100 runs much differently than at a company of 5,000; a product launched to a few customers will be simpler than one launched to many. Managing all the people, information, workflows, and apps you need to track can be difficult.
But at the heart of every successful initiative? Data. That means it's imperative that everyone knows what data to build around and how that data is being used in their workflow. Enter data maps. With data maps, you can better understand your data—what information it includes, how it's connected to other data sources, and who owns it. Now, if there's a change in data, you'll know exactly how it impacts your work. Through a data map's interactive visualizations, you can navigate and manage complex information, and know exactly what you need (or don't need) to get work done.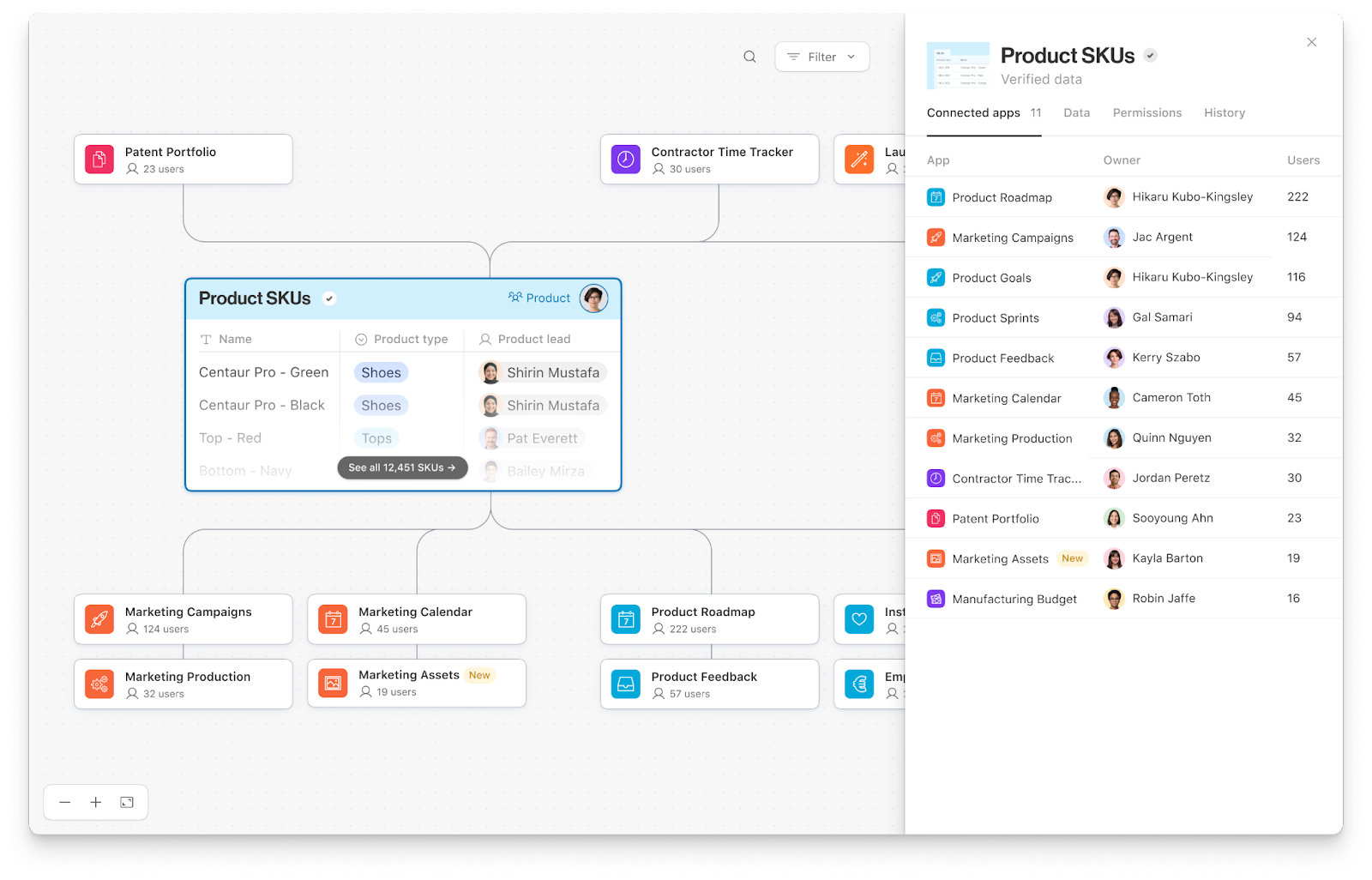 Two-way sync
Every organization's workflows have countless dependencies and connections. Customer feedback is intrinsically linked to product design, just as a product roadmap is inherently linked to a product launch schedule. But often, different teams manage these workflows in a vacuum, leading to mistakes and misalignment.
With two-way sync, important updates are made to all important workflows, no matter where the update was originally done. Once you've set up a sync between two bases, an update in one will automatically update the other, so you can rest assured that everyone is working from the same, trusted data.
Let's say you're a content team responsible for promoting your publisher's upcoming book releases. You can now sync your content approvals app with your social media tracker, so your social team knows exactly when something is ready to post. And, if your social media manager adds thoughts or feedback on an asset from the social tracker, it'll show up directly in your content approvals base. That way, everyone knows exactly which assets are ready to go live, and when.
Build powerful, intuitive apps
Over the last year, we've seen teams build beautiful, interactive interfaces for their apps that keep their teams collaborating effectively. And now, with new capabilities for building, navigating, and managing in Interface Designer, it's even easier to create exactly what you want.
Build what you want, for whomever you want:
A redesigned editor in the sidebar provides a central place to make real-time changes to your interface—keeping your canvas clutter-free. Whether you're using a calendar to track deadlines or a visual gallery to look through creative assets, you can easily manage your interface's content and appearance from a single location. With the new editor, it only takes a click to change how your data is visualized.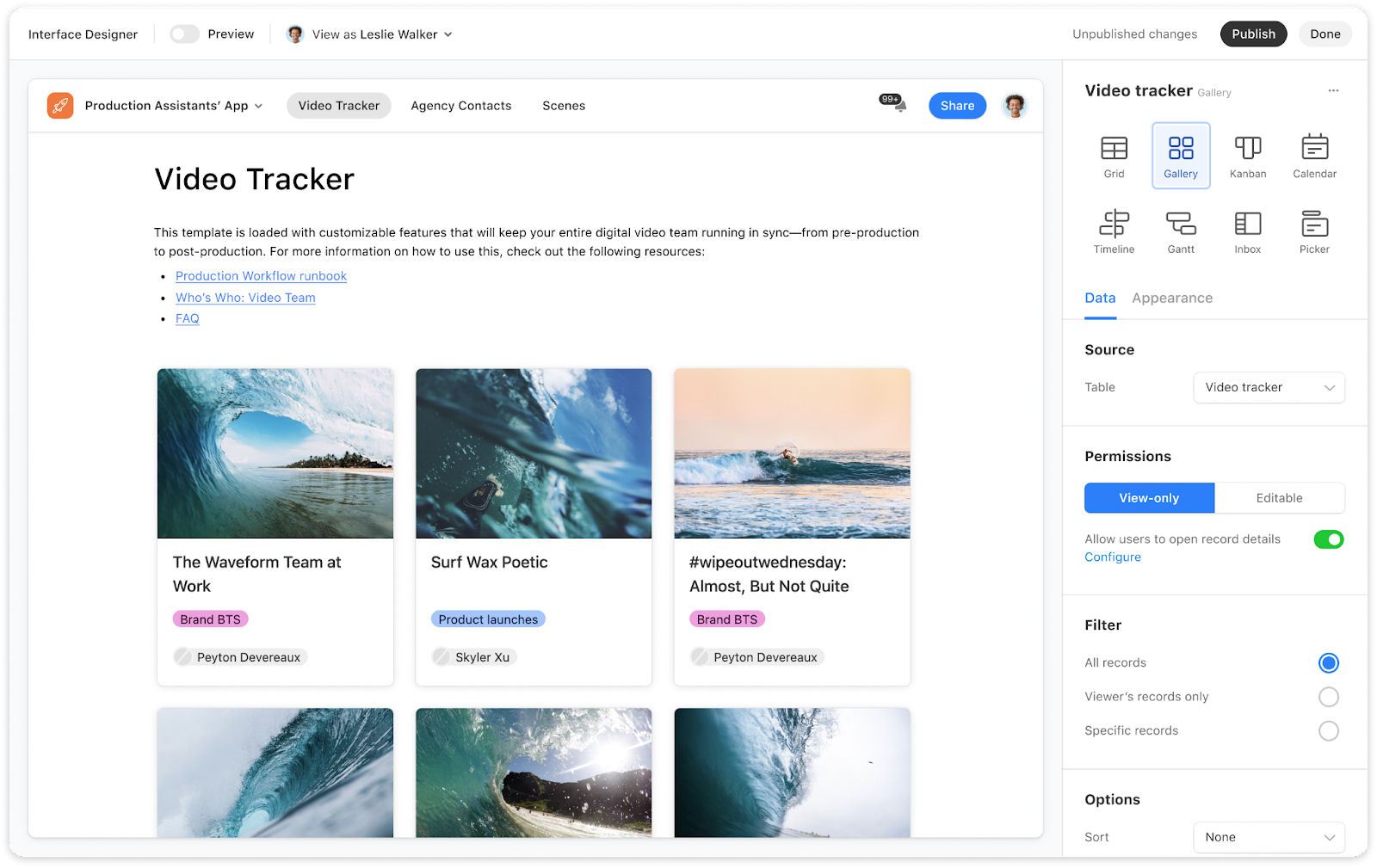 When you want to share an expanded view into a particular record, our new full page detail experience provides you with the ability to fully customize what others see. So if you need to give marketing leadership a way to view and approve your brand assets, you can design a built out interface that shows them all the details in one place.
Navigate with ease:
Your team may want to build multiple interfaces for a single app. Let's say there's a big product launch coming up—you might have one interface for engineering bug bashes, and another for marketing campaigns. But if those bugs need to be bashed before launch day, these interfaces should be grouped together—after all, one is dependent on the other. With our new navigation bar, it's a cinch to navigate between all the interfaces of an app. Simply click on the different interfaces shown on the top bar to switch your view—all without leaving the current screen.
Manage everything from one place:
As your organization grows, it's important to track what's created and shared to maintain data security. Now, Enterprise admins can manage interfaces straight from the admin panel—similar to the way they can manage workspaces and bases. Admins will not only be able to see who's creating or using interfaces, but who has access.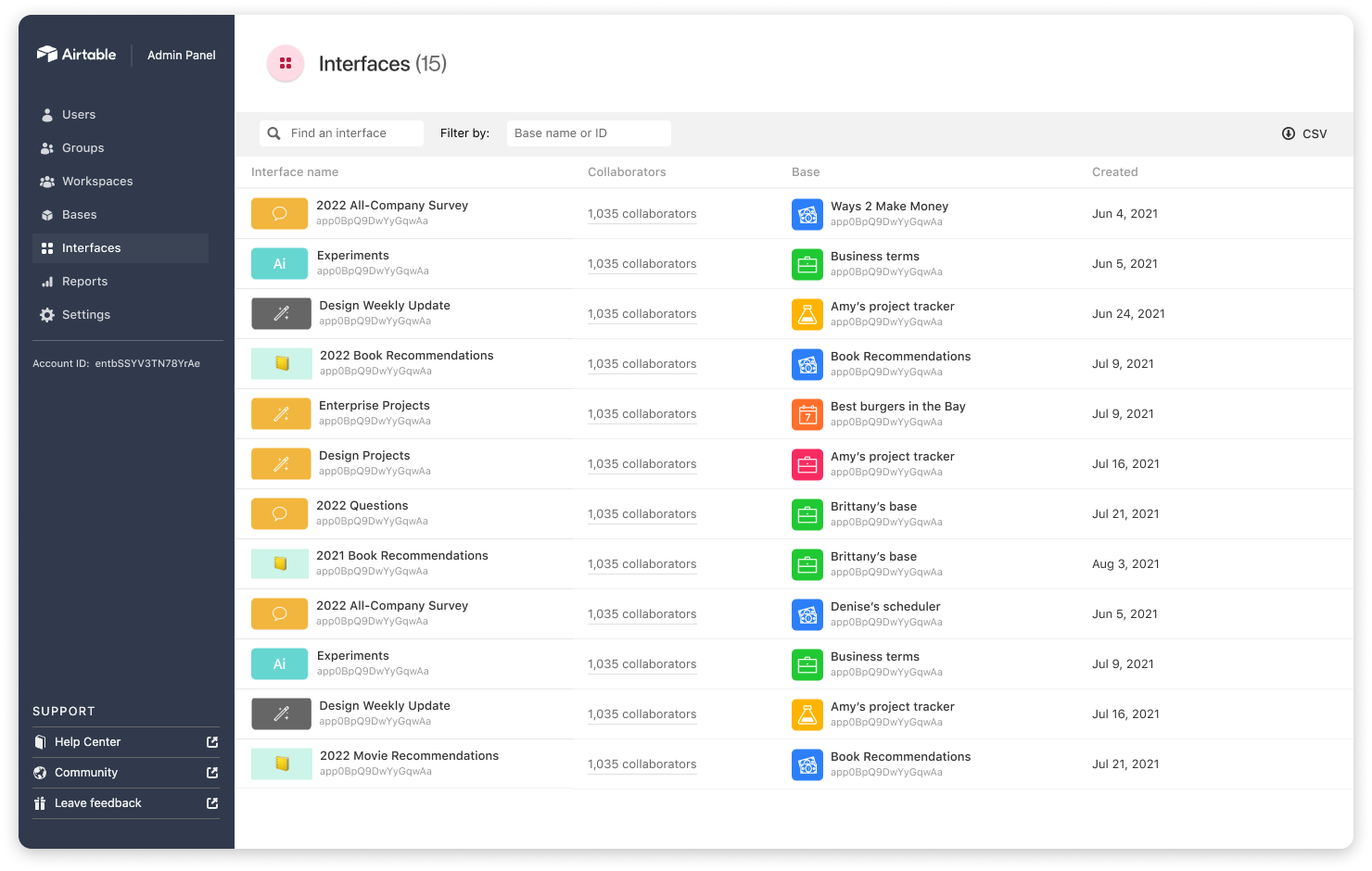 As your use of Interface Designer grows, you'll want to know how your interfaces are being used. Interface insights, a feature rolling out to Enterprise users over the next month, gives you visibility into data like the number of views your interface is getting, or which departments are viewing them. With this information, you can make your interfaces even more impactful for your team.
We'll also be making it easier to get started in Airtable right away with apps by Airtable, a set of pre-built apps built on industry best practices and designed for common use cases, like collecting customer feedback or tracking content operations. Rolling out over the next few months, these out-of-the-box apps will help save time on building and designing complex workflows. But they're also completely customizable, so you can tailor them to your hyper-specific needs.
Share your apps securely
Once you've created an app, the logical next step is to share it with your team, department, or company. At the same time, you may need to keep specific parts of your app secure, or customize exactly who can see which data.
With new granular permissions, you decide how others can interact with your app. Whether you want to share the entire app, share only certain pieces of your app via an interface, or choose exactly what data is shown to each user, your app is as dynamic and secure as you choose it to be. With this level of control, you can safely share more data across new departments and teams in your organization—knowing team members will only have access to the data you've specified.
Say you're on a marketing team, and you need to give your cross-functional sales partners a high-level update on your campaign progress. You can share read-only access to your campaigns interface—without giving them access to everything in your marketing team base. Your partners have the info they need; your sensitive data is safe from unwanted edits.
Or maybe you're an HR leader and you've created an app to track each department's performance rating and compensation changes. Now, when you share that app with your team, you can add a user filter to only show the information relevant to each department lead, without displaying sensitive information from other departments. No more creating separate interfaces for each person in your organization—everything is all in one place, dynamically changing based on your rules, and on who is viewing the interface.
And, if you need to change your sharing or permissions as work progresses, you can quickly unshare or change access right from the interface, so teams can collaborate with the right level of access.
Discover apps across your organization
What starts as one or two apps can quickly turn into a complex network running your organization's most important workflows—and team members will need to quickly navigate and surface the apps they need.
Our redesigned home screen makes app discovery easy. Now you can easily find the apps most relevant to you, with your most recently accessed apps front and center. Team leads can pin apps to better highlight them—for example, if there's a new member joining the team, they might immediately see an IT app to request equipment, or the employee directory to learn more about who's who. And instead of searching over and over for the same thing, your team can now star their most important apps for quick and easy access.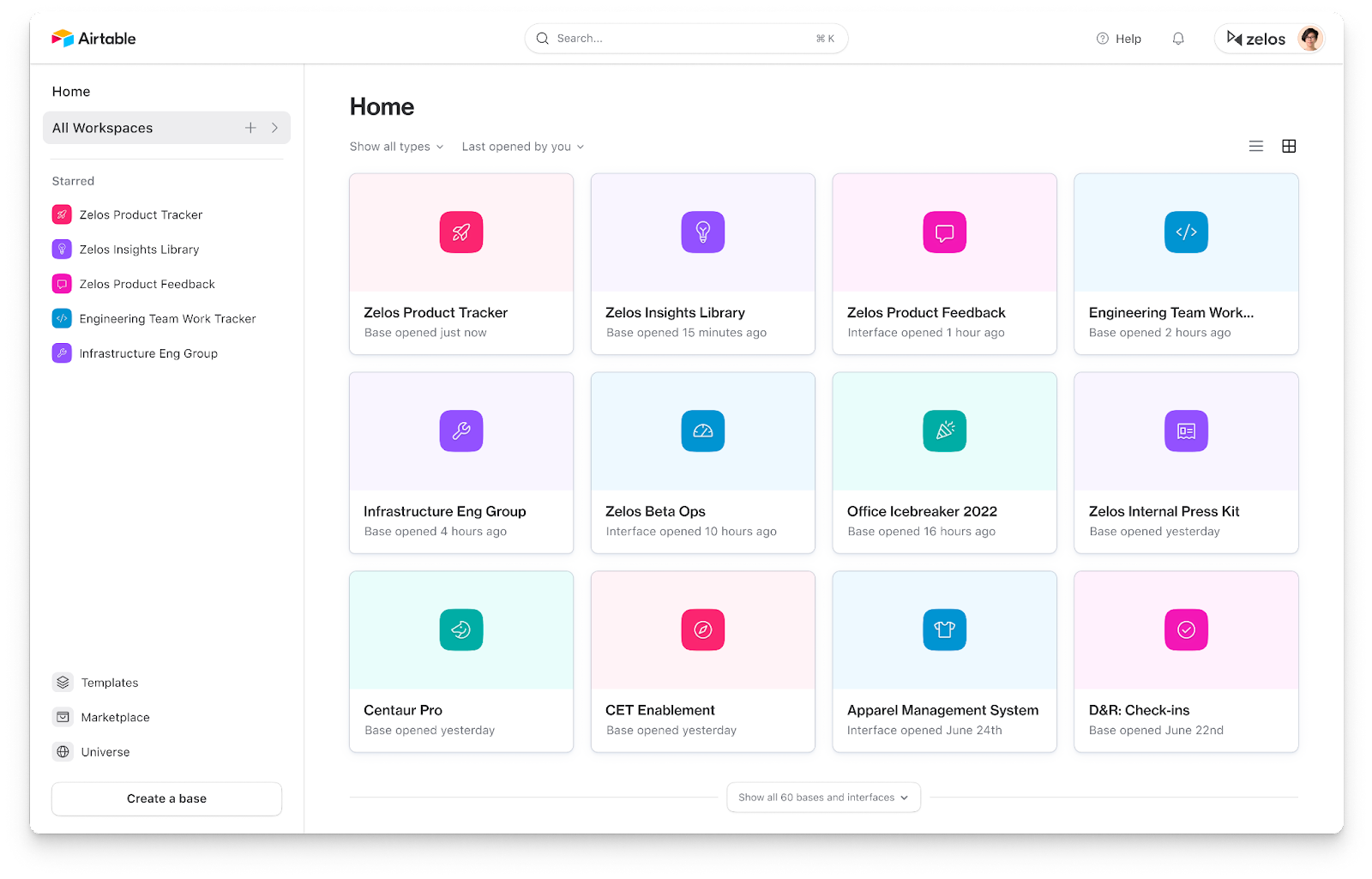 Building the future of teamwork
Since the beginning, Airtable's mission has been to democratize software—to provide the right solution for every team's needs, regardless of their technical skill. As orgs grow and work becomes increasingly distributed, connecting data is more critical than ever before. With a connected apps platform like Airtable, every organization can build incredible apps using shared data.  
And that keeps teams moving fast and together.
Register for our next webinar to learn more about harnessing these features.
What's a connected apps platform? Learn more in this blog post.