Ditch your accounting software and build a more flexible bookkeeping system.
If Hal Zeitlin is the techie brains behind Chicago's Zeitlin's Delicatessen, his brother Sam is the sheer baking brawn.
To be sure, both Zeitlins are plenty brainy. Sam graduated from the Culinary Institute of America, worked stints at Michelin-starred restaurants, and last year won the StarChefs Rising Stars Baker award. Hal runs a marketing agency, Candid Leap, where he creates websites and business systems with low-code tools.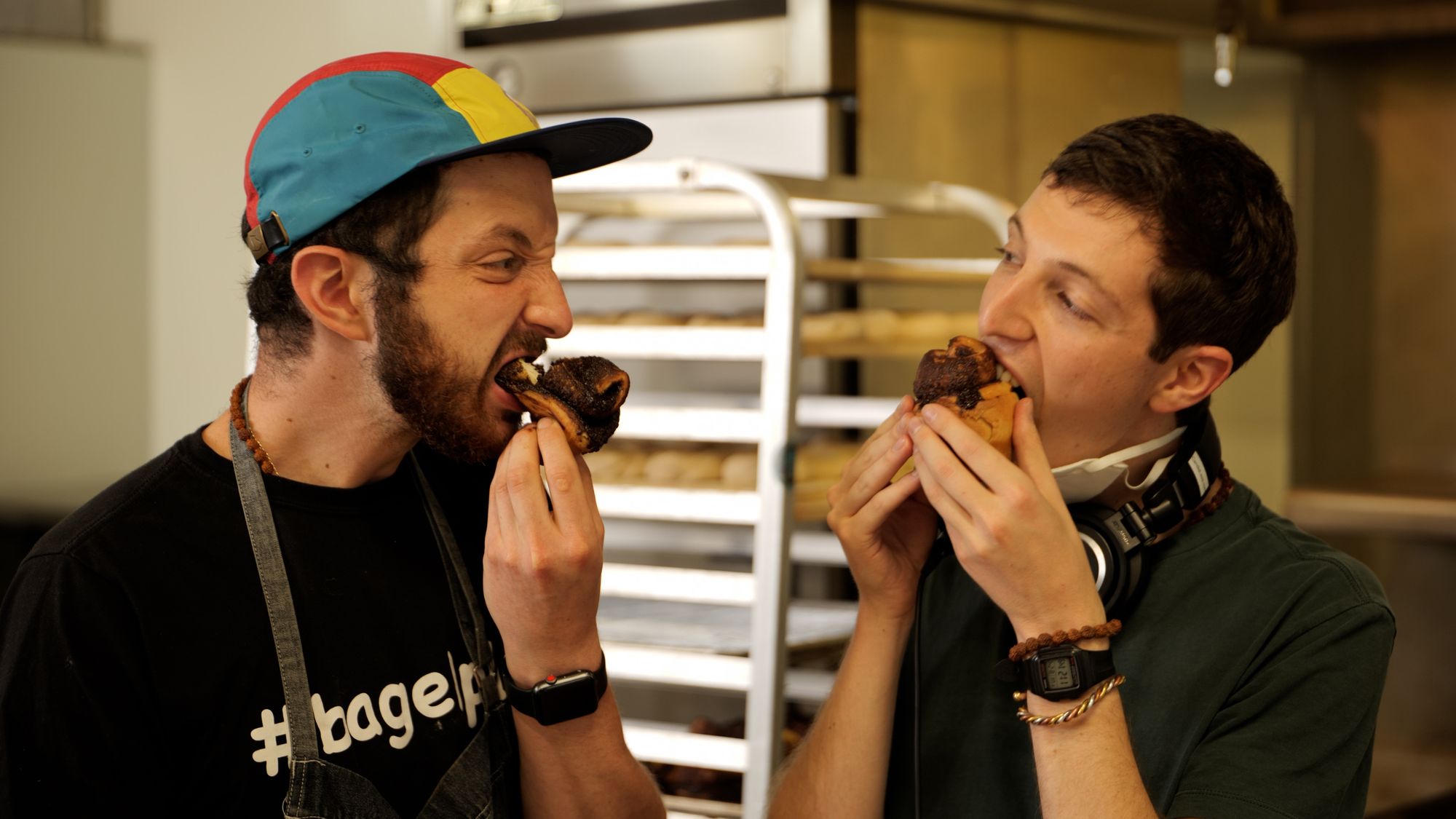 The brothers combined forces two years ago to build a modern Jewish deli that's rolling out some of the most-talked-about bagels in the Windy City.

Their behind-the-scenes advantage: an ultra-precise accounting system they developed in Airtable.
High stakes, slim margins
In a food business, profit margins are everything.
While some restaurants get a boost from high-profit items like alcoholic drinks, most restaurants run on wafer-thin margins of between 3 to 5%. That means minor mistakes by serving staff (the wrong sear on a steak, for example) might cost the restaurant its profits for the night.
The Zeitlins know the game. Sam spent years in restaurants, and Hal helped run marketing for Farmers Juice, which devised an Airtable-based system for inventory management.
"We were growing rapidly and had to regularly predict increased demand and churn. It cannot be understated—over-ordering jeopardizes the health of any business," says Hal. "If we under-ordered, our customers were upset because they couldn't get certain products or experience delays."
Deconstructing orders to the 'atom level'
The same principle applies at the deli. Sam once did his baking in a shared kitchen and sold goods mostly at farmer's markets. But a few weeks ago, the Zeitlins signed a lease on their own kitchen and are expanding with a new Zeitlin's Deli Club "nosh membership." To keep their physical space, they'll need to be extremely efficient.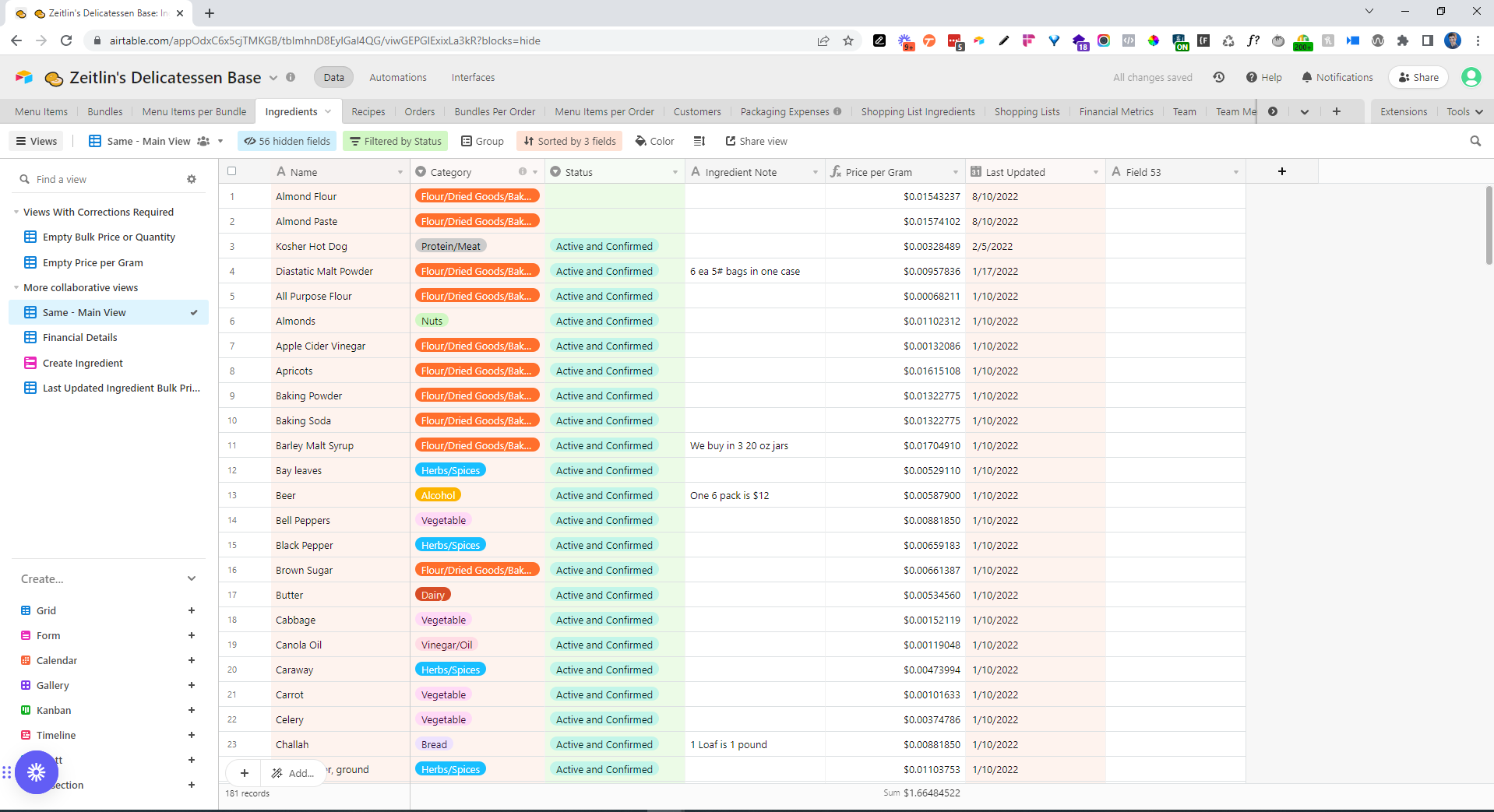 With help from Airtable whiz Alessio Monino, the Zeitlins built a system in an Airtable base that breaks down every order into smaller pieces—what Hal calls the "atom level." This gives Sam and the baking staff precise instructions for how much inventory to buy, how much they need to bake, and by when.
Let's say an order comes in for a dozen everything bagels. On the atom level, a formula in Airtable calculates the grams of flour, malt powder, vinegar, salt, etc. needed for baking that dozen. Then an Airtable script sends those ingredients to a table called Shopping List Ingredients. Another script slates the date on a calendar by which the order must be prepared.
"We'll have an infrastructure that will allow us to plan and not have waste," Hal says.
In the bigger picture, Airtable is helping Sam, Hal, and team project the profitability of all items sold and make monthly profitability estimates. As they gear up to run wholesale and catering operations along traditional restaurant-style retail, this type of accounting will be critical.
"We're scaling up to have enough money for a brick-and-mortar operation without investors," says Hal. "Airtable is our CFO in a box."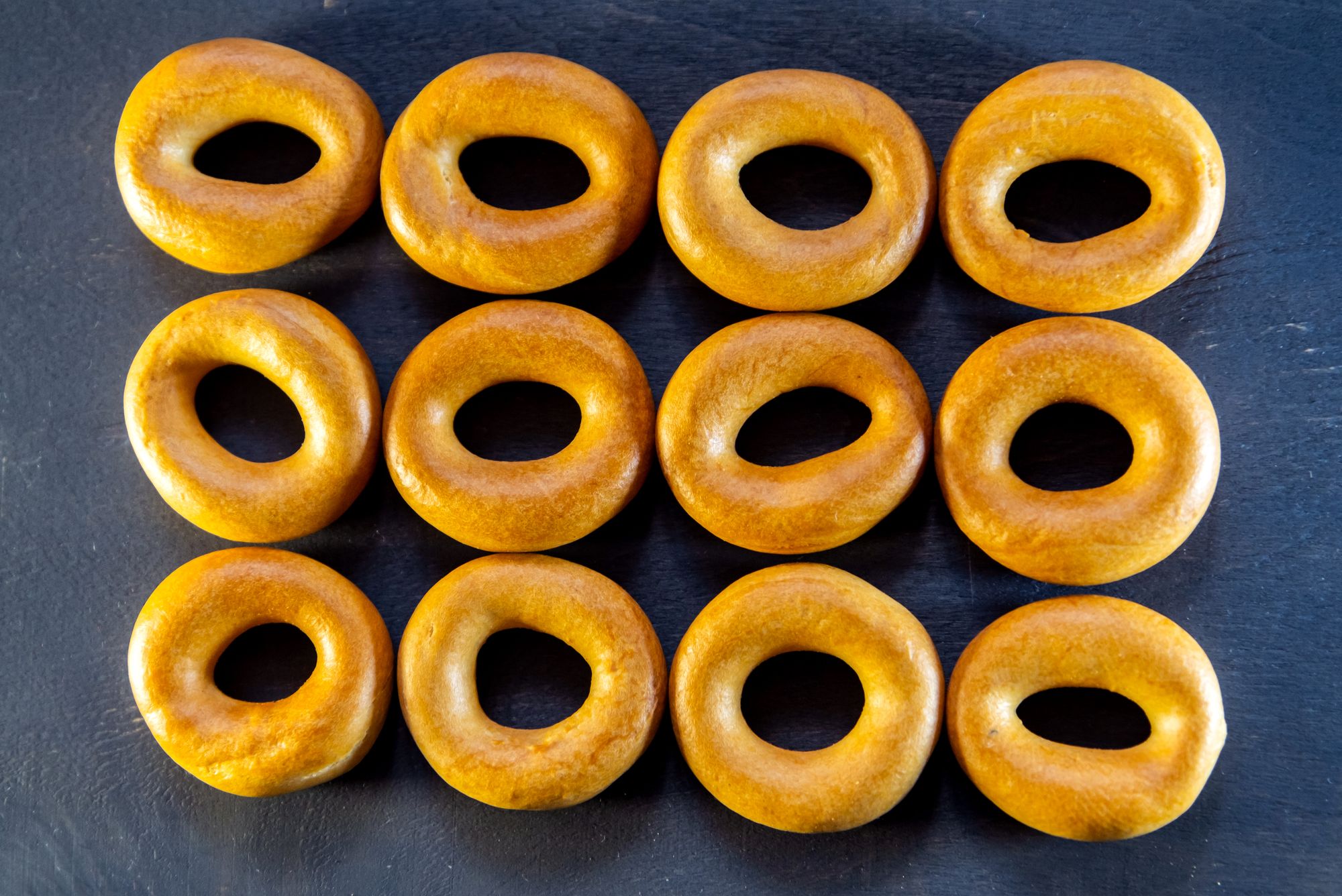 Airtable is our CFO in a box.
A biologist branches out
It's not just the restaurant business that benefits from precise accounting.
A bright green beetle called the Emerald Ash Borer has killed millions of ash trees the world over. The beetle is invasive in North America and specifically threatens Midwestern ash stands, where it's already wiped out around 100 million trees.
Enter plant biologist Kenny Anderson, who's an expert in killing bugs. Anderson worked for large agricultural companies like Scotts Miracle Gro, Syngenta, and The Ohio State University evaluating pesticides and fertilizers. But Anderson was itching to start his own enterprise.
He founded Save the Ash Tree Co., which injects a tree with insecticide that protects it from the beetle.
Not too long after he started the business, Anderson discovered Airtable.
"Airtable is like Google Sheets on steroids," Anderson says. The biologist, who also has an MBA, used spreadsheet-based programs for years. But in Airtable, he found it easier to move data around, building automations and integrations.
Anderson needs to track not only revenue and expenses, but also when a tree injection takes place, where, and how much insecticide he's using. He occasionally gets a call from a city forester to validate he is treating a tree. Airtable gives him easy access to his records from his phone for these cases.
Using Airtable and an integration with Make (formerly Integromat), Anderson also automated the bidding process for new tree clients.
On his tree website, prospective customers fill out a form describing the size of their trees and the damage done by beetles. The form-filling action triggers several subsequent actions.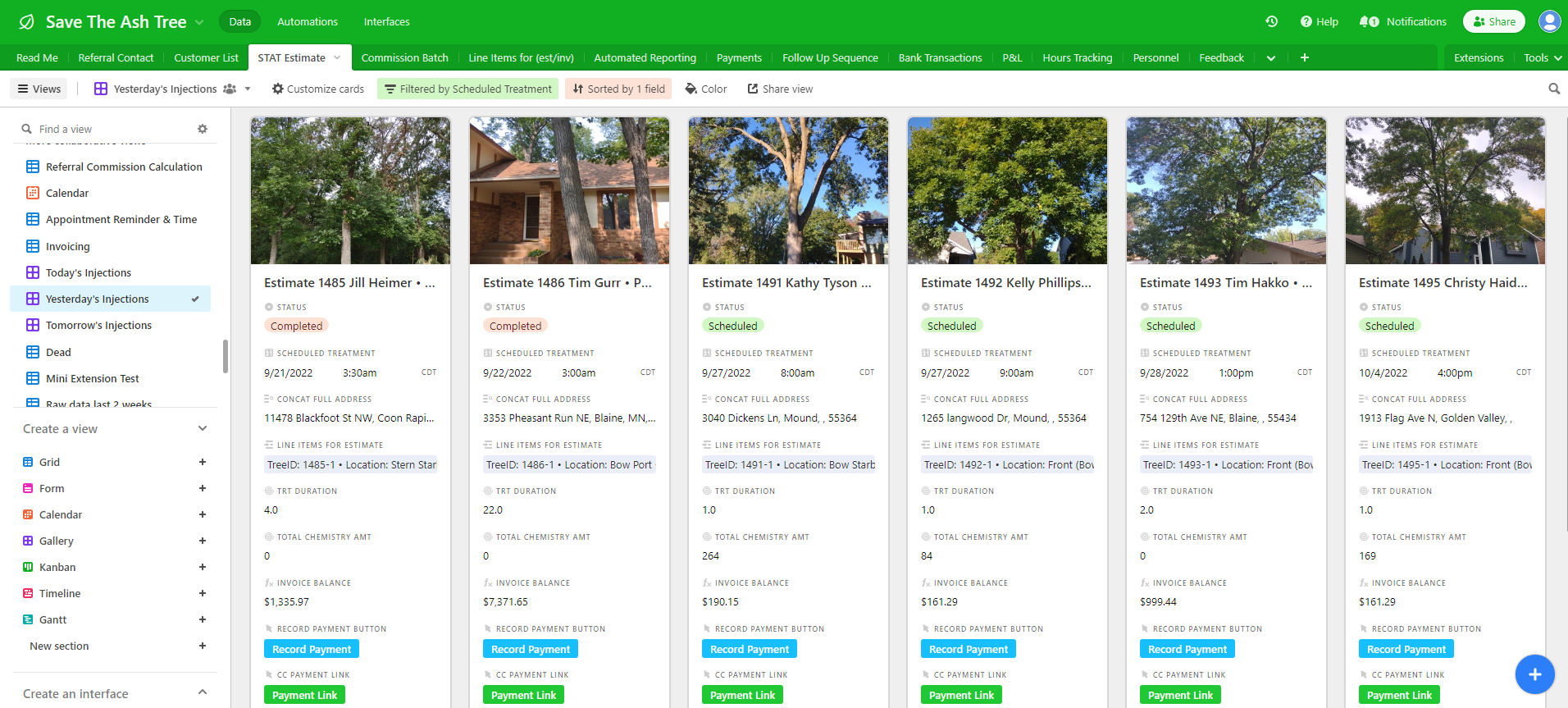 First, a formula in Airtable does Anderson's on-the-spot cost accounting—calculating the chemistry he would need for each tree injection. Then an email goes out automatically to the client with an estimate. Another automation slots a potential appointment time on Anderson's "jobs" calendar.
The gallery view and filters manage Anderson's work orders for the day. He also easily tracks commissions to arborists who refer him business.
"Combining Airtable with Integromat unleashed a ton of power," Anderson says. "It automates so many things for me. Instead of spending hours doing the books once a month, my books are done on the fly."
When Quickbooks isn't all that quick
If you're ready to start tracking expenses in Airtable, you have plenty of options, including Quickbooks, which many companies integrate with Airtable.
But sometimes Quickbooks can be intimidating. Paul Matsushima, an operations and organizational infrastructure specialist in southern California, says Quickbooks has plenty of features that small organizations and departments simply don't need.
"One of the first steps in Quickbooks is to set up a 'chart of accounts,'" he says. "It's quite complicated. You have to think like an accountant."
In 2019, Matsushima built a simple Airtable base for accounting and bookkeeping that's been copied more than 1,000 times. He recently updated the base, adding room for multiple fiscal years, plus interfaces to show specific types of reports (an Annual Profit & Loss Report, for example, which shows how much your company has spent and earned over a certain period).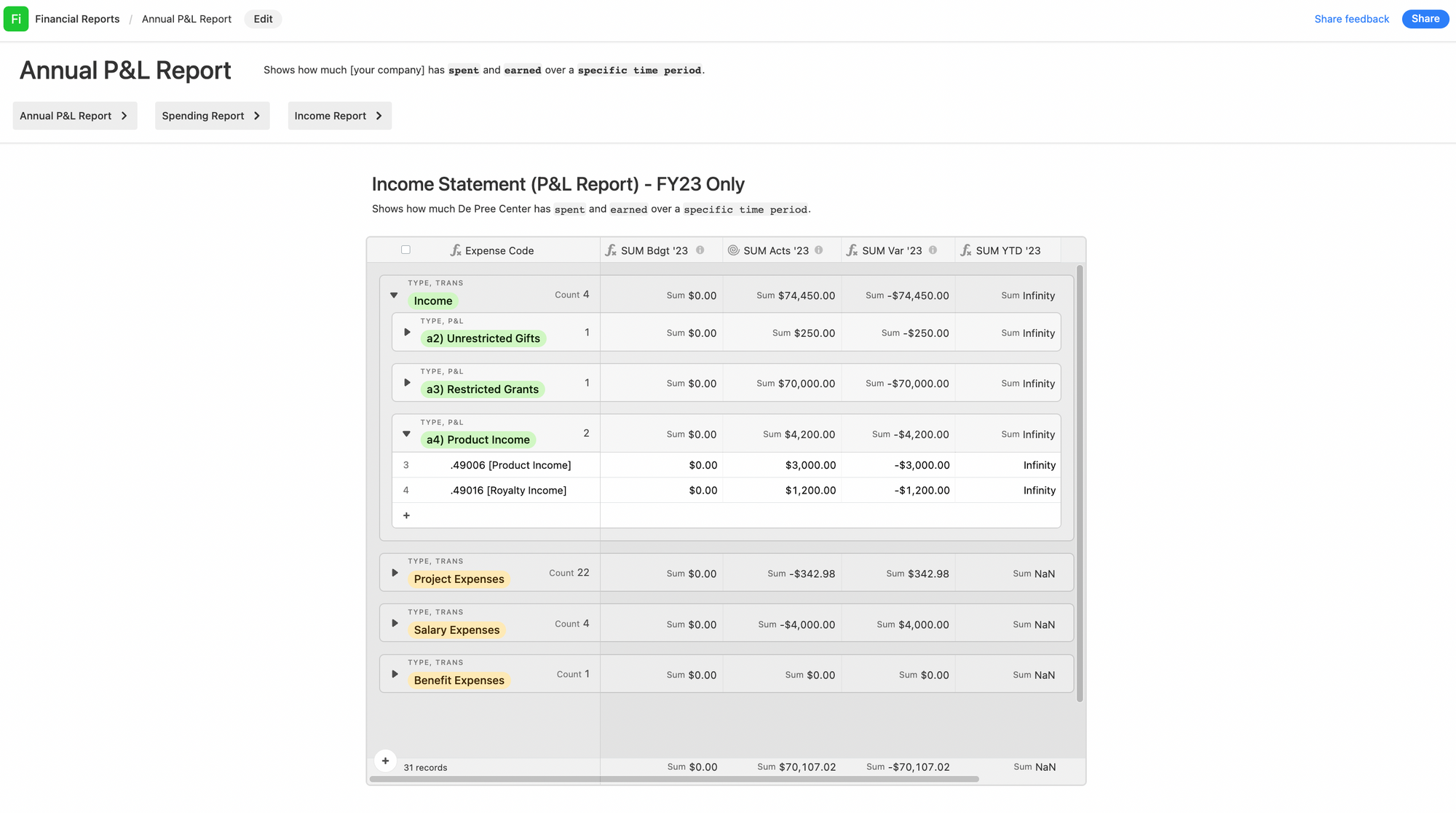 Airtable's customizable views and relatively low learning curve make it a more approachable system for organizations to track their finances. The best accounting system, says Matsushima, is one that you can shape to your business needs, not the other way around.
Ready to get started doing your accounting in Airtable? Check out our handy templates for expense tracking, inventory tracking, order tracking, and small business budgets.