These easy-to-customize templates keep content teams organized and on track.
When the internet is awash in content, why does creating it still seem so hard?
Talented creatives and content managers know that crafting great content takes time. The basic steps of content creation: generate content ideas, develop a content strategy, find a voice, refine that voice, and then create, create, create.
And those are just the bare bones. Some content projects involve dozens of additional steps along the way. Think of full-length films, in-depth podcasts, or video productions that go through many rounds of review and approval. No matter how many stages, every content creation project can benefit from better organization. And an Airtable template is a perfect place to start.
An Airtable template displays essential information in one easily customizable place (called a base).
Use these templates as launch pads for your content team, then take advantage of their flexibility and make them your own with dedicated views, filtered information, and even automated approval processes.
This straightforward content calendar template helps teams build out any content plan. Scope out a wide range of content pieces in the Content Pipeline view, assign tasks and deadlines right from the built-in calendar view, and report on results in real time with a dedicated Results dashboard.
And, with multiple calendar views, you'll always know who's assigned a story and when it's due. Nudge writers and editors with built-in notifications, then publish stories with one click.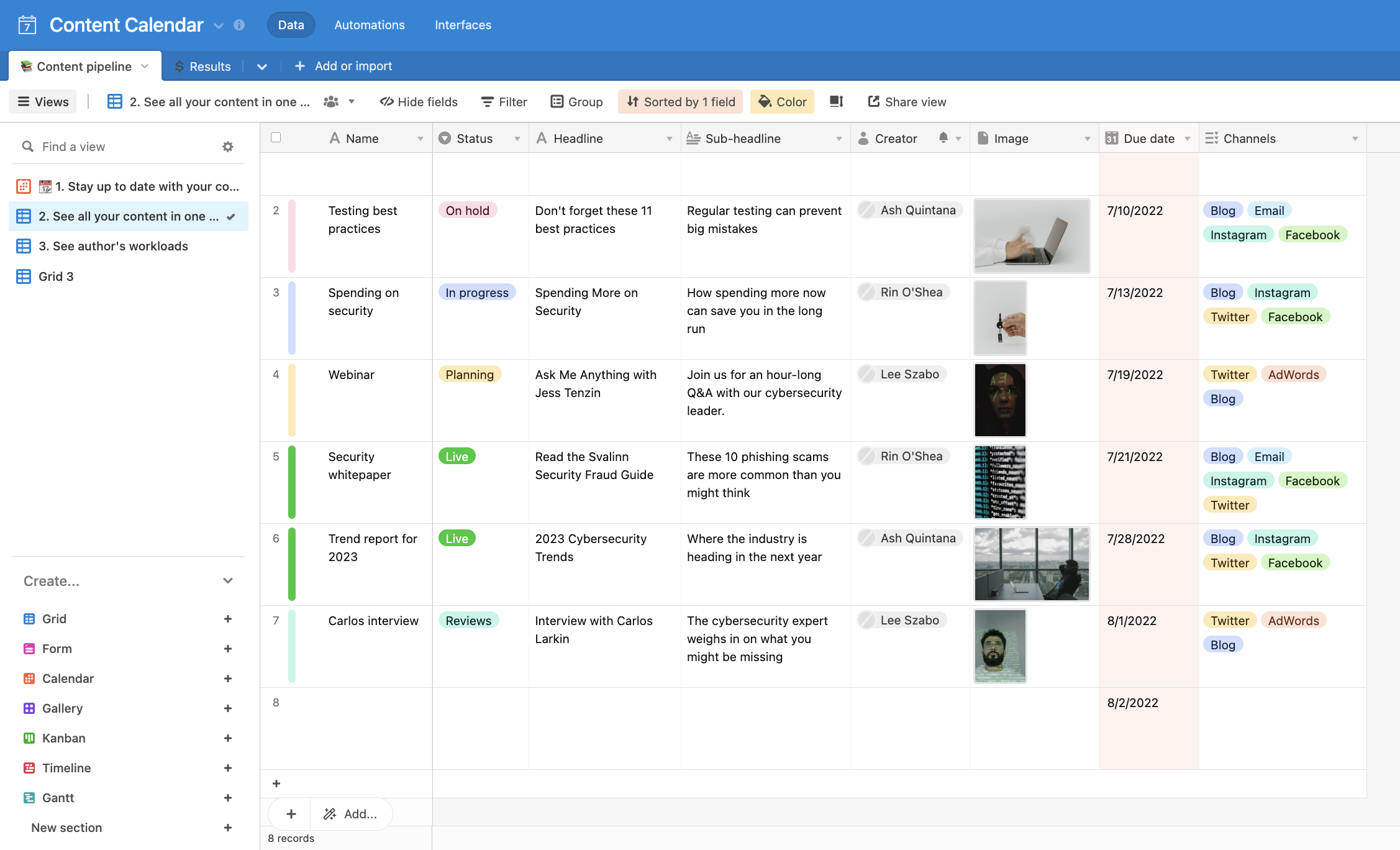 This web-focused publishing template comes with built-in features for larger editorial groups running a blog. It provides teams with an instant understanding of who's writing what, how it will be distributed, and what's resonating for your audience.
Which themes or topics are a hit? Take a cruise through the fields tied to each content piece showing impressions, page views, feedback, or engagement metrics.
The calendar also shows a snapshot of your team's output. Is anyone missing deadlines? Fumbling story roll-outs? The template's Author Workload view shows which teammates might be juggling too much.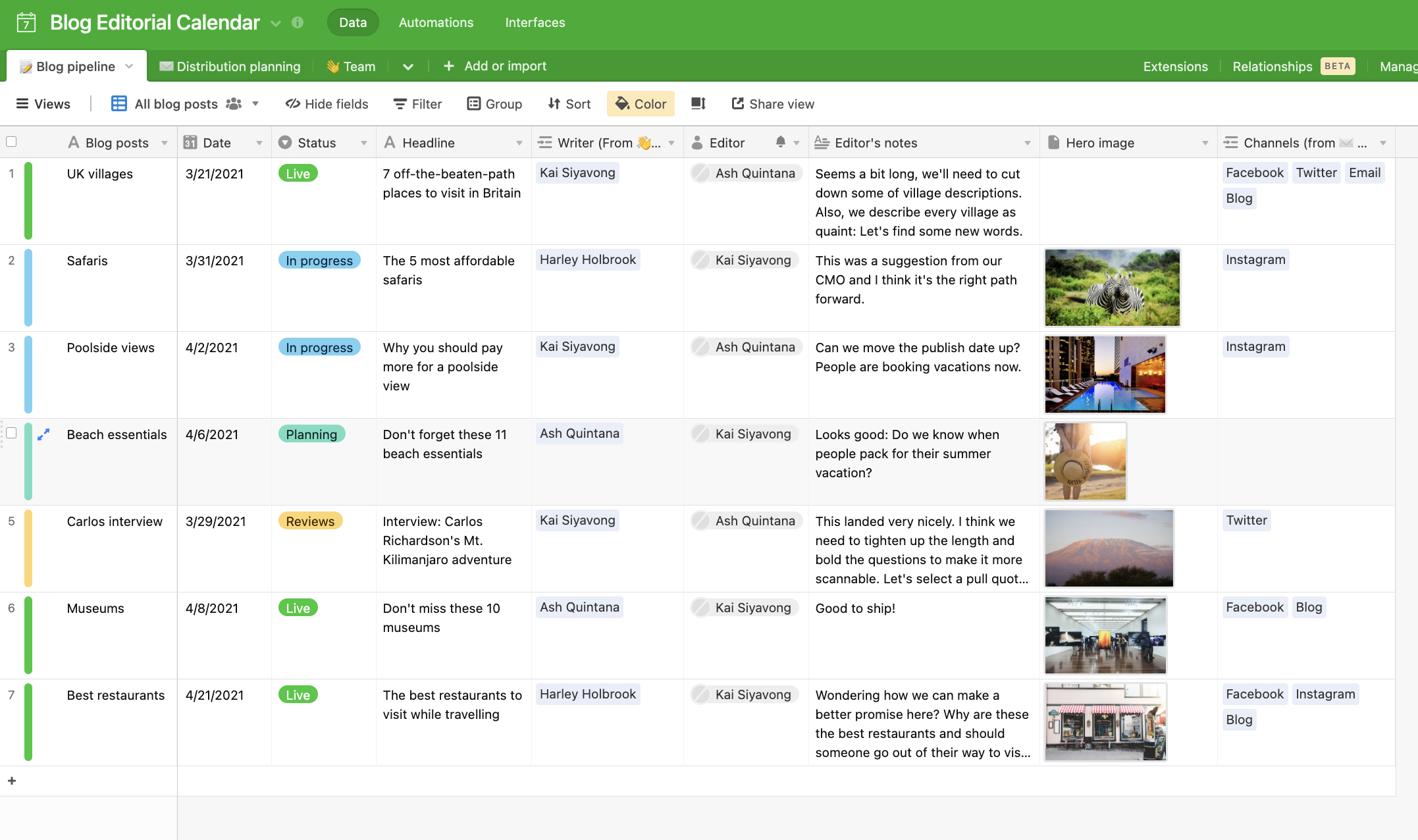 A multi-channel world calls for multi-channel content. Gone are the days of posting a single message to your website and hoping everyone reads it.
Let's say your content creators wrap up a white paper. Depending on your company's content needs, that long-form white paper may also need re-packaging as another type of content, such as a shorter blog, webinar, or series of gifs.
It takes careful planning to ensure that one major piece of content, or a content series, contains all the elements needed to appeal to native audiences on multiple platforms. We've tailored this template to help you track necessary components like visual content for social media platforms such as Facebook and Instagram, and YouTube.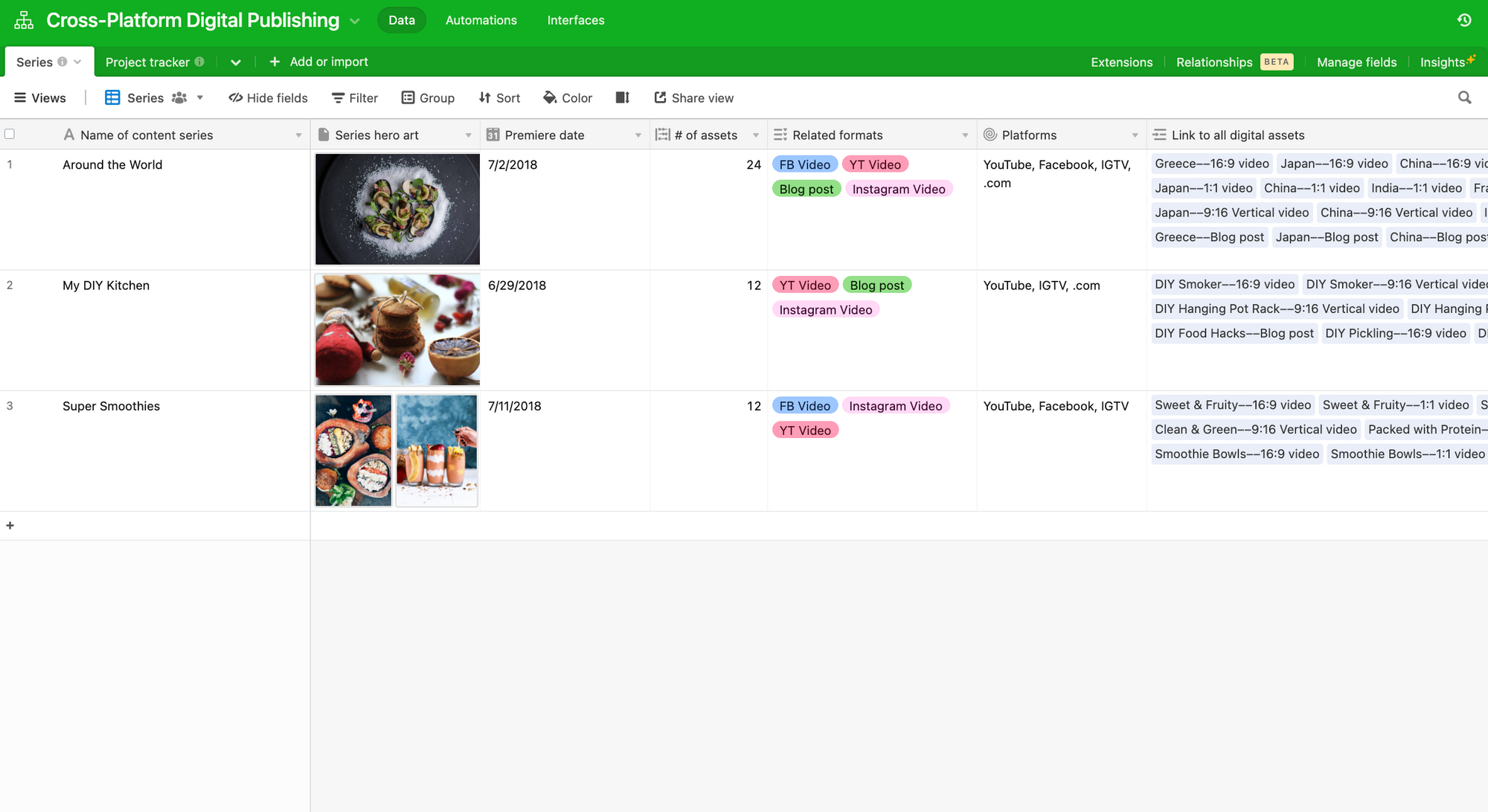 Once a team finishes a new content piece, it often takes a ride on social media for promotion.
But launching posts under optimal circumstances requires a strategy.
This social media planning template is part content calendar and part culture calendar.  You'll see the timing of significant events alongside your posts. (Is Earth Day coming up? Time to showcase environmental projects.) The template helps teams plan different kinds of content for each day, week, or month, and you can move social media posts around with a few clicks.
→ Check out our step-by-step tutorial on using Airtable for social media automation.
If you can, publish your content early and often. But sometimes, you and your team may not have the resources or bandwidth to create original material daily—or even weekly. Fortunately, there's plenty of existing digital content that your target audience will likely find interesting.
With this template, you'll find tools for remixing, reusing, and republishing available content. And that means you can keep a steady stream of great content in front of your readers.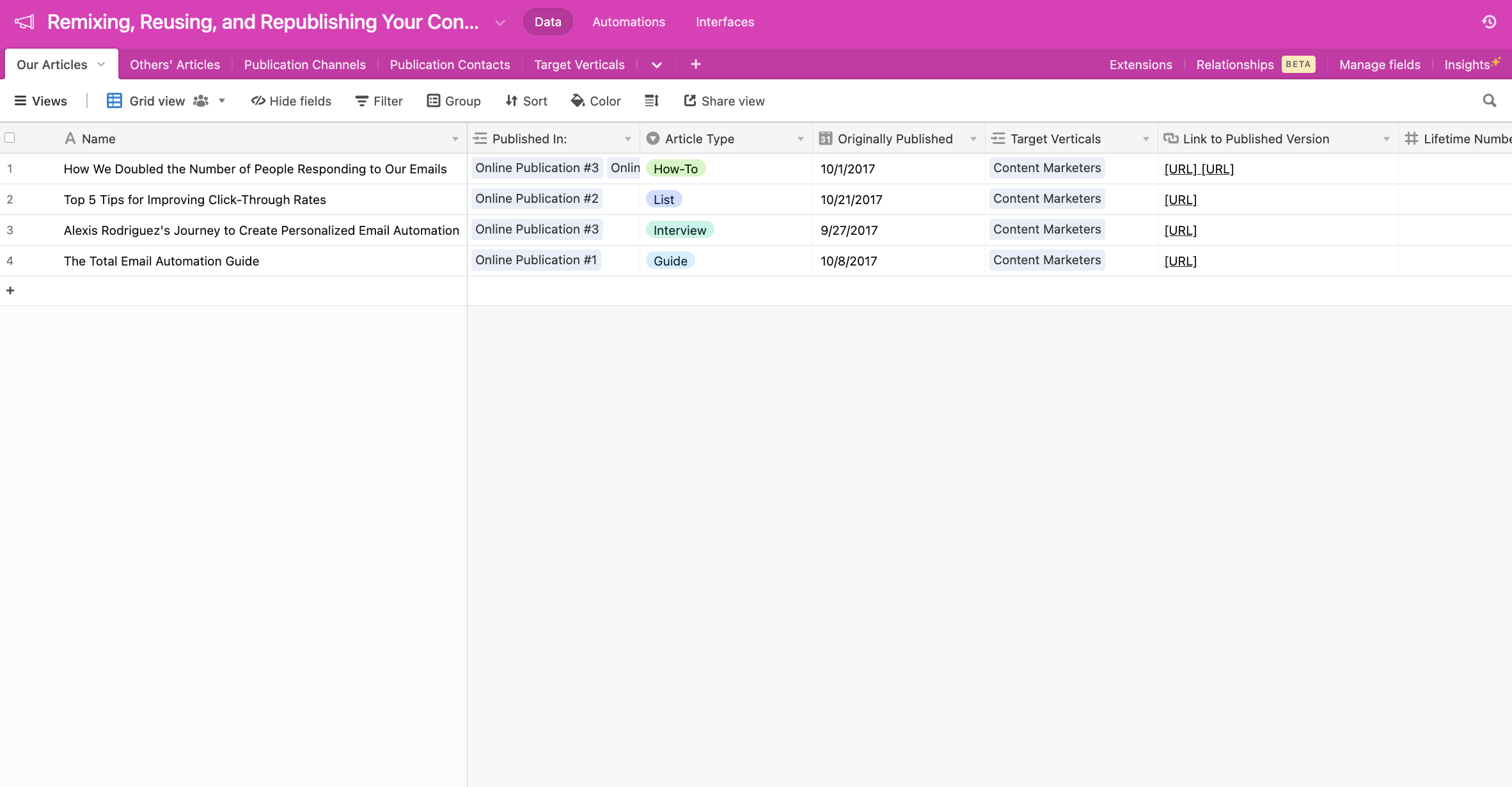 Try out more of our content production templates.