Using Google Calendar for meetings, or Stripe for customer payments? No problem–connecting your fave services to Airtable is a cinch.
Between various calendar apps, task managers, and social media sites, there's a pretty good chance your team is spread across a number of platforms. But with Airtable integrations, you can connect these services to your favorite base—and help build a central location for tracking anything and everything.
Integrations are no- and low-code ways of connecting Airtable to your outside tools. Some integrations are baked into Airtable automatically (like with Google Calendar) while others rely on intermediary tools, such as Zapier.
The real key to successfully using an integration is knowing the best time and place to use it. So let's run down a couple of our most popular integrations.
Send notifications with Slack
Ever added a record to a table, went away to work on a project, and totally missed that someone made an important change?
With the Slack integration, you can easily set up Slack notifications so that when records are updated, you get a ping (so you don't miss a thing).
Record development bugs with GitHub
If you work in software design, GitHub is likely a large part of your life, both for version control and bug management.
This integration allows you to add Airtable records to GitHub as issues, so you can have people easily enter problems into an Airtable form, and then send the info over to GitHub.
Plan events with Google Calendar
For many people, Google Calendar is the default calendar app.
The Airtable Google Calendar integration can post new Calendar events based on Airtable records, so you can plan your company all-hands meeting from a base, and have it port over perfectly to an easily shared GCal.
Track subscribers with MailChimp
MailChimp is a popular newsletter tool, and by integrating it with Airtable, you can make wrangling your email campaign so much easier.
The MailChimp integration can make a record for each new subscriber—and for each unsubscriber. See which newsletters drive engagement, and where you can improve, all from your base.
Keep in touch with customers using Zendesk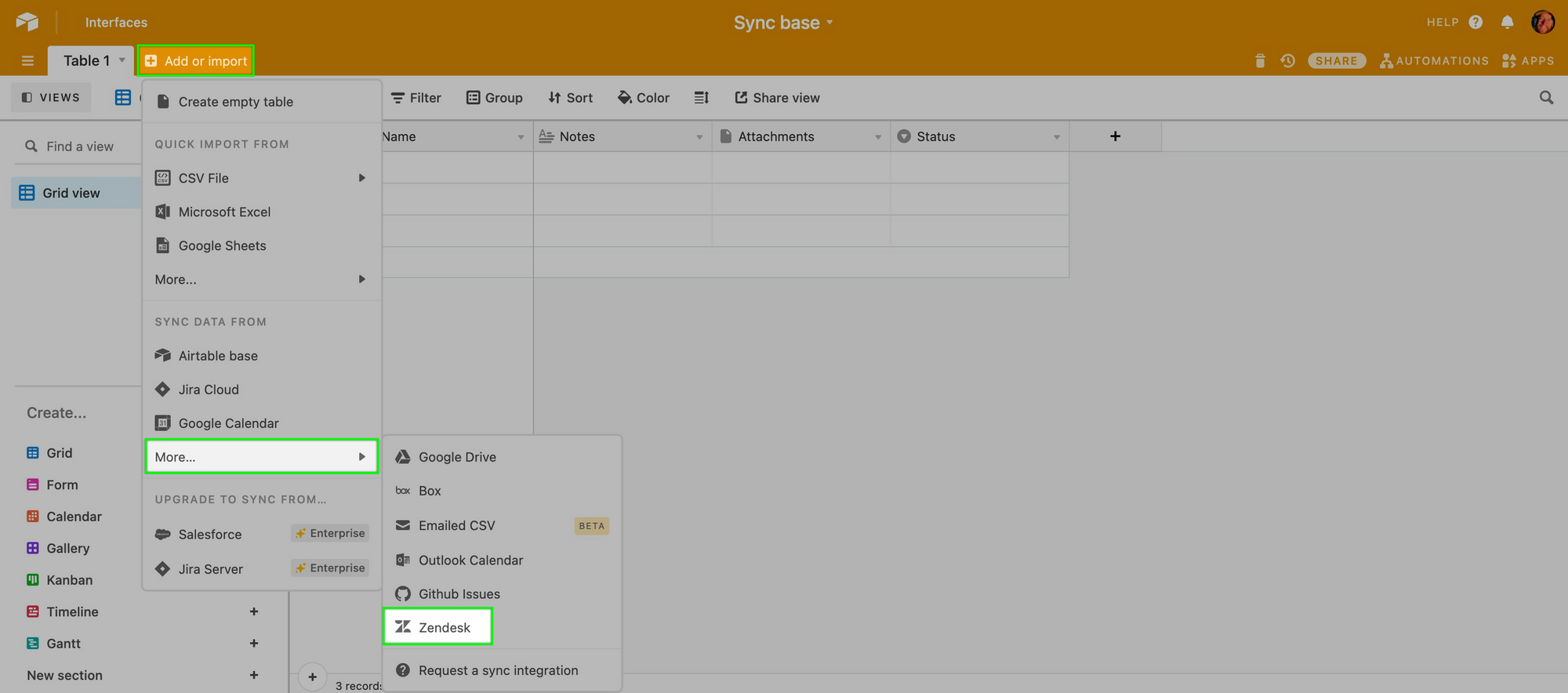 For many companies, Zendesk is the go-to service for providing customer support. Tie your Zendesk account to Airtable and set up new records for every ticket that comes through, so your team can stay on top of serving your customers' needs.
Get paid with Stripe
If you have customers, keeping track of payments and clients is a must.
By connecting your Stripe account to your Airtable base, you can build a database of clients and automatically track every sale as it comes in—so you can stay on top of what gets sold to whom and when, and keep your inventory and invoices up-to-date.
---
With integrations, you can ensure that no matter what platforms your team uses, you can find all of the data you need in one place: Airtable.
Explore our integrations and connect your work to Airtable today.