Build the perfect base for your Banksy art or emoji spells.
One day you look around and realize your growing (ahem) collection of professional wrestling books has gotten a teeny bit out of hand. Misplaced your copy of "In the Pit with Piper?" Like Matt Stroud, a self-described professional wrestling nerd, you should have tracked your collection in Airtable.
For keeping tabs on work projects, Airtable simply can't be beaten. Thanks to Airtable's customizable interfaces and diverse views, you can monitor tasks, balance the budget, share critical information with stakeholders, and more—all in one platform.
But sometimes, your life outside work could use a little discipline, too. Whatever you're obsessed with, Airtable can help you organize it.
Shoot for the moon
Flourish Klink, co-host of the podcast Fansplaining, is on a mission to consume every piece of Star Trek content.
A 20-year fan of the TV show X-Files, Klink is now focused on all things Star Trek and is generally fascinated by fandom. Their base—Every Star Trek Ever—includes all episodes, movies, games, books (official and unofficial), audiobooks, comics, and other fan material related to the original Star Trek series. The base is designed explicitly for Trekkies to track their progress through the list.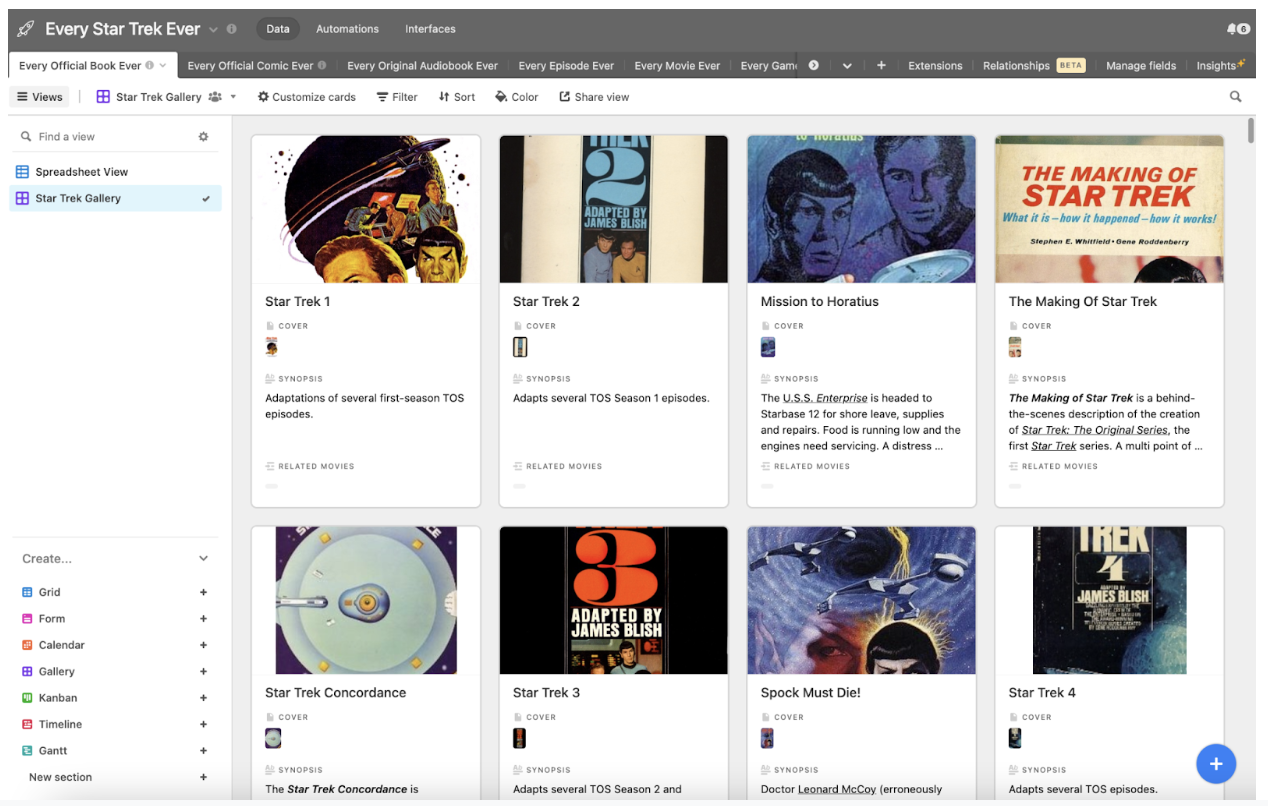 Use the moon to your advantage
While some stretches in life seem smooth, others call for a handy Airtable collection of spells that you can cast using only emoji. (User Karla Alice Renée also tracked pagan holidays and phases of the moon.)
With her spells base, you can send someone a little magic—in the form of a copy-pasteable string of "emoji spells" designed for good vibes. Help your friends recharge their creativity, attract wealth, or chill out with cheap bath bombs.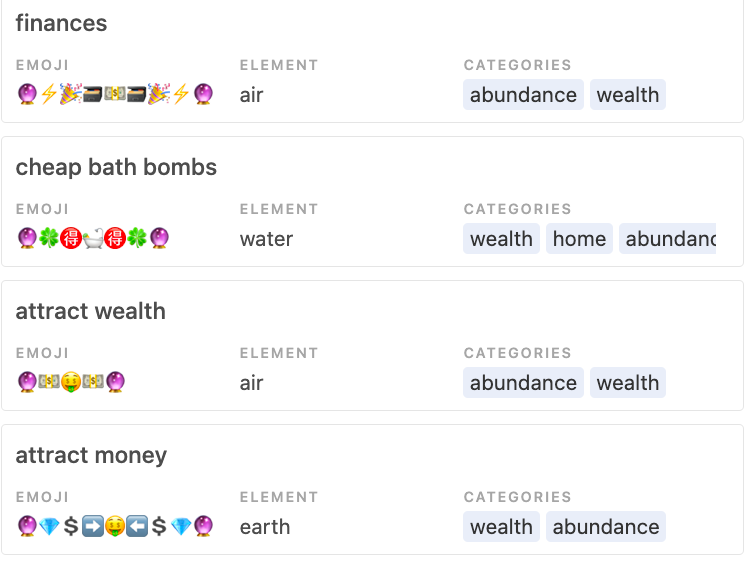 Have your cake and organize it, too
In the food and drink category, Airtable users have truly outdone themselves. If it's consumable and you can collect it, someone has used Airtable to catalog it.
Food + Drink
Take Dona McGray's Tea Tracker. This popular base includes a gallery view of teas and the best methods for brewing them.
McGray also built bases devoted to seasonal cooking, dishes from around the world, and cheese. If you don't know a feta from a Fourme D'ambert, tag it and photograph it so you can pull it up later. McGray designed the cheese base to be helpful for any culinary collection, including beer, wine, or olive oil.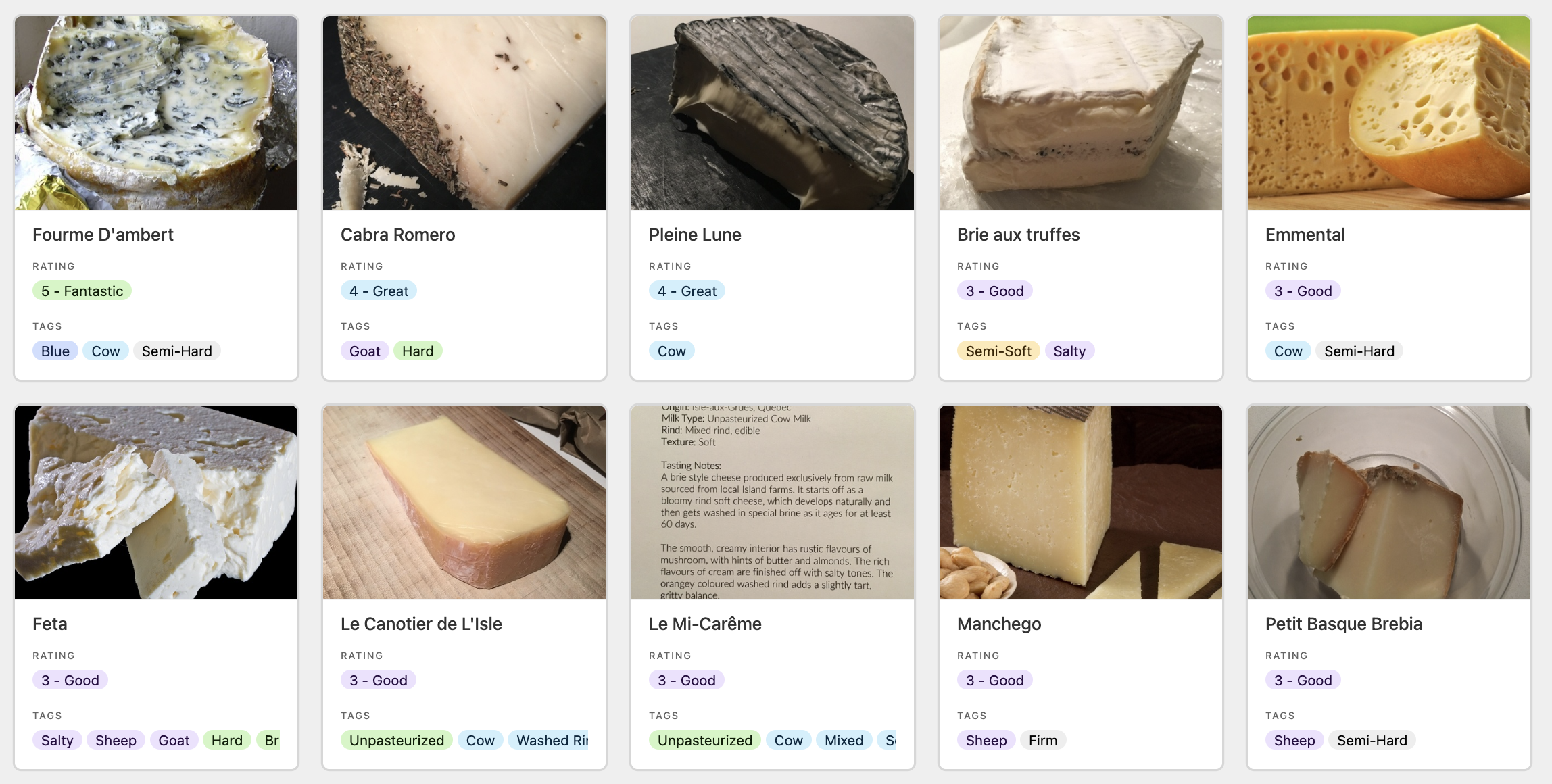 When it comes to collections, you won't find many more unique than Marek Rans' stunning collection of Beer Labels, displayed in a gallery view to show the depth and breadth of his stockpiled labels from Czech beer bottles.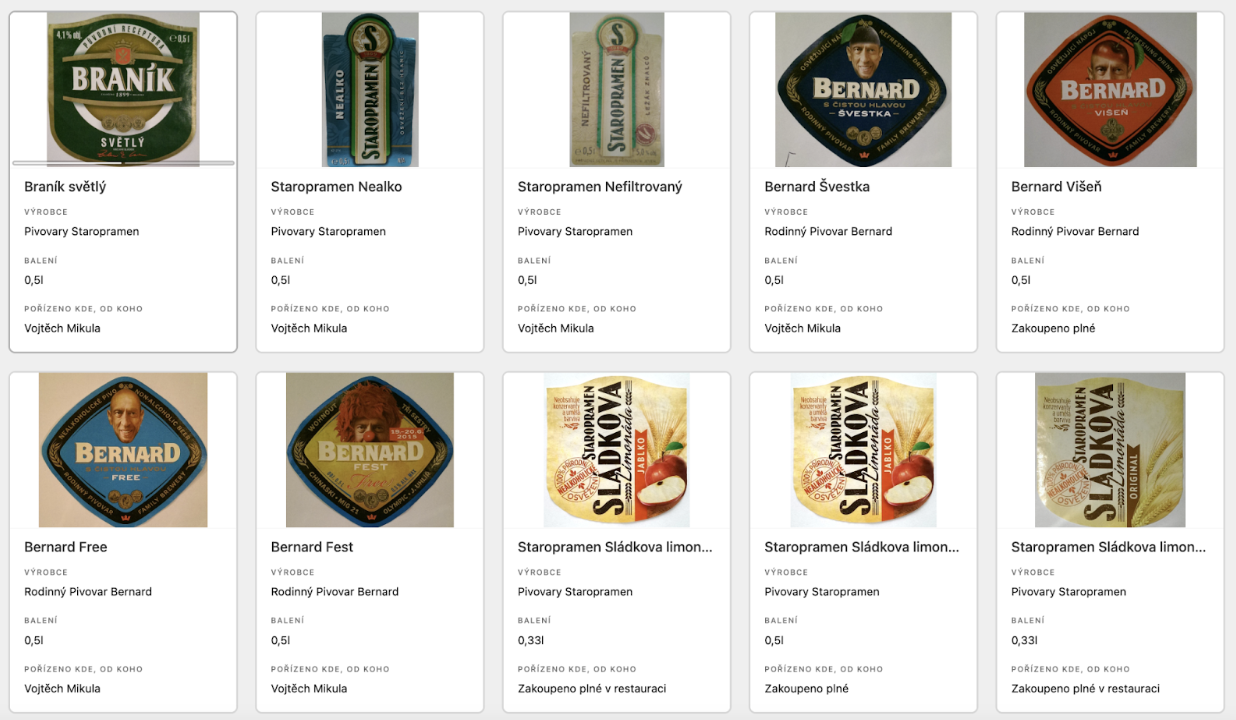 But you don't need a one-of-a-kind collection to put Airtable to work in the kitchen. Programmer Tara Vancil inventoried her fridge, kitchen, and recipes, and she walks you through the complete base-building process here.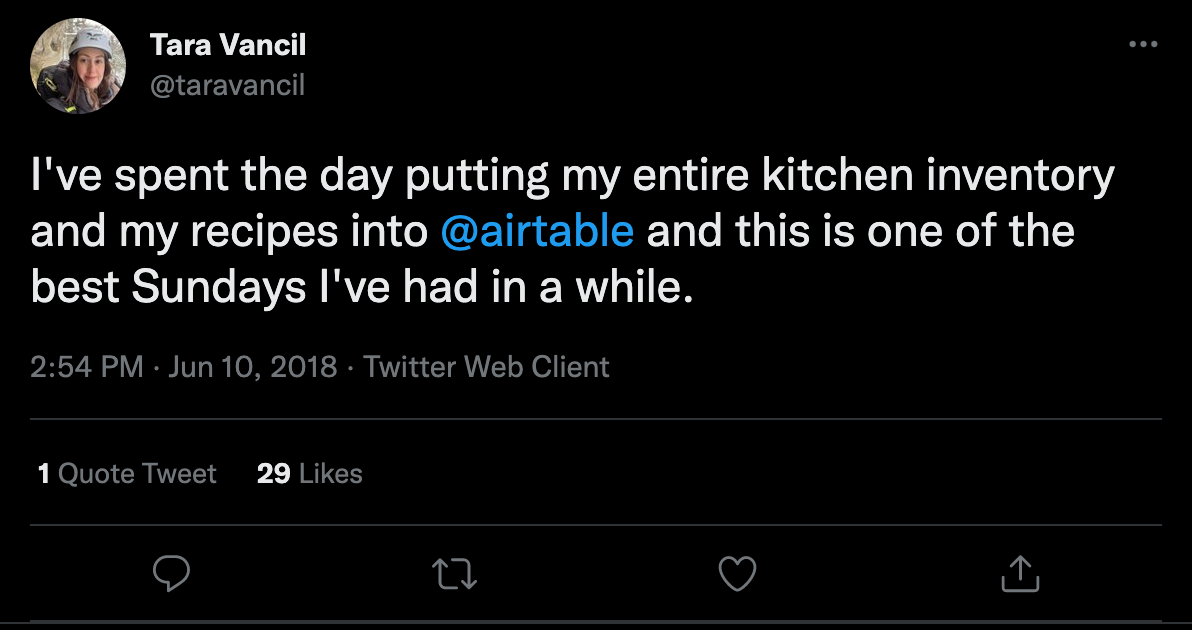 Restaurants
Nashville graphic designer Payton McDill created his version of Yelp with a base of favorite Dallas-area restaurants, organized by cuisine type or neighborhood. Patrick Cines built a similar system for cataloging brunch spots and coffee shops in New York City, and Chase Roberts created one to track restaurants in San Francisco.
DIY libraries galore
Airtable turns into a particularly practical book tracker. You can add records to a base while wandering through the antique bookstore and then see a collection of covers (or pages, or whatever else you're tracking) in various views.
In her Book Tracking Database, user Relle tracks the usual categories—Title, Author, Series, Genre, etc.—along with the protagonist's gender/sexuality and the type of romance described in the book.
Interaction designer Chris Oliver built this Monster List of UX Books, continually updated with new lists in this niche.  
The Plympton literary studio partnered with the New York Public Library to create this dazzling collection of original covers of classic books.
Have a particular bailiwick in art? Alex Andrews aims to list every piece that elusive street artist Banksy ever created. His Artery - The Banksy Database includes an impressive array of prints and originals.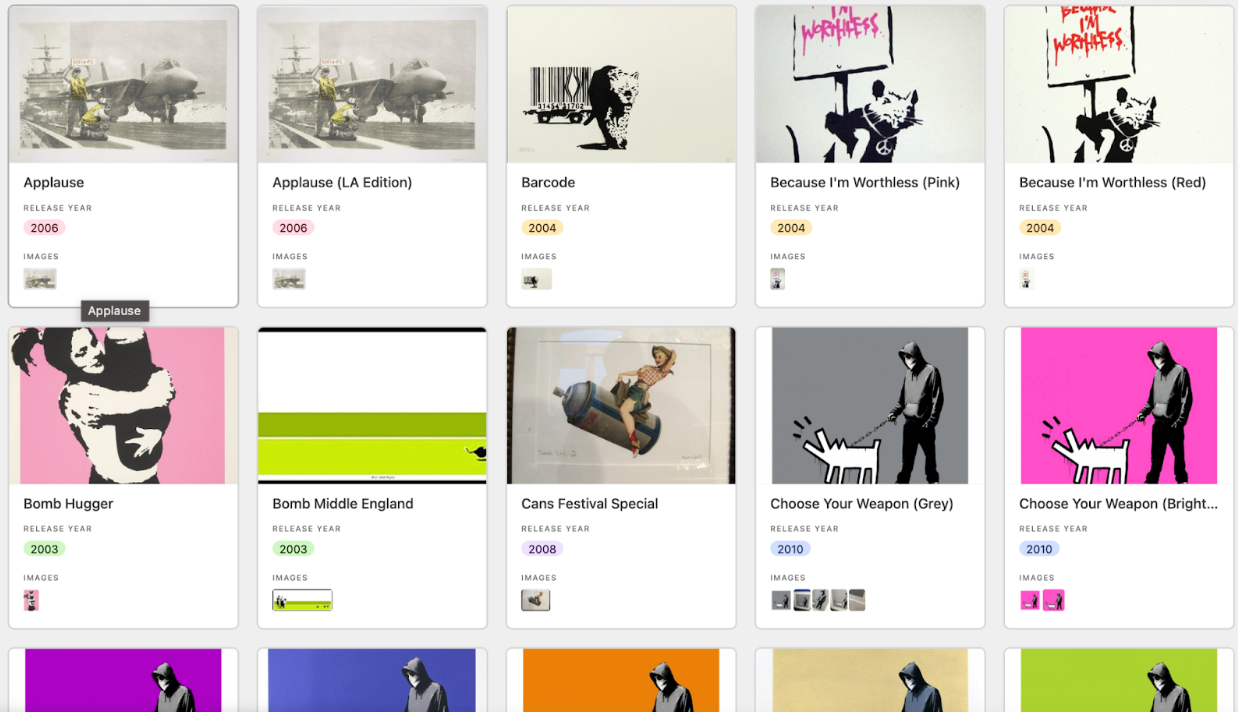 Whatever you're collecting—spools of thread, fountain pens, sneakers, or Magic the Gathering cards—Airtable can help you sort and categorize it.
Check out more user collections in Airtable's Universe, or join the conversation in Airtable Community.