From a marketing launch dashboard to a high school teaching aid, 9 Airtable users wowed us with their creative uses of Interface Designer.
Sure, you could see the data. Or, you could build a visual and interactive interface that gives teams the information they need in an accessible, actionable, and shareable way.
The theme behind Airtable's first-ever Interface Designer Contest was simple: find an imaginative way to solve a personal or professional problem. And with more than 150 submissions from the community, boy did they deliver.
A panel of Airtable judges—including Product and Community team leads, along with UX and implementation specialists—picked winners for best design, best use case, and a wildcard category.
Every entry was, in a word, ambitious. "To say the judging team was inspired would be an understatement," said Jordan Scott, Airtable's Head of Community. "We were so incredibly impressed by the quality and creativity of all the Interfaces submitted, they all beautifully showcase what it means to build an app in Airtable."
→ Learn how to use Interface Designer
To see the interfaces below, click on the Universe link and then copy the base into your Airtable workspace. Then click the Interfaces button.
Our 9 winners, plus Honorable Mentions
Best Design
Judges chose these interfaces for their intuitiveness and ease of use. Interfaces needed to be functional and visually appealing.
1st place: My Wardrobe
UK designer Russell Bishop created this wardrobe organizer to help him "audit" his clothing. It helps him plan better for seasonal changes and trim unnecessary purchases. "One of the principles of eco-friendly fashion is to buy staple items that you can remix over and over, decreasing your reliance on fast fashion and maximising the value from your favourites clothes," he writes in the description.
Bishop runs design at UX/UI agency Lighthouse, which uses Airtable to run projects in all departments. He's also using Airtable to manage his finances and plan his wedding this month.
2nd place: The Teaching Tool
High school STEM teacher and data science enthusiast Rebecca Reed built this base as a curriculum planning resource and digital "grade book" for teachers.
Reed works at Waring School in Massachusetts, which gives progress narratives to students, rather than traditional grades. Reed is a relatively new teacher, and staying organized is her superpower.
"The ability to configure shareable views with filtered information means I can even share a calendar of class notes with my students from Airtable," Reed says. "They know if they miss a class, they can check to see what we covered there. Having organization in place allows me to spend more time in the creative space coming up with new ideas for classes and assignments."
Airtable helped Reed introduce 8th grade Computer Science students to the idea of data relationships.
3rd place: Dream. Home Finder
Architect Pyline Tangsuvanich and her partner needed a comprehensive tracking tool for their house hunt. So she built the Dream Home Finder, with views that let them filter for certain parameters and do side-by-side house comparisons.
"Looking for a home is already overwhelming," she says. "Airtable is making the process a lot smoother for us because it provides a structured, interactive way for us to input and view our property data."
Best Use Case/Solution
These Interfaces solved an important problem or addressed a specific niche use case, like on Marketing or Product Ops teams.
1st place: Office Hours Command Center, Wayfair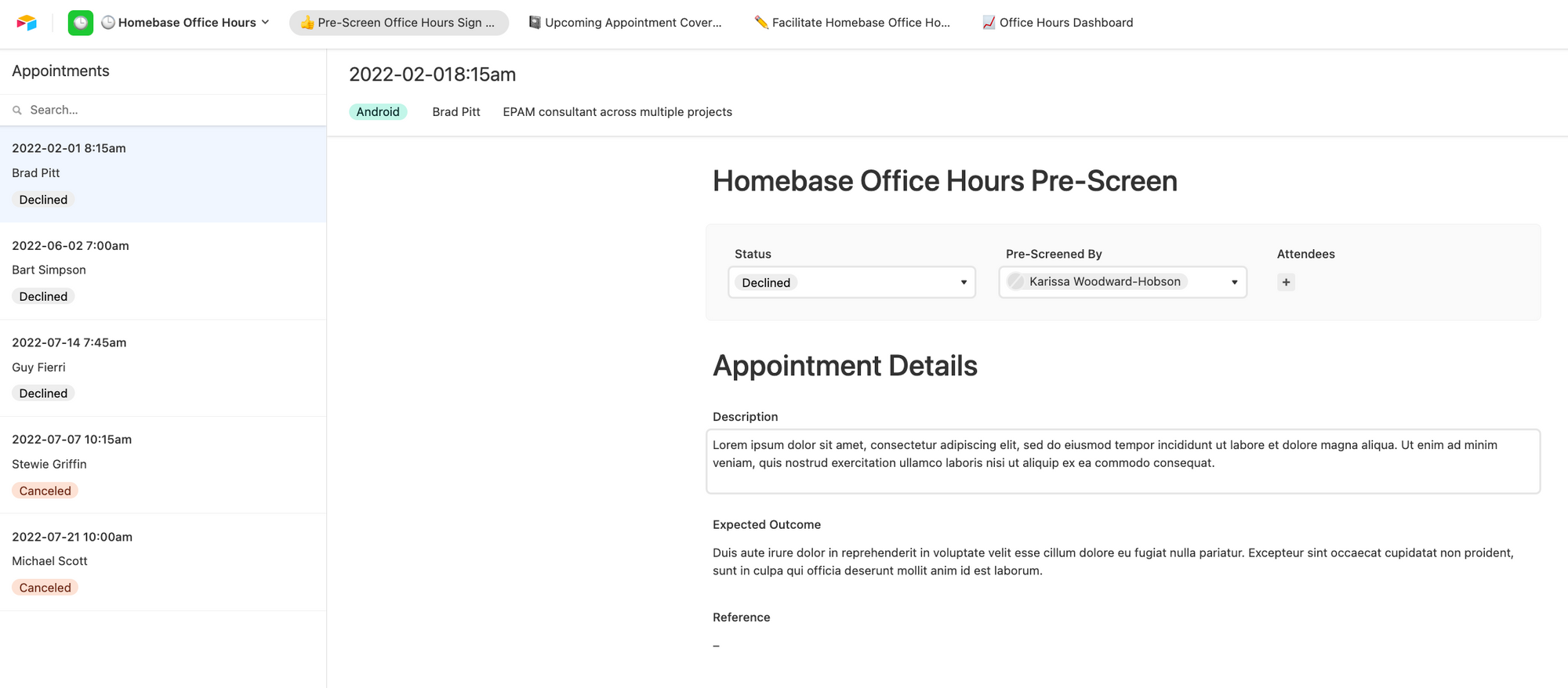 Wayfair's Homebase team, part of the home goods company's global Design System, needed a more efficient way to use its team time. Specifically, 15-minute appointment slots where the Homebase team answers questions about new components or variants for other internal Wayfair teams like Global Experience Design and Engineering.
Associate Director of Design Karissa Woodward-Hobson built this interface to streamline scheduling, sign-up, and session facilitation.
2nd place: Legal Nonprofit Database, AirOps Consulting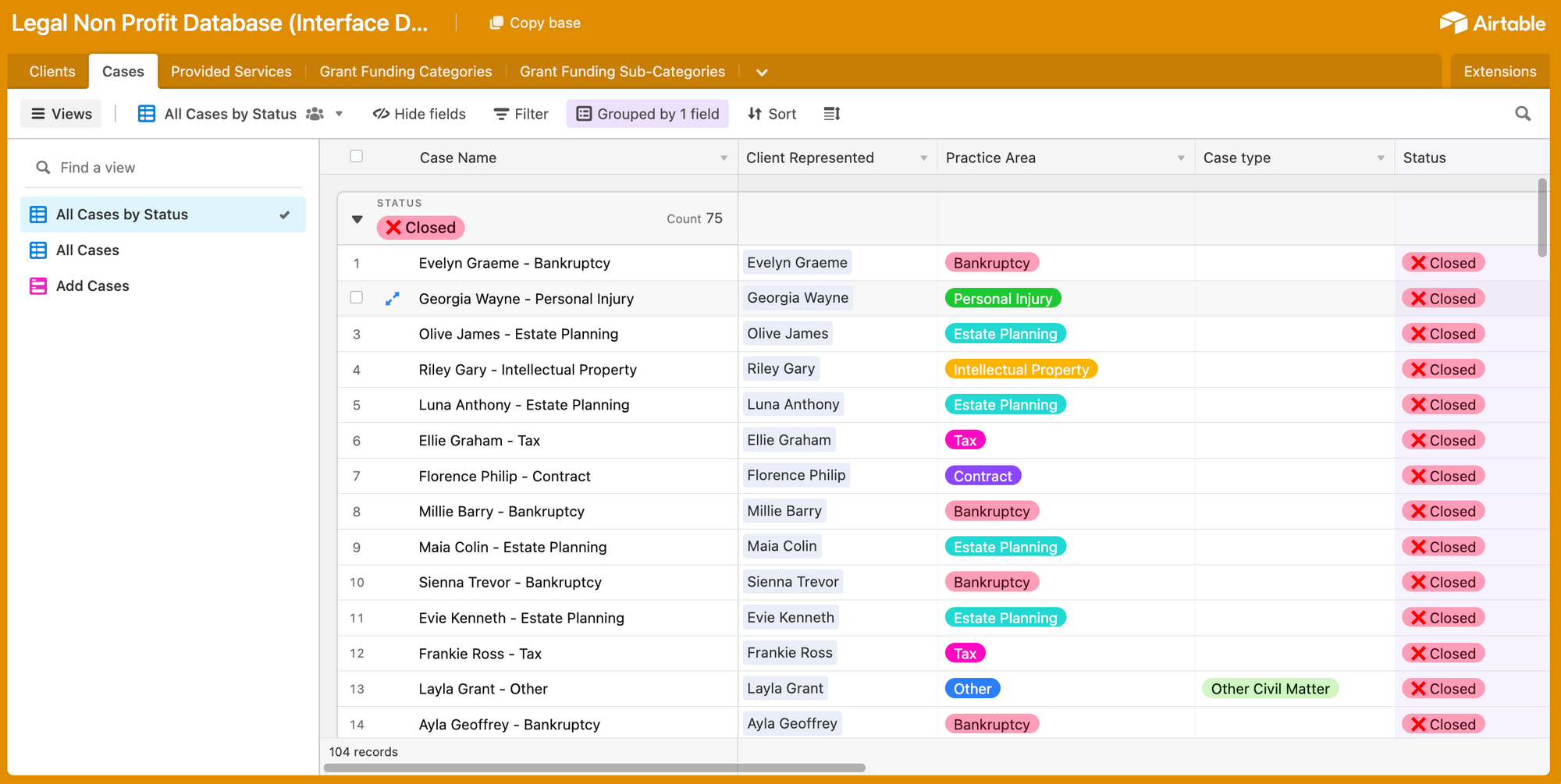 Cherry Yang of AirOps created this interface for a legal non-profit that works with survivors of human trafficking.
The intake process for a trafficking victim can take hours, and involves more than 100 questions of an intense, emotional nature.
This interface gives a nonprofit an easy way to display all fields, so that information is captured correctly at every stage. Simply using an Airtable form instead of a column to enter data helps nonprofits with intake, says Yang.
Yang notes that many nonprofits have more clients in need of services than their organizations can provide. Airtable's interface helps nonprofits screen clients more quickly to determine their eligibility.
3rd place: Highspot Spring Launch 2022 Dashboard, Highspot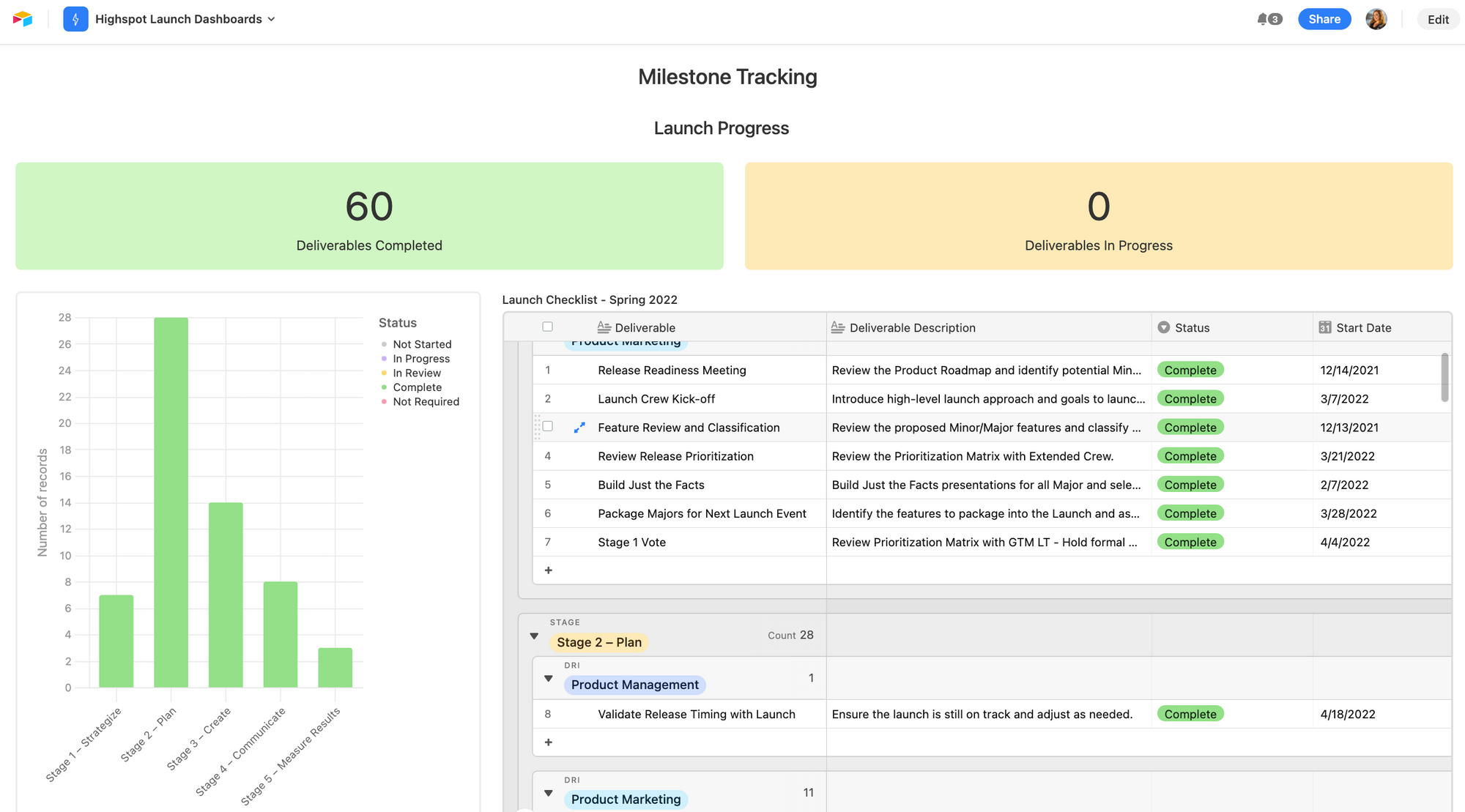 Sales enablement platform Highspot built this Marketing Launch base to give its marketing team and others inside the company an instant snapshot of every component in its multi-stage campaigns. This helps the company save time and effectively communicate to stakeholders for approval at every stage of a campaign.
Notably, according to Highspot Program Manager & Airtable expert Kristine Agnelli, the interface has also significantly increased Airtable adoption across the company.
Wildcard
We also received a ton of submissions that defied categorization—some fun, some serious—from self-care to wilderness rescue.
1st place: Mountain Rescue Helpdesk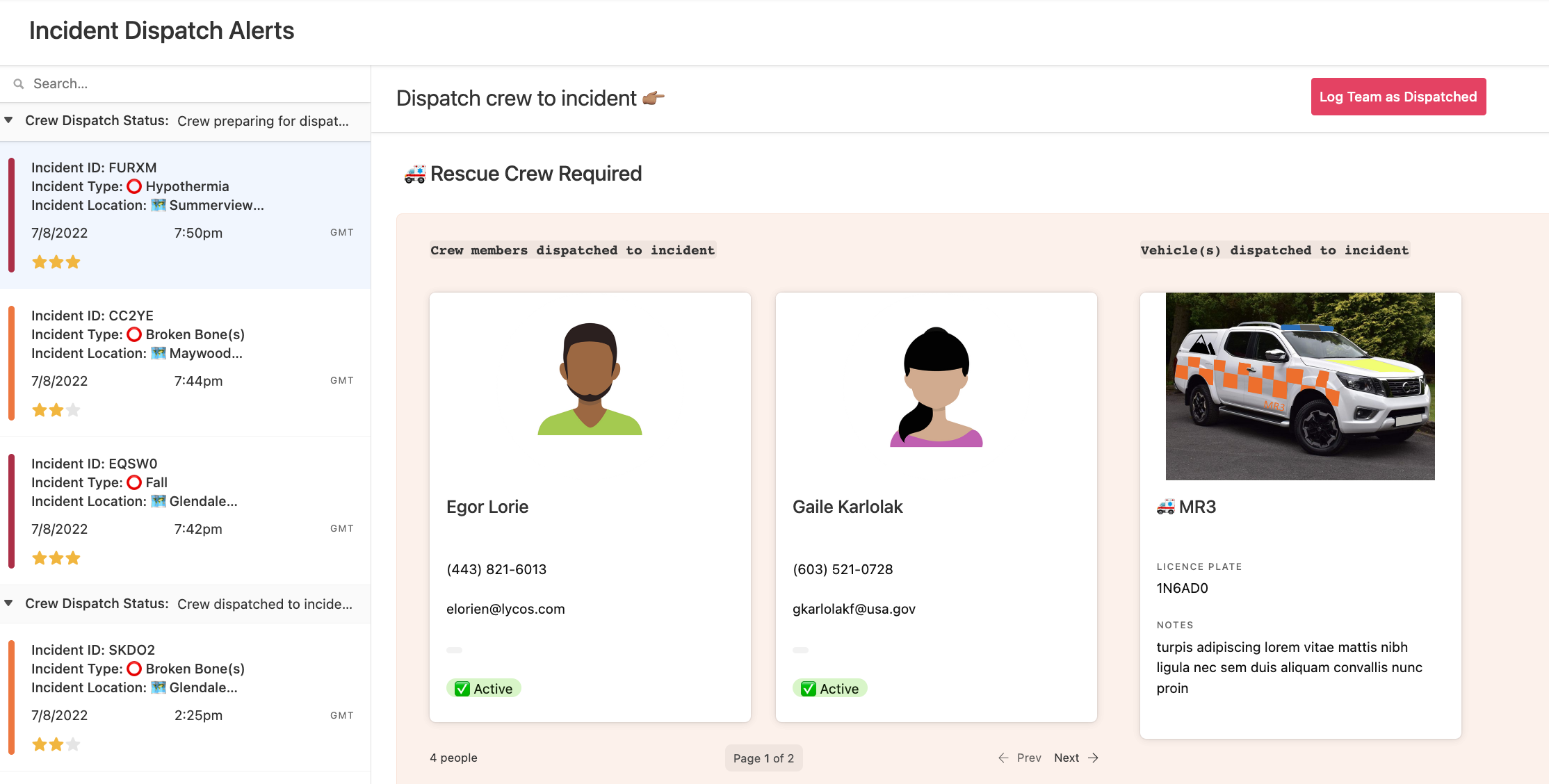 Cyclist and data wrangler Reuben van de Berg built this interface with mountain rescue teams in mind.
It comes with handy fields for call-center teams to log new incidents and locations, an easy way for rescue teams to monitor those incidents and respond, and a dashboard that lets management review how all teams are performing.
2nd place: CareTable
Chris Dancy, organizer of the Airtable Community event DareTable, says CareTable is for "everyone who ever struggled with emotions, values or time."
Part journal, part spiritual guide, CareTable has space for daily journaling, where you can collect thoughts or rate your day. In the "emotional explorer," choose from a range of emotions (with handy emoji) and link that record to your journal. The "value creator" helps you distill what's most important.
CareTable has a Miro integration, so if you want to journal in Miro, voila!—that text turns into an Airtable record. Dancy's app will even pull a tarot card for you.
3rd place: My Hero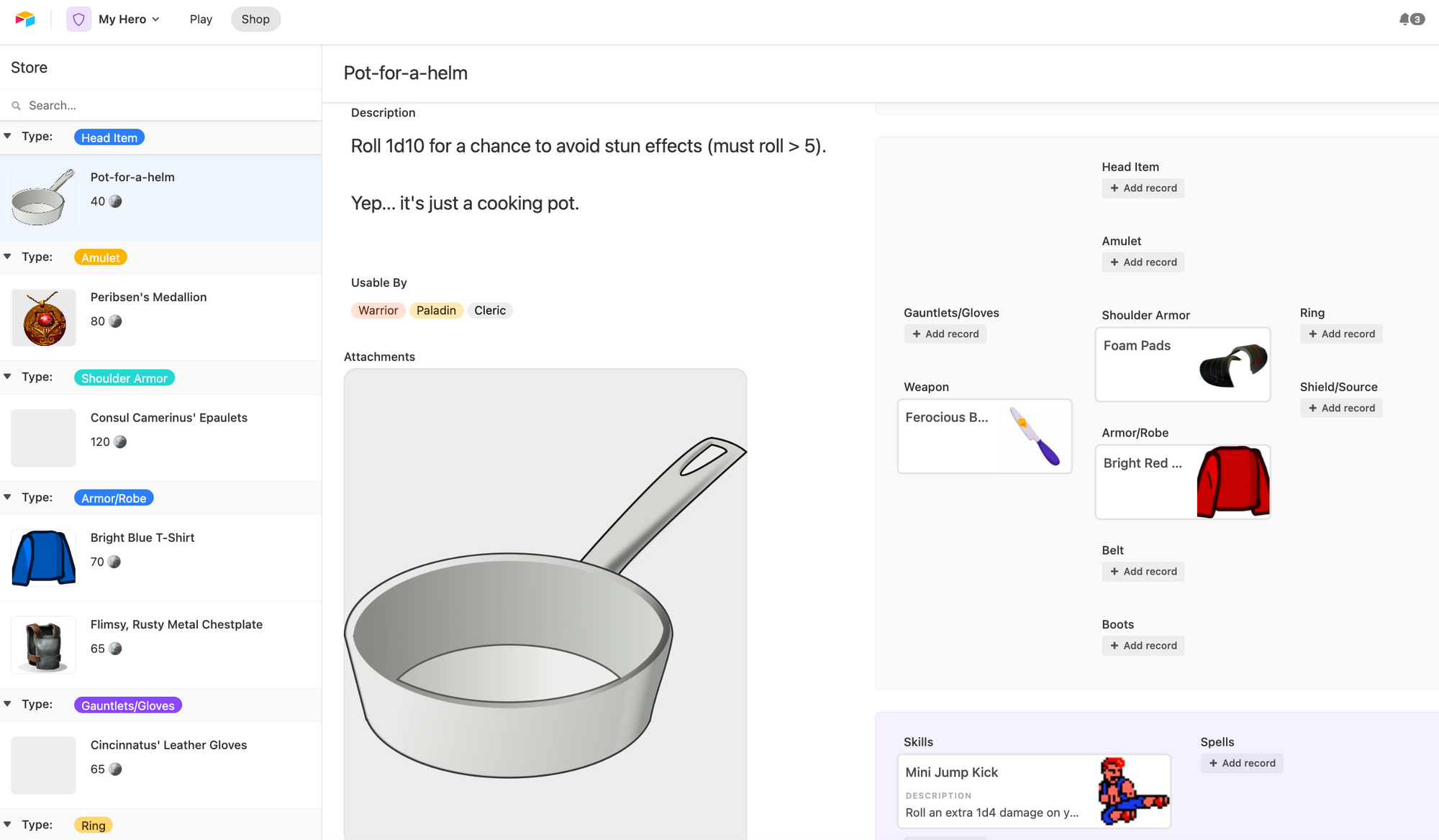 Kids struggling with their homework? Jeremy Oglesby (who also built the terrific Brewtabase) designed My Hero to motivate his kids to focus on school assignments through a role-playing adventure game.
The My Hero base is synced with two other bases that the kids don't control—one where their parents track assignments, the other where the kids earn coins for each assignment they complete.
After they finish their homework, the kids "shop" for items that strengthen their Hero throughout the adventure.
Feeling inspired? Check out our guide on how to create your own interface.
See what's happening in Airtable Community, or take a look at what others are building in Airtable Universe.