Stash your assets somewhere you can always find them.
In the modern work landscape and especially in marketing departments, digital files reign supreme. Digital assets play a vital role in your content marketing team's work, from informative launch videos to insightful research reports and ebooks.
But without a proper system to manage them, these assets can quickly become nothing more than digital clutter, making it challenging to find specific deliverables or the latest version of a file.
So what's the solution? A digital asset management system (DAM). A DAM is a repository where you can quickly corral, organize, and share your growing collection of files, so teams can find the documents and published materials they need.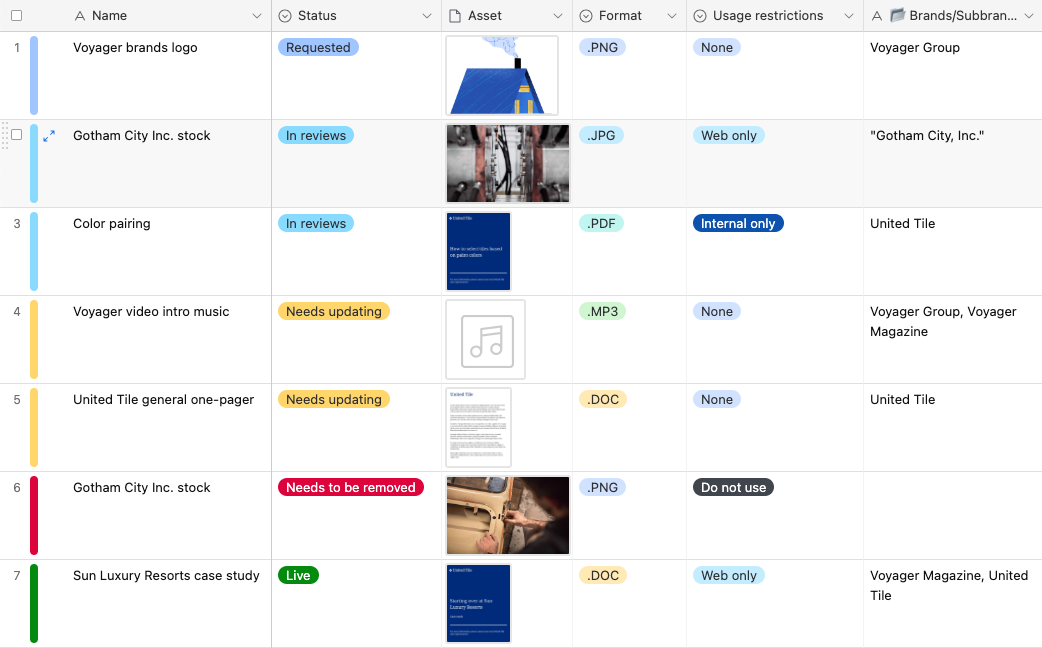 And when you use Airtable to build your DAM, you have even more opportunities to point colleagues to the right assets in just seconds, from syncs that automatically update connected workflows in real time to tags that provide more metadata on each asset.
With a streamlined system for managing your assets, you can ensure everyone—from content marketing team members to stakeholders in design and sales—has access to the same, up-to-date information.
What is a DAM?
As mentioned earlier, digital asset management is the practice of storing, organizing, and sharing digital files of value to an organization. A DAM acts as a reliable central hub, eliminating the need to painstakingly search for files.
Content marketing teams should use a DAM to store all the content they've created and/or published. These asset types usually include:
Blogs
Videos
Social media posts
Guides
Support articles
eBooks
Documents
Raw footage
Imagery
A good DAM is an ever-evolving system that transforms with the business, is scalable, and should never be considered finished.
Ideally a DAM would store work from around your organization, so it would also include internal assets like messaging frameworks, enablement materials, and recordings from company all-hands meetings.
A DAM should also allow teams to search for assets, import and export files, tag files with relevant metadata, and integrate with other software to make it easy to share assets between platforms.
Why does your org need a DAM?
From saving time to enhancing productivity, a DAM system is a game-changer for content marketing teams aiming to stay competitive in the digital era.
Here's a glimpse into the immediate benefits it brings:
Centralized file system: Say goodbye to the endless quest for that elusive file. With a DAM, all your assets—images, PDFs, Photoshop files, videos, or audio files—are stored in a single source of truth.
Streamlined workflows: Having all your digital assets at your fingertips unlocks the power of reusability and repurposing. Save time and effort by efficiently repurposing creative files and sharing assets with just a click.
Brand consistency: With a DAM, your brand assets, marketing materials, and diverse media files are presented consistently and are always up to date, ensuring a cohesive and professional image for your organization.
Embracing a DAM system empowers content marketing teams to excel in their endeavors, captivate audiences, and achieve marketing success.
> Digital asset management: what is it and why it matters
Why you should build your DAM in Airtable
So why make your DAM in Airtable versus another management tool?
It comes down to Airtable's searchability, security, and scalability–all things your content marketing team will need if you're at a growing company.
Find files in a flash: Airtable offers numerous ways to to locate digital files with lightning speed, from robust search functions to grouping and filtering capabilities.
Fortify your fortress: Security is paramount regarding your organization's sensitive documents. Airtable goes the extra mile with top-notch security features like user permissions and two-factor authentication, providing an impenetrable shield for your digital assets. Rest easy knowing your files are safe and sound.
Scale without limits: As your content marketing team grows and your assets multiply, Airtable keeps up effortlessly. With its exceptional scalability and ample storage capacity, you can expand your content library without constraints.

---
No more sifting through endless folders or getting lost in a sea of scattered files. By building a DAM in Airtable, you can take control of your team's digital realm, ensuring every asset has its place.
Get a head start by using our digital asset management template. For more ways your team can use Airtable, check out our content marketing blog.