House your digital assets and leverage them in innovative ways.
The more digital assets you create, publish, and share, the more challenging it can be to manage and organize them. And if you need to find a specific video or blog you published ages ago for a sales team member? Good luck.
Enter the Digital Asset Management (DAM) system, the ultimate solution for content marketing teams seeking to streamline their workflows and maximize the value of their assets.
In an earlier blog, we introduced the concept of a DAM and discussed why your content marketing team needs a hub to manage all of your assets (the centralized filing system saves you lots of time, for one).
Below, we'll show you how to start building your DAM in Airtable. With the right DAM in place, your team can focus on what truly matters: creating exceptional content that resonates with your audience.
How to get started in Airtable
Getting started on your DAM is as simple as collecting and documenting your assets in an Airtable base (but if you want to hit the ground running, you can use our digital asset management template).
Add your graphics, guides, and other content as records. You'll want to include some fields to capture basic information, like a description of the asset, the publish date, and the name of the person who owns the asset. It might not seem like much at first, but as you go from one record to 10 to 20, you'll start seeing opportunities to make your assets more comprehensive and accessible.
A DAM is a shared resource! Make sure to have an owner assigned to each asset - they can help you add tags, make updates, and maintain your DAM over time. Not only will it spread out the work, it will also keep assets and metadata more accurate!
We recommend using these trips and tricks to make your DAM more collaborative as you go.
When it doubt, tag it out
The easiest way to help marketers find assets is by implementing tags. When files are categorized with relevant keywords and metadata, a simple search query can swiftly retrieve the exact asset you need. By using terms relevant to the asset, such as product names, campaign types, or target audience, tagging transforms the search process into a simple and intuitive experience.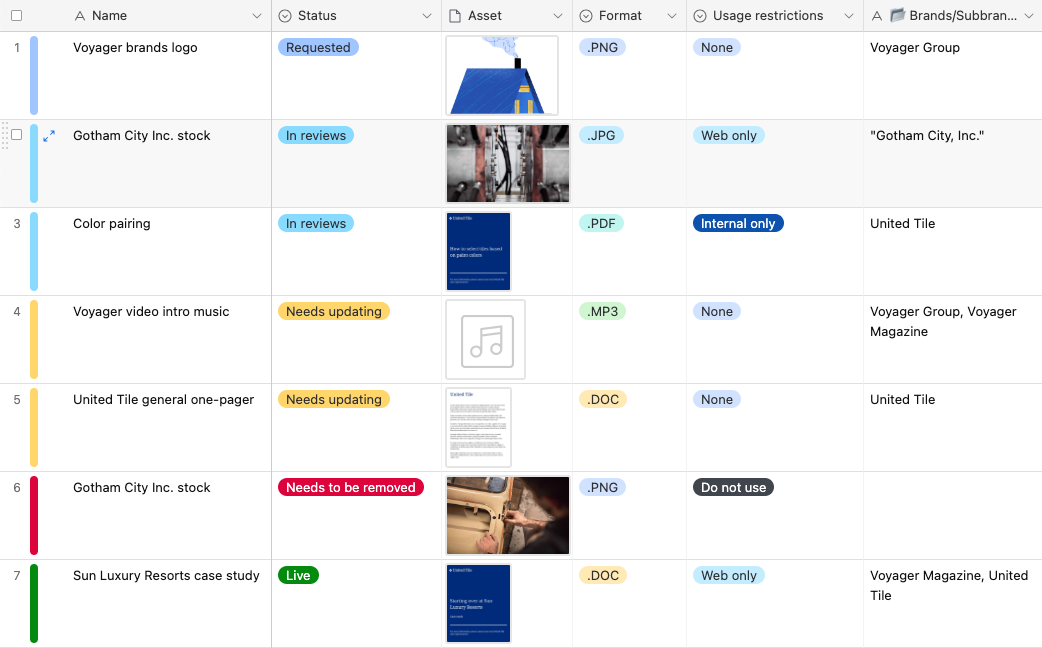 Some common tags you can add to your DAM include:
Asset type or deliverable type (ex. Image, video, blog)
Asset owner (people can be tags, too!)
Related marketing campaign or solution
Related company OKR
If your audience is sales-focused, you can also tag your assets by funnel and management level to make it easy for the sales team to search the DAM. In Airtable, you can add tags with the multiple select, single select, or linked record fields.
Tags eliminate ambiguity and enable you to discover the right files with just a few keystrokes.
Collect feedback via forms and insights
Your most valuable source of insight for your DAM improvement process is your own content marketing team, as well as other stakeholders who'd benefit from the DAM.
By actively collecting feedback from team members as they use the DAM, you can gain valuable perspectives, identify pain points, and drive impactful changes that elevate your DAM to new heights. The easiest way to do this is with Airtable forms.
A form is an Airtable view type that takes responses submitted by users and automatically turns them into records. While you can create a form in your base, we recommend adding a form to an interface that lives on top of your DAM. Interfaces make it easier to navigate and collect feedback in one spot.
> The best views for content marketing teams
When creating your form, consider capturing the following information:
Name and marketing role
How often they use the DAM
What types of assets they typically need
Then, you can get detailed insight about the current DAM experience with questions like:
Is there content you'd expect to find in the DAM but can't?
Are there any duplicate assets in the DAM?
Are there additional metadata fields that would be helpful?
Do you see typos or inaccurate information in the DAM system?
Leave your form open to collect ongoing feedback and make incremental improvements to your DAM.
Another way to see how your DAM is being used is by deploying insights, a feature for Enterprise plans.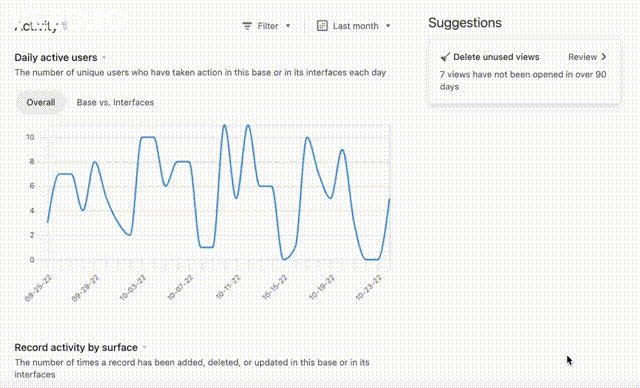 Users with "owner" or "creator" permissions can open insights from the tools menu (located at the top of the base) to see metrics like top users, overall activity, record edits, and more. You can use these metrics to better understand how your team is using the DAM and identify opportunities to further optimize.
Make your assets shareable with AI (coming soon)
A final–and fast–way to make your DAM more collaborative is with Airtable's AI field, which can be set up to automatically generate text.
Let's say you have sales team members who want to leverage customer-facing assets in the DAM. You can configure the AI field to review the asset's description and tags to provide sample outreach text or a short description they can use. Alternatively, you can use the AI field to generate short subheadings for social media managers looking to promote assets on LinkedIn or Twitter.
The AI field is just one of many Airtable features you can hone to make your DAM easy to navigate and pull assets from.
---
Continue to use and refine your DAM so it can evolve into a powerful tool that streamlines your content marketing team's workflow, fosters collaboration, and maximizes the value of your digital assets.
For more info on DAMs, check out our blog for content marketing teams. Get a head start on your own DAM with our digital asset management template.