It's even easier to build customized apps with updated Interface Designer capabilities, a brand-new view, and more.
It's March Madness over here, and no, we're not talking about basketball. Instead, we're referring to the big assortment of features out this month (and you may need a bracket to rank your favorite!)
Take two minutes to explore these product updates in the video above.
New Interface Designer updates to help teams build even more powerful apps
Brand-new Interface Designer layouts and accompanying features make it even more straightforward for anyone to create and use the apps they need to collaborate.
It all starts with new layouts, which come with predefined elements, so you don't need to worry about which elements to add and where to place them. Instead, you can quickly get to work with your records. And, you can turn on each feature you want users to see.
You can also display filters in tabs or dropdown form so users can jump in immediately–no need to manually apply filter rules.
The dropdown menu lets you switch between various visualizations (List, Gallery, Timeline, Kanban, Calendar, and Grid) to see the same data in the way you want to see it.
There's more! See the full list of Interface Designer capabilities here.
Work faster, together with List View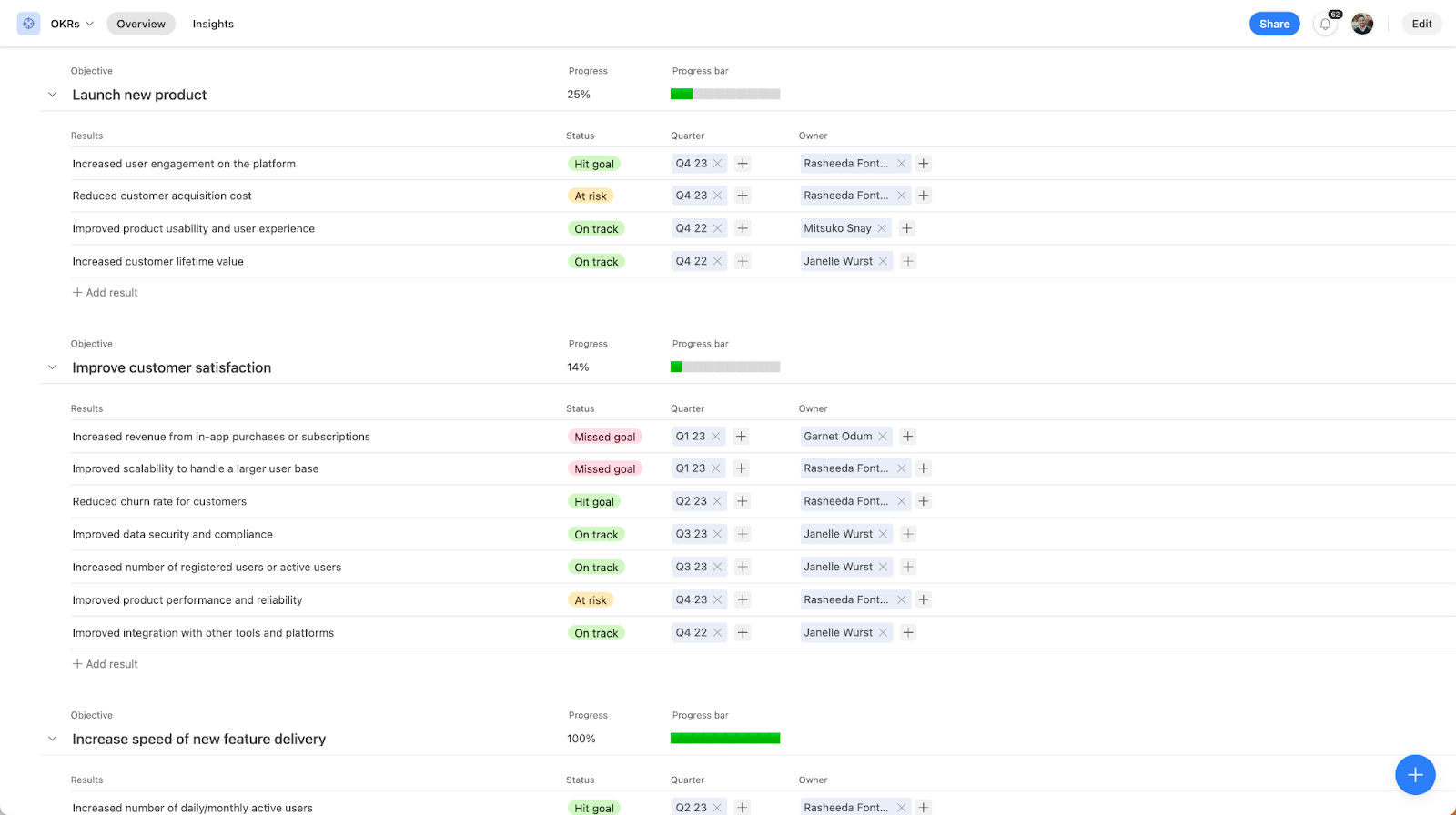 This new view lets teams work faster by organizing their work in just one place—whether it's a base or interface.
Connect multiple tables to your view and organize the data in a way that makes the most sense for your workflow. Then share your app and watch everyone collaborate on the high-level stuff (like overarching initiatives) and the bite-sized tasks.
List View is ideal for tracking complex projects like marketing campaigns or product roadmaps. Other use cases include:
Budget management
Content calendar management
Creative production
Goal/OKR management
Sprint planning
Learn more about List View here, then try adding this view to your workflow.
Scale work with repeating automation actions
Scale your work with new repeating automation groups, which let you take action on multiple records at once.
Unlike conditional groups that only perform a single round of actions per automation run, repeating groups perform the same group of actions for each item in your list.
That means you can send batch emails to people who have RSVP'd to your event, notify each team member about their weekly task list, or something entirely different.
For step-by-step instructions on setting up a basic repeating group in an automation, check out our support article.
Register for our upcoming webinar

Finally, our quarterly update webinar introduces our latest product updates and shows you how to use them.
This webinar will include:
Live demos of the latest Airtable capabilities
Learning resources to empower you and your team
The latest Airtable news and announcements
Tune-in on March 8th at 10 a.m. PST/1 p.m. EST - sign up today.
---
Try using these new features today, and subscribe to our YouTube channel to stay up-to-date on upcoming releases.