A new view that lets you connect and structure your whole team's work–from the big picture down to the little details.
There's a lot to track in a single project, like which tasks you need to complete first, or the right moment to bring stakeholders in. And on top of all that, no workflow is ever totally isolated–there's always work happening across your organization that's closely related to what you're doing (even if you never see it).
Introducing List View: a new view type in Airtable that makes it easy to order your work in one place (be it a base or an interface) so teams can get it all done quickly.
With List View, you can build intuitive apps to connect and structure work, from projects and tasks, to campaigns and deliverables, to product roadmaps and features. Connect other tables to your view and organize the data in a way that makes the most sense for your workflow. Then share your app and watch as everyone collaborates from the highest level (overarching initiatives) to the lowest level (bite-sized tasks).
You can also fully customize your view by choosing the fields that are displayed, or changing how you refer to records. Organize your work based on importance, deadline, status, or whatever parameter fits your need.
"List View has been incredibly helpful for displaying key pieces of interlinked information in real-time–and in an intuitive and welcoming interface," says George Steele, Senior Brand Operations Manager at Deliveroo. "The team uses it every day, and it helps us track time against projects and tasks quickly and easily."
Whether you're setting company-wide OKRs or tracking this season's episodes for the TV show you're working on, with List View, you have the flexibility to structure any kind of work–and accomplish it all faster, together.
Provide visibility for marketing teams
Anyone who's worked on a marketing campaign knows that alignment is key to passing the baton successfully. But when everyone's data lives in siloes, it can feel like you're running blindfolded.
With List View, you can make collaboration easier for Creative, Content, and Product Marketing by creating transparency around project statuses, deadlines, and how work is related. Seeing the aspects of your campaign laid out and linked together allows you to flag risks or dependencies earlier, preventing bottlenecks down the road.
"We track different parts of content production in different tables, and that can make it hard to see what needs to be done, by who, and when," says Jessica Plautz, Director of Content Operations at Dotdash Meredith. "With List View, we have a clear view of all the different levels of work and how they're connected. List View is making our workflow more efficient and organized so we can execute faster."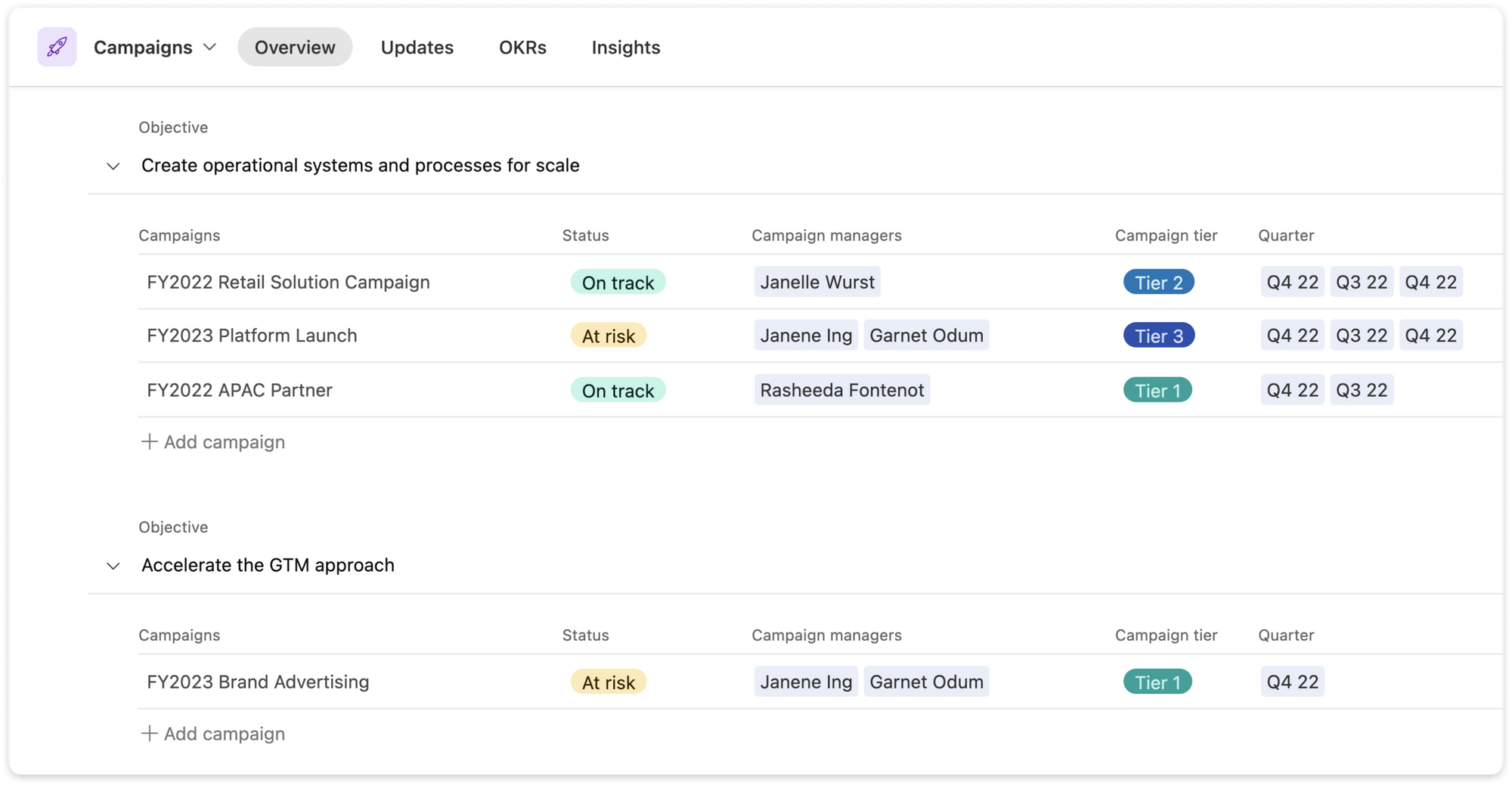 Transparency isn't just handy for marketing teams–it's also a boon for your leaders. When you order your tasks, deliverables, and campaigns in three distinct levels, for example, you can visualize the full scope of your marketing campaign without losing sight of the details. Show executives what they need to see at the campaigns level; if they want to hone in on the details, simply drill down into the lower levels.
List View is making our workflow more efficient and organized so we can execute faster.
Campaigns aren't the only projects marketing teams can tackle with List View–it's also ideal for the following apps:
Budget management: Link your tables to see how campaigns and deliverables spend roll up over various timeframes.
Content calendar management: Turn your daily to-do list into a fully formed calendar by connecting your tasks to your deliverables, which are then connected to programs.
Creative production: Creative teams can visualize how tasks are linked to assets in a given review cycle.
Build and ship products on time
Getting new products into the hands of eager customers efficiently and on time is possible when cross-functional teams and leaders have a clear view of where work stands.
Use List View to build a product roadmap app by listing its projects, features, and tasks. That's three levels of data that can be quickly understood by anyone.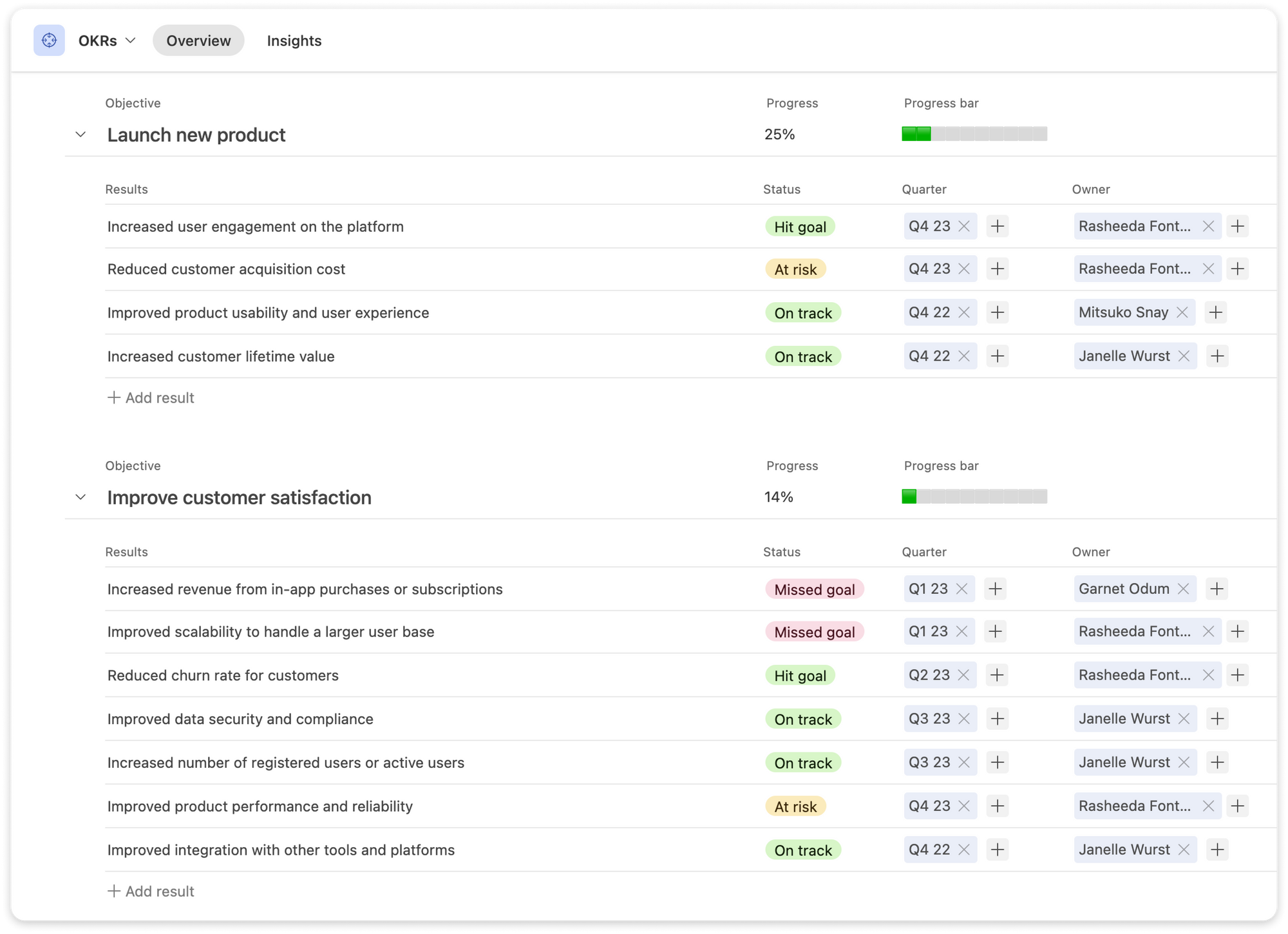 By funneling key info from different sources into a single view, it's easier to see who owns what–and it's easier to give leadership progress updates when they need them. When everyone has access to the same information, you can spend less time chasing down data (and less money on product development costs) and more time focusing on your customers' needs.
And once the product roadmap is set up, it's time to really get to work. List View can help with many important aspects of a product launch, including:
Goal/OKR management: Easily see how your key results relate to the team and company objectives, so you don't lose sight of the business outcomes you're working towards.
Sprint planning: Quickly spot and resolve at-risk work and capacity concerns by seeing exactly who is building what, keeping work on track.
List View has been incredibly helpful for displaying key pieces of interlinked information in real-time–and in an intuitive and welcoming interface.
List View lets you connect the important parts of your projects, so you can get work done quickly across your organization.
List View is available now to all Airtable users–create a view today in your base or interface.