These features make it easier and more intuitive for anyone to create and use custom apps.
For months, teams of all sizes and disciplines have harnessed Interface Designer to design and share their own custom apps.
And now, brand-new layouts and features make it even easier for anyone to create the apps they need to collaborate–and extract value from them quickly.
Design customized apps faster
When you create an interface, you can choose from a list of layouts before adding and arranging elements.
Builders, give yourself an even bigger head start: new layouts come with predefined elements so you don't need to worry about which elements to add and where to place them. Instead, you can quickly get to work with your records and turn on the features you want end users to see.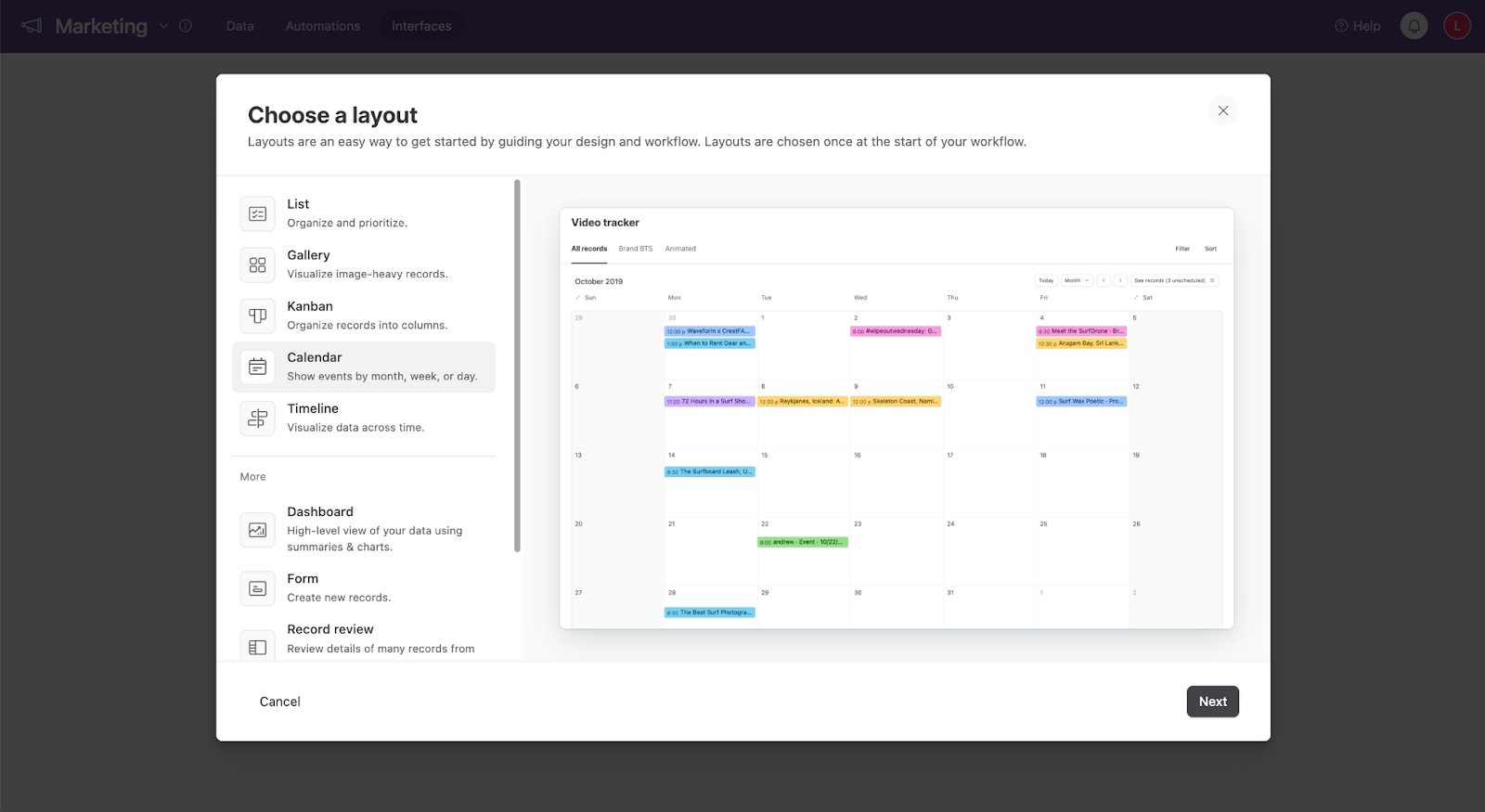 Save time by reusing the forms and record details you've already set up and customized. If you want to use the same form across interfaces, you can now save the exact one you've created and apply it in other places. It's a great feature for teams who use the same form to kick off different types of work – like creative teams initiating design work across video, digital, and physical assets.
And coming soon: You'll have the ability to add and edit fields directly in Interface Designer, so you can control your workflow without having to click back and forth between your interface and your base. You'll also be able to create notifications, like date-based reminders or messages that send when records are updated, so you can automate your interface build itself.
Readily draw value from your app
Additional features make the Interface Designer experience more approachable for people using your app, so they can quickly get to collaborating.
For teams to engage with interfaces, they first have to understand how to use them. New configurations let builders decide how users will see view and engage with data.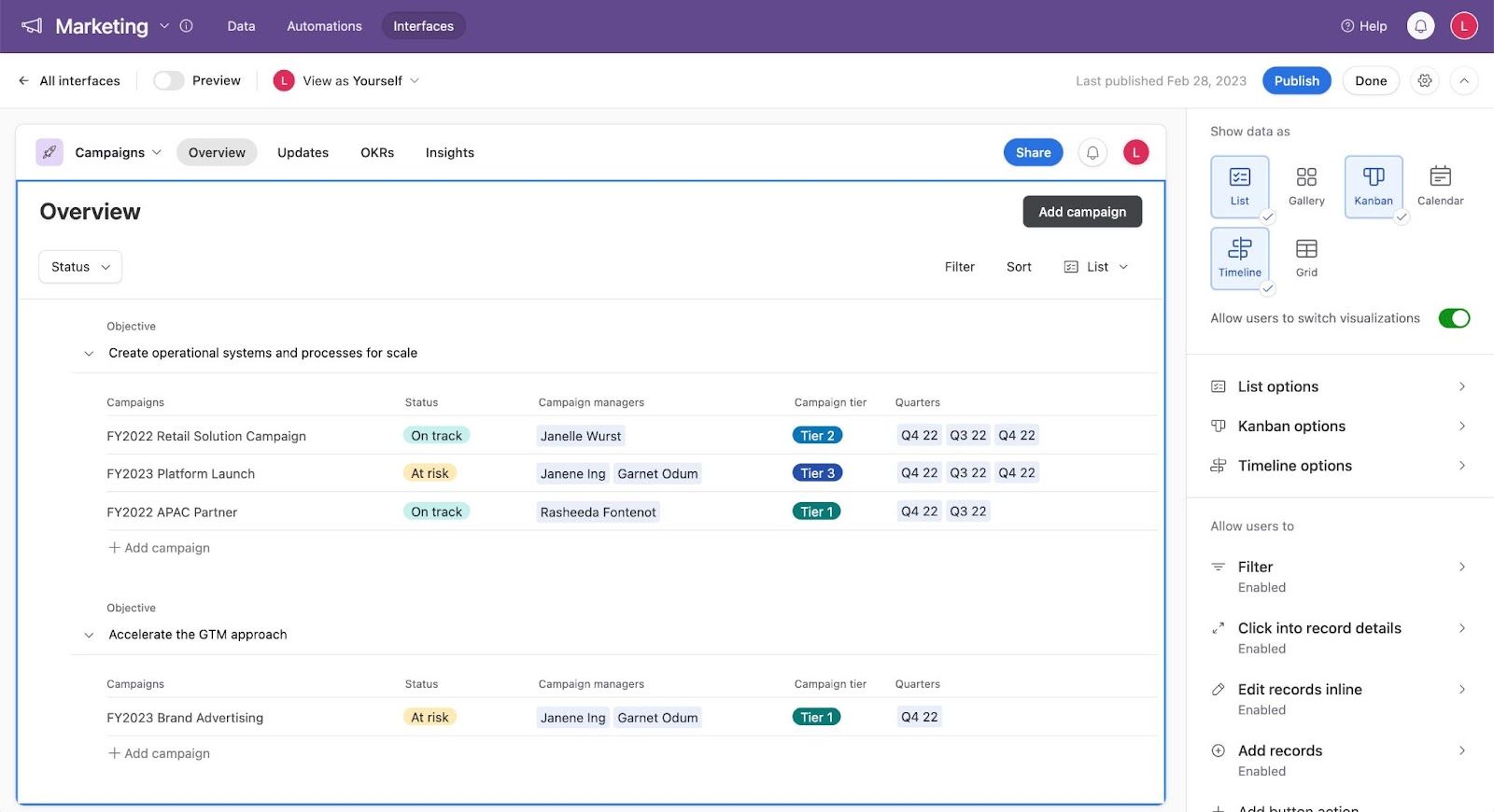 Display filters in tabs or in dropdown form so users can dig into the records that need reviews, or the records on their own to-do list. You no longer have to manually apply filter rules to see certain records together and take action.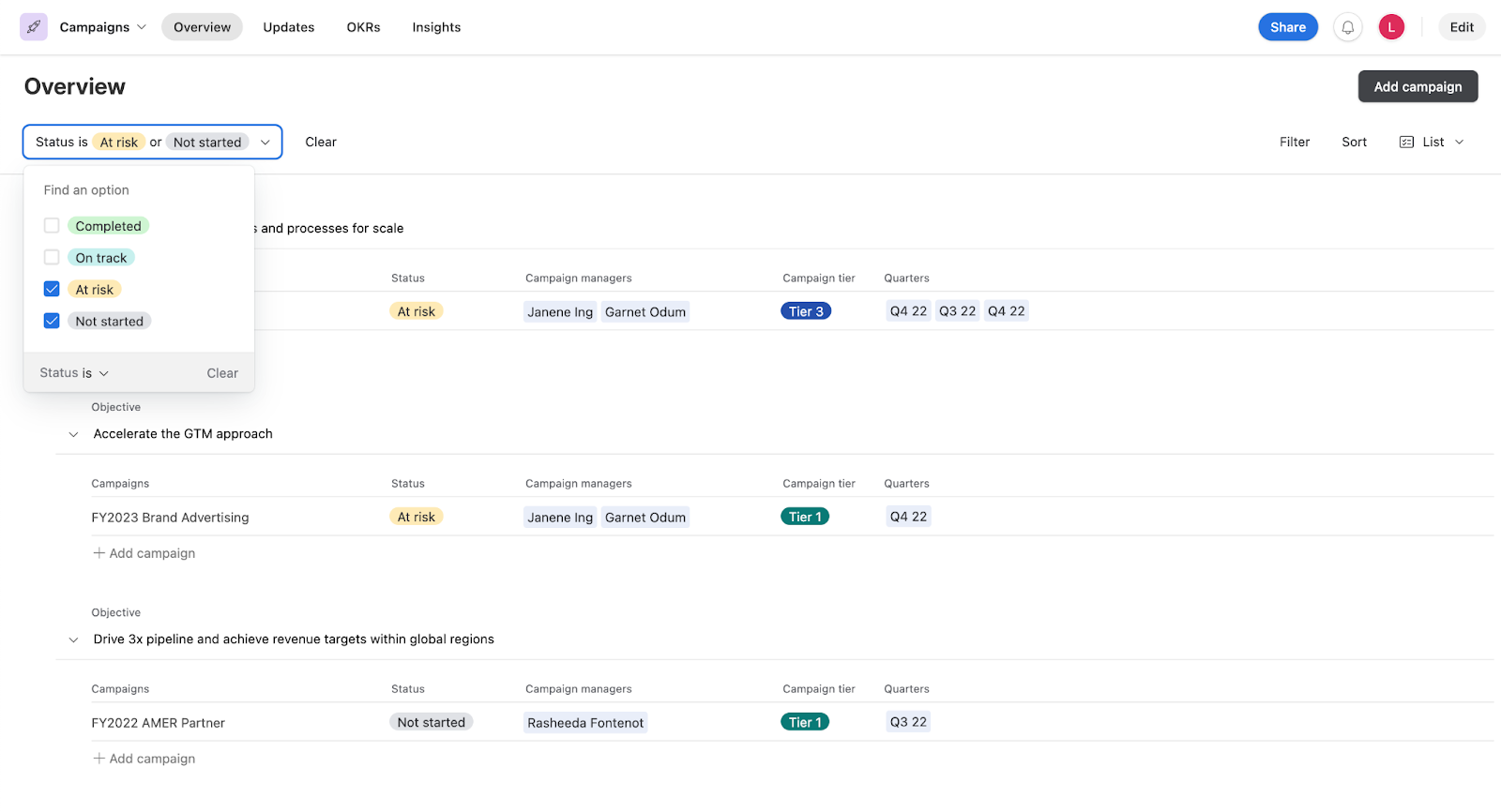 Builders can set default values for forms to make interfaces more intuitive for users. This gives users an example to confidently work from.
And one last improvement: You'll soon be able to search for specific records across any view type, saving you the extra time you'd take to hunt around in the base. See this come alive in Interface Designer next month!
Visualize data in interactive ways
New visual capabilities allow you to see data in different ways, so you can find a view or level of detail that makes the most sense for you.
The dropdown menu now lets you switch between various visualizations (List, Gallery, Timeline, Kanban, Calendar, and Grid) to see the same data. Go back and forth as you wish, or settle into the visualization that resonates – like Kanban to view the status of deliverables.
Clicking into a record will now pull up the details and lay them partially over the record, so you can scan granular data without losing sight of your original list.
You'll also notice that your icons, buttons, and forms look a little different – a visual refresh has been applied to elements across Interface Designer, so interfaces feel more like the apps you're familiar with.
---
With these latest updates and those soon to come, it's easier for anyone to get started in Interface Designer and create dynamite apps for their workflow.
Got an app in mind for your team? Start building in Interface Designer today.