See document automator in action, close form submissions, and join our live virtual events.
This June, you can do more with your data by automatically exporting info into Google Docs, customizing fields in synced tables, and more. Plus, we've got some upcoming community events so you can engage deeper with these updates and ask your burning questions (we hope to see you there–virtually).  
Want to zero in on the product updates? Watch our two-minute rundown below.
Create quick reports with document automator
Do you pull regular reports for your team or leadership, but spend way too much time copying and formatting your data?
Airtable's latest automation lets you export data directly into a Google doc, so you can create clear updates for your team, save time, and keep everyone on the same page.
Document automator is perfect for creating:
Campaign reports
Sprint updates
OKR updates
Set a time-based trigger to automatically create these reports and updates regularly, so you have one less thing to worry about, and more time to devote to crucial work.
Learn more about how you can use document automator, and make sure to see document automator in action on June 29 at 9 am PT in our next Community AMA!
From apps to extensions
Don't worry–your dashboard isn't going anywhere.
What originally launched as "blocks" became "apps" as we added more functionality and opened our Marketplace. And now, the apps you know and love are called extensions. We're building a future where you can extend Airtable (and your workflow) even more.
> Learn more about this change
Try out these new sync customizations
It's now easier to format your synced information in Airtable by changing any of the fields. When configuring a sync, you can use the "Advanced" drop-down option to change the primary field that appears in your synced table.
And after creating a synced table, you can customize each of the fields like you would in any other table–simply click the field drop-down and choose the type you want.
Close form submissions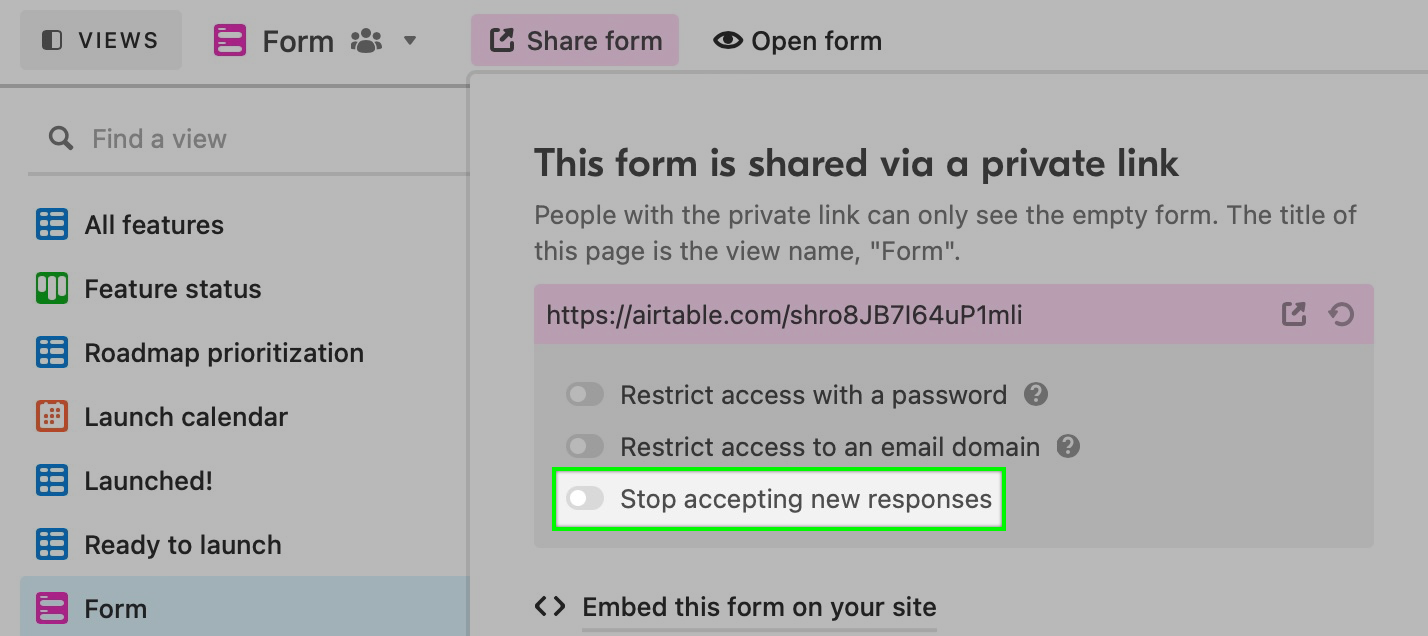 Airtable forms are handy for everything from volunteer applications to RSVPs–even when the deadline has passed.
Let's say you want to close your form, but leave the option to open it back up in the future. A new toggle allows you to close form submissions while keeping the share link active. All you have to do is click the "share form" button and toggle the "Stop accepting new responses" option to disable submissions. Toggle it off when you're ready to share again.
Community news
It's an eventful time here at Airtable! Want to learn more about product management or deepen your knowledge of features like Interface Designer? Some upcoming opportunities here:
Attend our next LinkedIn Live broadcast for product teams: Into product management? Join Randy Silver and Scott White on June 30th, 10 am PT as they break down Airtable's Product Insights Report—our original research on product teams and productivity.
Compete in our Interface Designer contest: Calling all creators! Build the interface of your dreams, then submit it to our community contest to win some nifty prizes. Categories include: best design, best use case/solution focus, and wildcard (wow us). Contest closes July 31.
Universe base of the month
Job hunting can be a full-time gig of its own. Operations manager Cynthia Compton created a job search and interview prep base to take some of the stress off.
Organize all of your important info in the provided tables, from contacts and resumes to interview questions. Use the kanban view to track the status of your job applications or the calendar view to see upcoming interviews.
---
That's it for June! Be sure to follow us on YouTube to stay up-to-date on our feature releases.