Save time and keep folks aligned with this latest Google Docs automation.
Monthly reports, weekly updates, daily check-ins–no matter the cadence, it's essential that you keep leadership and stakeholders informed about critical work for your organization to succeed.
But it can be time-consuming to pull the information you need and manually translate it into a tool like Google Docs. And if you have to create these updates quarterly or (dare we say) weekly? The minutes quickly add up, leaving you less time to handle your other crucial tasks.
Airtable's document automator lets you export data directly into a Google doc and format it into clear updates for your team. With this latest automation, you can automatically create monthly department updates to share with leadership, take a snapshot of completed sprints at the end of each week, or compose anything you need to keep your team aligned on progress.
However you use it, document automator helps save time spent collecting, formatting, and sharing information, so you can keep everyone on the same page without spending a good chunk of your day putting everything together.
Here are a few specific ways you can use this automation to drive your work.
Deliver sprint updates to product leads
Product teams can use document automator to deliver detailed updates on sprints to team leads, so they know the product launch is on track.
Do your team leads have a recurring stand-up every other Thursday? No problem–you can configure your trigger so your Google Doc is created in time for your meeting.
Set the trigger type as "at a scheduled time" and adjust the settings according to when you'd want the doc created (every two weeks? Thursdays? You decide). Select "Find records" as your first action so you can get the records you need, followed by "Create Google Doc" as the second.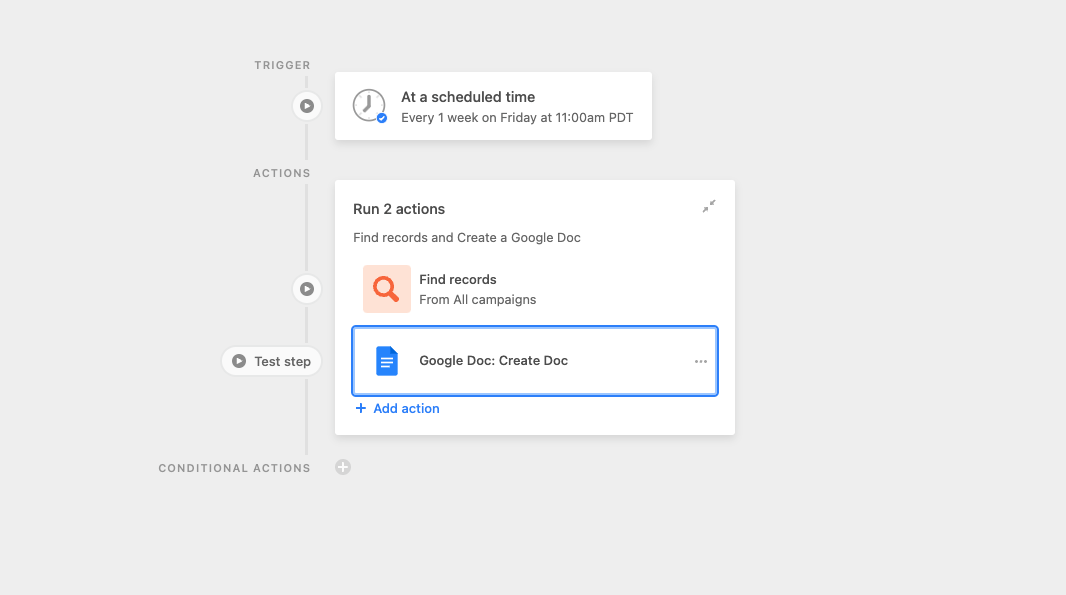 Give your Google doc a clear title, like "Sprints for Week of 5/23" or "Biweekly Product Update." In the content section, you can choose which fields to show for records. To continue the sprint example, it might be helpful for leads to see fields like:
Assignee
Sprint priority
Status
Project
Notes
⚡ Pro tip: If you intend to include 3-4 fields, we recommend displaying your Google doc in portrait view. Any more than 4 fields should use landscape formatting for visibility.
Test your action to generate your Google Doc's URL. Congrats! You've now automated your sprint updates so you have a clear, in-depth report to show leads in your scheduled meetings–go ahead and remove that recurring task from your to-do list.
Share campaign reports with execs
Document automator can also help you turn your data into sharp marketing campaign reports.
Let's say you're running a big brand campaign that requires months of planning, and leadership wants a detailed progress report each month. It's worth noting that these executives might not be in Airtable, or they may not be close enough to the work to warrant full base access–what they really need is a concise overview of the campaign's progress.
First, get all of your important data into a base. You'll want to choose a specific table (like a Campaign Tracker table) and add any fields you think will be relevant for reporting.
Connect records from your Campaign Tracker table and include the fields that leadership will want to see—like names of the project leads, project status, and budget. In the content section, add elements like headers and bullet points to make the doc easy to read.
⚡ Pro tip: The Google doc will live in whichever folder you've chosen while configuring your automation. The doc's permissions level will default to the folder you choose–we recommend selecting a folder you've already shared with stakeholders, so they can quickly dive in without having to request access.
You can also tack on additional actions after you've created a Google Doc–consider adding an action that emails your executives to let them know the report is ready for review. Now, execs will get a timely email every month so they can see how the campaign is progressing, and you won't have to worry about notifying them.
---
Airtable's document automator allows you to seamlessly automate point-in-time reports, campaign updates, and whatever else you want without spending hours collecting the info you want to share.
When you directly export your base's records into Google Docs, you can get up-to-date information into your stakeholders' hands faster, keeping everyone aligned.
Try automating a report or update in your base today, or check out the sample base we created for inspiration.
Document automator is available for Pro and Enterprise users–learn more about upgrading your Airtable plan.