For startup founders with stars in your eyes: this roundup of templates will plant your feet firmly on the ground.
When most people think "startup" they think entrepreneurship, courage, and grit. But there's a non-romantic side of #startuplife, and it requires something that is critical to a growing org's success: administration.
To get off the ground, every startup needs to get organized and check tasks off the list, like: create a business plan, conduct audience research, compile marketing efforts, and much, much more. And with Airtable, you can get all of it done in one place.
Check out these 10 administrative templates you can use now to create a solid foundation for your startup's future.
Business Roadmap Template
While a business plan is nice, it tends to be a static document. You create it once. But your ideas and the reality of your business evolve. May we suggest, instead, a dynamic business roadmap that can be continuously updated as your business grows?
This business roadmap template is a foundational place for your operations, marketing, PR, product development, and sales plans. Use the traditional grid view or kanban view to lay out your plans and prospects; as your company grows, add more stakeholders to the mix.
Download a free Business Roadmap Template
User Research Template
In the early days of any startup, it's critical to understand your customers. For this reason, user research is an essential operation. While there are many ways to go about it, from usability testing to customer interviews to focus groups, the important thing is recording and organizing what you learn so you can act on it.
This user research template has views and fields for keeping track of sessions, participants, and feedback. Clicking into a linked record field for an interviewee reveals specific details about how they tested your product or what kind of feedback they gave in an interview. Requested features and recorded complaints are all tracked, too, giving you a built-in plan for how to improve.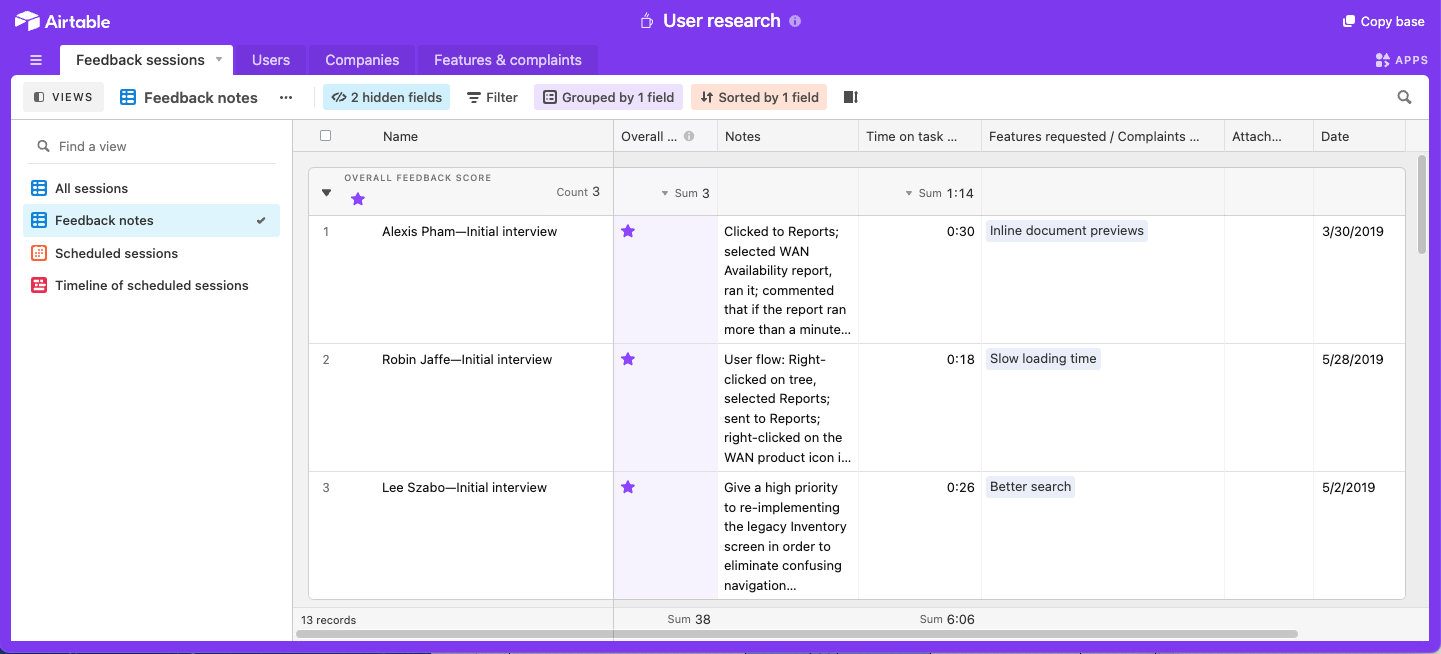 ⚡ Pro tip: An app for "most frequent feedback," located at the bottom of the right-hand pane, is an at-a-glance reference for the most important things you're learning via user testing.
Download a free User Research Template
Product/Market Fit Template
The flip side of user research is product/market fit. You may have a solid idea of who your product would serve. But how many of those people exist? And will they buy it? This is the information you get with product/market fit research.
You might already have some users. Or perhaps you have a mailing list of potential customers you could poll to assess their interest. This template has built-in forms you can use to survey people. Data from those surveys is automatically imported back into your base.

Download a free Product/Market Fit System Template
Competitor Tracking Template
You're only good if you're better than your competitors. In the early days of startup planning, entrepreneurs conduct competitor analysis to figure out just where they'll land in the market.
This competitor analysis template is a central place to keep track of the competition — who they are, what they sell, who they sell it to, what features they offer, what messaging they rely on, and more.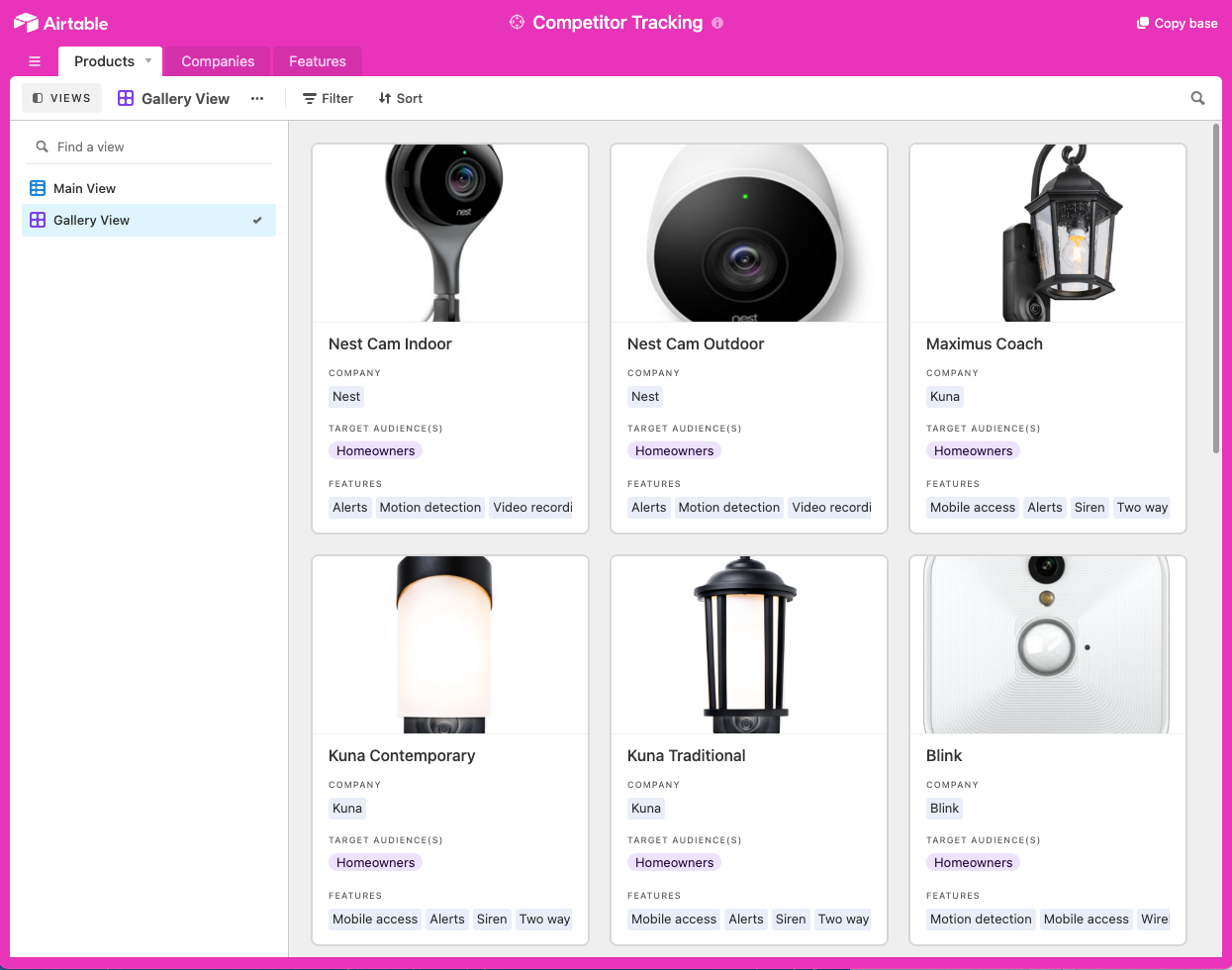 ⚡ Pro tip: Shift your base into gallery view for a quick visual of what your products are up against.
Download a free Competitor Tracking Template
Product Launch Template
You've done all your research, poured countless hours into developing a premier product or service, and now it's time to launch. Chances are by the time you arrive at this seminal moment, you've acquired a team of helpers around you, and you need a central place to help everyone stay organized and accountable.
This product launch template ensures nothing slips through the cracks. Multiple stakeholders can access it via the cloud, with various views for different roles. One view for Launch Goals and OKRs helps the whole team stay focused on what matters with this launch, while another specifically dials into marketing plans.
⚡ Pro tip: The launch dashboard for this template has a handy at-a-glance view of product status and marketing status risks and status.
Download a free Product Launch Template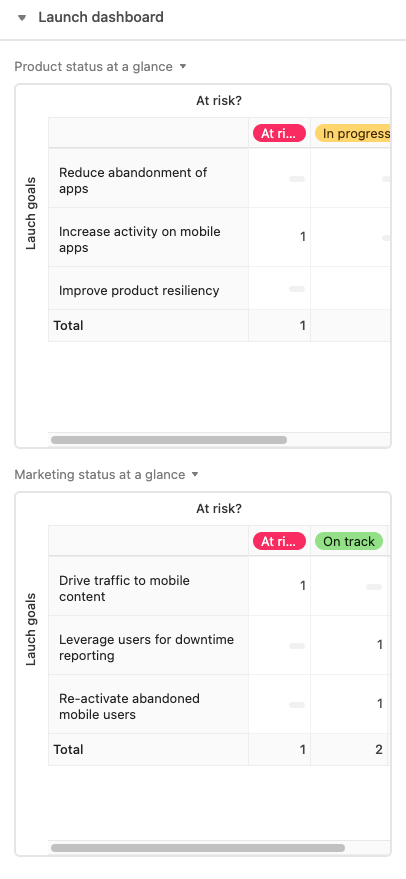 Employee Directory Template
Eventually, you'll have an HR person—hey, maybe even a whole team!—but until you do, Write. Everything. Down. You won't regret it when you suddenly need to find the start date of your sales VP or figure out who that guy being irritating on Zoom reports to now.
With this employee directory template, you can create a centralized place from company get-go. The beauty of using a relational database for this type of information is that each individual record from your base contains all the information you ever need to know about an employee.
⚡ Pro tip: Say you've already started keeping track of employee information with a simple spreadsheet. You can easily import that data into your Airtable base with these instructions.
Download a free Employee Directory Template
Simple Applicant Tracker Template
The other critical HR activity for startups? Hiring. Lots and lots of hiring.
With this applicant tracker template, you can manage the entire hiring process in one place: job descriptions, candidate information, recommendation tracking, and more. Building your applicant tracker on a relational database like Airtable makes it flexible and scalable, so it can grow with your organization.
Download a free Simple Applicant Tracker Template
Marketing Plan Template
For startups, marketing is everything. You have to get the word out and build your brand, or you don't stand a chance.
With this marketing plan template, you can plan and monitor your marketing efforts and campaigns. It includes a quarterly view and a kanban view of marketing initiatives and an accessible rundown of the marketing team. Turn mere marketing ideas into a real game plan.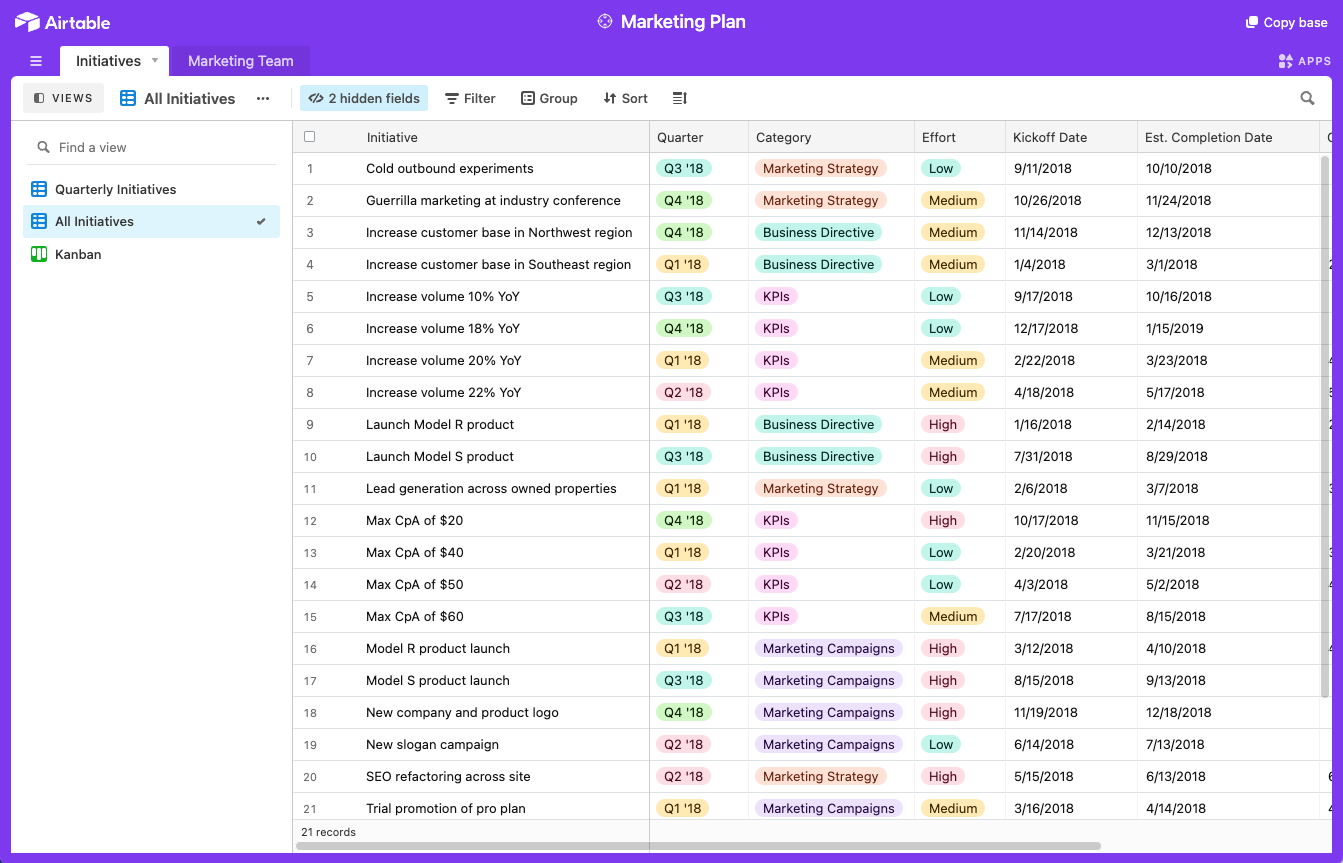 Download a free Marketing Plan Template
Sales CRM Template
With any luck, your startup will be so successful that soon enough, you'll need a way to track sales opportunities.
This basic sales CRM template helps scale up sales efforts and manage customer relationships. It can be used by any number of people at once so that as your sales team grows, the CRM grows with it, helping your startup close more and more deals. Coach each member of your sales team on personalizing their view of your sales CRM base so they get the most out of it.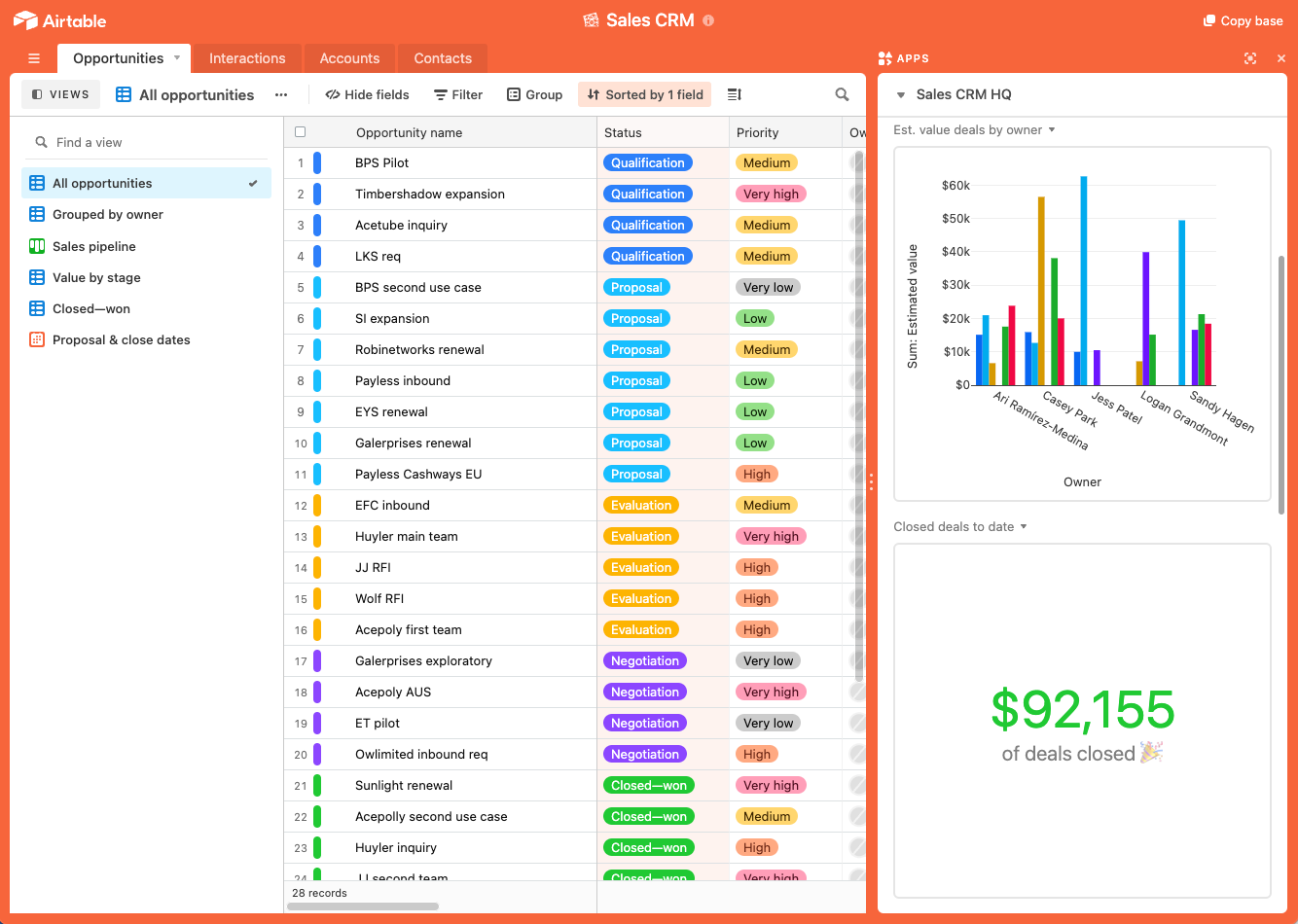 ⚡ Pro tip: This template comes with a custom scripting block that, when run, will validate your contacts' information so you can find any records that are missing key information.
Download a free Sales CRM Template
Growth Experiments Template
The goal of any startup, of course, is not to remain a startup. And for that reason, we'll leave you with the most important template of all: a growth experiments template. Use it to implement a scientific approach to growth — a process colloquially known as growth hacking.
With views for experiment status and outcomes, you can see how your growth experiments stack up and which were most successful, so you can try more of that.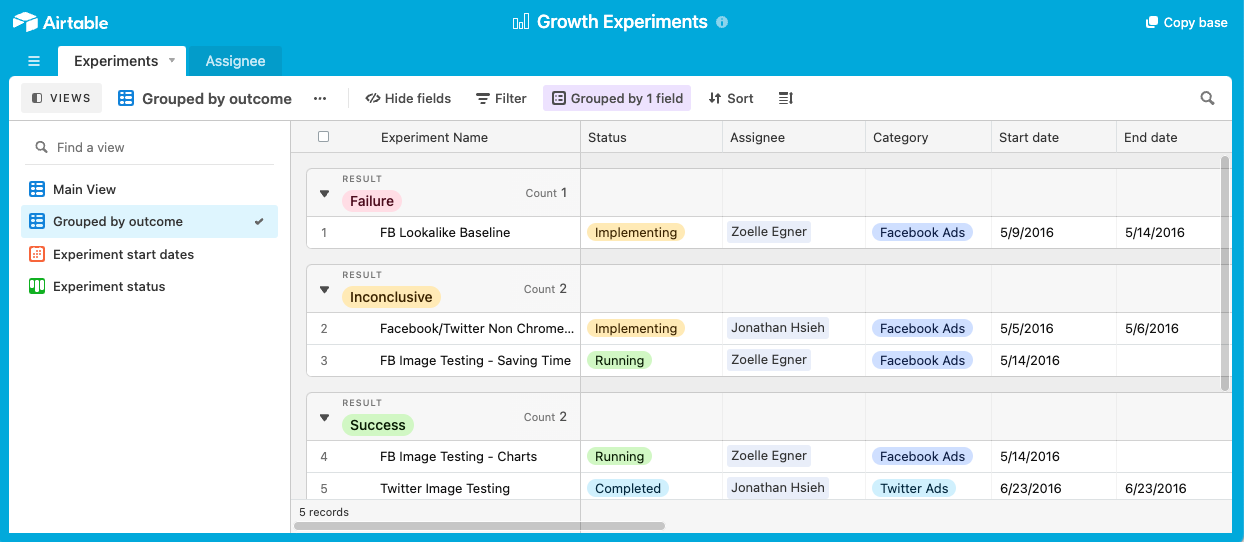 Download a free Growth Experiments Template
The life of a startup founder may not be as glamorous as you'd think, but with the right tools and templates, it can be incredibly successful.
If you're interested in creating your own database, try more of our premade templates, or sign up for Airtable below to make one all your own.