More support for your growing team, new filtering options, and a fresh UI redesign.
This month, we have a big bundle of updates for you to get your hands on, from new features to manage your more complex workflows, to record creation in Interface Designer.
Watch our video below for a two-minute recap of these updates (and to see them in action).
Access tools quickly with a UI refresh
First up: navigation updates to your base UI to make building easier and faster.
Base navigation: Get quicker access to the tools you need, like interfaces and automations, no matter which view you're in.
Automations: A new, 3-pane automations experience makes it easier for you to reference your data when creating an automation, so you can build with precision.
Scale workflows with confidence
As your team's work gets more complex, so do your workflows. Keep yours humming along with new features to help you scale, whether you're a creator or administrator.
New features for creators include:
Increased record limits (Enterprise): You can now add twice the records per table and 2.5 times more records per base in total (250k records!).
Field manager (Pro, Enterprise): Make base edits faster with field manager. View all of your fields at-a-glance and make changes in bulk, like editing field permissions.
Dependency alerts (all plans): Get notified about dependent objects before you update or delete a field, so you can spot errors and protect your workflow.
Base insights (Enterprise): Get data on how collaborators are using your base so you can make it even more impactful.
We've also got some updates for admins:
Import SCIM metadata (Enterprise): Bring metadata into your Admin Panel to help you better manage user provisions.
Restrict file attachments (Enterprise): Protect your data by restricting certain file types (like .zip files) from being uploaded into Airtable
> Check out our blog for the details
Create new records within interfaces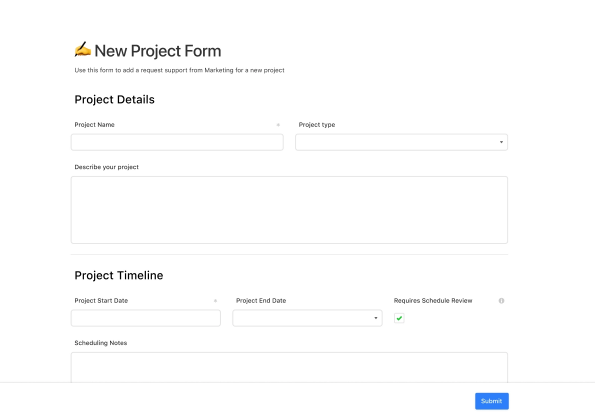 With Interface Designer, you can create visual, intuitive interfaces that collaborators can interact with, no matter their Airtable skill level. And now you can create new records directly in your interface with interface forms, giving you even more ways to collaborate.
Filter by linked records with ease
Linked records help you create relationships between your data and are key to connecting your workflows. When filtering your views or interfaces, you'll now be able to filter by specific linked records so you can find exactly what you need—no obscure text search strings required.
> Add a linked record to your base now
Better formatting for email digests
Email digests can help you push updates out of Airtable with a simple automation. And now when you configure your automation, you can group records for even better organization. Format your data the way you want and make it easier for recipients to understand.
Community news & stories
Enter our Interface Designer contest: There's still time to put your best interface forward in our first-ever Interface Designer contest. Categories include: best design, best use case/solution focus, and wildcard. Enter now for the chance to win prizes–contest closes August 12.
How researchers at LinkedIn use Airtable: Our friends at LinkedIn created a global repository of content to improve data integrity, double their reporting capacity, and scale their team–all in Airtable. According to senior research program manager Sarah Sgarlato Pierini, "This system helps us live up to the commitments that we make and to our participants that we're recruiting for research."
---
That's what's new in July–follow us on YouTube to stay up-to-date on our feature releases.