Your work is always changing–here are three ways to keep teams updated in your base.
It's a tale as old as time (or, at least, as old as the modern workday): you show up to an early morning meeting, only to realize the room's empty and the meeting's been canceled–and you missed the memo.
Assets, timelines, and priorities are always being updated, but that doesn't mean you can't update your colleagues along the way. Here are a few ways you can keep stakeholders informed about changes to your workflow in Airtable, so no one is left out of the loop.
Filter for updated records
One way to keep stakeholders in the know is by creating a view that filters for recently updated records, so people see only the latest changes.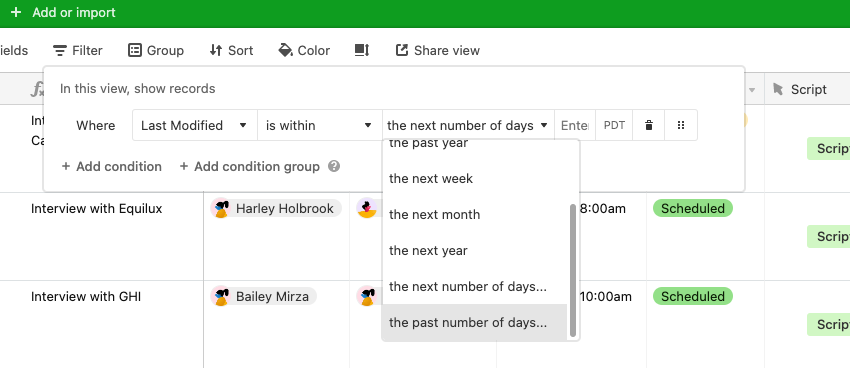 Let's say you have a base where you manage data around customer interviews, and want to bring colleagues up to speed about last-minute scheduling changes.
After creating a new grid view, add a Last Modified field that provides a timestamp any time a record's fields have been changed. From there, you can filter by this Last Modified field to show records that have been changed within your designated timeframe (like in the last 7 days).
Now, stakeholders can click this view at any time if they're curious about the status of upcoming interviews, getting the info they need right then and there.
Email updates to teams
You can go one step further to ensure stakeholders see updated records by sending email digests every week (or every day, or twice a month–your choice!).
For example, say you want to send an email digest to your team every Monday morning so they're fully briefed on meeting changes for the week. Create this digest by heading to the automations panel–here, the trigger will be "at a scheduled time" (on Monday mornings).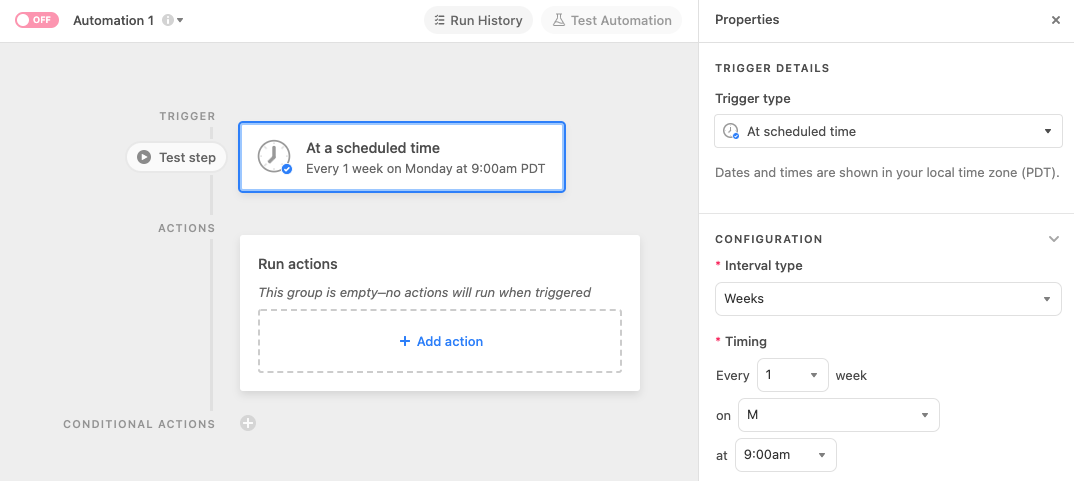 In this case, you'll want to configure two actions. The first is to find the records that have been updated in the last week; the second is to send an email containing these records to your team.
Coming back from the weekend, team members can now educate themselves about meeting changes simply by checking their inboxes–and after setting up the automation, you don't have to do anything further.
Provide more context with interfaces
Finally, with a dashboard interface, you can provide stakeholders with much-needed context to go along with these updates.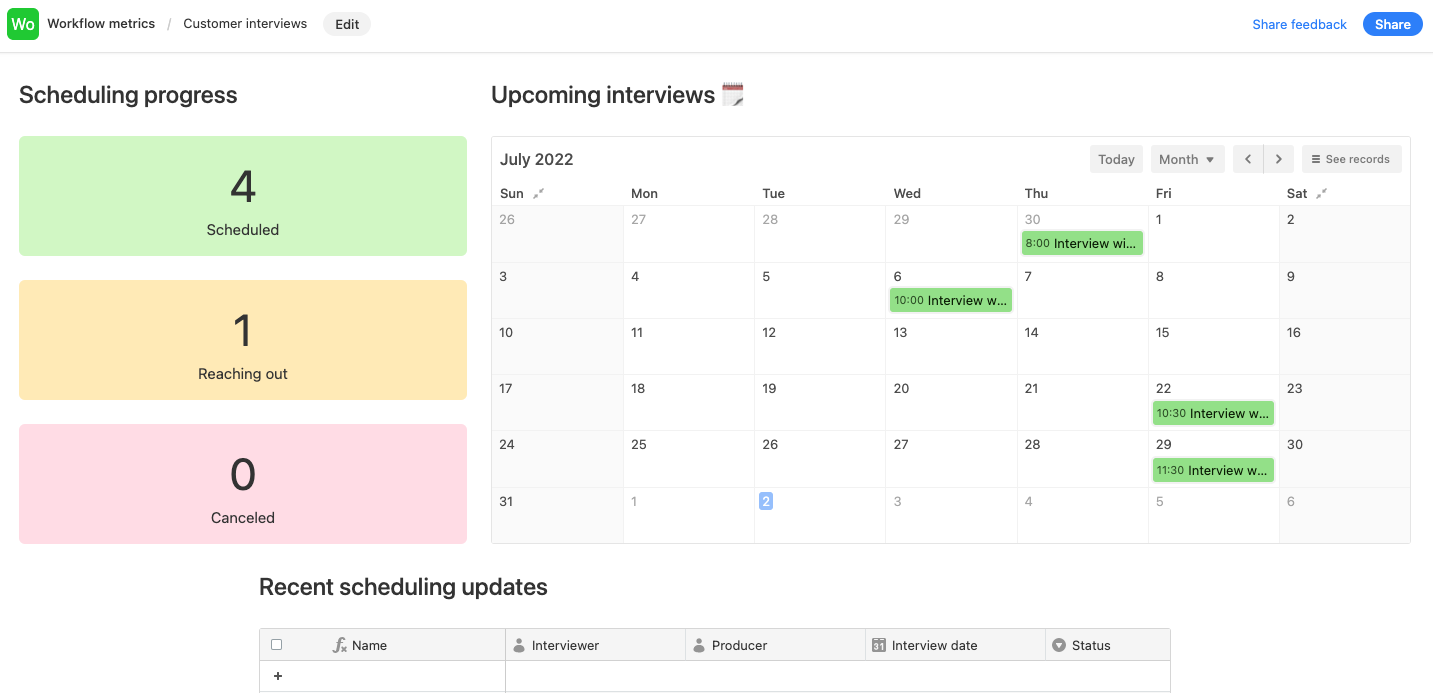 In an interface, there are a variety of elements you can add to give visual and intuitive context. Consider adding a number element, for instance, showing colleagues how many customer interviews are scheduled, or a calendar so everyone can see what's coming up this week. Finish the interface off with a grid element to display your recently changed records.
Stakeholders can get a full overview of your workflow, removing any second-guessing or confusion from the picture.
---
Prevent miscommunication and work slowdowns by keeping everyone on the same page in your base.