From increased record limits to new base insights, we're introducing new features so Airtable can evolve with your workflows.
As organizations innovate and become more complex, so do their workflows. That's why we're introducing tools that help you improve your workflows, maintain security, and manage your work at scale.
With these new controls and insights, you can continue to improve what you've already built—and make sure the workflows you've built for your team keep pace with your needs. Admins can more safely manage Airtable use across the organization, while creators can manage large-scale changes in their base without disrupting their teams' work.
Capture more data & expand your workflows with increased record limits
Your workflows rely on your data to function—so we've increased record limits for Enterprise accounts to help you build even more complex systems in Airtable.

You can now add twice the records per table (an increase from 50K to 100K records) and 2.5 times more records per base in total (an increase from 100K to 250K records). Continue to power your most complex work with confidence, even as the work itself scales.
Adapt quickly with alerts & insights
When workflows get more complex, so do the number of dependencies and potential issues, which can bring critical work to a screeching halt. And when that happens, you need to make quick changes so teams can execute without interruption.
The new field manager allows you to make key updates with confidence. You'll now have a bird's-eye view of the fields in every table, so that you can:
View all fields in a table at a glance (not just the fields visible in a given view)—and filter them by attribute, like field type
Bulk edit field permissions
See which calculated fields are broken
View a list of all dependencies
> Start making bulk changes from the field manager
Bulk field changes help you make base edits faster, and prevent bottlenecks for your team. And with all-new dependency alerts, you'll be notified if any field changes could have downstream impacts on your workflow. Enterprise users get additional oversight with a detailed list of dependencies—like the specific tables and formulas a change would impact.
Let's say you want to remove a field from your base, but you're not sure if it's being used in an existing workflow. When changing a field type, updating field select options, or deleting a field altogether, you'll now see an alert that highlights the field's dependent objects (including syncs, automations, interfaces, fields, and views), outlining every downstream impact. Make informed changes, without worrying you'll break an existing workflow.
Finally, new base insights can help you understand exactly how teams are using your base, so you can:
Fix paused or broken automations and syncs
Review and manage unused views
Understand base and collaborator activity
With these at-a-glance insights, you can make your base more impactful for teams. Delete unnecessary views and focus on optimizing the ones your collaborators value most, or update your sync configurations to ensure you're funneling in the most up-to-date info.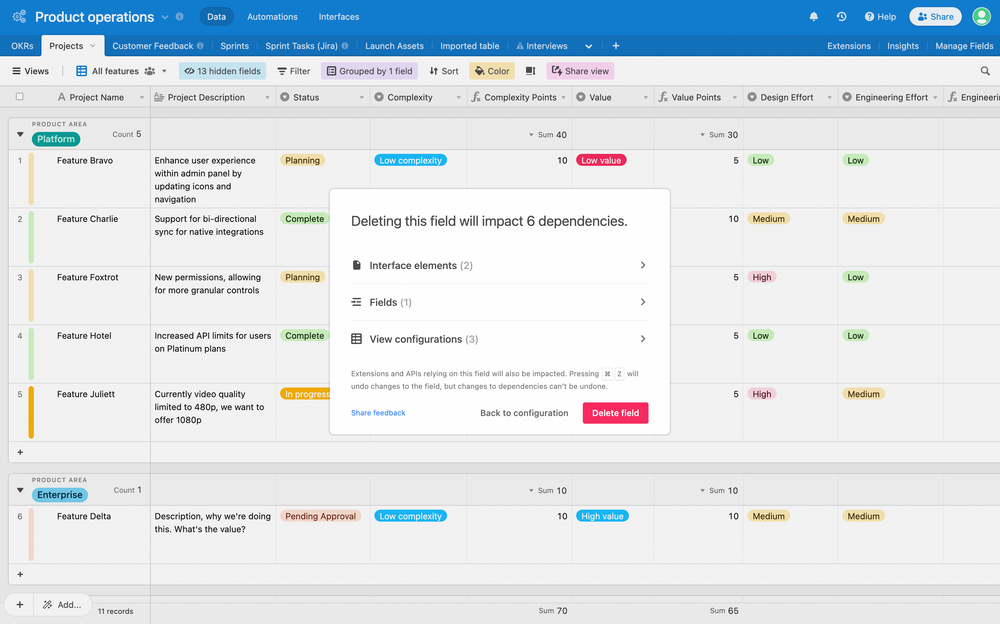 Scale & manage securely with new admin controls
As your team grows, it's important that your work scales with you. Now, new controls make it easier for admins to manage Airtable users, and set organization-wide parameters as their workflows grow.
Bringing more employees into Airtable every week? You can now import SCIM (System for Cross-domain Identity Management) metadata right into your Admin Panel. This lets you see which part of the organization each user belongs to—so you have the clarity you need to manage user provisions.
That's not the only new way you can mitigate risks from the Admin Panel. Now, admins can restrict teams from uploading attachment types that pose greater security threats—like .exe and .zip files. Safeguard information and stay in compliance with security policies by allowing only designated file types in Airtable attachments.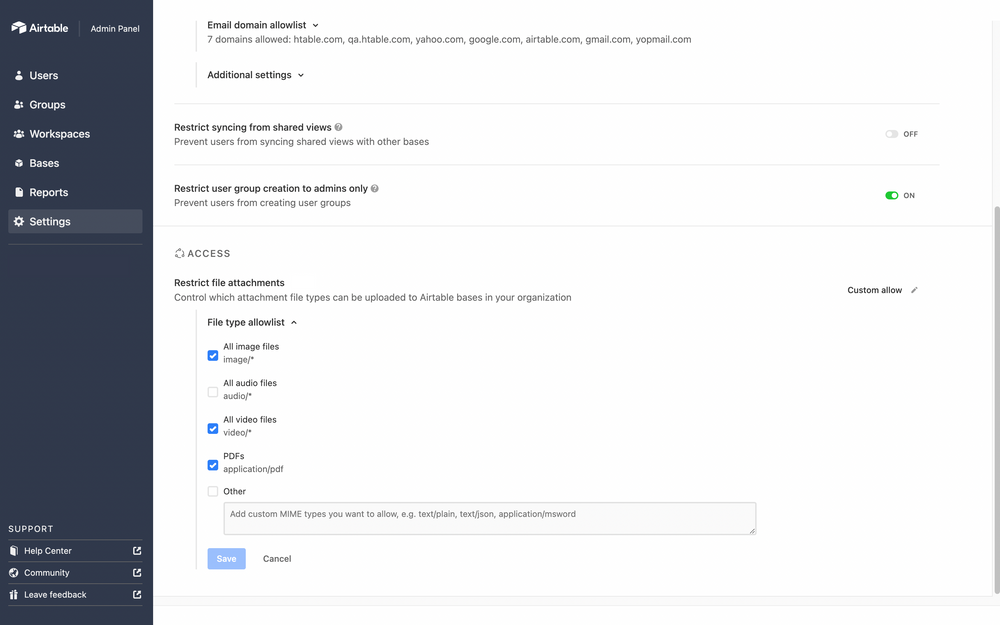 > Check out Admin Panel updates now
🔎 ICYMI: At the end of last year, Airtable launched a few other features designed to help  admins streamline their work and manage more users, including: a redesigned Admin Panel experience, User Groups, audit logs, sharing restrictions, and improved base performance. > Read more
---
Creators and admins alike can use these new tools to keep work running smoothly and safely in Airtable—no matter the size of their organizations.

Is your organization growing? Upgrade to an Enterprise plan to take advantage of these features.