Pop culture watchers built sophisticated automations to boost their podcast.
It's never been more difficult to separate a flash-in-the-pan fad from a soon-to-be-ubiquitous digital trend. New forums, platforms, and discussion spaces abound, and the internet's hamster wheels spin faster all the time.
And if you think mainstream trendspotting is difficult, try sussing out what's popular in a niche where new content pops up every few minutes.
This is where tracking trends with Airtable comes in handy.
Fanning the flames
Consider the case of fan theories, which are just what they sound like—a fan has a theory about the subtext or unresolved plot in a story. What if the character Sandy actually died at the beginning of Grease? What if Neo never left The Matrix?
Fan theories have made good fodder for psychologists and they're increasingly influential in how movies and TV shows get made. They share some elements with conspiracy theories, but they're almost never about real-world events.
To Spencer Williams and his three-person podcasting team, fan theories are everything.
Williams is executive producer of the show and site Fan Theory Queries, where he and his pals discuss fan theories multiple times a week. If Indiana Jones was secretly one of Marvel's Winter Soldiers in Raiders of the Lost Ark, you'd better believe the three co-hosts will studiously dig in.

When Williams started the show he knew immediately he was wasting time on tedious manual work—sometimes doubling or tripling tasks in Google Sheets.
So earlier this year he started running podcast operations with Airtable, building a series of automations that scan the internet for new material and automatically keep his team up to date.
While his application may be niche, its implications are not, as companies of all sizes look for ways to comb the internet for mentions and relevant trends.
Through a scanner darkly
One of the most lively, raucous places to debate fan theories is Reddit's r/FanTheories, an online community with 1.8 million members. Fans post theories in the subreddit every few hours, and Williams and his co-hosts were struggling to keep up.
After Williams got some basic operations rolling in Airtable—like creating a catalog of shows and a tagging system for topics—he set about building an Airtable-based system that scans Reddit for new theories and updates his team through a private feed.
Using a Make integration, he sends data from the Reddit fan group to his main Fan Theory Queries operations base. Each time a new theory gets posted, Williams' team is notified through the messaging service Discord. Discord has a 2,000-character limit for text, so if a fan rambles on about their theory, Williams sometimes has to grab the theory manually. Otherwise, all text gets automatically uploaded to Discord.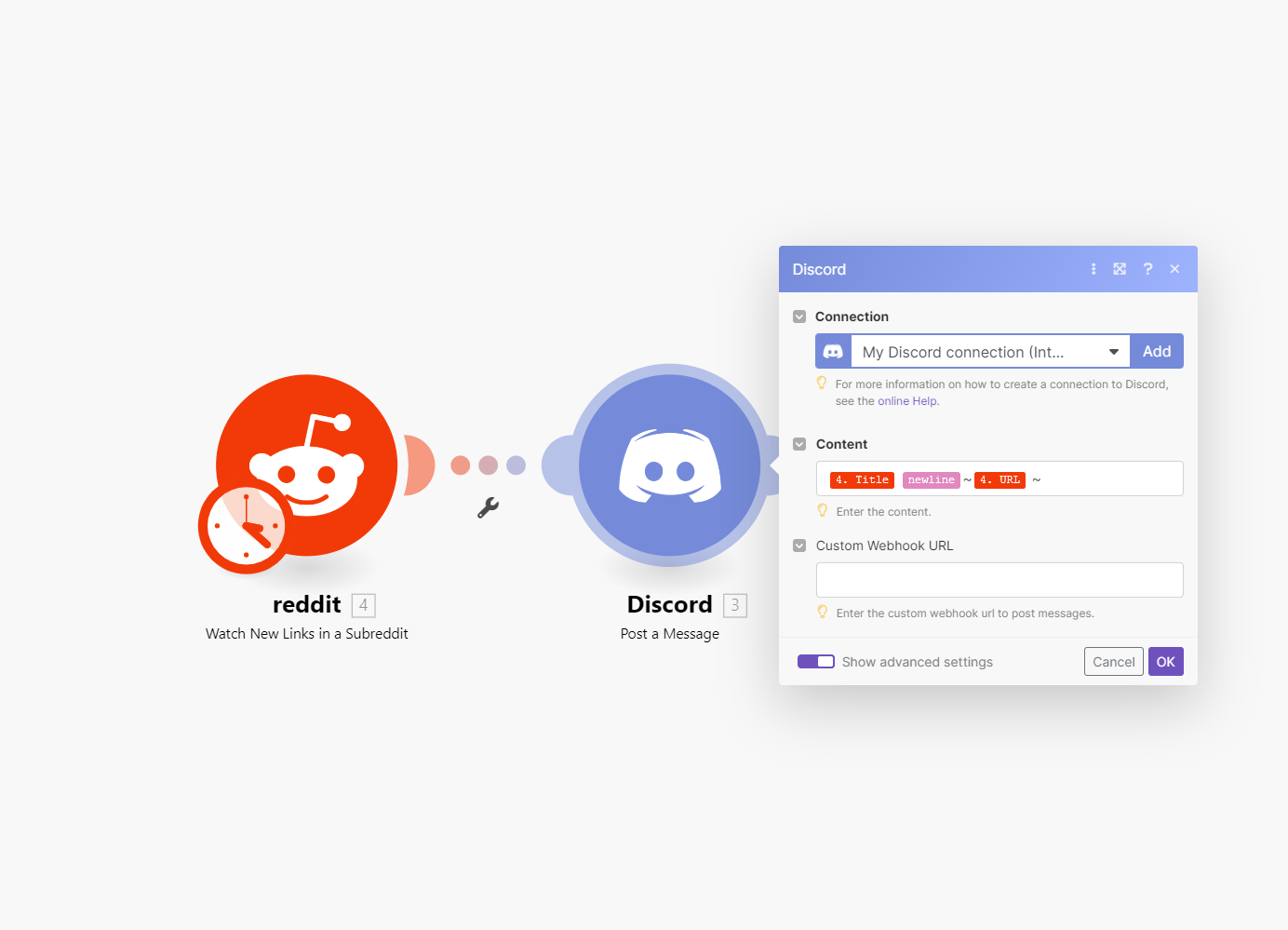 The automation runs every 15 minutes. Each team member reviews the batch of theories, marking those they want to claim for show material with an emoji. If the emoji is a man looking through a monocle, for example, that means Spencer is grabbing it. 🕵️‍♀️
Once a co-host marks a theory, the automation generates a record in Airtable. Then Williams uses Airtable's document automator function to generate outlines for podcast episodes—based on the theory content pulled into Airtable from Discord.
If no one claims a fan theory within seven days, Discord automatically discards it.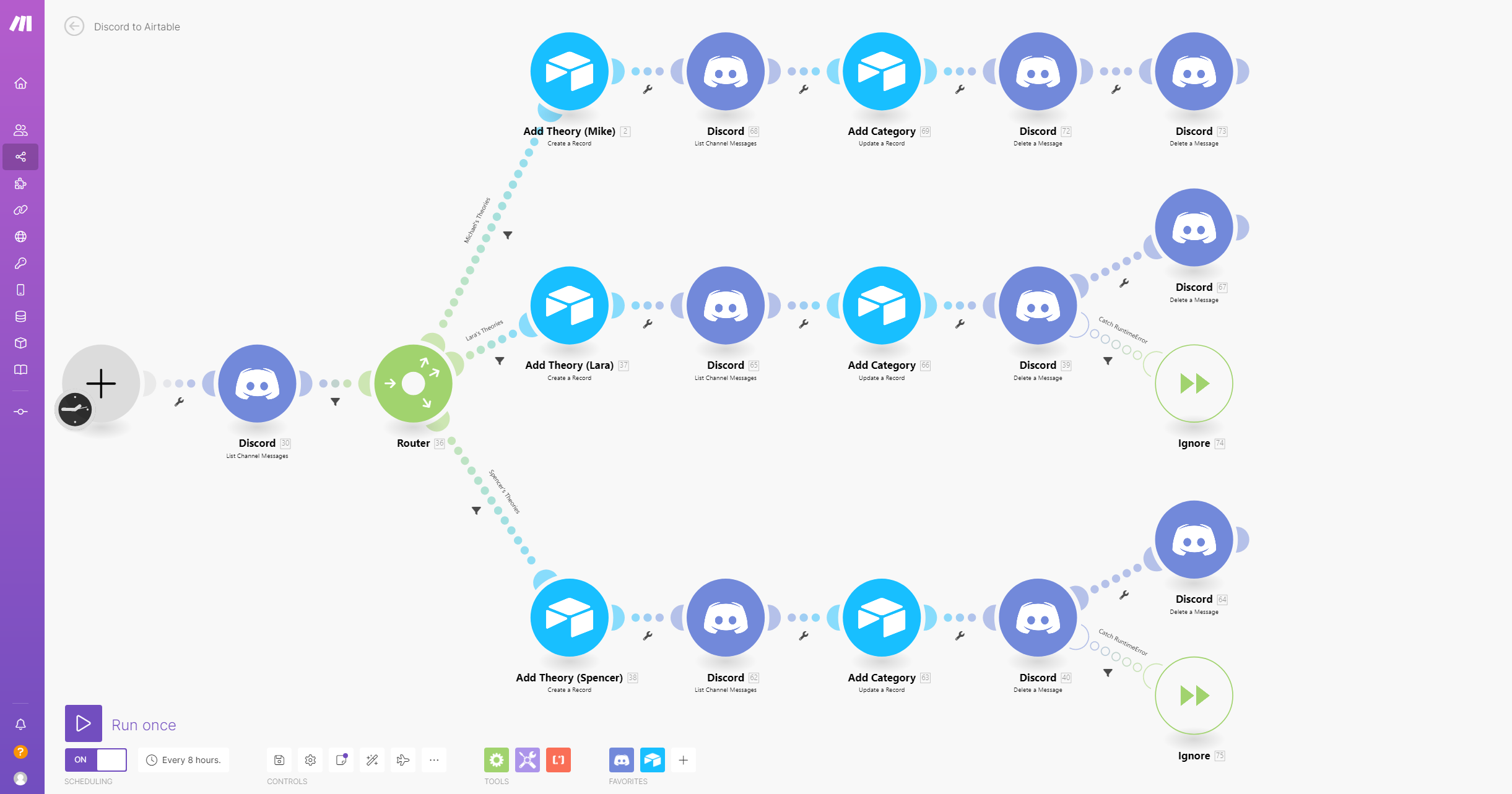 Williams explains that he can reconfigure the automation at any time. Perhaps he wants to scan another subreddit, or needs to pull data from another source (so long as it has an API). If he's looking for Superman theories, he can adjust parameters to filter for that word, and all the information gets funneled to Airtable.
"Managing in Airtable helps us find the popular theories people want to hear," Williams says. "I can't imagine where we would still be if we were doing it the old way."
"Managing in Airtable helps us find the popular theories people want to hear. I can't imagine doing it the old way."
Building a fan base
In an Airtable base, Williams and team created a tagging system that helps them sift through their pile of fan-theory material. A rash of Moana or My Little Pony theories showing up in the forums? The Fan Theory Queries crew uses its DIY listening tool to spot the pattern and discuss it.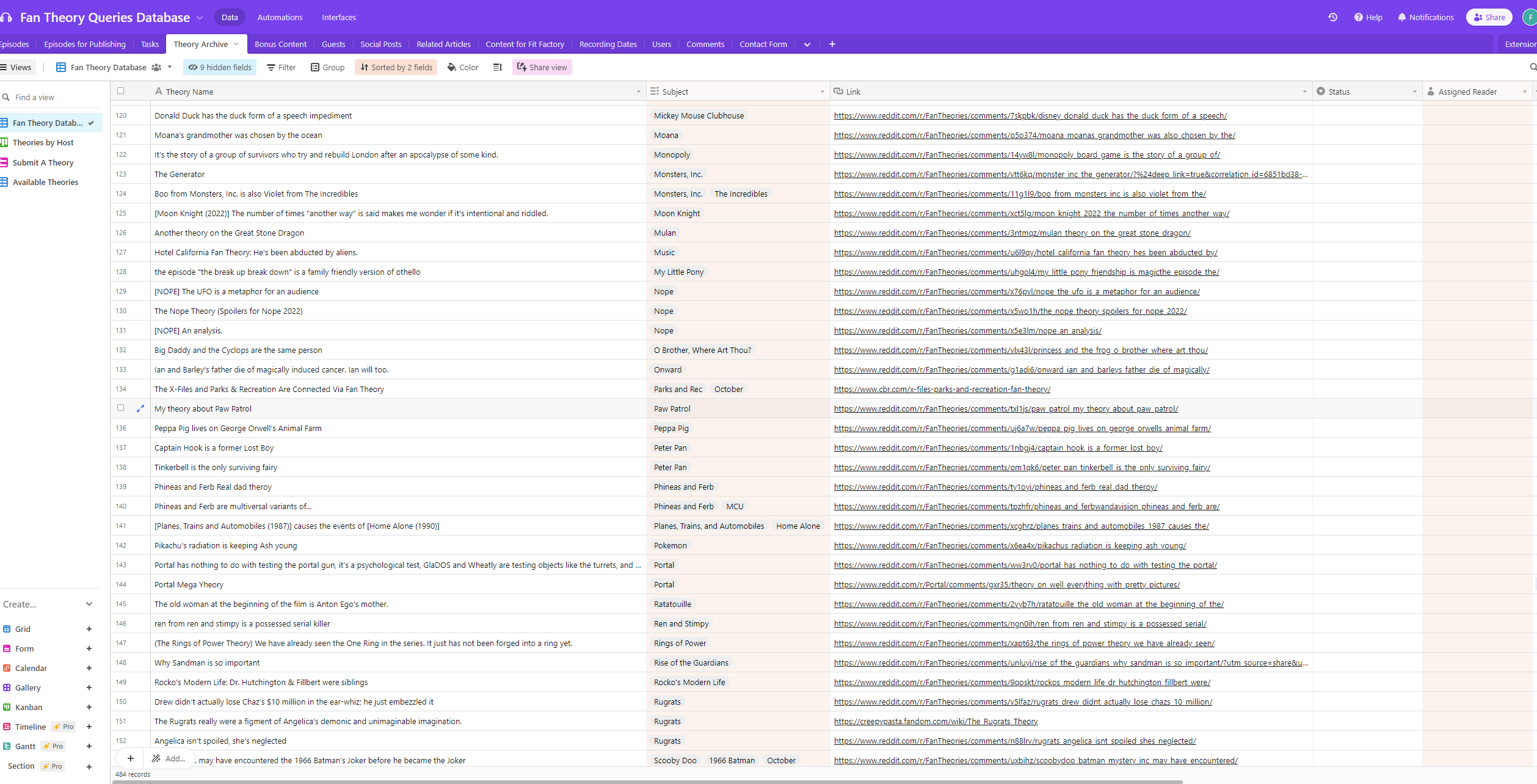 Implications for enterprise and beyond
How could other companies use such a system? Let's say you're a pharmaceutical manufacturer and you've been using social listening tools to pick up mentions of your brand. But those tools aren't pulling in the exact data you're looking for: reactions and feedback from patients who use drugs to treat arthritis.
That might be because patients don't generally discuss sensitive matters on mainstream platforms like Facebook or Twitter, instead reserving those comments for niche patient forums.
To get started building an Airtable-powered system that monitors such forums, keep these three tips in mind:
1. Standardize what you collect. This rule applies when you gather any type of customer feedback, whether it's survey comments, social media DMs, or responses in online forums. Wherever possible, try to standardize the data you're pulling from the online source, so it can be analyzed more easily later.
Do people in the forum regularly post photos and screenshots, or sentences only? Do they comment using their names, or fall into certain categories (those with osteoarthritis vs. rheumatoid arthritis, for example)? Perhaps they're commenting only on a specific aspect or phase of using a drug. Knowing how to sort and standardize comments in this way will help you create the right tables and fields in your Airtable base and can aid in analysis later.
→ See how Frame.io centralized customer feedback with Airtable
2. Aggregate data according to themes. Internet forums may be overflowing with valuable commentary on your product or service. It can be easy to get overwhelmed.
Product leaders who build Voice of Customer programs regularly wade through piles of commentary where not everything in the pile is easily parsed. They suggest sorting data according to themes that appear across comments. Then, take those themes back for discussion. Does one theme appear in 75% of the comments in a patient forum? This is likely a persistent trend and an urgent matter to address.
3. Keep calm and look for patterns. Not all posts that appear in online forums are valuable. Some may look like trends but turn out to be mere blips of ideas with brief moments in the sun. The only way to identify stickier trends is to pull data together in one place. If you're doing that in Airtable, you can link records, group records, or sort and color-code them to start making meaningful associations over time.
→ Learn how to use Airtable to organize user research
Building a fan base for the future
For Fan Theory Queries, its more efficient Airtable-based system helped it step up the number of weekly episodes it produces. A few months ago, the show got picked up by LA-based podcast network Airwave Media. Williams says his group is steadily building an "involved, consistent listenership."
Williams works in marketing by day, but in his wildest dreams, the three "theorists" would make the podcast the first step in a wider range of media projects on pop-culture topics.
Meanwhile, Williams continues to automate tasks, including one of his least-favorite: the bundling and sending of podcast episode information (things like date, length, and the topic) from an Airtable base to platforms like Spotify-owned Megaphone, which he does through an API.
"I'm a problem solver and Airtable really energizes me," Williams says. "I look at something and say—This the end result, how do I get there?'"