A former Amazon manager created a clever service for expecting parents.
Dad-to-be Amit Jotwani decided the world didn't need more boring baby apps.
He wanted baby information that made him smile, and he wanted it in the form of a text—which he found more simple and intimate than an impersonal app.
So the programmer and former Amazon product manager used Airtable to build his own SMS bot service, How Big is the Baby, which sends amusing messages to expecting parents to help them visualize the size of their baby. Is it the size of a donut? Does it weigh as much as a quart of milk?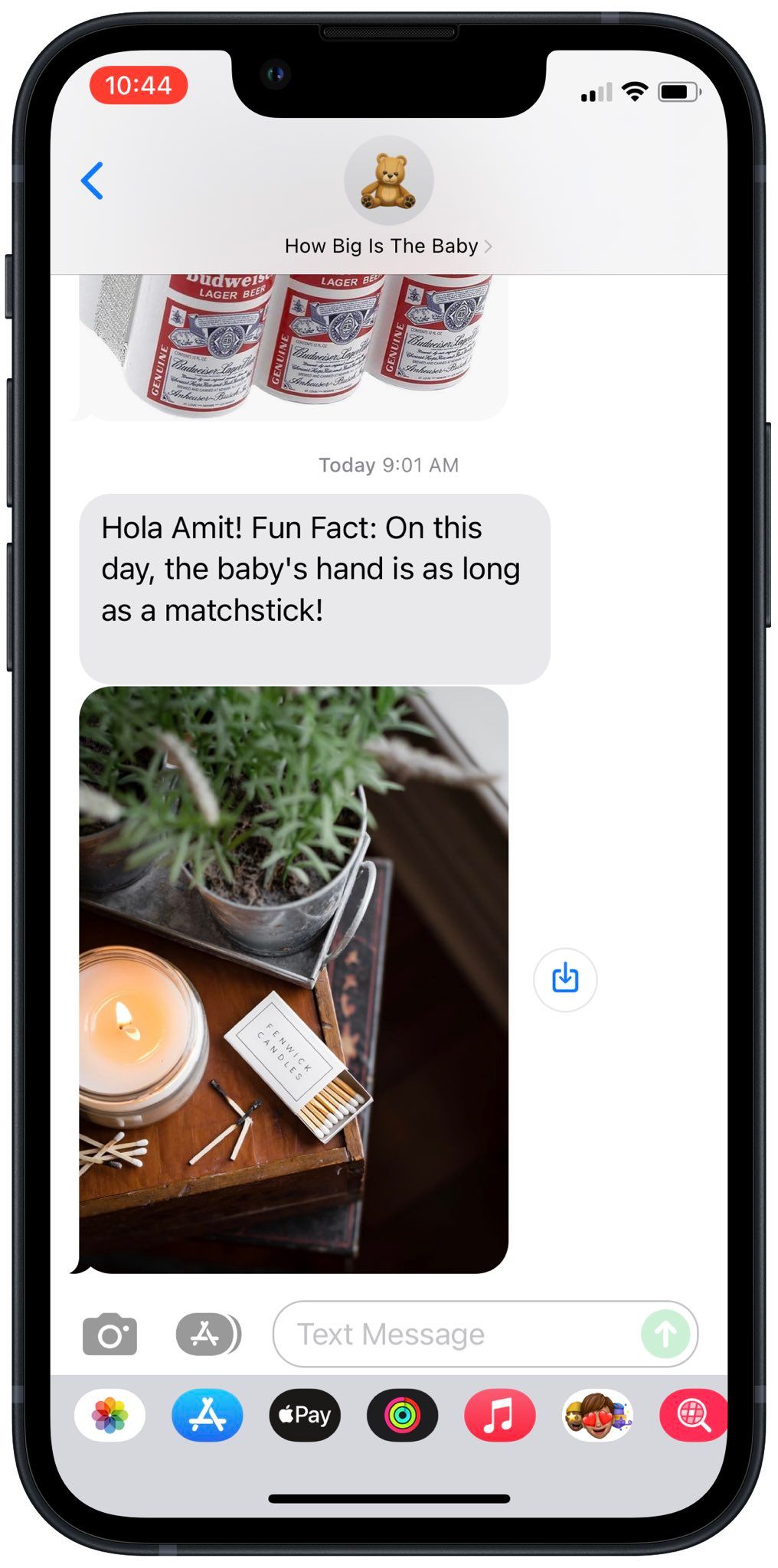 Jotwani lives in New York and happens to be an amateur stand-up comedian. In pre-pandemic times, he made regular rounds to open mic nights in the city and once did a show at Gotham Comedy Club, famous for hosting Jerry Seinfeld and Dave Chapelle.
When he and his wife got pregnant with their first child last summer, he had one main complaint about baby apps: they simply weren't funny. One informed him, This week the baby is the size of a pineapple.
"Fruits are boring," Jotwani proclaims. "They're also misleading. The baby doesn't look like a cabbage! Is it as tall as an iPad? I can relate to an iPad."
So he built an SMS bot to text more lively material to himself and his wife Deepti Mansukhani, a UX designer.
Even though she sometimes rolls her eyes at his jokes, she finds the visualizations clever, Jotwani reports. The couple starts each day reading a 'How Big is the Baby?" text.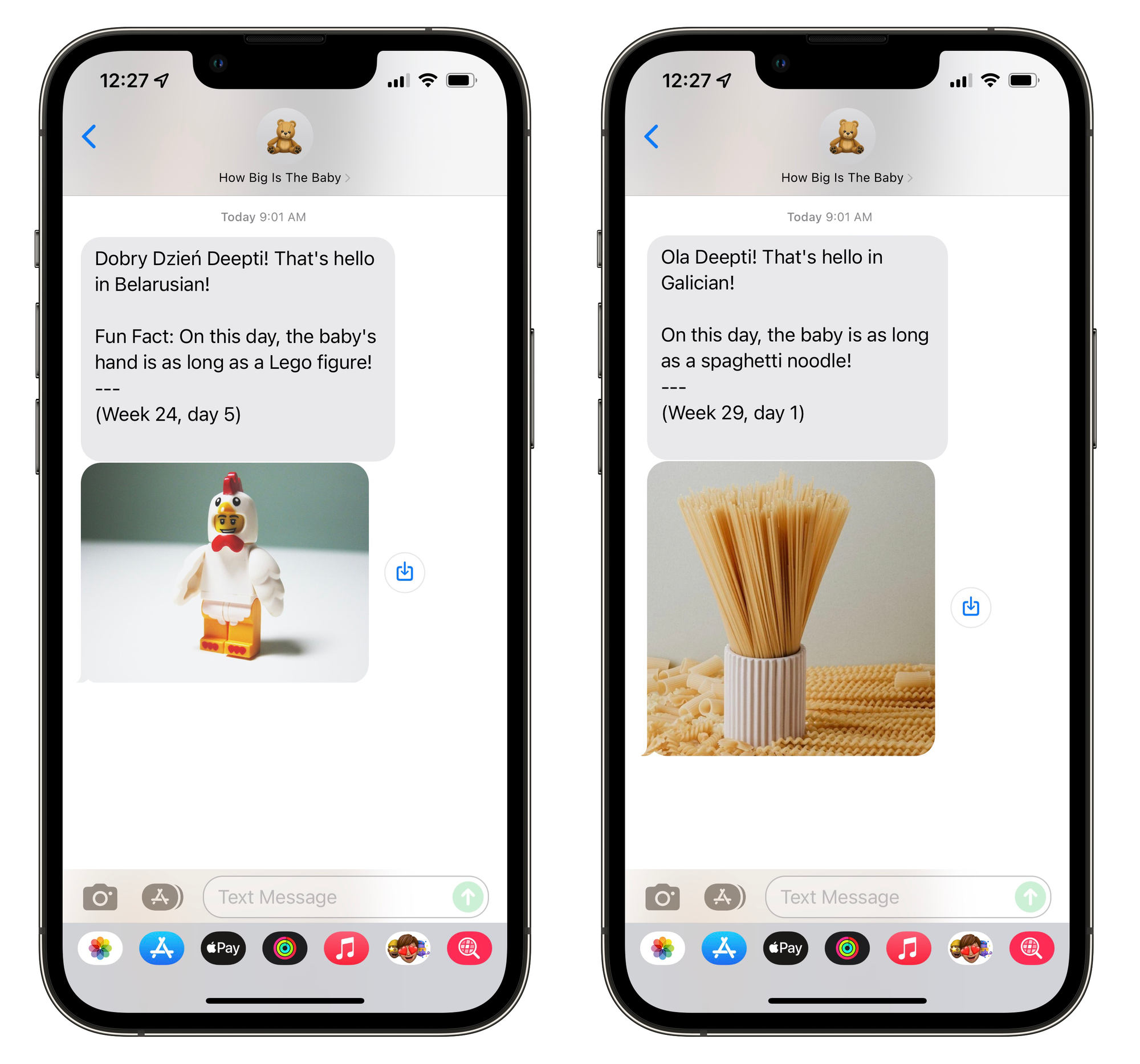 After a few months of talking up the funny text messages to friends, he decided to build a website around it, and several friends signed up. He started charging for the service (a free 10-day trial, or $29 for two people). The texts begin as early as 13 weeks of pregnancy—when the baby can fit on a post-it note—and run through week 40, when the baby is slightly longer than a curling iron.
Tinkering with Airtable and Twilio
Jotwani describes himself as a "tinkerer at heart." At Amazon, he spent six years convincing developers to build programs that produce voice commands for Alexa. A theme in his career: getting people excited about hacking things together.
To build his baby service in Airtable, Jotwani started with a simple base containing 190 records—one for each daily text message. He created fields for each message ("Today, the baby is as big as a box of dryer sheets"), plus corresponding images, all free photos that he hunted for online.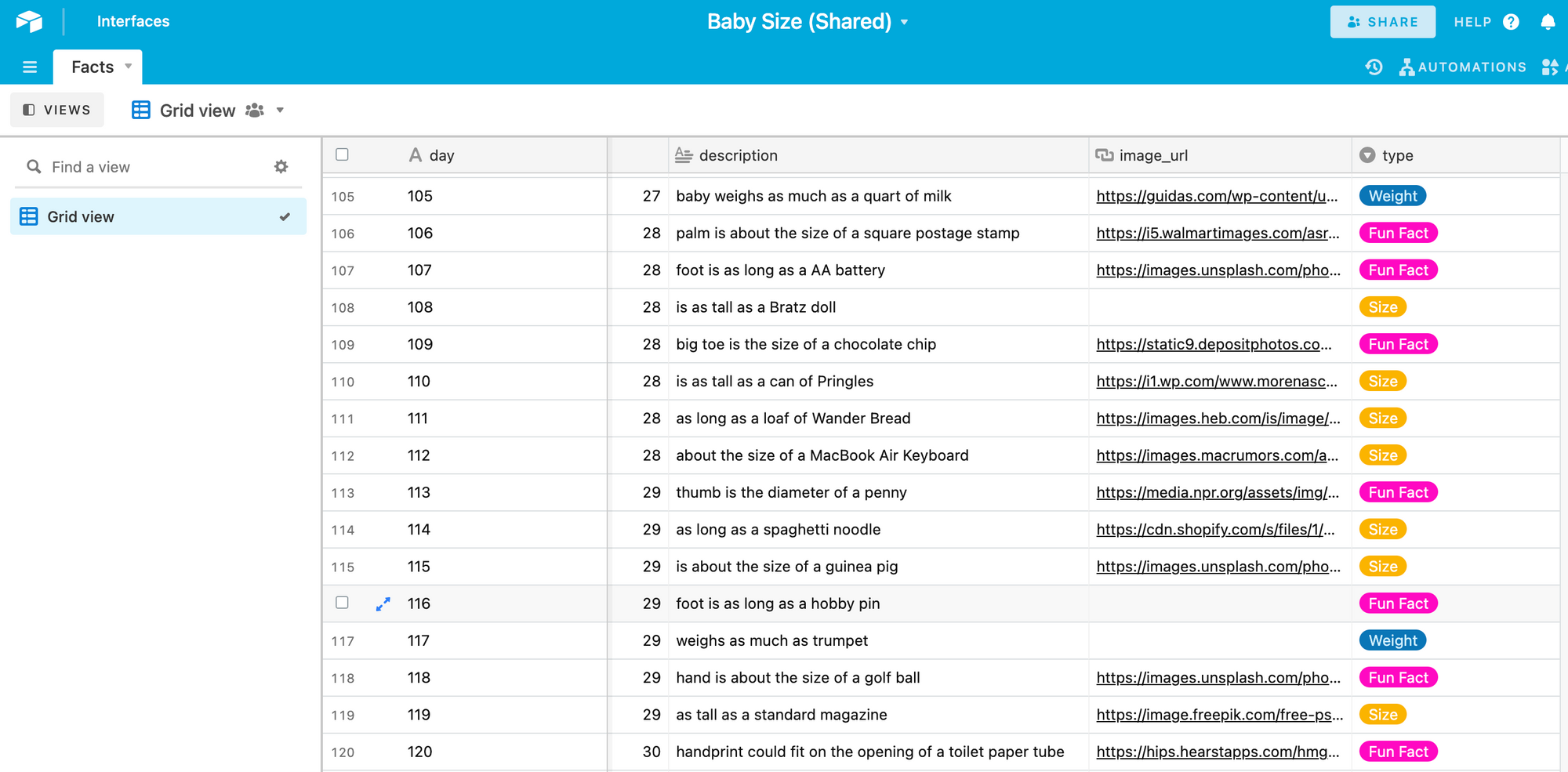 To collect information from interested users, Jotwani used an Airtable form, which grabs information like email, phone, and the baby's due date. Then he built an automation that sends an API request to Twilio, which grabs messages from his Airtable base and texts them to expecting parents. He also built a skill for Alexa, so you can ask how big the baby is instead of receiving a text.
"Airtable has given me a way to do this without any signup at all," Jotwani says. "There's no complicated dashboard behind the scenes." He also appreciates the ease of using the Airtable API.  
In late December, Jotwani added a twist to the standard "hello" greeting in each text. He compiled "Hello" greetings in other languages, like French and Hindi, in a Greetings base in Airtable. Now, an API grabs information from this base as well so an outgoing text message can greet people in their language of choice.
Post-baby projects
In late 2021 Jotwani left his full-time gig at Amazon to make time for his new family and dabble in entrepreneurial projects.
Will "How Big is the Baby?" be a sustainable business?
"Ask me a year from now," he says. Meanwhile, Jotwani has a dozen other ideas up his sleeve, including workshops to teach people simple automations that improve their lives.
He's not sure what life will look like once baby arrives (he and his wife are due in February), but he's excited to step off the corporate treadmill for the first time in 15 years.
And of course, Jotwani has a joke at the ready. "Do upcoming babies have a tracking number?" Jotwani tweeted recently. "Asking for a friend."