Get your work organized from the get-go with these easily customizable templates.
Entrepreneurs are the kind of people inspired by a little spark, a just barely formed idea, and the promise of the future. But you know what they're not always so into? Spreadsheets and documents.
While every business is unique, all can benefit from organization. Airtable gives you the ability to see all of your important information in one place with easily customizable bases.
Use these templates as launching points for your small business, then take advantage of their flexibility and make them your own.
Drive effective marketing efforts
Aside from selling actual products or services, marketing is perhaps the most important focus for any small business owner.
While larger businesses often have entire teams devoted to their marketing—with roles carved out for social media, email marketing, and everything in between—most small businesses are lucky to have even one person on the team devoted to marketing. That's why organization is critical for any small business.
This template for small businesses is your modern Rolodex. It tracks all of your contacts and lets you view customers and leads in a list, or by location. It also has a built-in promotional calendar so you can get a birds-eye view of approaching marketing campaigns and events.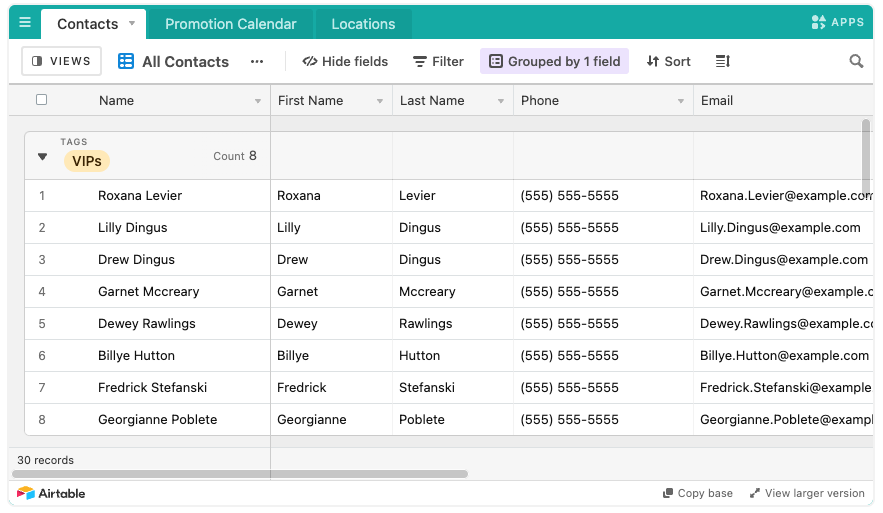 ⚡ Pro tip:
If your small business is a brick and mortar with multiple locations, this template lets you assign a location to each new customer you add. And that means you can track where your new foot traffic is coming from and segment marketing efforts to particular locations.
Download a free Small Business Marketing Template
Track your inventory with efficiency
With this inventory tracking template, you can track inventory across stores, warehouses, and even e-commerce sites. Multiple people can access the template—from mobile or desktop—making it easy for a clerk with an iPad to see the inventory of another store without bugging someone to go check a rack.
You can also use this inventory tracker to compare the performance of products and quickly get metrics on things like your most profitable manufacturers and brands. Wondering if it's worth stocking an item? See how that designer, author, or brand's last product did in your store.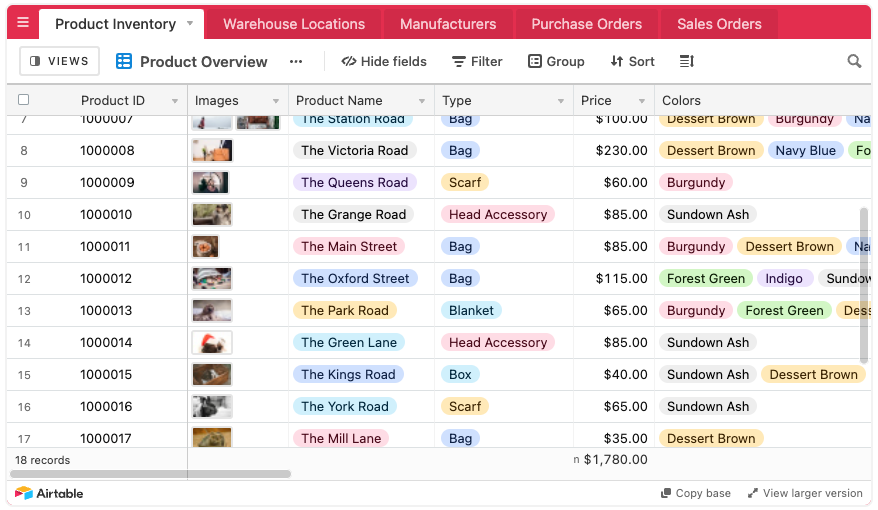 ⚡ Pro tip:
If you've been keeping track of inventory in Excel or another type of spreadsheet, use the app "CSV import" to bring that data into your base and build on it. Once you're logged into Airtable, use the "apps" button at the top right of your screen to search for "CSV import."
Download a free Inventory Tracking Template
Manage vendors with less confusion
Vendor relationships are the lifeblood of many businesses. Even if you don't feel quite so dramatic about yours, you probably still need to have a strong grasp on your inventory, deliveries, and shipments.
This vendor management template provides important insight for each vendor you order from, with the ability to upload documentation such as receipts and purchase orders (POs).
Views give you a snapshot of the vendor companies and types, as well as who to contact. You can even drill down into individual records for information like mailing addresses.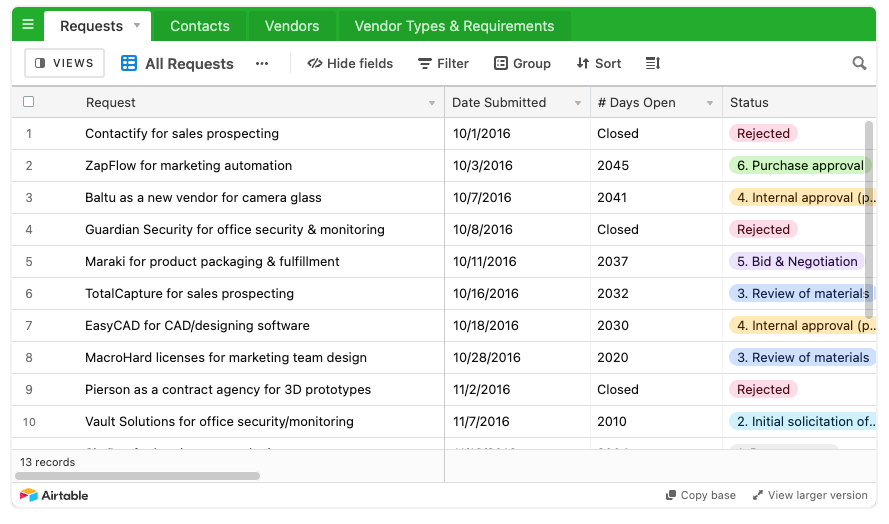 Download a free Vendor Management Template
Keep your employee schedule straight
As your business grows and you hire more people, scheduling becomes harder and harder. Making sure you're covered across shifts, particularly around busier times, requires a dedicated level of organization—and some kind of central scheduling hub.
This employee scheduling template can act as that hub, letting you set and track every employee's schedule in one place, while simultaneously providing your employees a place to check their own schedules.
There's also a handy view for Time Off Requests so you can stay organized around employee vacations and PTO.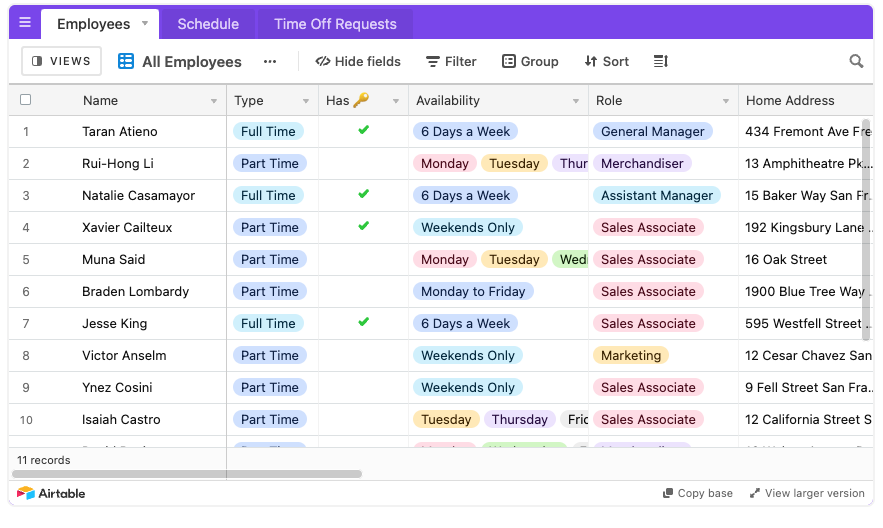 Download a free Employee Scheduling Template
Onboard employees in a more organized way
Onboarding new employees can be a huge burden for the company—and, if it's not organized—for the new employee. Thankfully, there's a template for that, too.
This employee onboarding template provides a clear view of the tasks needed for onboarding each new employee. It's color-coded to lay out at which stage in the hiring process tasks should be accomplished. Related onboarding resources such as the new employee handbook and office map can be easily linked from within the table so nothing gets lost in the shuffle.
Check out our blog for tips on managing employee onboarding in Airtable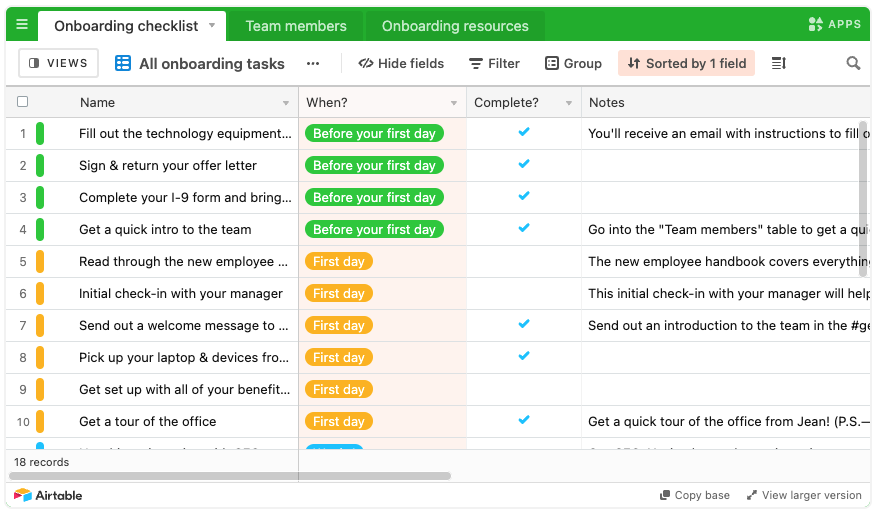 Track expenses for better outcomes
There's nothing like this one particular word to squelch the enthusiasm you have for your small business: taxes. But sooner or later, you'll have to deal.
And when you do, you'll be glad you kept strict track of your expenses in a custom-tailored database. This expense tracking template is also helpful for assessing an accurate bottom line.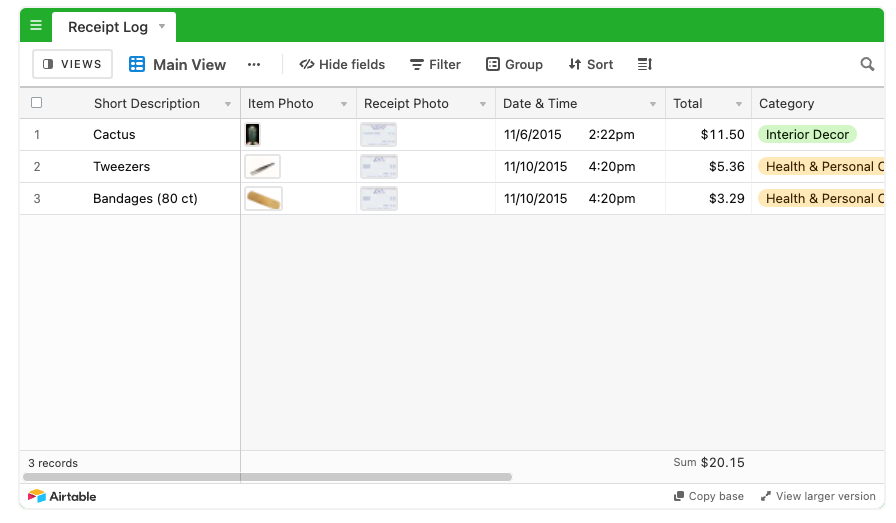 Download a free Expense Tracking Template
---
If you're interested in creating your own database, try more of our pre-made templates, or sign up for Airtable below to make one all your own.