Uplevel production, team management, and asset reviews with unique ways to see your work.
In part one of our blog on the views you need for your content marketing team, we showed you the best ways to track deliverable delivery, connect work to marketing campaigns, and intake new pitches.
In part two, we're diving into even more ways to get your content over the finish line smoothly. With just a click of a button, teams can see the information they need in the way they need it, click into a view to see the progress of your weekly deliverables, check team resource timelines, and more.
I am a graphic designer/art director of a major account and we were having issues with content management. Airtable has streamlined the process as well as managing accountability. It's a great asset for any company.
Here are a few key views we recommend harnessing for upleveling your content marketing workflows.
Check out our last content marketing blog for even more views
Make progress with Kanban View
When it comes to reviewing assignments and keeping track of progress, Kanban View is a game-changer.
On a Kanban board, each task is represented as a card, and moving them from one stack to another indicates progress. For instance, one stack might be called " "To Do," another "In Progress," another "In Review" or "In Edits" and another "Ready to Publish." With a quick glance, you can see the overall progress of your assignments and move things along, preventing bottlenecks.
To get started, create a new view and select the Kanban option. You'll need to pick a field to group your records by–in this case, we recommend grouping by "progress," which should be a single select field.
Then, simply drag and drop tasks between columns as they progress through the workflow. Your Kanban board will help the team stay organized and informed about their content's status.
Track resources in Timeline View
When your team is juggling multiple deliverables and deadlines, it's crucial to have a clear overview of everyone's availability.
Airtable's Timeline View shows sets of records on a horizontal, well, timeline. It's a familiar and intuitive way to think about scheduling—but it's also a powerful way to track resources and workload.
In Timeline View, you can create a timeline that displays key milestones and deadlines for each project. We recommend using Timeline View to get a birds-eye view of what your content marketing team is working on each week. In your timeline, you'll need the following fields:
User field: When setting up a Timeline View, you'll have to choose which field to group your records by–we recommend grouping them by user so you can track each team member's work.
Date fields: Timelines need dates–preferably both start and end dates so you can see the full scope of a task or project.
To get started, create a Timeline View and group your tasks by user field. This will generate a timeline that shows the projects each team member is working on. Timeline View's interactive nature lets you adjust timelines by simply dragging and dropping a project from one team member to another.
And to get an even deeper sense of your resources, like individual weekly working hours or average task completion durations, use Timeline View's summary bar.
Within this summary bar at the bottom of your view is the utilization function. Click into it to match "allocation" with your preferred time measurement, like "hours," and "resources" with "assignee." After setting your fields, you can see the exact percentage of each team member's availability.
We recommend adding coloring conditions that color your summary bar red when one team member's utilization is at or over 100%. The next time a content request comes in, all you need to do is check your timeline to see who has the capacity to tackle it.
With visual timelines, team leads can balance workloads and budgets with just a few clicks and a scroll.
Manage assets in Gallery View
Your blog header images and video thumbnails are often just as important as your title and subhead.
That's why keeping track of these assets and quickly accessing them when needed is essential for ensuring quality and timeliness. Airtable's Gallery View offers a visually appealing and organized way to manage these assets.
In Gallery View, assets are showcased as cards or thumbnails, making it easy to scan through.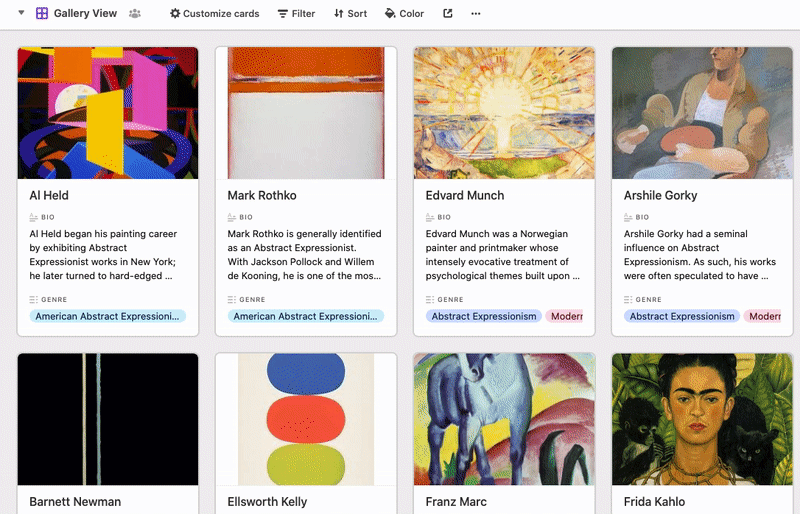 You can customize the fields displayed on each card, including metadata like file names, descriptions, and tags. This can help teams search and filter assets based on specific criteria, like campaign tags or content type. Teams can even upload new assets directly to the Gallery View, ensuring that your content library stays up to date.
With the ability to view and manage assets in a visually engaging format, content marketing teams can easily find and utilize the right assets for their campaigns.
---
Airtable's views provide content marketing teams with the flexibility and customization they need to deliver exceptional content that drives results.
For even more views (like a Calendar View to manage production), check out our content marketing blog. Then, create a view of your own!