Our team is excited to recognize Latinx and Hispanic culture and to amplify the stories and voices of people from underrepresented backgrounds.
Airtable's mission is to democratize software creation for everyone. Naturally, our mission has helped us attract a progressively diverse community of users, advocates, and employees—and it's important that we celebrate our community's diversity. Heritage months are a powerful opportunity to amplify the stories and voices of folks from underrepresented backgrounds.
To that end, September 15 marks the start of Latinx & Hispanic Heritage Month! Our team is excited to celebrate. In an effort to recognize Latinx and Hispanic culture, we want to take a moment to give some background on the terminology, the history of this month, and how we'll be celebrating here at Airtable.
LHHM at Airtable
We have many exciting things on the horizon this month at Airtable. We're partnering with Latinx and Hispanic-identifying Airtablets to create opportunities for our employees to learn more about the culture. Our theme this year is "Unity in Diversity," because we want to celebrate not only the things that bring the Latinx and Hispanic community together, but also the unique identities and traditions that make the community diverse. Airtable will be welcoming at least one Latinx/Hispanic speaker this month, and will be highlighting some of our Latinx and Hispanic employees throughout the month.
Terminology: Latinx vs Hispanic
In the spirit of learning, we thought we'd share some context into this month with our community—starting with the name itself. Often the terms Latinx and Hispanic are used interchangeably, but did you know that they don't actually mean the same thing? Let's break it down:
The term "Latinx" comes from the words "Latinas" and "Latinos," which are terms used to refer to women or men of Latin American origin or descent, respectively (geographic focus). The "x" makes the term gender neutral, and expands to include those who may not fit into the traditional gender binary.
The term "Hispanic" refers to people who are from or descended from a Spanish-speaking country (language focus). It's important to note that in the majority of situations, these countries are Spanish-speaking as a result of European colonization.

So, while there definitely is a lot of overlap between people who identify as Latinx and those who identify as Hispanic, they are not interchangeable. You can practice allyship by understanding this nuance. Below is a helpful Venn diagram that illustrates the difference between the two: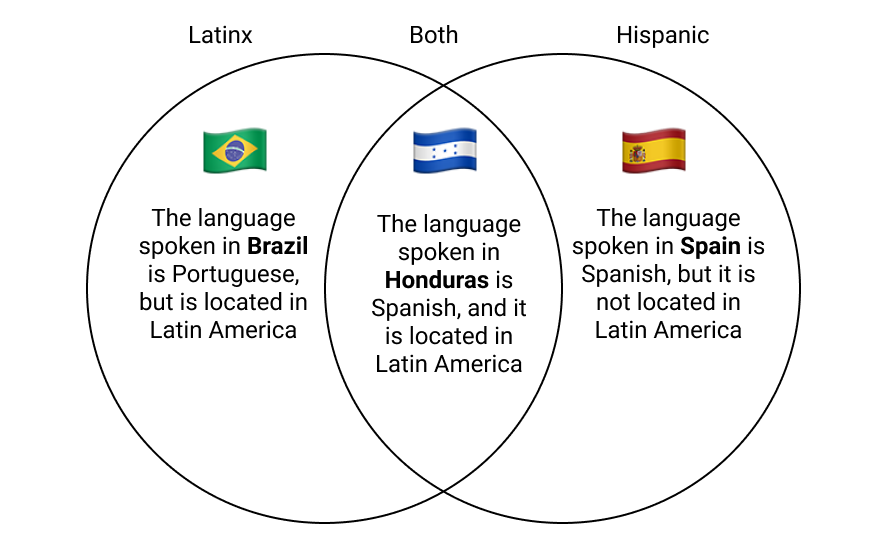 The History of LHHM
Hispanic (and Latinx) Heritage Month in the US was initially Hispanic Heritage Week, which was created in 1968 by President Lyndon Johnson. In 1988, President Ronald Reagan extended the week to a month, creating the Hispanic Heritage Month that we observe today from September 15 to October 15.
These dates are important, as September 15 is Independence Day in Costa Rica, El Salvador, Guatemala, Honduras, and Nicaragua. Mexico celebrates their independence on September 16, and Chile celebrates on September 18. Indigenous Peoples' Day also falls within the month, as it is on October 12.
Though the terms Latinx and Hispanic are not interchangeable (as explained in the section above), they are often used interchangeably in the context of the observance month. Here at Airtable, we have made the decision to use the title "Latinx & Hispanic Heritage Month," to be as explicitly inclusive as possible.
The Community Today
Today the Latinx and Hispanic community contains a number of intersectional identities including (but not limited to) the Afro-Latinx community, the LGBTQ+ Latinx community, and the many different nationalities of Latinx and Hispanic people living in America, such as Mexican Americans, Columbian Americans, Dominican Americans, and more.
Starting in the late 1400s, when colonization in Latin America began, the Latinx and Hispanic community has faced discrimination that has evolved over time. For example, in 2018 white women earned $0.79 for every dollar that white men earned, but Hispanic and Latina women earned $0.54. Hispanic and Latinx people also make up 30.4% of the US prison population, despite making up only 18.5% of the total population.
Despite these unacceptable disparities, the Latinx and Hispanic community in America continues to thrive and preserve their culture(s). An estimated 41 million people in the US, or 13.5% of the population, speak Spanish at home. Latinx and Hispanic culture has also become woven into mainstream American culture, often through music, movies, and cuisine.
Stay tuned each week across as we share images highlighting a different example of Unity in Diversity.
Warmly,
Airtable's Diversity, Equity, and Inclusion team
---
Resources to check out:
The Difference Between Hispanic and Latinx
What is Hispanic Heritage Month About
Quick facts about Pay Parity in the Latinx Community