Create interactive applications, unlock power for the enterprise, and more.
Data. It's the current that flows through every company. It helps inform decisions, streamline workflows, and get teams on the same page. It's the thread that connects everyone in an organization.
We built our platform to help make software creation approachable to everyone. And that means making your data comprehensible and your workflows customizable. Today, we're introducing a brand new way to create complete, interactive applications in Airtable. We call it Interface Designer.
And no, you don't need to know how to code to use it.
Meet Interface Designer
Interface Designer is a beta feature that lets teams build visual and interactive interfaces using the data already in their base. By creating custom interfaces for your teammates, you can display the information that's critical to them and avoid distracting details.
For example, marketing teams can review and approve content directly from an interface, while product teams can sift through customer feedback without sorting through peripheral data.  Changes in the interface are automatically reflected in your base, and vice-versa, so your data is always up-to-date.
It's easy to create interfaces for different needs, meaning stakeholders only see what they need to. This makes it tremendously easy to understand the status of a project and what's required from whom—making it valuable for large teams. Custom Interfaces are a phenomenal (and good looking) way to share updates with leadership and the broader team.
Interfaces are perfect for...
Stakeholders who need to review and approve assets to unblock their teams
Leadership and cross-functional partners who need to check in on progress updates and results
Collaborators who need to make individual updates to pieces of information, like customer details or project briefs
With Interface Designer, my team can access an interface designed specifically for their needs, so they know exactly how to add information and contribute to their workflow in Airtable. It is a game changer!
---
Explore interface templates

You can use interfaces for workflows and cross-functional processes. To help you get started, we've built three sample layouts designed to solve everyday problems. Each layout is fully customizable, and Interface Designer features drag-and-drop functionality, which lets you move fields around, stack them, and more. And best of all—it only takes a few minutes to make a fully functional interface.
Record review:
This layout helps triage or review many records simultaneously, like approving assets for an upcoming campaign, assigning resources for a major initiative, or reviewing customer feedback.
Record summary:
This layout provides an overview of crucial information based on the selected record. This is perfect for reviewing strategy memos, digging into user research, and more.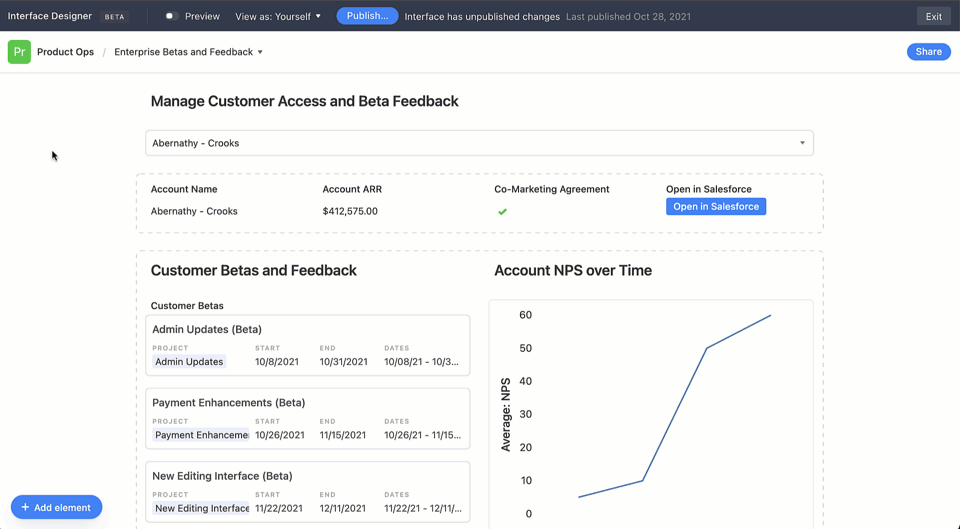 Dashboard:
The dashboard layout is ideal for giving stakeholders and executives real-time insights about key information, and keeping them in the loop. This layout can highlight critical metrics with charts and graphs or show progress with a timeline.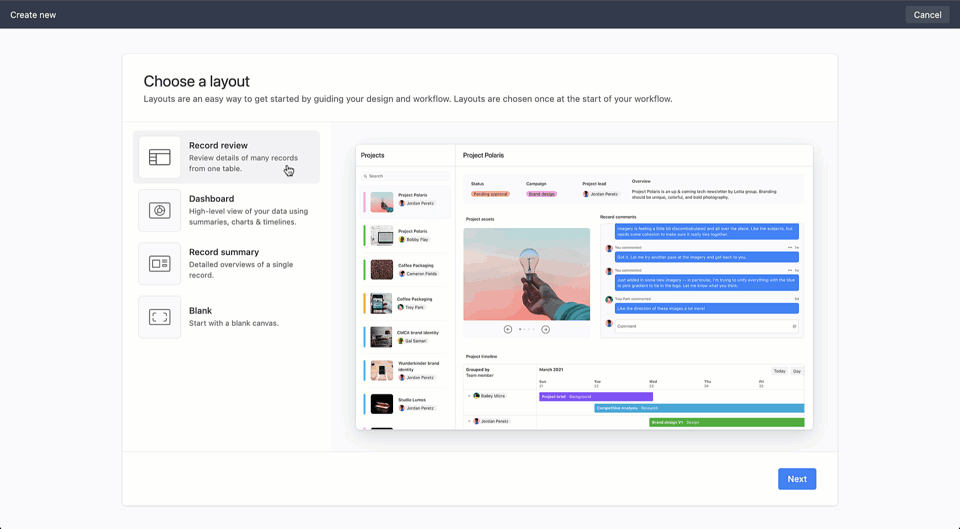 Start from scratch:
Have a specific idea in mind that lies outside of the provided layouts? The blank layout is your answer. You can add attachments and tables, highlight specific numerical values, insert a timeline, text box, chart, divider, and much more.
> Register for our upcoming training webinar
What's next for Interface Designer
We believe Interface Designer will be essential for many teams' workflows—and we'll continue to update, iterate, and refine it. In fact, we've already started. Over the last few months, we've held a closed beta with some of our largest customers to understand how they use interfaces.

But whether you're helming a Fortune 500 or running a mom-and-pop shop, we think Interface Designer will be essential for your business. So today, we're making the beta available to every user on Airtable, regardless of plan. We'd love your feedback—and rest assured, anything you build in the beta will be yours to keep as we move toward general release.

---
Updated integrations, security, and performance
While Interface Designer allows teams to take action—faster and with more clarity—we know it's just one part of the equation. That's why we're making it easier for teams to get that data into Airtable. How?
First off, we're adding external sync integrations with Jira Server and Data Center, Zendesk, Github Issues, and Google Drive—available to all customers on Enterprise plans. With External source sync, you can continuously pull in data from external platforms to integrate directly into your Airtable workflow.
We're also taking strides to ensure that as your company grows in their Airtable usage, your security does, too. That's why we've redesigned our admin panel and added significant new security controls available today—like Audit Log APIs and workspace share restrictions. And next week we're releasing new user group features which allow users to manage permissions for entire teams, not just individuals.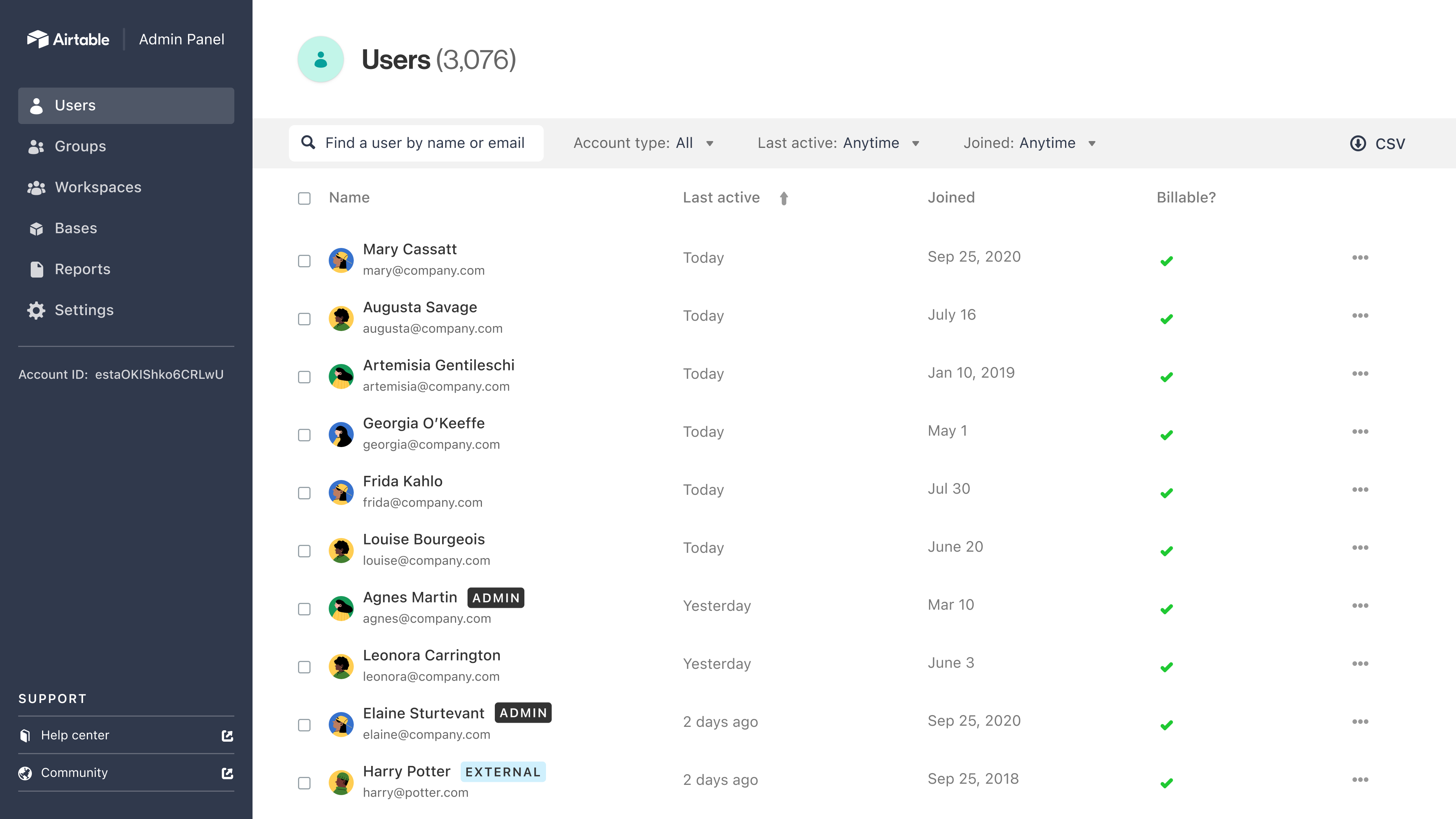 And finally, we're continuing to improve base performance across the board. Coming soon, we'll be rolling out changes that make your largest bases more responsive than ever. We've seen tremendous success with our pilot customers and can't wait to share these updates more broadly.