Nonprofit workers do it all. Airtable can help—whether you're putting out a call for volunteers or tracking grant deadlines.
If you work at a nonprofit organization, you probably do all kinds of things outside your job description. Many nonprofit employees handle a lot of administrative work in service of their orgs' mission—work that can easily become overwhelming, if you don't have a place to hold all of your data.
Nonprofits may be driven by passion, but they can't run without an operations system in place. With Airtable, development coordinators can plan fundraisers, program managers can organize supplies, and executive directors can create immaculate org charts—all in one database (or as we just call it, a "base").
Here are some of the many ways nonprofits can use Airtable to continue the hard work of serving their communities without spending their lives bogged down in admin tasks.
Track grant applications in Airtable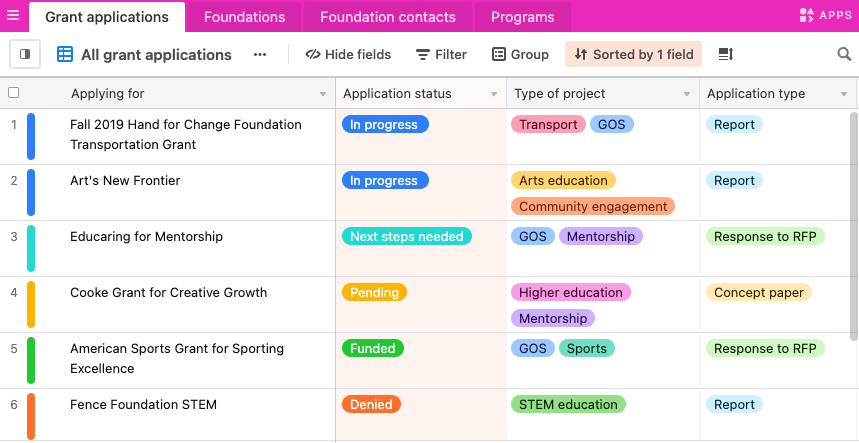 Grants are essential to supporting countless nonprofit programs and initiatives, so losing track of a deadline isn't an option.
You can use your Airtable base to track the status and deadlines of your grant applications. Our nonprofit grant tracker template has a single select field denoting the app status (in progress, pending, funded, etc.) so everyone knows what stage their applications are–and more importantly, if they've been funded. We recommend adding a date field so you know when things are due.
You can also link records to make meaningful associations between different types of data in Airtable. For instance, you might want to consider linking records from a "programs" table so you know which programs the grants would be funding. This association can help you outline how you'd use the grant in detail (i.e. for supplies or paying staff).
Manage brand assets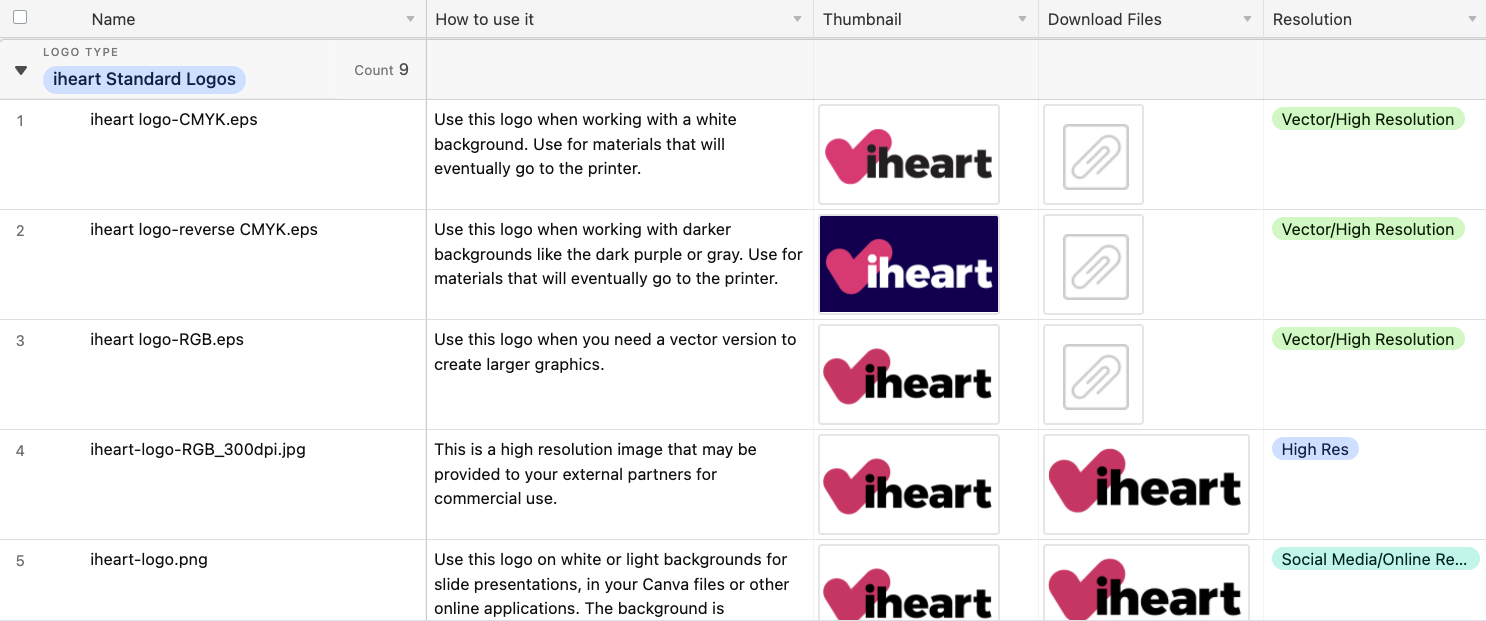 Strong branding can bring credibility to any organization—credibility that nonprofits need to attract donors and participants. A brand asset guide is a great way to keep the rest of your team informed about when to use certain logos and image files in your marketing materials and on social media.
But don't take our word for it—check out iheart's own brand guide above. iheart, a registered charity that provides mental health education resources to young people, parents, and schools, lacked brand consistency before The Rhizome Collaborative stepped in.
"It made the work of the nonprofit feel disorganized, which is the complete opposite of the incredible mental wellness work with children the org was doing," said Jen Pennington, the creative director and founder of The Rhizome Collaborative, a design studio that produces content for socially responsible clients (many of which are nonprofit organizations).
Pennington's team used Airtable to build out an in-depth brand guide, adding attachment fields for downloadable assets, longer text fields to provide instructions on how to use the asset, and even a table denoting the brand's exact color palette.
"Airtable allows the designers to educate users in short, memorable snippets on how to use assets like logos," she said. "This means the correct logos are used properly, which keeps the quality high, the consistency seamless, and their brand eye-catching and memorable."
Recruit volunteers
Coordinating volunteers for programs or fundraisers can be time-consuming when you're manually entering submissions into a spreadsheet. Airtable's Form view lets you gather the information you need from potential volunteers through a form, and then automatically populates your base with the data so it's waiting for you when you're ready.
Take some time to consider what information you need from volunteers so you can add questions accordingly. Some examples of fields you might want to include for volunteers include:
Name
Phone number
Email
Availability (dates if it's a longer program, times if it's a one-time event)
Relevant skills (ex. First Aid training)
Organize inventory

Nonprofits often have several programs and events running at the same time, and only so many resources to divide between them. Organizing your inventory can help you track down supplies while you prep for events, and also see whether they're already in use.
In the example above, we've linked our "Locations" table so employees can see whether that laminator they need is being stored in the office or storage unit…or if it's already being used onsite.
⚡ Pro tip: Want to make sure your supplies never run out? Try adding a checkbox field that program coordinators can click when an item needs to be replenished, and create a view that only filters for checked records. Now your administrative assistant knows exactly what to add to their shopping list. ✅
Engage with the community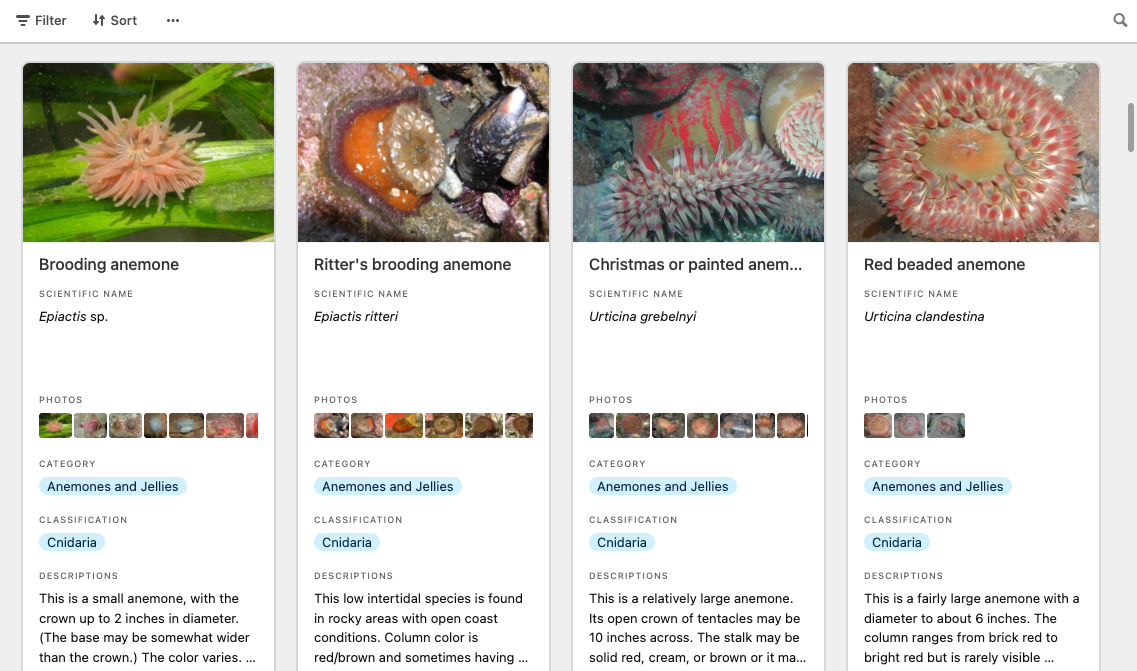 In Airtable, you can both store and share data–perfect for nonprofits who want to educate or engage with the people they serve.
The Rhizome Collaborative worked closely with Sound Water Stewards, a nonprofit dedicated to marine sustainability and stewardship, to create a marine species identification database that they could share with the public.
Citizen scientists can visit the website directly and scroll through a gallery view of shore plants, seaweed, animals, seagrasses, and beach mysteries to identify the species they've seen in the wild. The view also has a search function, so individuals who know the Latin name of a species can find what they're looking for easily.
Since the new Sound Water Stewards website launched in November of 2021, the database has become one of its most popular pages, ranking in its top 5 in Google Analytics.
"T​​he previous owner of all of that data passed away, and it was left to her friend to pick up that project again and keep it going. So Airtable breathed new life into it," Pennington said. "We were so happy to bring this incredible database back to life, and we have taught the previous owner's friend how to keep it going."
Airtable makes it easy to collaborate—whether it's with your staff or your community.

Airtable empowers organizations of all sorts and sizes to take control of their work, including nonprofits. Check out our list of nonprofit-related templates you can copy, or start building out your base from scratch.