Scale AI's CMO explains how he used Airtable to build an AI conference from scratch.
The first few weeks at any new job can be a bit of a pressure cooker. Marcel Santilli just happened to walk into a new position that truly turned up the heat.
The longtime marketer and investor became head of marketing at Scale AI on January 19, 2021. Less than 60 days later, the startup planned to host its first-ever AI conference. The company's CEO had tasked him with running the event, and they hoped it would make a big splash for their 5-year-old company.
The trouble was Scale had no events team and few full-time marketing staff. Those few had landed on an event name and short list of speakers, but little more. It was hardly a plan for a homerun conference.
"I thought—this thing isn't gonna happen unless I manage it from A to Z and move quickly," Santilli recalls.
This thing isn't gonna happen unless I manage it from A to Z and move quickly.
If you build it, they will come
So he turned to Airtable, a tool he counted on to manage projects in previous roles at HashiCorp, Upkeep, and elsewhere. At Scale, he now needed Airtable for specific undertakings, like content and video production for the conference.
He had a hunch many speakers would give recorded talks, while others would speak live. Lucky for him, some of the world's largest companies use Airtable for content and video production, so there were plenty of models to follow.
Santilli began with one small step. He lined up four conference sessions with high-profile speakers (one was OpenAI CEO Sam Altman) for the event, Transform. He mapped their schedules in Airtable. Easy enough. Santilli remembers thinking: "The more speakers we get, the better."
Besides, this was his first project out of the gate for Scale, and Santilli—a native of Brazil who thrives in adverse situations—knew the kickoff event would set a precedent and needed to dazzle.
He sent out invites to more and more speakers. His ace in the hole? The well-connected founder of Scale AI had a vast digital Rolodex and excellent relationships with leading visionaries in the industry.
Assembling AI all-stars
Once Santili landed a few superstar speakers to discuss artificial intelligence, others raised their hands to speak. In a few weeks, Santilli lined up 27 Transform speakers in Airtable.
The list read like a "who's who" of the AI world, including Microsoft CTO Kevin Scott, Stanford Computer Science Professor Fei-Fei Li, chief researchers from Waymo, Facebook, and Cruise, and machine learning pioneer Andrew Ng, founder of deeplearning.ai.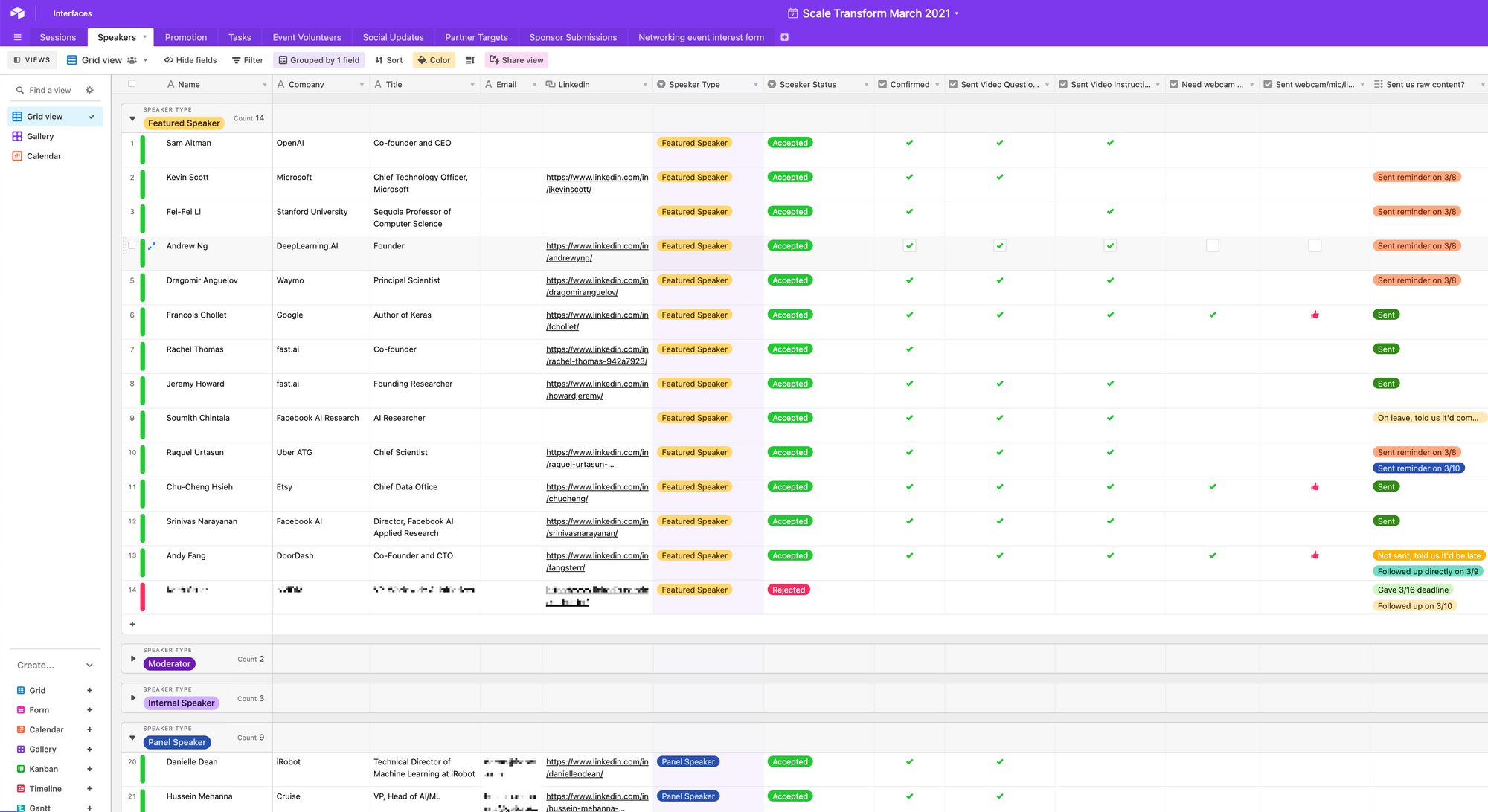 A ticketing snafu, then smash-hit success
As the speaker list swelled, the number of attendees did too. Approaching event day, Santilli had nearly 10,000 registrants, and he needed a reliable ticketing and event hosting platform in place. His first choice was Hopin, but to the Scale team's dismay, Hopin's ticket link for Transform stopped working on March 25, the day before the event.
"The link redirected to Hopin's homepage. It was a nightmare, but we found a way around it," Santilli says. (They switched to Gradual.com).
But just because attendance had grown didn't mean his team had a bigger budget to work with. In the lead-up to Transform, Santilli was running scrappy event promotion in Airtable, storing promotional content in a base and targeting newsletters and other free outlets to get the word out. Event partners and sponsors signed up via an Airtable form.
"The whole thing was run in Airtable. It was a lean machine," he says.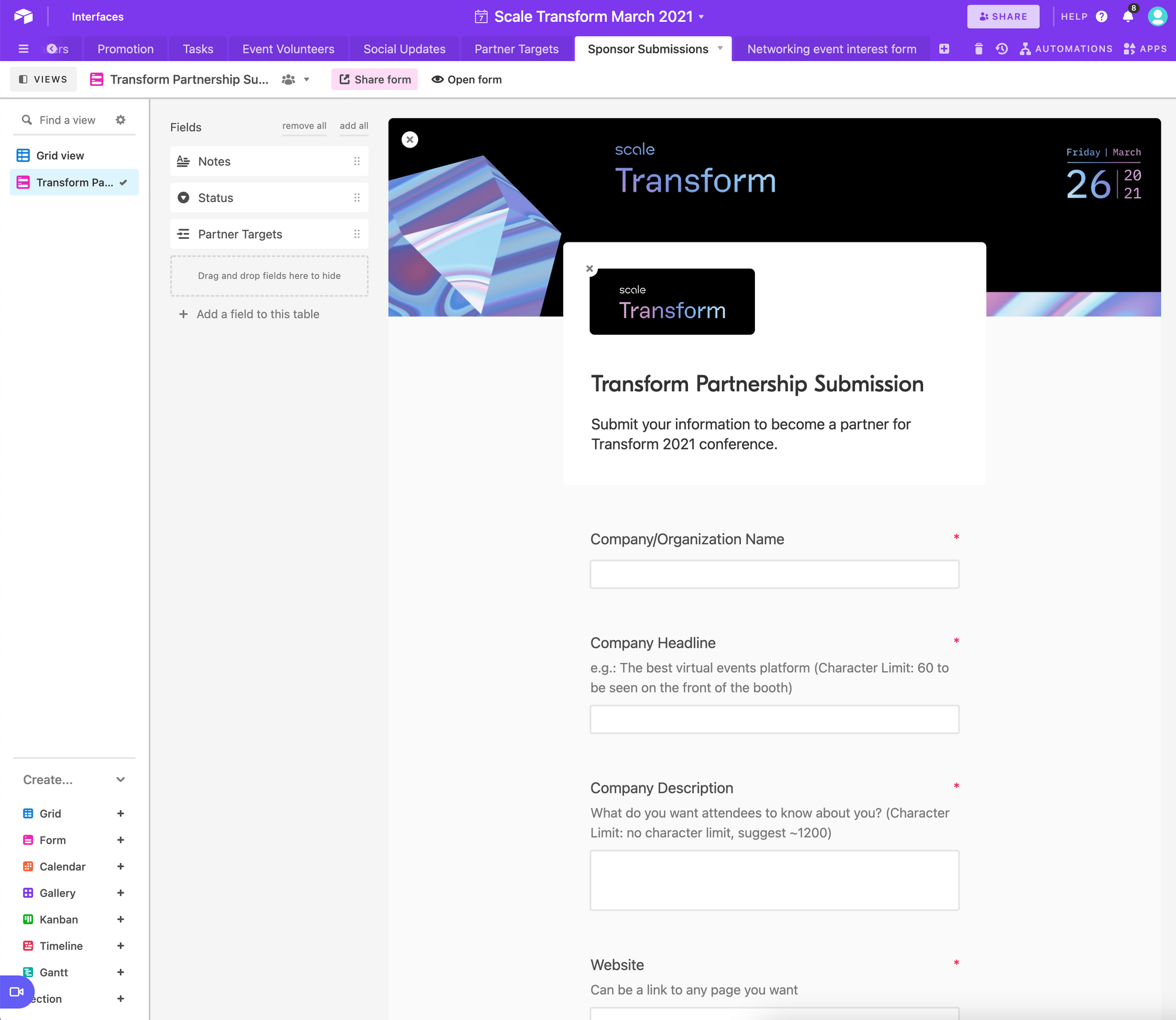 Transform was a crowd-pleaser. Santilli and his bosses wanted the event to feel more informative than promotional, and based on accounts from attendees, they nailed it. The average attendee spent nearly 4 hours watching talks, and 2,200 people matched during the event, meaning they set up further meetings or discussions.
With more than 10,000 registrants, the conference helped ScaleAI project a bigger presence than they had at that time, says Santilli.
"It was a big statement for us," he says. "We have a credo that's like, 'ambition shapes reality'. If you want to build something big, swing for the fences."
Santilli says he couldn't have done it without Airtable, which simply handles complexity more easily than other tools he's tried.
His teams at HashiCorp got to a point where they were managing too many interconnected systems—budgets, go-to-market strategies, vendor contracts, a wide range of documents. They were fumbling to find information hidden in spreadsheets, or attached to programs like Asana.
The visual nature of Airtable and its ease of integration with outside information sources made it his platform of choice ten years ago, and with his current team.
"Being able to drag and drop to visualize things, or the little things, like a checkmark or thumbs up. It takes the complexity out of big projects."

A CMO's tips for using Airtable


Swap in Airtable for a commonly-used spreadsheet.
Santilli's first piece of advice for any CMO? Pick a spreadsheet, any spreadsheet, and drop the info into an Airtable base. An especially good spreadsheet would be one you use often, and make repetitive changes in. "Let's say you're using a spreadsheet, but you wish it did something more. You can probably do that thing in Airtable," he says.
2. Get inspiration from templates.
Some power users of Airtable might start every project from scratch—but you don't have to. Even after using Airtable for a decade, Santilli browses through templates and user-generated content to see what's already been built that he might modify.
3. Help others ease into the water.
Santilli has been an Airtable champion at several companies, but he finds a soft sell can work more effectively than a hard sell. "Within a project, go deep on one thing and then show people how it works instead of just saying, 'Let's switch to Airtable for all of marketing.'"