Learn how the team uses Airtable automations to manage roadmap communications at scale.
As a founding member of Airtable's product operations team, Zach Felsenstein helps bring new features to customers. But as the team has scaled, so have the number of updates, teams, and stakeholders to keep track of—and that growth has added a new level of complexity to the team's operating model. One of the most challenging pieces of that puzzle is the product roadmap: keeping the team and their partners informed on what's coming next.
For Zach, building a living roadmap was a start—but he knew they could take it even further. "As our team has grown, we want to make sure our product org is able to communicate with the company at scale," Zach shared. "Teams get a lot of questions, especially with new folks coming on board every week. So we wanted to ensure that product teams don't have to repeat themselves, or share information in multiple places."
Read on for a peek at how Zach built a living roadmap within Airtable—and how he uses that roadmap to power scaled communication and better visibility across the organization. At the end, you'll find a step by step guide to building something similar for your team.
> Build your foundation with these product roadmap examples
Anatomy of the base
To build the foundation for Zach's workflow, he first started by building a single source of truth: one Airtable app that encapsulates everything the product team is working on, who's working on it, when it's shipping, and more. The team calls it the Airtable Product Tracker.
"There are a lot of moving pieces within a product organization—especially one that's scaling rapidly," Zach shared. Zach's base works to capture all of that information in one place, and enable product team members to share updates on their work within it. The result is a dynamic, always-on source of reliable data for the rest of the organization to build off of.
> Get a closer look: learn more about Zach's approach in this ebook
To capture all of that critical detail, the Product Tracker is split into seven key levels: projects, objectives and key results (OKRs), docs, updates, releases, feedback, and team. Here's what each table captures:
Projects: A log of all customer-facing features, plus back-end improvements to augment Airtable's speed and capabilities (but aren't directly visible to customers)
OKRs: Top-level goals for the organization, used for planning, and to map projects to their respective goals
Docs: Internal documentation on features in progress, like product requirements documents (PRDs), internal FAQs, plus external-facing support articles
Updates: A centralized log of progress updates as the team moves through the development process, keeping the org informed as they get closer to shipping
Releases: Batched groups of functionalities and features shipping at one time, used to give customer-facing teams a preview of what's next before it launches—and to keep them up-to-date on betas they can invite their customers to, and features to test internally
Feedback: A repository of user feedback on specific projects and betas, as well as Airtable more broadly—used to route feedback to the corresponding product teams for consideration
Team: A detailed directory of who works at the org, including Slack handles, the team they roll up into, the product areas they're responsible for, role, and more. This helps link individuals to projects, and appropriately route feedback and notifications.
Not every level of the Product Tracker is captured natively within the Product Tracker. The team, feedback, and OKR tables, for example, are pulled in as synced tables from separate bases. The culmination of those synced tables, plus the added layers above is what makes up the Product Tracker Zach uses today.
>Check out our compiled list of OKR tools to find the right one for your organization
Keeping the company up-to-date
Zach makes the information above available through what he calls product's "single front door": an interface called go/roadmap. Built on top of the Product Tracker data layer, it's a wiki-style landing page.
"It links out to key resources, while also being a live window into product development that's always up-to-date," Zach says. "This is all being pulled from our source of truth, so there are no manual updates needed."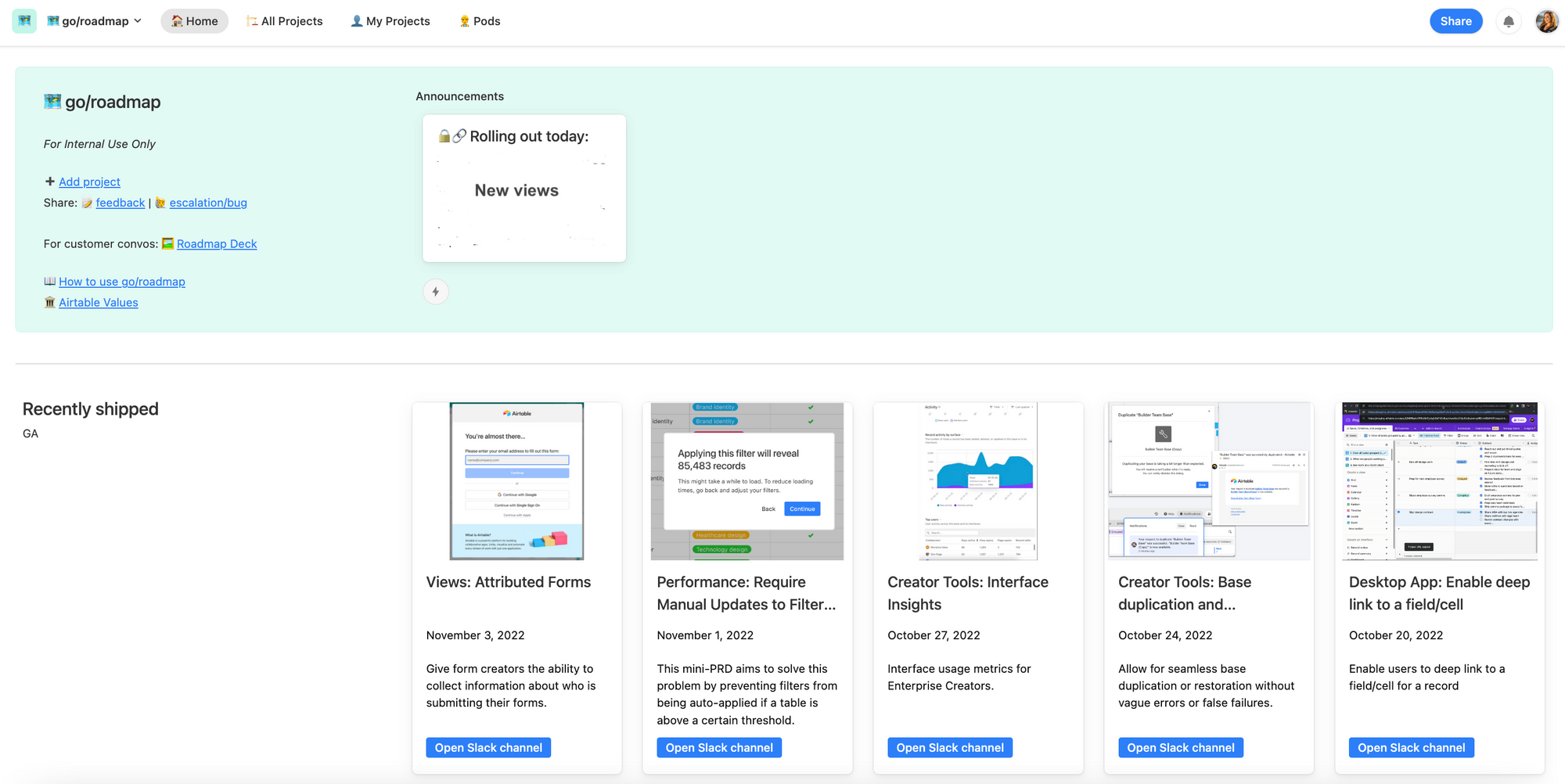 From go/roadmap, internal employees can see what projects are in flight, find the right Slack channels to ask project-related questions, and get a closer look at what's on the roadmap.
> Try it yourself: learn to build Airtable interfaces
"But we didn't feel like that alone was enough," Zach says. "We also want to make sure that we're pushing updates out actively to the team so that product development news is front of mind." That's where the team's comms plans come into play.
Scaling org-wide communications with syncs and automations
First, Zach's integrated their Product Tracker with Google Calendar, creating an internal calendar that anyone at the org can subscribe to. For internal subscribers, it surfaces upcoming launches right alongside their day-to-day meetings—so it's always top of mind.
To give the team even more visibility, Zach also manages a weekly product digest: a collection of the latest ship dates, features in internal testing, and other news from the product team, all pulled straight from the information in the Product Tracker (no update chasing required).
How to automatically share product updates at scale
Interested in building something similar? Here's a step-by-step breakdown of how to do it:
First, you'll want to make sure you have a Projects table in your base—similar to the one described in the section above. This is what you'll use to build your digest off of. You'll want to include a project name, and a target launch date, plus any other relevant details.
Next, create a view that shows only projects that are shipping within the two weeks. Use the target launch date field to narrow the list down to only the projects shipping within the next two weeks (you can set your filter to read: where "target launch date" > "is within" > "the next number of days" > "14"). This is the list of projects that will appear in your digest.
After that, you'll want to pop into the Automations section of your base. From there, you'll set the trigger to kick off your digest (in this case, an "at a scheduled time" trigger that goes off every Monday at 8am).
Next, you'll need to configure the actions you want your automation to take upon encountering the trigger from the last step. First, create an action to find the records within the view you just created.
For your second and final action, you'll create an action to send an email (in Zach's case, from Gmail). Within the "message" property, you can set up the template for your digest, including markdown to format your digest and draw attention to what's most important. Use the "+" icon to pull in data from the previous "find records" step so that you can dynamically populate a list of digest updates.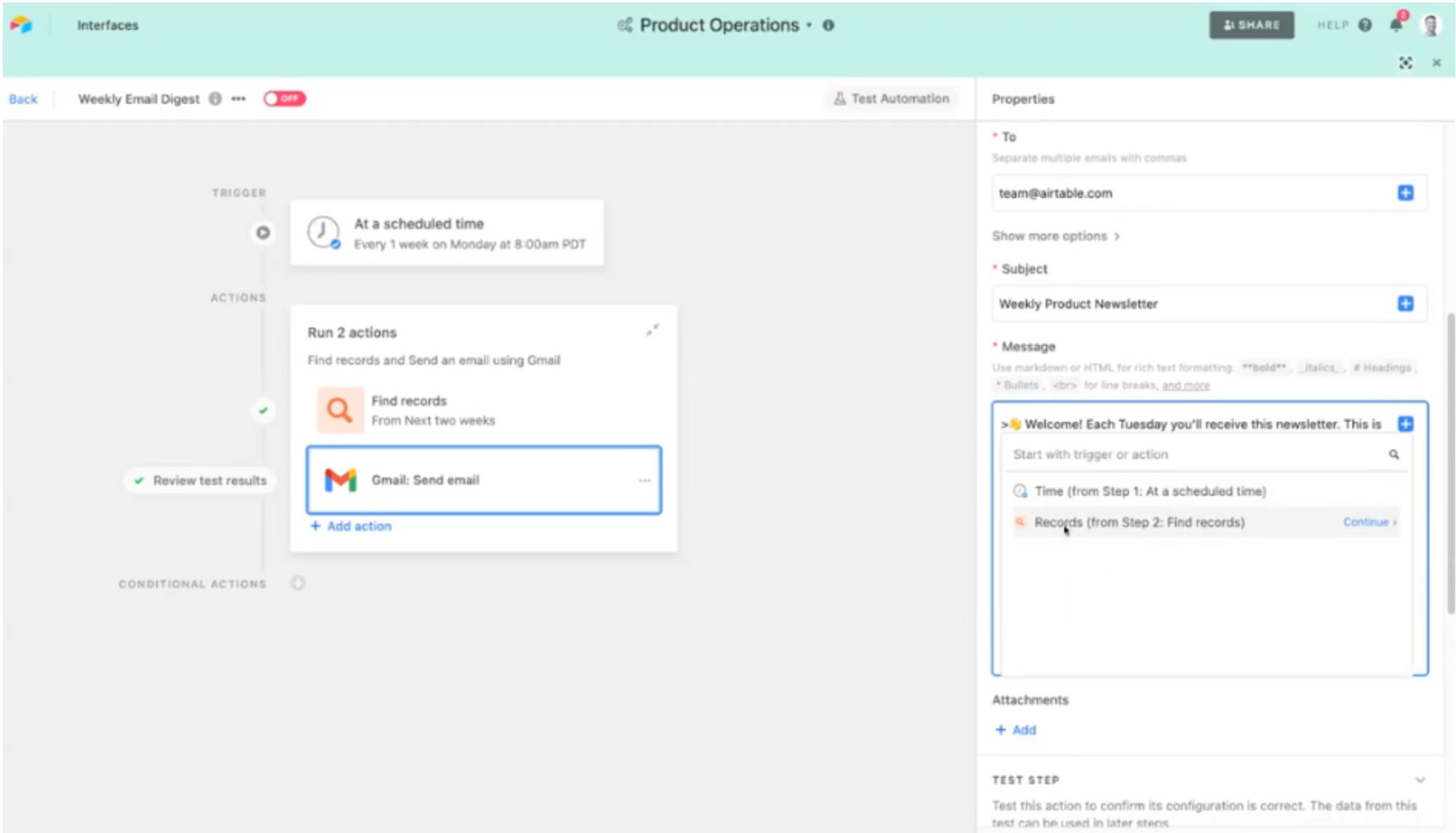 > Watch the walkthrough: Zach's automation for sharing updates at scale
And with that, you've got a dynamically populated digest that automatically goes out weekly—no manual work required. "I can sit back and accomplish my other work, and people will be kept up-to-date on this regular cadence."
With the combination of go/roadmap, the Google Calendar integration, and the weekly product digest, the entire org can stay in the loop on what's coming next. "People were pretty happy about it," Zach says. It's helped folks both within, and outside of product stay plugged into the work of the product team: increasing visibility, and helping them better connect to cross-functional partners.
---
Interested in building your own product roadmap on Airtable? Take a look at our Rules of the roadmap ebook for even more best practices from Zach and his team—or get straight to building with our step-by-step product ops playbook.