These travel tips from pros will help you keep your holiday details straight.
Laurel Beyers got her first taste of Airtable at work, using it to sort UX priorities at a fast-growing startup.
Because the platform is irresistible to organized people, Beyers started using Airtable for personal projects too, from planning outings to budgeting to buying a house.
"If you put me on a scale of all my friends, I'm the highest level of organized," says Beyers, a product design manager for VMware.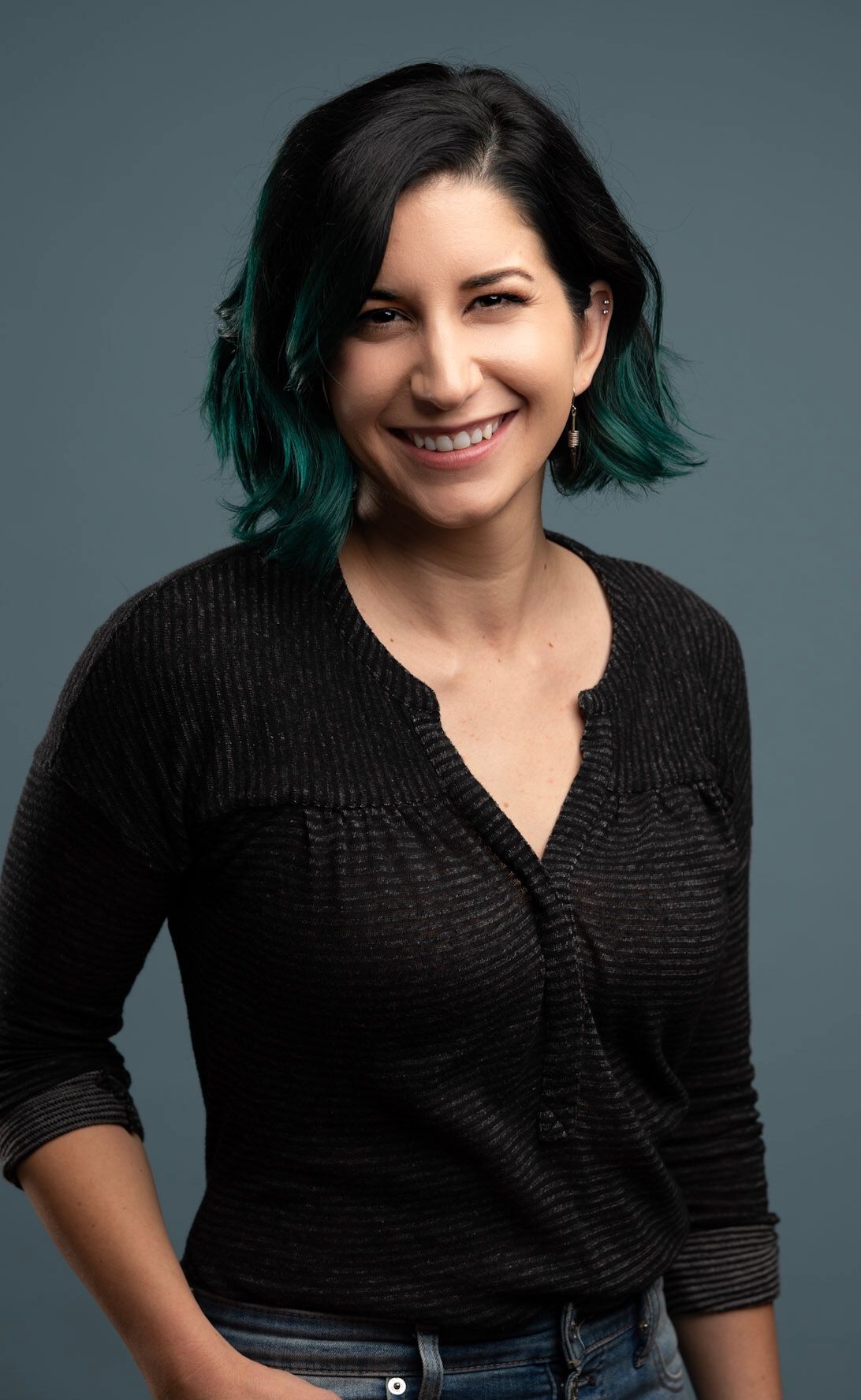 If you put me on a scale of all my friends, I'm the highest level of organized.
Beyers saw that Airtable, with its visual elements and multiple views, was particularly good for travel planning. So she deployed it to organize a month-long backpacking trip through Hong Kong, Bali, Thailand, Cambodia, and Japan. She also managed a birthday trip in the Phillppines using an Airtable base that's now been copied more than 700 times.
As holiday travel activity returns to pre-pandemic levels, Beyers and others know Airtable can help them keep the details straight.
Below, you'll find tips from seasoned travelers about how to use Airtable to plan well for the holiday rush.
Use Airtable to sketch out travel scenarios
Long before she heads to the airport, Beyers builds out tentative itineraries and budgets in Airtable. Christmas in Los Angeles, New Year's in New York? Sometimes she and her partner flip through travel books or research destinations on Google and Pinterest, then she pulls that info into Airtable.
"How do we divvy up the budget, given what we want to do?" she says. "Then I start deleting things from my Airtable," she jokes.  
But she's not actually deleting anything. Rather, she moves vetoed travel plans to a separate table, so she has a history of the scrapped ideas and can add them back if needed.
Rank rewards, round trips, and pit stops
There's no need to feel overwhelmed looking for cheap airfare or feverishly toggling between travel sites. Instead, take a deep breath and build an Airtable base.
Or use Rajesh Narayanan's Travel Itinerary/Trip Planner base, which lets you compare flights side-by-side and rank them according to what's important to you. ("Allows checked bags," "has a short layover," etc.) His base includes an itinerary and detailed Gallery view to show different phases of any getaway.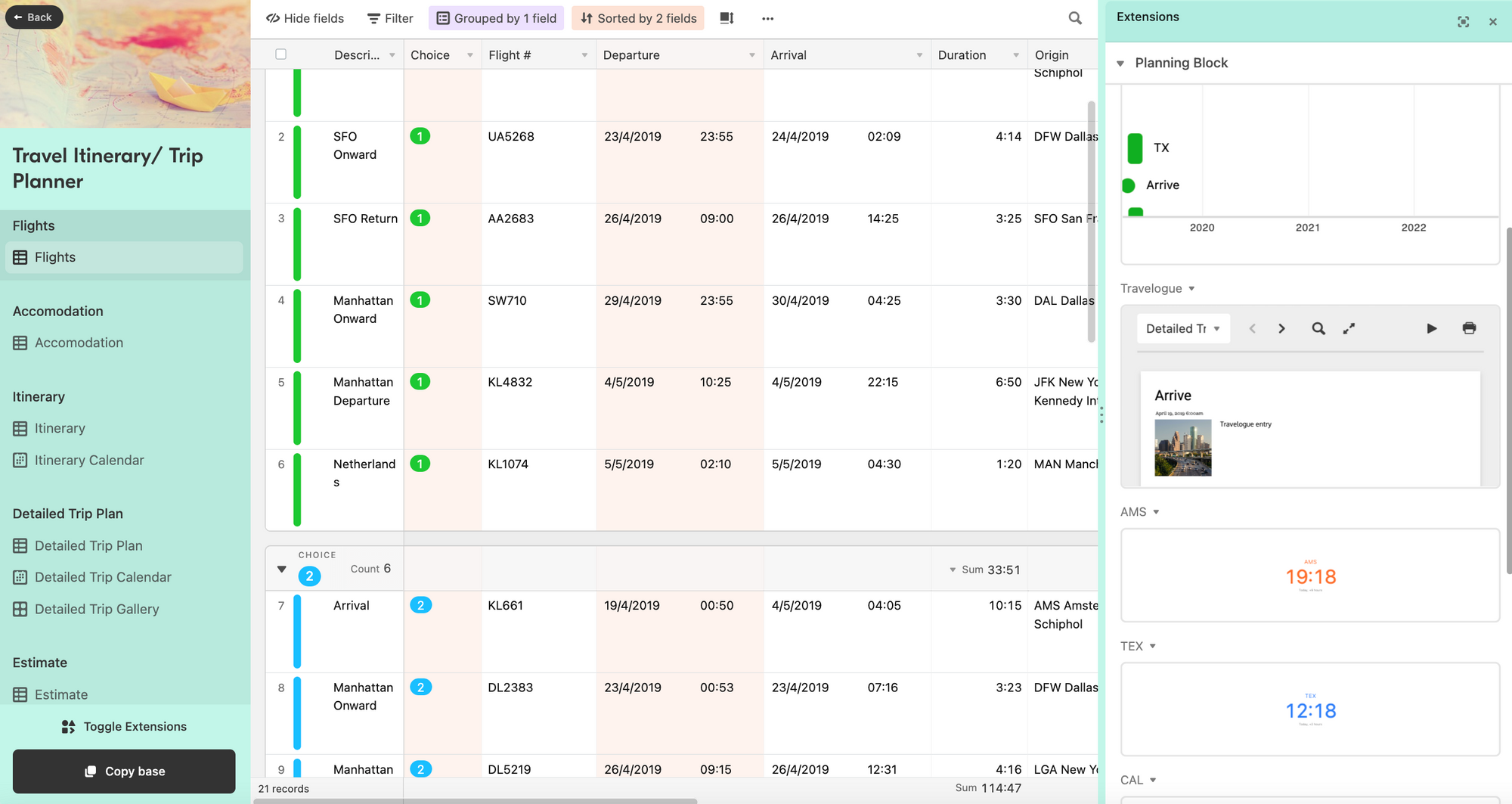 If you book flights often, take a note from Howie Liu, Airtable's CEO and cofounder, who built this Ultimate Frequent Flyer Guide to keep all his awards programs, plan numbers, and mileage expiration dates in one place.
Traveling by car? Former Airtable employee Victoria Plummer built this Road & Tour Manager base with rockstars in mind, but you can swap in family dinners for concert stops.
→ Get inspired with our Travel Agency Fliers template

Keep dates flexible, and plan as far ahead as possible
Spontaneity is a beautiful thing, but 2022 is probably not the year to make last-minute travel plans.
The World Travel & Tourism Council found that the travel industry made a slow recovery last year, but it's been roaring back in 2022, a trend that's likely to continue. Hotels, tourist attractions, museums, rental cars, and historic sites will book up quickly as the world shakes off the pandemic dust and starts making plans again.
No matter where you're headed on the busiest days, Airtable can give you better visibility into less-busy ones too. Users have designed bases for campsite reservations and availability, bookings of all kinds, the best honeymoon hotels (from Greece to Hawaii), and fun stuff to do in a number of cities. (Check out our Travel & Outdoors and Local Interest bases, and guides to NYC, San Francisco, and Colorado.)
At the end of it all, if you want to see what you've checked off the bucket list, try Walter Chen's Travel & Trip Tracker. As Chen notes, it's gratifying at the end of the year to plot the points and view them all on one map.
Get a head start on all things holiday with our collection of planning templates