Asian Americans Advancing Justice Chicago built a resource database so Illinois educators can easily access lessons.
When the historic Teaching Equitable Asian American Community History (TEAACH) Act passed in April 2021, it made Illinois the first state to mandate Asian American history in public schools.
Maricor Chang was thrilled. A former high school English teacher, school librarian, and product of the Illinois school system, Chang didn't learn extensively about her community's history until she was older.
"Unless we elected to take an Asian American studies course when we got to college, we never learned about any of it," Chang said. "And this goes for students across the country. So much has been left out of the U.S. history books."
A lesson in resource-gathering
Through the Chicago arm of Asian Americans Advancing Justice, a nonprofit civil rights organization, Chang joined a team of professors, librarians, activists, and community member volunteers to provide something that public school teachers everywhere famously lack: resources.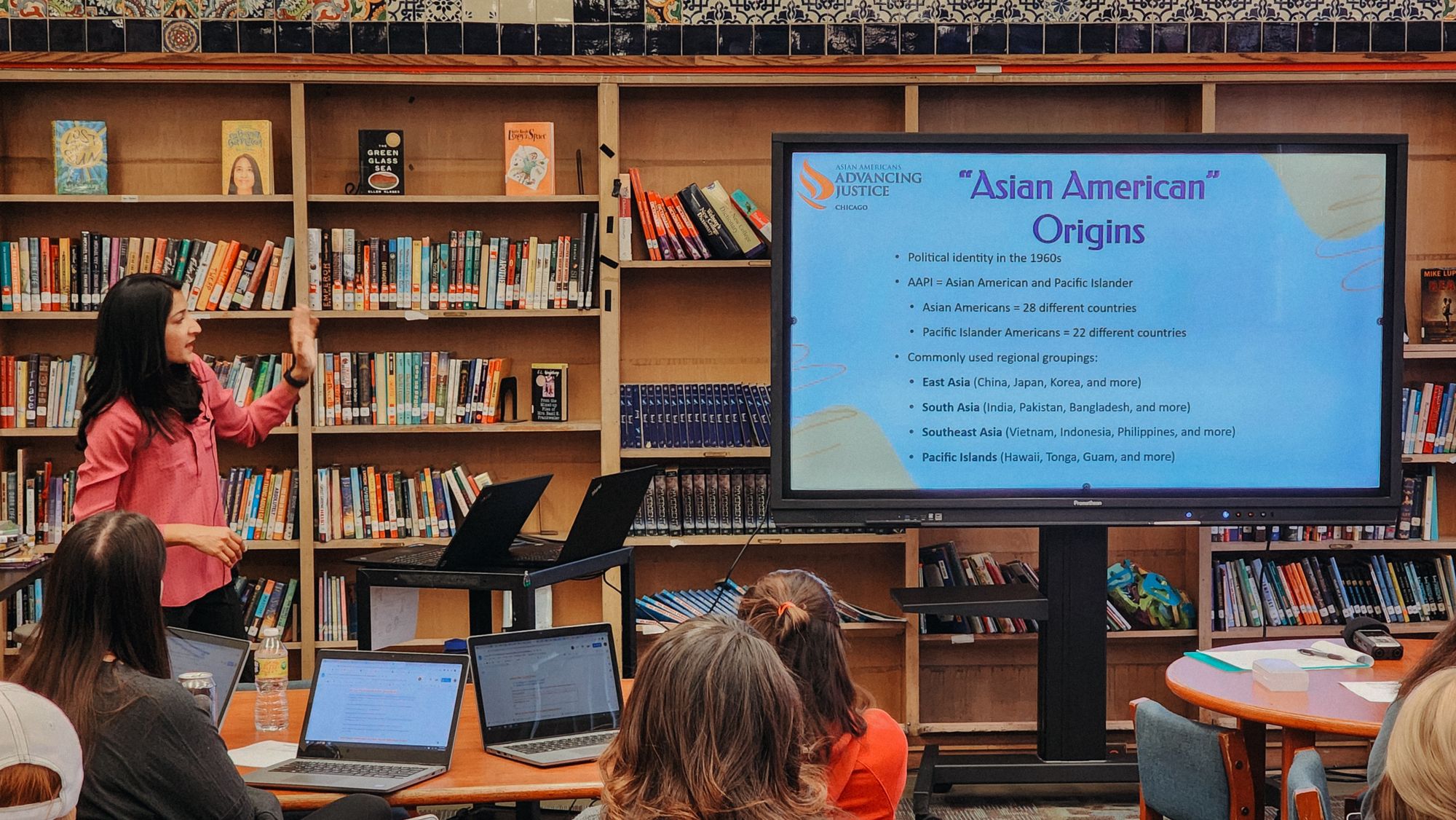 Asian Americans Advancing Justice Chicago sought to create a comprehensive database of curriculum topics that educators could consult anytime. The main issue was finding a platform that could meet their specific needs.
"Because of the sheer amount of Asian American history, influential people, and events that have happened, we quickly realized that our resource list would be robust, and that we'd need something big to support all of that," Chang said.
Along with finding a sizable platform to house all of their materials, the team wanted a user-friendly solution so teachers could find everything they needed, fast. They decided on Airtable after learning about features like color coding, unique field types, and filtering and grouping.
Teaching the teachers new tricks
And so The Asian American Education Resource Database K-12 was born.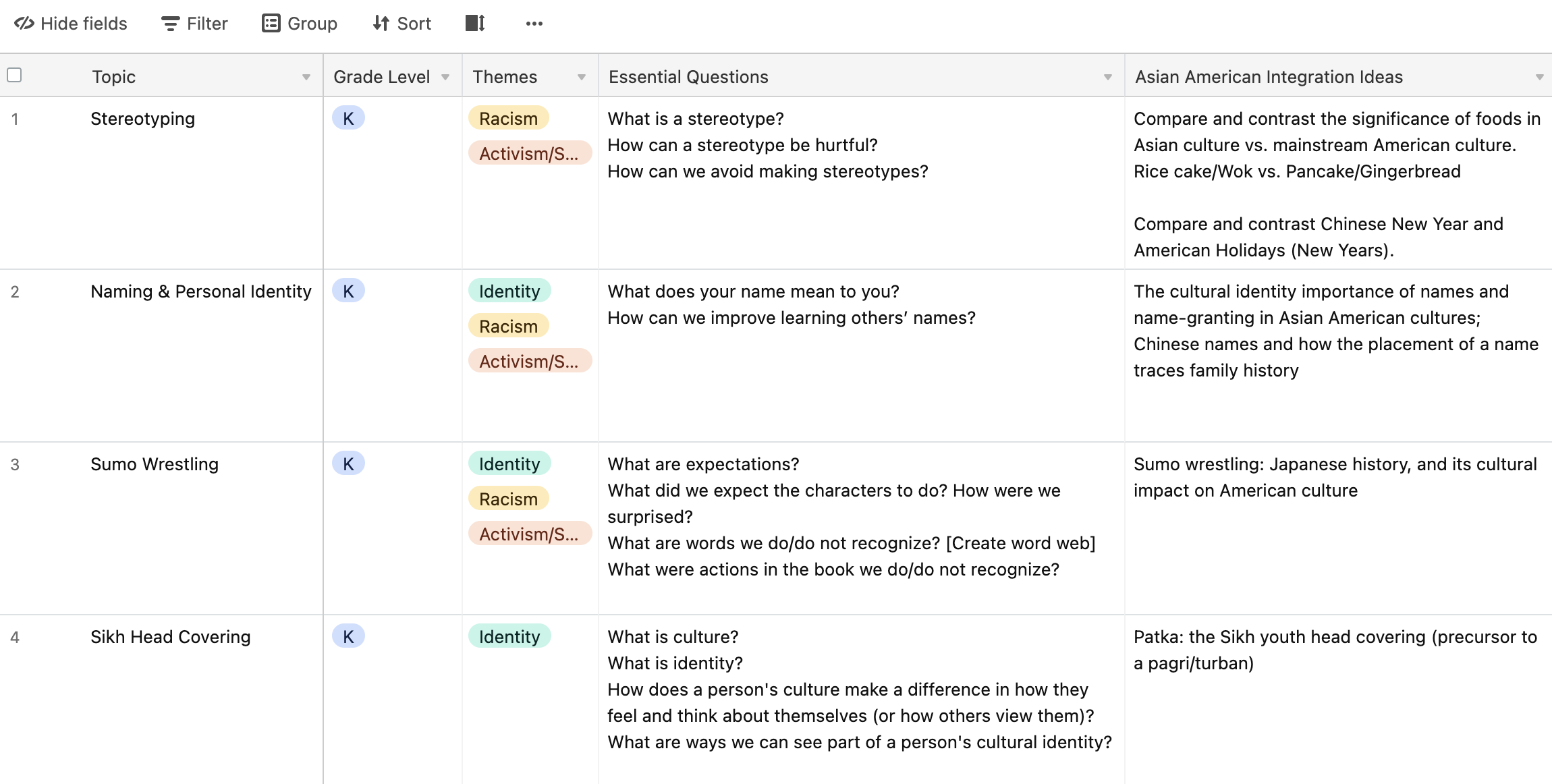 The base currently holds hundreds of topics ranging from Japanese American incarceration to the model minority myth to the origins of the ethnic studies movement. Each topic, or record, has fields denoting important information like grade level, theme, and, of course, the specific learning standard the topic falls under.
According to Chang, the ability to group, sort, and filter records by these fields has been a game-changer in making the data more approachable for educators.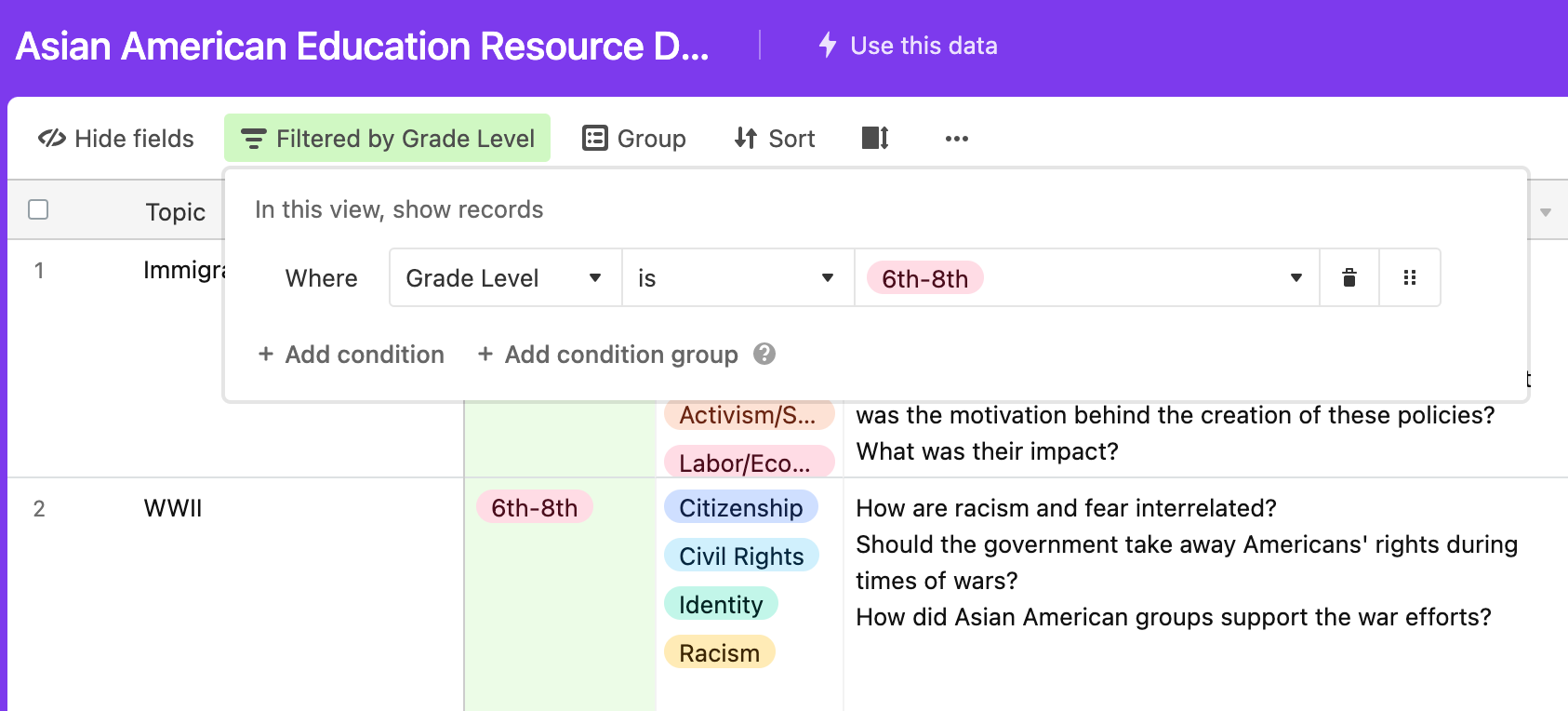 "One of the fields we added is grade level, so teachers can filter by the grade they teach," she said. "It narrows the scope so teachers don't feel overwhelmed by all of the information in the base, and so they don't think they have to implement every single thing."
In other words, kindergarten teachers can apply a filter for grade level to unearth resources on topics like sumo wrestling and Asian American holidays, while high school teachers can hone in on more complex policies and events like anti-interracial marriage laws and post-9/11 Islamaphobia.
Users can also group or sort by theme–a teacher who wants to center next week's lesson on citizenship, for instance, can sort to view all of the related topics at a glance. And for further reading, the Asian Americans Advancing Justice Chicago team added a long text field for more context and links.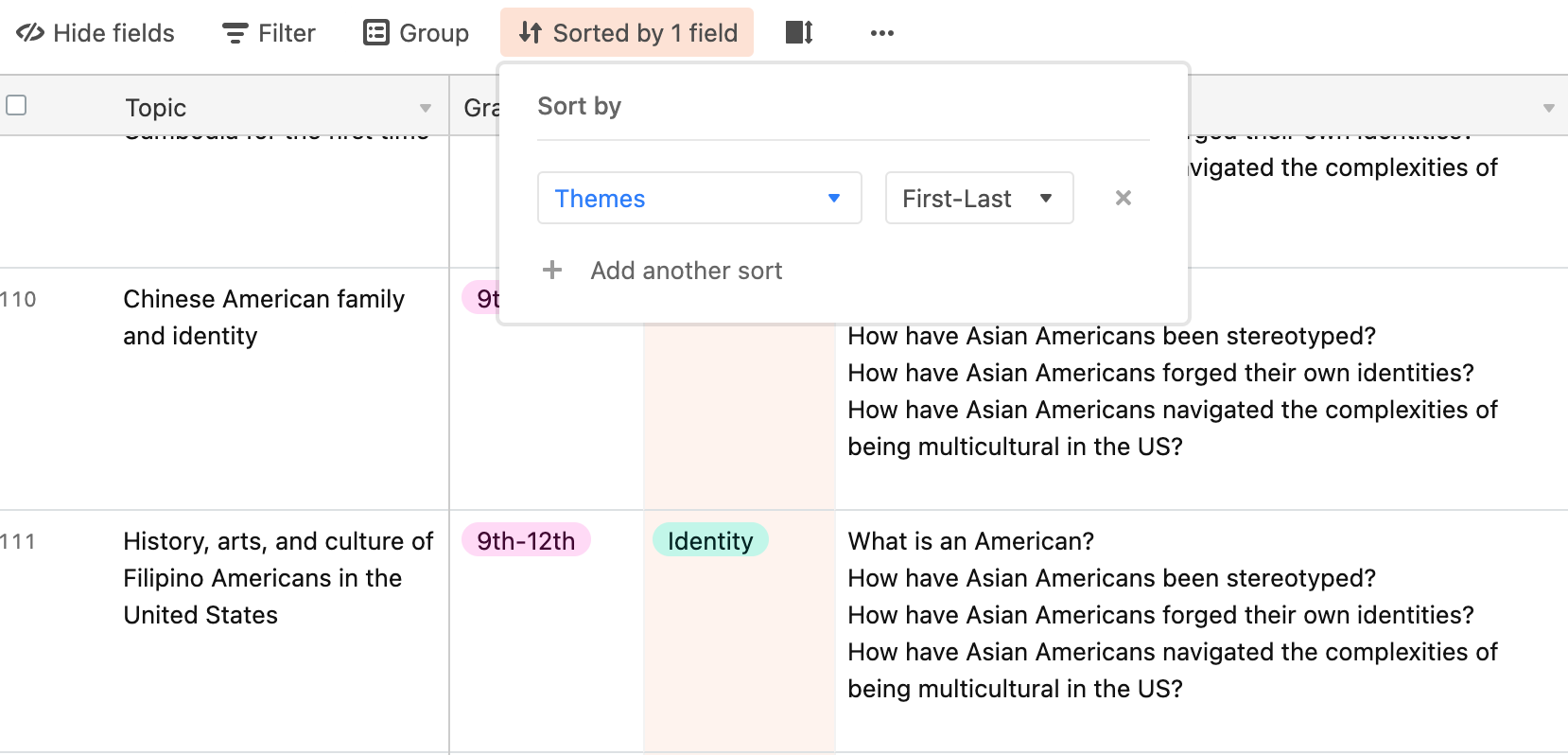 While the base is as robust as Chang says, the team can easily add new records whenever the need arises, updating the base in real time–another feature they appreciate.
Using Airtable to correct the curriculum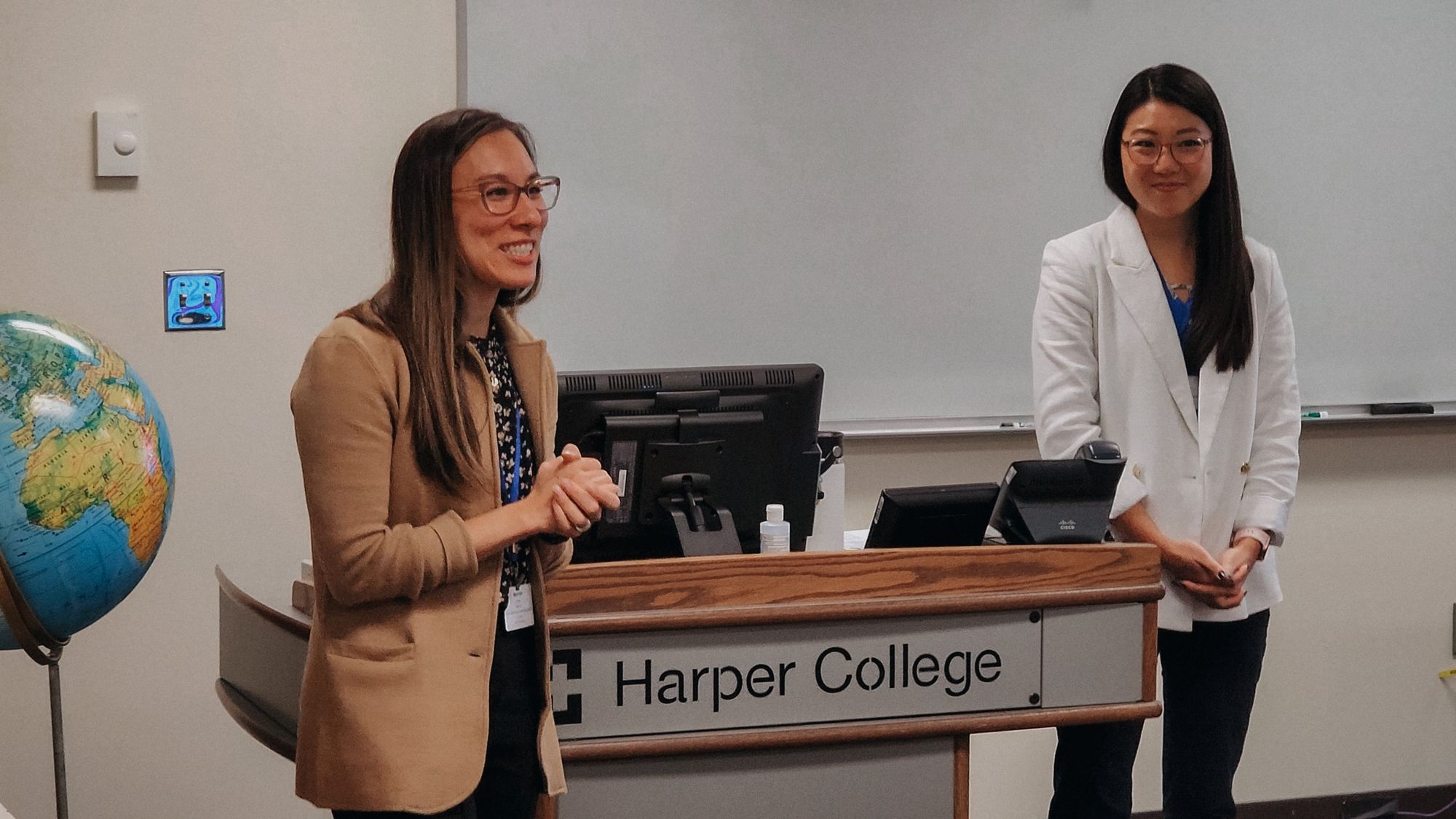 Chang now serves as one of the org's professional development facilitators, hosting semi-weekly workshops to prepare Illinois teachers to implement the TEAACH curriculum in their classrooms. She said the response to the base has been overwhelmingly positive.
"Just because something goes into law doesn't mean it automatically goes into implementation," she said. "Airtable has allowed us to share resources in a digestible way so that teachers of all grade levels can successfully incorporate Asian American history into their curriculum. There's a little something for every teacher in here."
Explore our nonprofit templates and start building in Airtable today.