Wrap things up in Airtable so you can move forward with your next campaign or initiative.
Successfully finishing a project your team poured sweat, tears, and gallons of coffee into is a magical feeling.
And while your team and leadership may be antsy to move onto the next thing, a project isn't truly done until you've gathered feedback, submitted reviews, and archived your data. In some ways, closing out a project is equally as important as the steps you took to complete it. These tasks aren't just about crossing t's and minimizing liability—they're instrumental in helping your team to benefit and grow from the experience.
How to properly wrap up your project in Airtable
Here are some ways you can use Airtable to tie things up quickly and efficiently, so you're ready for what's next.
Collect valuable feedback with forms
Forms are ideal for collecting feedback, submissions, and whatever else you need from team members to wrap up a project. In Airtable, the Form view can be accessed by clicking the view button in the upper left corner of a base and selecting "Form" from the drop-down.
You can customize a form for respondents by adding all kinds of fields for questions. The best part? All submissions will be added to your grid view as records so you can easily incorporate the information into your workflow.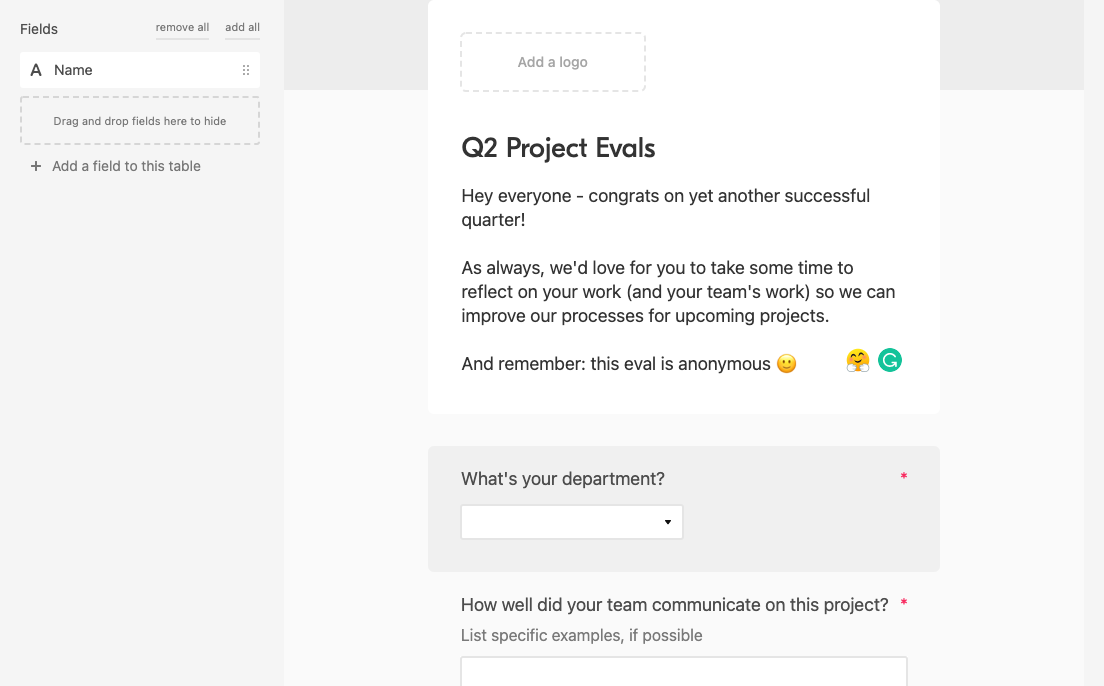 A post mortem, or project evaluation, is one of the best ways you can document challenges and measure team successes. We recommend creating an anonymous survey if you want to capture honest, valuable feedback from your team.
For insightful and detailed feedback, you might want to include the long text field so respondents have a space to jot down their opinions. Some examples of questions you can ask in a post mortem include:
How well did your team communicate?
Did you have all the resources you needed to execute your tasks?
Did you stay on budget?
What went well? What were the challenges?
What would you change or improve for future projects?
Pro tip: You can also create a payment form to address any outstanding commissions, fees, and invoices. Consider adding an attachment field to the form so team members can submit screenshots or receipts.
Draw financial insights with apps
Project managers need budgets in place before their project even begins, but reviewing them at the end is important, too.
Need help getting started? Check out our expense tracking template.
Budget review is a cinch with Airtable apps, which let you draw new insights about project finances within your base. You can add an app by finding the button in the upper right of your base, which will open your dashboard.
The chart app is perfect for displaying your project expenses. If you choose a bar graph and display data by department, for example, you can clearly see which department spent the most during the course of the project.
Another helpful app is the summary app, which displays a summary value from a view. You can add a summary app to see your total A/R, as well as one to view the outstanding amount that still needs to be billed.
Using a flexible tool like Airtable to handle your budget and visualize data can make the review process less time-consuming and more insightful.
Archive your records with views
If you used Airtable to manage your project tasks, we have good news: you can archive everything easily so you can refer to your valuable data time and again.
There are several ways you can archive your project data and move onto a blank slate. The simplest way is to duplicate your table or base for your next project and rename the old one so you know it's from a previous project.
If you want to continue using your base—let's say you still have things you need to complete at the tail end of your project—you can create a new grid view that will act as an archive. Find the view button in the left corner of your base and click "grid." Next, create a filter in this new view that will only show your past project tasks. One example is filtering for all records that have been marked as "completed," or those that have due dates before today.
Now, all records that are marked as complete or with past due dates will appear in this view. You officially have an archive you can return to for guidance on your next project, or if you need to double-check some data when filing a report.
---
Airtable helps users smooth out every stage of the project management process. Read our support article to learn more about archiving records, and check out our Pro plan to gain access to features like apps and colors.