Discover indispensable apps, integrations, and automations designed for marketing professionals.
Thousands of marketing teams rely on Airtable's flexibility to help deliver innovative campaigns, generate click-throughs, drum up conversions, and influence total revenue.
Whether you're an Airtable diehard or just getting your feet wet, we've created this blog and our new marketplace collection to help your team unlock even greater value from Airtable. Oh, and every app, integration, and automation we've highlighted require zero code from your end.
Let's get started.
Apps to create flexible, customized marketing workflows

When it comes to marketing workflows, there's no one-size-fits-all model. Your team is unique, and so are your marketing needs. With Airtable apps, you can customize your base to match your exact workflows. Apps empower you to analyze, enrich, and take action on your data from within your Airtable instance (what we call a "base"). That means there's no context switching required.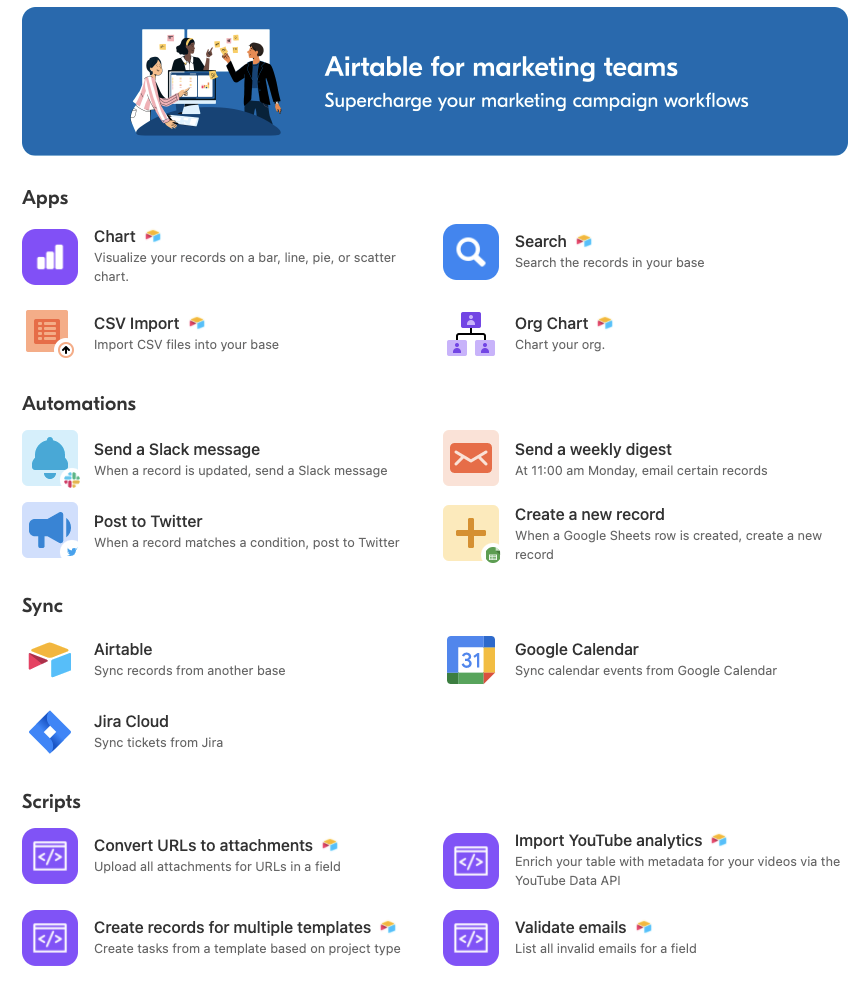 Here are ten great apps to help you get started.
1) Chart: Fittingly named, Chart lets you visualize your data in dynamic graphs, tables, or diagrams. This app is perfect for tracking marketing campaigns, unique visitors, and clickthrough rates while making your team's hard work visible.
2) Miro: Miro is what happens when a pile of sticky notes and a whiteboard are thrown in a digital blender, then mixed to perfection. It's a fantastic way to collaborate on brainstorms without getting held up on process or structure.
3) Pexels: Source free stock photos for your content pipeline. Whether you're using them for thumbnail inspiration or adding flair to your records—Pexels will enhance your marketing base.
4) Abyssale: This app creates images using nothing but your records' data. Perfect for social media images, display ads, or online promo codes, Abyssale is a fantastic way to make your data visual.
5) Summary: Another perfectly named app, Summary displays important marketing metrics in huge, colorful numbers on your dashboard.
6) Loom: Loom makes creating screen captures and video content a cinch. Their Airtable app makes it easy to view those videos, right from within your base. Perfect for explainer videos, internal communications, or walking team members through a new process.
7) CSV Import: Important data trapped in a CSV file? Set it free with CSV Import, which lets you add new records to an existing table by simply dragging and dropping your CSV file into the Airtable app. It's perfect for converting customer leads, or an email subscriber list into Airtable.
8) miniExtensions Portal: Sometimes you don't want your third-party vendors to have access to everything. This app limits external team's access to your Airtable marketing records, while still allowing them to view— and even update—relevant records.
9) Scripting: Supercharge your Airtable base with scripts that eliminate tedious tasks like data validation and bulk record creation. Write, edit, and run short scripts to handle repetitive tasks—all within Airtable. Build a script of your own with a bit of JavaScript, or take advantage of our library of pre-built script templates, no coding required.
10) Data Fetcher: Import lead information from your CRM, send emails using your marketing automation platform, and more with Data Fetcher. This slick app lets you run, save, and schedule API requests between Airtable and your essential marketing services.
Integrations to connect your tech stack and increase marketing agility
The average marketer spends two to three days per month compiling reports—and 36% spend more than four days—that's one full day each week—cobbling together data from different sources. Efficient technology needs to adapt to your needs and workflows—not the other way around.
By integrating your Airtable marketing base with the tools and platforms you already use, you can unlock powerful automations, leading to more productive teams and more time to focus on strategic tasks.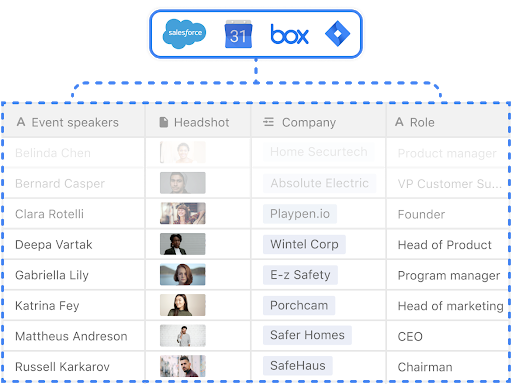 These platform integrations require no coding whatsoever, and can be connected to Airtable in minutes. Here are a few we recommend:
11) Hootsuite:
Automation action: Automatically send social media message copy from your marketing campaign workflows in Airtable directly into Hootsuite for scheduling and publishing.
12) Box:
External source sync: Send Box file information (URL, attachment, etc.) directly into an Airtable view. This is often used by marketers who need to track their content pipeline in Airtable and are collaborating with a design team that hosts their creative using Box.
13) Salesforce:
Automation action: Seamlessly create or update Salesforce records directly from your Airtable marketing base. Marketers typically use this to hand over contact or opportunity information to sales reps using Salesforce.
14) Google Calendar:
External source sync: Send Google Calendar event information directly into your Airtable marketing base. Use this to sync content or campaign calendars that are managed in Google, so marketing teams can action the data in Airtable.
15) Microsoft Outlook:
Automation triggers and actions: Use automated triggers and actions to more deeply integrate Microsoft Outlook email and calendar into your Airtable workflow. This is great for working with outside vendors who are sending your marketing team deliverables via email.
Automations to scale marketing operations and eliminate inefficiencies
Many marketing teams are tasked with "doing more with less," and automating your workflows in Airtable can be a great start. Enter Airtable Automations.
Airtable Automations is a powerful "rules engine," which allows teams to automate even the most complex workflows.  By creating simple if-then rules, you can save time, boost productivity, and eliminate repetitive tasks and human errors.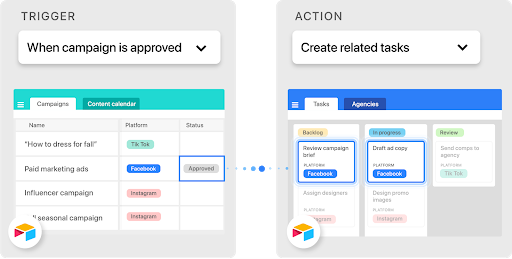 We've set up a few suggested automations for you to peruse in our Marketplace collection. Here's a brief look at what you can accomplish:
16) Send a weekly digest: Send a recurring email, updating your stakeholders on the progress on a recurring basis.
17) Post to Twitter: Post specific information from your Airtable marketing base directly to Twitter.
18) Send a Slack message: Send information from an Airtable base to a Slack channel.
19) Create a new record from Google Sheets: Sync information from Google Sheets into Airtable.
20) Update a record: Automatically update a field associated with a record based on actions in Airtable.
Empowering marketing teams to work smarter and faster
Airtable gives modern marketing teams the agility, flexibility, and scale they need to manage their unique processes and workflows. Whether you want to streamline your editorial calendar, centralize brand assets and product messaging snippets, or coordinate major launch events with ease, Airtable has you covered.
---
To get started, view the complete Airtable Marketplace collection for marketers.
Not yet using Airtable? Sign up for your free 2-week trial of Airtable Pro.