Airtable's theme for Women's History Month is Leadership, which inspired us to share the stories of the amazing organizations out there powered by Airtable.

We interviewed leadership from Village Enterprise and Bad Robot —Ally Smith, Director of Marketing and Development at Village Enterprise, whose pronouns are she/her, and Miki Woodard, Head of Good Robot, whose pronouns are also she/her —about their work, Women's History Month, and how they're using Airtable.


Customer Spotlight: Ally Smith, Director of Marketing and Development at Village Enterprise

Tell us more about Village Enterprise.
Village Enterprise is an incredibly unique and impactful organization -- and I am lucky and honored to be a part of this family.  At Village Enterprise, we equip and empower first-time entrepreneurs in rural Africa with the resources and skills to start sustainable businesses and savings groups. With the businesses' income and savings started, our entrepreneurs lift themselves and their families out of extreme poverty, build resilience, and break the cycle of poverty.

Our DNA is deeply rooted in impact and data and our poverty graduation approach focuses on five core components: targeting individuals who earn $1.90 per day or less, training these individuals in financial literacy, forming business savings groups of 10 businesses to serve as a space for communal support and savings, providing seed capital to jumpstart business activities, and mentoring entrepreneurs to ensure continued success. To date, we have helped to start 52,000 businesses, trained 197,000 first-time entrepreneurs, and changed 1M+ lives. Our entrepreneurs have also seen a 71% increase in income and a 311% increase in savings.

Our goal is to end extreme poverty for 20 more million Africans by 2030. We believe this is possible through bold decision-making, innovation, and partnerships with governments and other nonprofits.

How does your organization use Airtable?
Airtable is the project management tool I have been looking for—and wishing for—throughout my entire career as a communication, marketing, and fundraising professional. In my experience, most project management platforms I have used are not flexible enough for us creatives. When you are looking to build a social media content calendar, a story bank, a basic project tracker, or a prospect pipeline, you want a malleable tool that you can bend to your company and individual department's needs. And every organization is different, and one size does not fit all. So when I got served an ad for Airtable, it captured my attention immediately, and I dove in to find out more. Now I am an evangelist of the platform because it is incredibly customizable.

We just started building our Airtable bases and using the platform for our content calendar, marketing project tracker, and story pipeline. Airtable has taken us off sheets or excel and brought us into a platform where we can easily share information and build approval pathways and automation unique to our organization. I should also mention we are a small and mighty marketing and development team spread out between the U.S. and East Africa, so we also needed a tool that would be easy to work across multiple time zones and create to-dos, so no balls were dropped. For example, our old content calendar was built out in sheets that made it difficult to upload art and marketing assets and made the approval process tricky, and things were sometimes missed in inboxes. That has all been solved now with Airtable

How does Village Enterprise empower women leaders?
At Village Enterprise, most of our senior management team is female and that is still very rare for most companies or nonprofits. Our Chief Executive Officer, Chief Scaling Officer, Chief Financial Officer, Chief Development Officer, Vice President of Impact, and Vice President of Programs are all strong, incredible women who lead the organization with empathy and drive. I could not be luckier to be at a company that not only promotes gender equity but also walks the walk.

What does Women's History Month mean to you?
This month is an important moment of reflection on all the progress we, as global citizens of the world, have collectively made towards gender equity. But more importantly, Women's History Month serves as a call to action to address how much more work is needed to achieve real gender equity and female empowerment.

Promoting gender equity is a personal priority for me and is always top of mind for Village Enterprise. In rural Africa and globally, women are more likely to be illiterate, perform unpaid work, and eat less during times of financial strain than men. According to the UN World Food Program findings, women and girls are most affected by neglect in rural, poverty-stricken areas. The pandemic also deepens this long-standing gender divide as global poverty is increasing due to Covid-19. At Village Enterprise, we aim to help address women's empowerment by guiding entrepreneurs in creating sustainable businesses. Over 80% of our entrepreneurs are women —many of whom are the sole providers for their households. Our first-time women entrepreneurs build resiliency through their income-generating businesses. Our women entrepreneurs can then prioritize education, health care, and nutrition that benefit their families and their communities.

The topic of gender equity should be happening every day—not just for one month, and we should always challenge one another to do better.



Customer Spotlight: Miki Woodard, Head of Good Robot at Bad Robot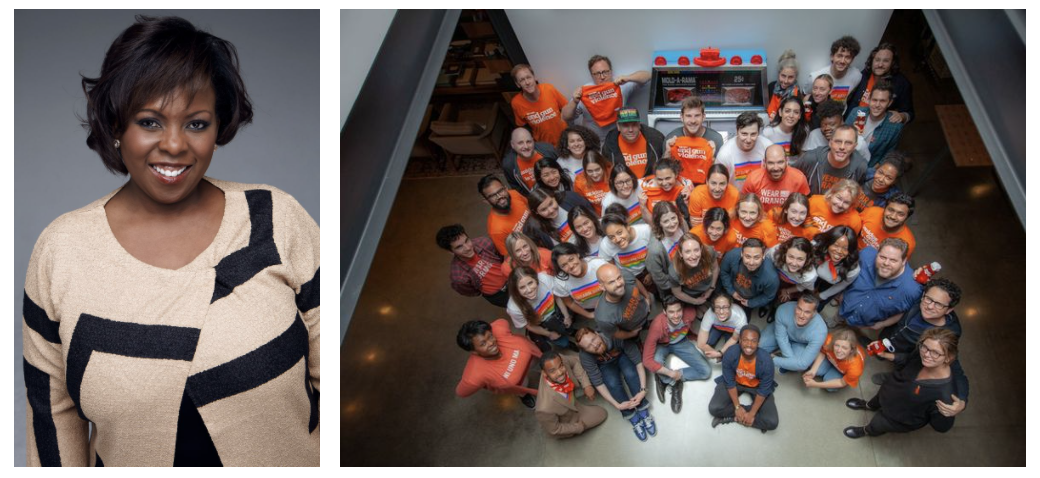 Tell us more about Bad Robot.
Bad Robot is a production company. We are a company filled with creatives that make film, tv, music, games and theater. Some of the things that you have probably seen include Alias, Lost, Westworld, Lovecraft Country, Star Trek and Star Wars.

Why do you use Airtable, and what for?
The Good Robot department sits at the intersection of employee engagement, social impact, and equity, representation and belonging work. Airtable has been the primary way that we connect with our employees to plan virtual programming such as our Speaker Series, Health Club, Heritage Months, and Employee Giving.

Beyond our department, Bad Robot uses Airtable to track projects across every department – whether that be tracking the diversity of our writers, directors, showrunners, and partners, coordinating our social media posts, or gathering resources to update our Pandemic and Anti-Racist Guides. From "script to set" Airtable is a way for production to share with colleagues and partners the planning stage for every project that we make.

As the scope of Good Robot's work has increased and as Bad Robot has grown as a company, Airtable has allowed us to meet this moment and be there for our employees and partners in new ways.

How does Bad Robot empower women leaders?
As a result of the commitment to very intentional work, over half of Bad Robot's leadership team is comprised of women, 61% of all employees are women, and nearly half are people of color. We also have numerous television shows led by women. We will continue to work toward creating a productive, safe, dignified, engaging and equitable work environment for them all.

What does Women's History Month mean to you?
Acknowledging the significant, and sometimes lost history, of Black women is a very important part of this month for me. I come from a long line of very strong Black women. My great, great grandmother, Maria Buckner Stokes, graduated from Hampton Institute in 1890. Her daughter, my great grandmother, Julia Bertha Stokes, graduated from Hampton Institute in 1918 and her daughter, "my amazing Gramsy" graduated from Norfolk State in 1941. She lived until she was 99 and raised her family (my mom) for a while on a segregated military base in France while my grandfather served as a Tuskegee Airman. Their sacrifices led to my opportunities.