Fix mistakes, run tests, and create automations with more confidence.
Automating your work can feel like magic. Having a time-consuming task complete itself is basically like pulling a rabbit out of a hat–only it's better than any trick, because the time you get back is real.
But creating an automation can sometimes be easier said than done. Watching your automation fail without knowing where you messed up, for instance, can be frustrating.
That's why we've made it easier to create and test your automation before launch. With these new improvements, you can track each part of the creation process, understand which steps of your automation are broken, and reduce the margin of error with more accurate testing–giving you the confidence to automate as many parts of your workflow as you need.
Save time and effort when creating your automation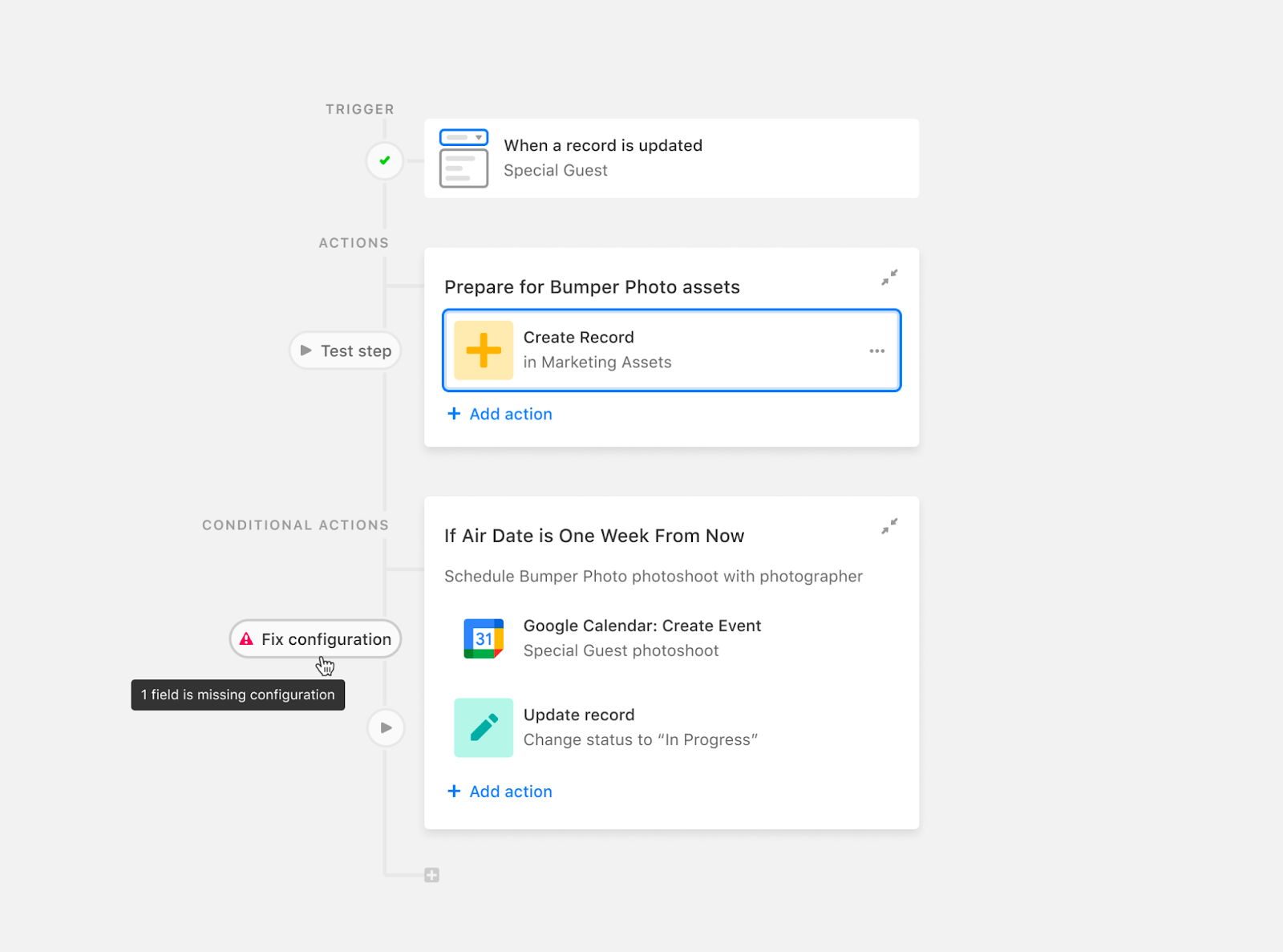 First up, we've added a new visual to highlight any errors you made while creating an automation, so you know exactly what and where the issue is. You'll also be guided directly to the fields that need updating, leaving no room for ambiguity.
See this in action in our new "What's new in two" video
So if you're an email marketing professional automating a retro meeting every time a newsletter is published, a caution symbol will alert you when you've forgotten to connect your Google Calendar account–no more wondering where you went wrong. All you have to do is make the suggested changes.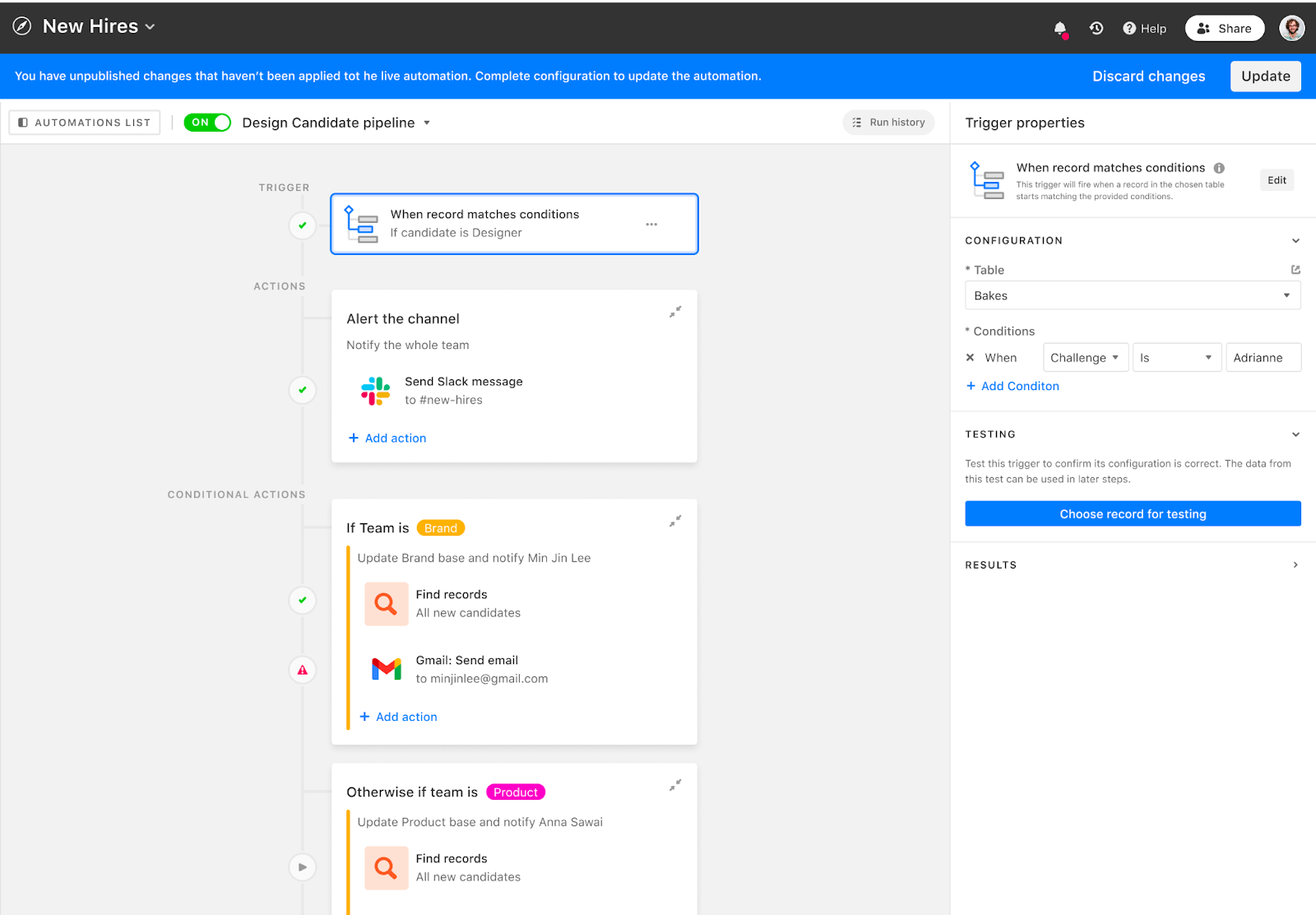 Experimenting with different triggers or actions on an already-live automation? If you decide you want to restore your previous automation after all, you can now revert back with a click of a button. A blue banner with a "discard changes" button will appear at the top of your screen as you're editing, so your original automation is secure.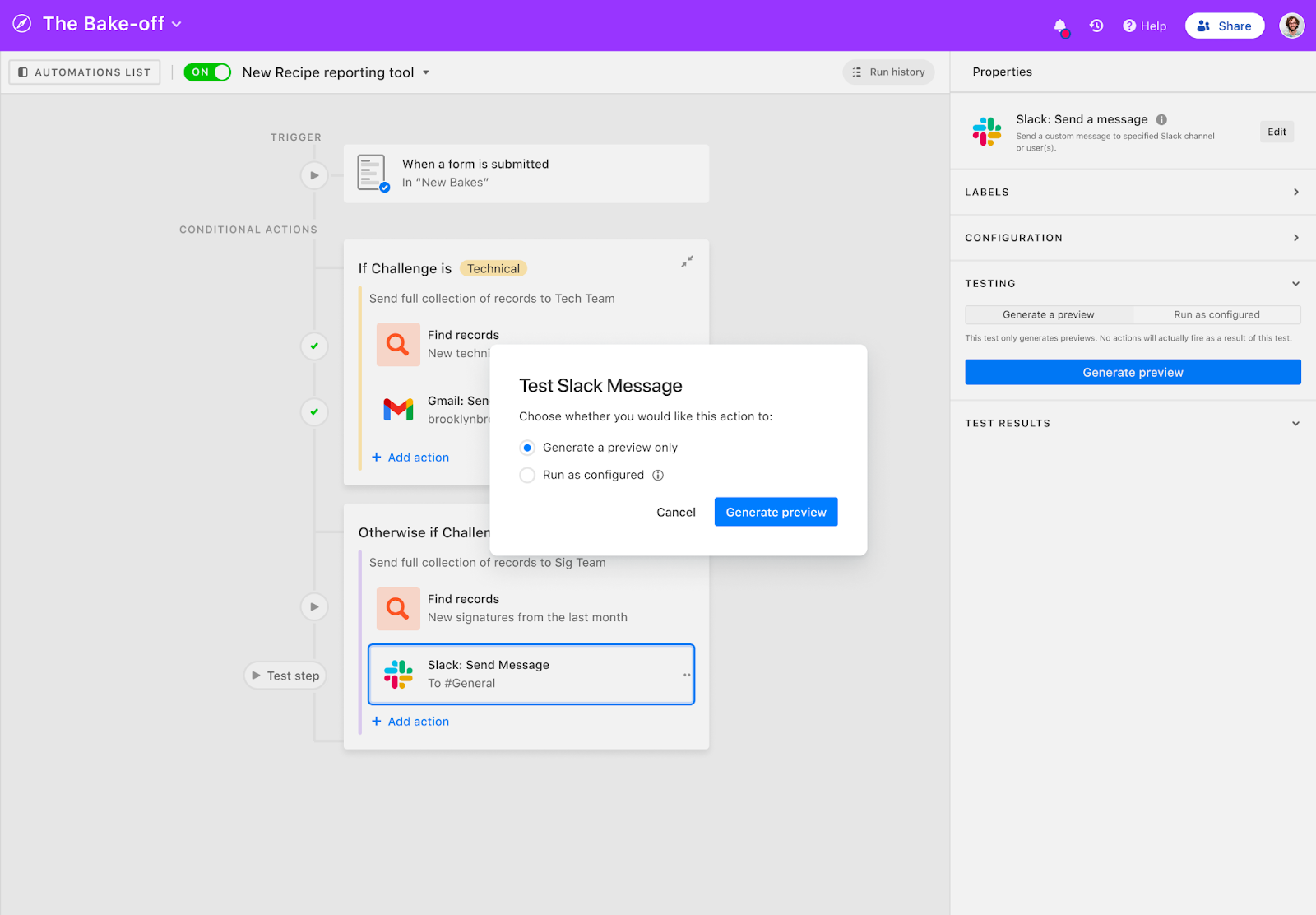 And before you run your automation's actions, you can preview them to double-check your work. Previews allow you to view your results instead of testing them in your base or group message. Managers, for example, might find previewing a Slack message action more efficient and less distracting than alerting everyone in their channel with several test messages at a time.
Test automations with more precision than before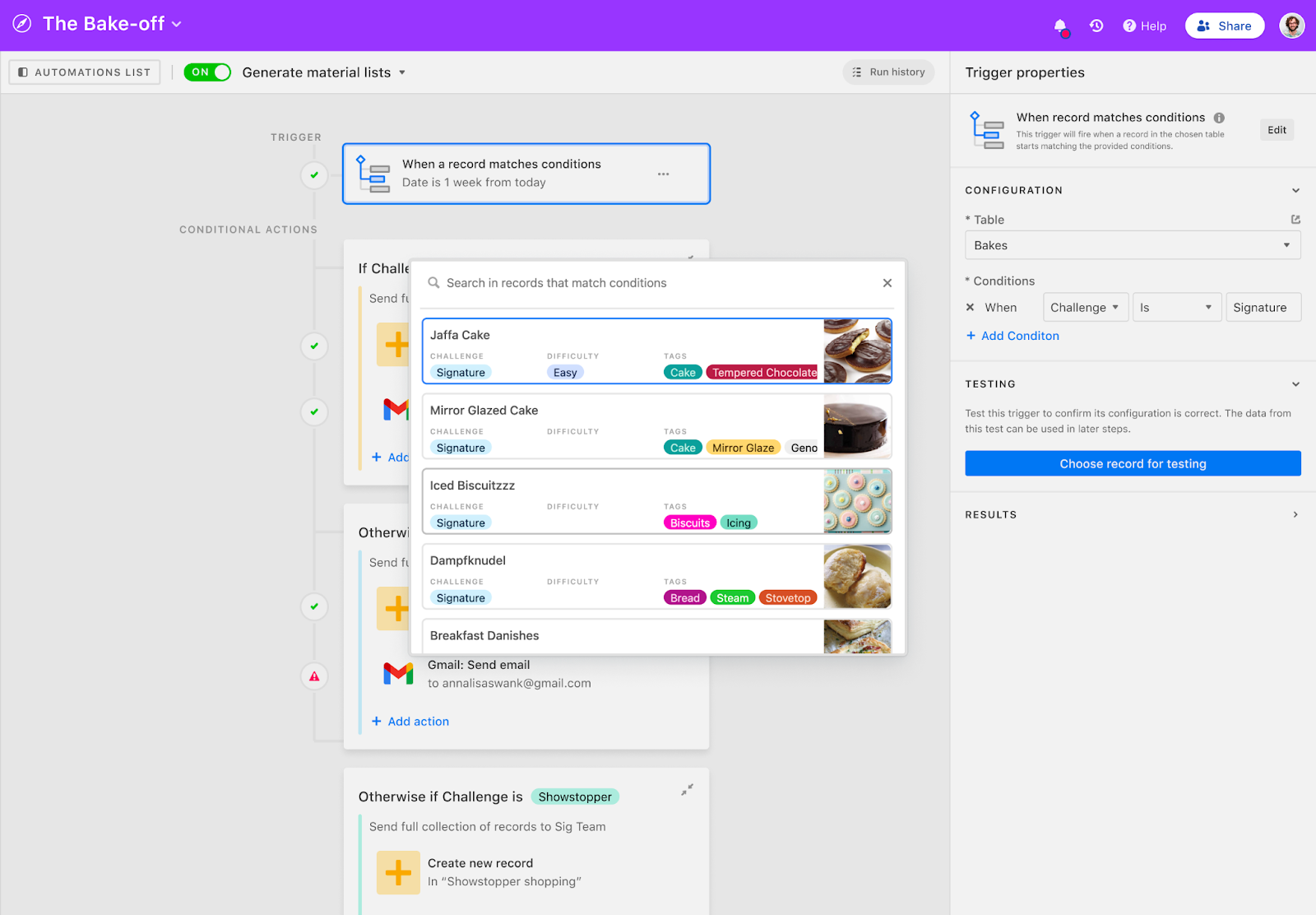 Precision is key to ensuring your automation will run exactly the way you want.
When setting up a trigger, you'll now be able to choose a specific record to use in your tests. That means you can verify that your automation will work with the data you intend to use, resulting in fewer mistakes.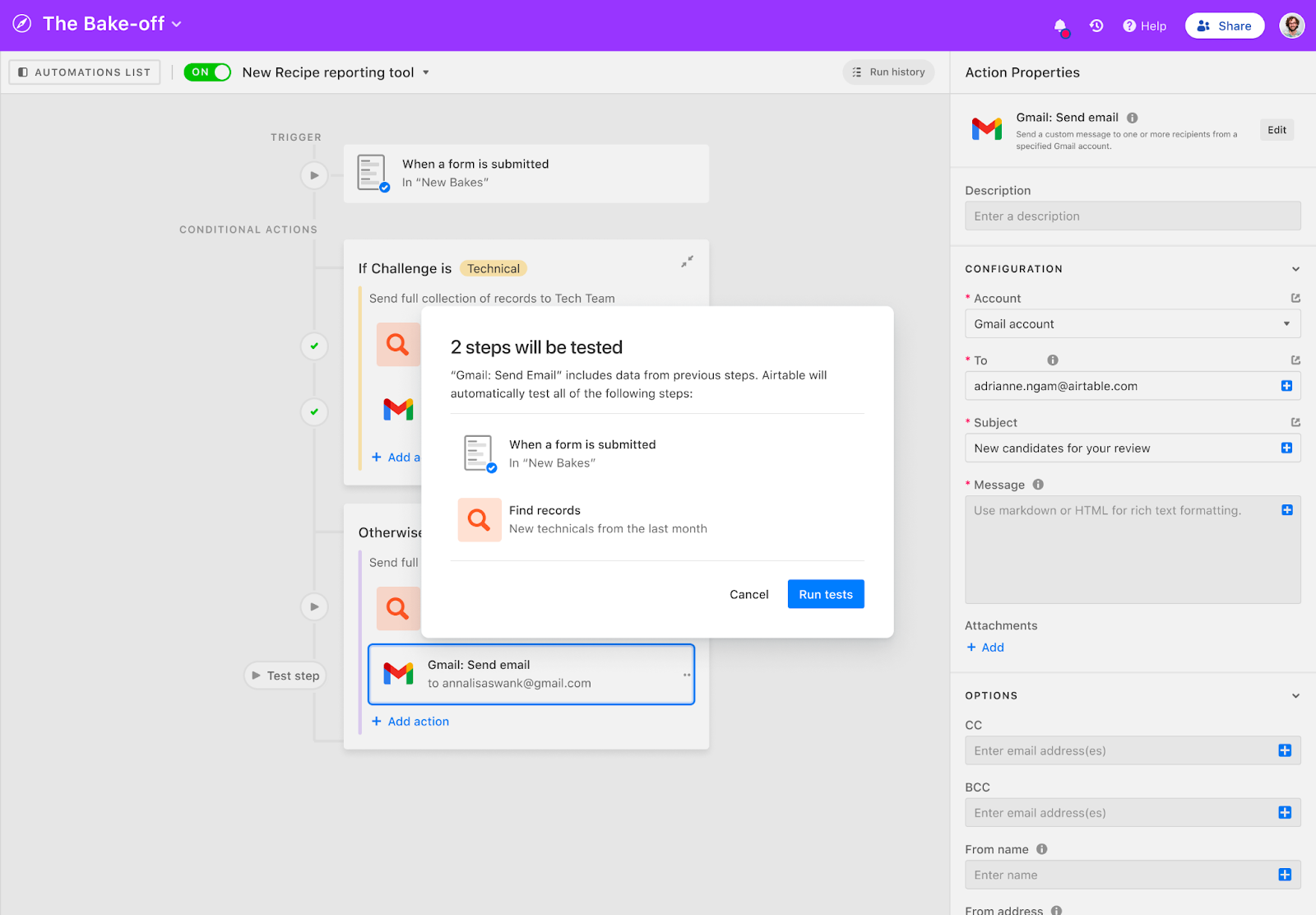 Finally, you can now test all of your automation's dependencies at once. Let's say you're an engineering lead who wants your team to be notified about new bug reports. You could, for example, create and test an automation that finds a record when it's been created, and notifies your team about it. Before, you'd have to test each step manually before moving onto the next.
Now, if you're testing a step that uses data from previous steps, it only takes a single click to test all of those dependencies. No more Slack messages from engineers saying they never received a message (or that they received it a few too many times.)
Coming soon
Manage your existing automations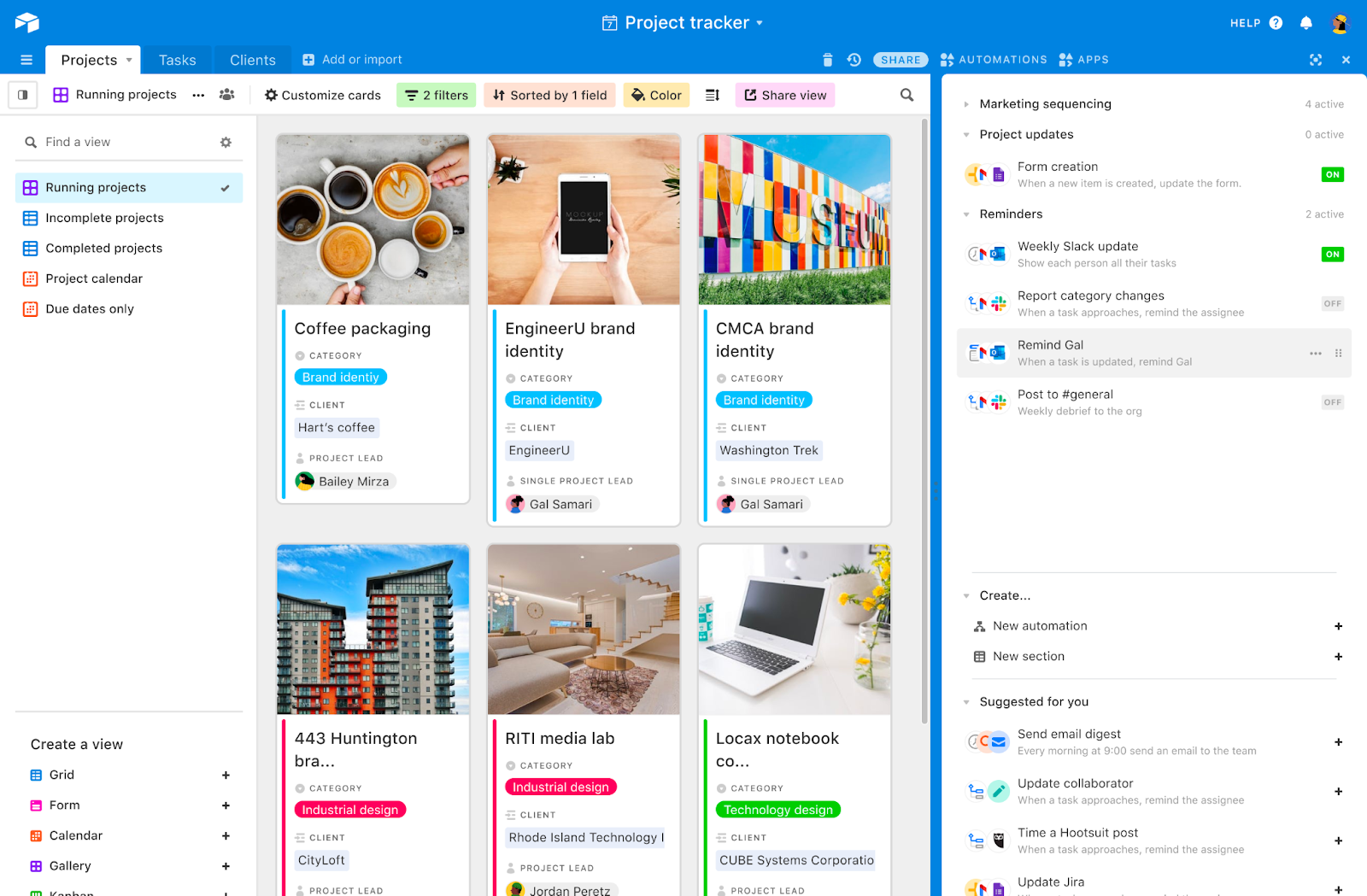 Have you automated every part of your workflow now? Great–because you'll be able to organize all of their automations into folders, allowing you to sort and search your creations in record time.
Scenario testing
You'll also be able to test your entire automation in one step, from the trigger down to the last action. This will simplify the testing process and allow you to trial run your automation before you roll it out to your team. More news coming soon!
---
We hope these new features help you streamline daily tasks, strengthen communication between teams, and put manual work on autopilot.