One Tree Planted used Airtable to boost its growth.
It's taken One Tree Planted just eight short years to plant enough trees to encircle the globe. (That's 42 million trees, standing roughly three feet apart.)  
Quite the feat for a nonprofit that only recently reached a headcount of 50. One Tree Planted's headquarters are in tiny Shelburne, Vermont, and the group has grown steadily each year since its 2014 founding. That first year, they planted just 50,000 trees. By 2020, they planted 10 million, a number that more than doubled to 23 million trees in 2021.
One Tree Planted founder Matt Hill: 'Airtable has been phenomenal for our growth.'
Why the change? The nonprofit staff switched from Google Sheets to Airtable in 2019, which let them screen 1,000 project proposals and report more efficiently on 600 plantings.
"Airtable has been phenomenal for our growth," says Chief Environmental Evangelist Matt Hill, founder of One Tree Planted. "We won a $250,000 donation with an energy company who loves  Airtable and said they're going to donate just because we use it."
Going green in the nick of time
The organization's work has a new sense of urgency lately, as reports on the effects of climate change grow more dire. When the Earth warms, whole species are knocked out and wild weather patterns wreak havoc on coastlines and forestlands alike.
Many large companies have gotten the memo. One Tree Planted started with just a few corporate partners. Now it counts Visa, Google, Amazon, Nestle, Facebook, and AstraZeneca as donors, and it has seen donations soar from $17 million in 2020 to $60 million in 2021.
Saving the planet with great presentations
The visual nature of Airtable gives the group a tremendous advantage when making its case. Senior Forest Director Stephanie Rochemont says she can head into partnership pitches more confidently with Airtable, sharing a kanban or gallery view of planting projects, with concise summaries, photos, location, and the status of each tree.
"It helps on both ends," Rochemont explains. "We can bring in funders and keep those funders up to date on the projects they're supporting. They very much enjoy it."
The staff itself uses a timeline view to map tree-planting projects for the year. What's ahead in the next day, week, or month, and how does it overlap with other global projects? One Tree Planted can visualize it easily in Airtable.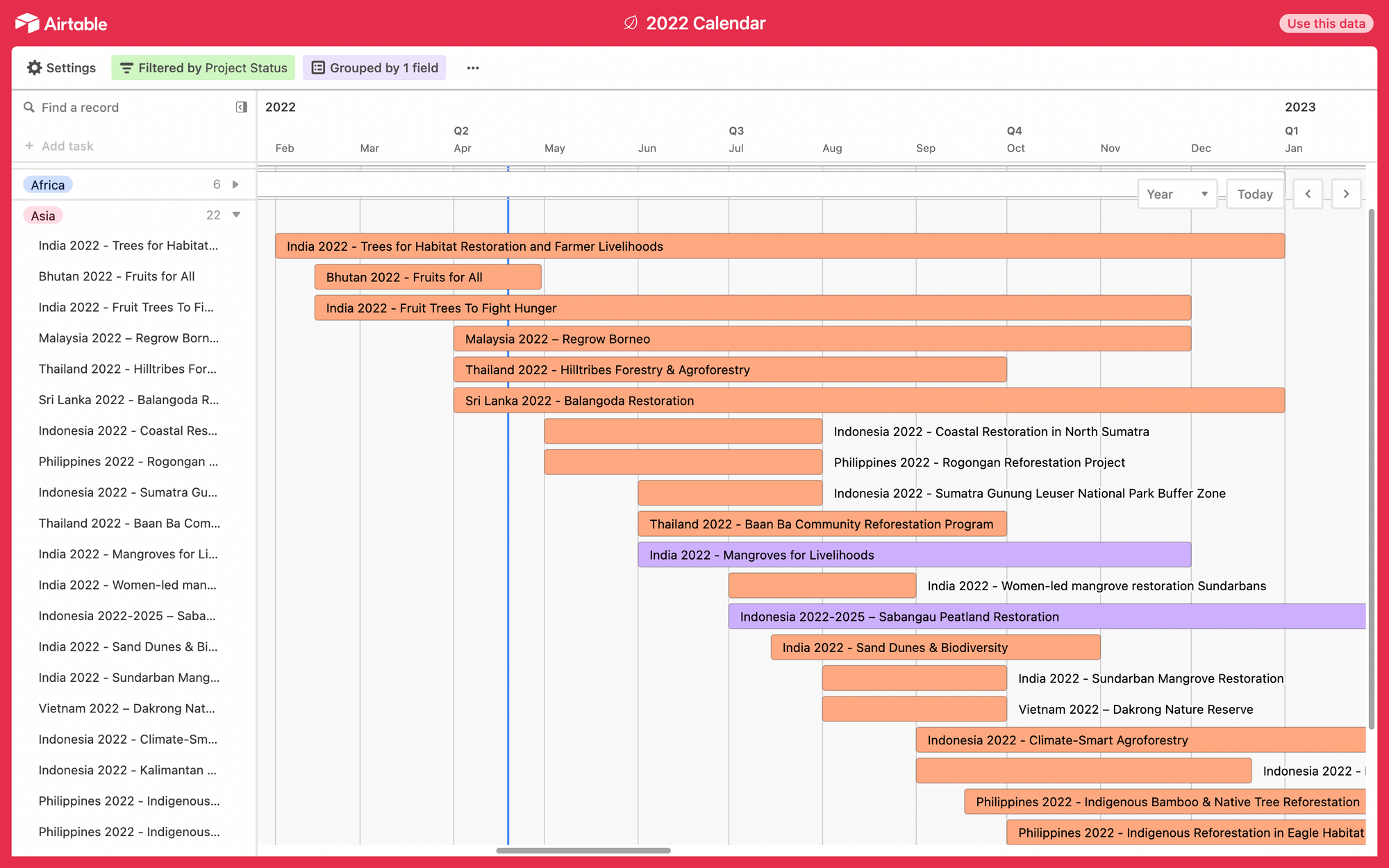 In a nonprofit, accurate and fast reporting is key. When One Tree Planted had just a few projects each year, it was no problem for staffers to fish around in emails for information. But working with many larger companies has required the staff to review and report on a tremendous amount of data. With critical information all in an Airtable base, One Tree Planted staff can respond much more quickly to donors.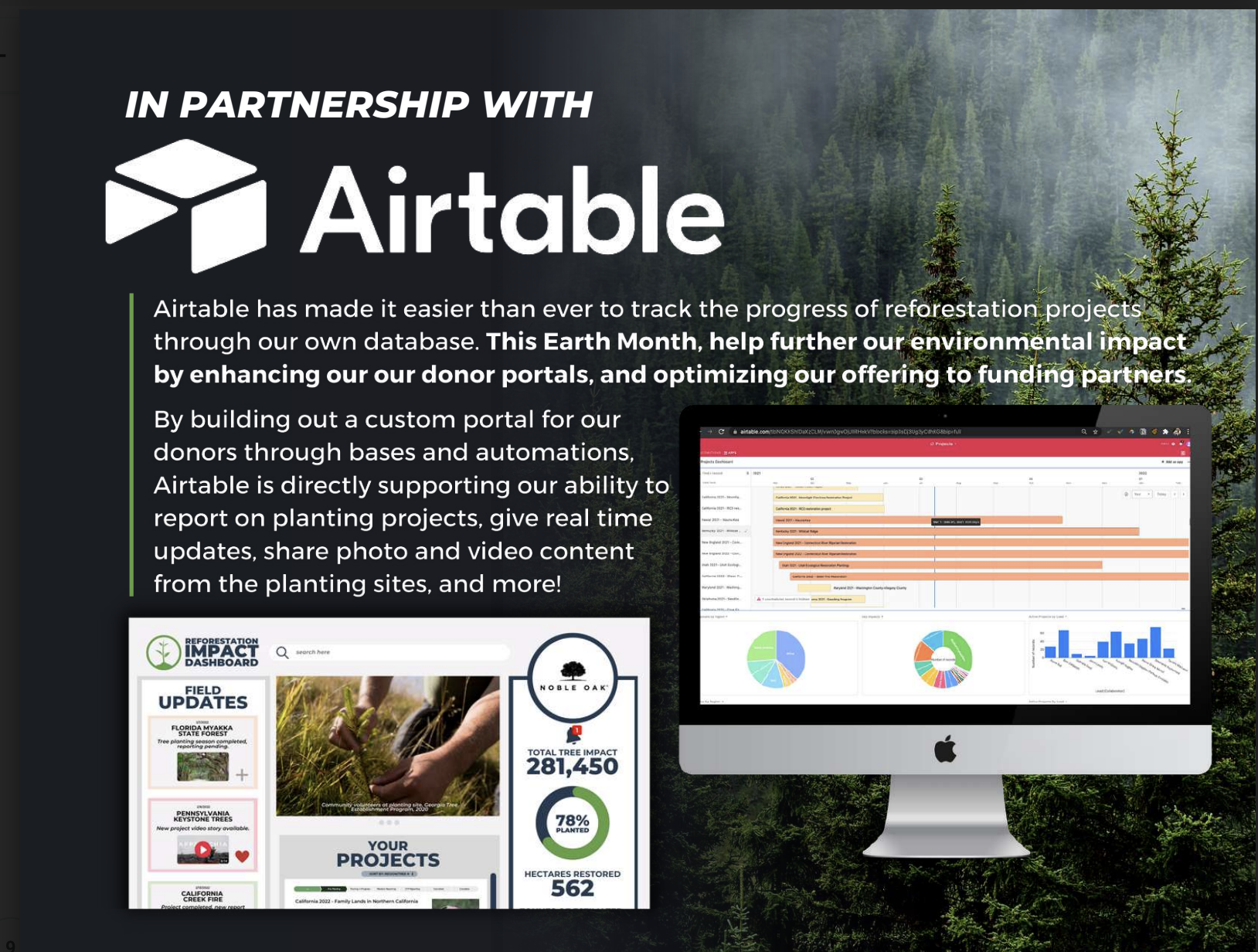 "We could go to a billion trees, and it's all in Airtable," says Hill. "Using Airtable has gotten rid of a lot of inefficiencies."
'Alexa, grow a tree'
If One Tree Planted's latest partnership is any indicator, environmental stewardship has a bright future. Amazon announced this month that when U.S. customers say: "Alexa, grow a tree," they can donate $1 to One Tree Planted, which is all the organization needs to plant one tree.
Behind the scenes at One Tree Planted, the staff uses Airtable automations to share project options with anyone who chooses this method of donation. So far those options include planting fruit trees in India, forest fire restoration in California, Orca Whale habitat protection in the Pacific Northwest, and repairing Appalachian forests damaged after mining.
One Tree Planted currently has active projects in North America, Latin America, Africa, Asia, Europe and the Pacific. Hill says his group's aim is to operate in 50 countries by the end of 2022. They're aiming to build even more automations to save time and manual processes, and integrate Airtable with more of its current tools, like Salesforce.
"Airtable is very important for us," says Hill. "We love that we're able to do everything—from beginning to end."