Introducing advanced filters, external source sync, and more.
Happy October! Got any spooky plans for the weekend? 👻

For my part, I'm going to walk an eighteen-month-old around the neighborhood in an Elmo costume (hers, not mine), drink "cider," and pass out candy bars.
And, hey—segue!—Airtable's been working on a few treats of their own this month. I don't know if you'll find "Advanced filters" quite as exciting as king-sized Kit Kat, but you don't have to dress like Elmo to claim them either.

As always, you can watch our video below to get the updates in 120-seconds or less, or read up on all the features on our blog.
More advanced filters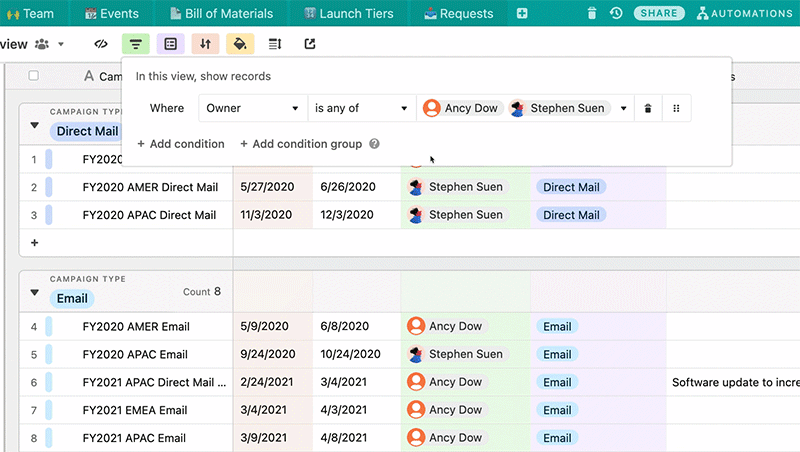 When you're looking for highly specific information, sometimes filtering by "and" or "or" just doesn't cut it.
Enter advanced filters. With advanced filters, you can see both "and" and "or" in a single filter configuration. This unlocks far more flexibility and customizability to filter information in Airtable—including areas such as view filtering, record coloring, conditional form fields, conditional lookups/rollups/counts, and more.
But nothing illustrates the utility quite like an example, so: let's say you want to find somewhere to eat where: 1) your rating is at least 3-stars 2) delivery is available OR 3) it's nearby in the Marina district where you live.
Down the hatch, bon appétit.

The scripting app and custom blocks SDK are now free

Airtable is great in the no-code platform, but we've also made it flexible for those that know code. That's why we're releasing our scripting app and custom blocks SDK to everyone for free.

Since their debut in 2020, these features have been incredibly popular amongst Airtable power users—allowing them to create powerful workflows with custom scripts and build real-time interactive apps that live right in Airtable.

Sync outside the Box
External source sync lets you continuously pull data from external platforms to integrate directly into your Airtable workflow. Today, we're announcing that our external sync integration for Box is now live for all customers on Pro and Enterprise plans.

Teams can now build powerful workflows on top of their assets managed in Box. For example, when a file gets uploaded to Box, you can trigger an automation that starts an approval workflow.
Using formulas & lookups in automations
Okay, this one might sound small, but it's important. You can now use formula fields as a condition in your automations. That means you can be even more precise with when you want your automations to run or what they automate.

That's it for this month. Thanks for reading along, and have a great weekend.  🎃