Merging endless contact lists from Excel to a single source of truth in Airtable
Shaking up systems and battling bureaucracy is the job description for Andrew Cates, General Counsel and Director of Government Affairs for the Texas Nurses Association. The TNA, founded in 1907 and located in Austin, is a statewide, professional association of licensed nurses. And every day, Cates fights to protect the workers' rights of 250,000 nurses in the Lone Star State.
Nurses face exposure to germs, needles — and patients with varying levels of distress — on a daily basis. Up until September 2015, Texas nurses who got hurt on the job in certain hospitals had limited recourse.
Why not?
It all traces back to an ambiguously-worded Texas law. The Medical Malpractice and Tort Reform Act of 2003 lumped these nurses' claims against their hospital employers into the same category as medical malpractice lawsuits.
When Cates joined TNA in March 2015, challenging this law was one of the first issues he tackled. With his help, the TNA was able to help pass a bill that allows nurses to seek compensation when injured on the job.
Cates's days are a blur of activity. At the Texas State Capitol, Cates hops from one meeting to another with key legislators to advocate for the protection of nurses in their work environment.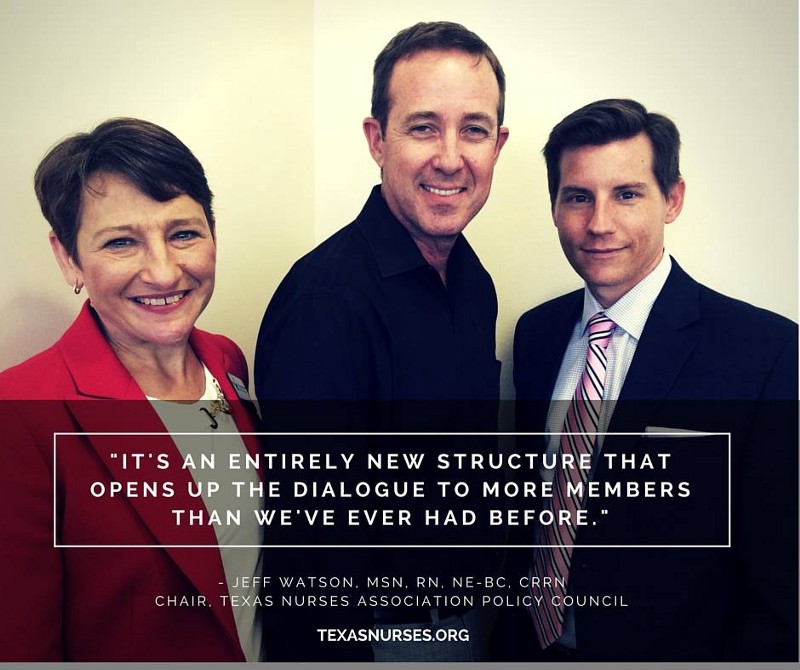 The Software Tools for Advocacy
Initially, Cates used Excel to create contact lists. "I fell into the processes that were already in place. It was an all-Windows office," says Cates. "I'm a lawyer. I'm not a technical person. I never used Excel to crunch data, but it's still the main, albeit antiquated, way that people in my industry organize contacts."
After he discovered Airtable, he was able to do much more than just store a simple text list of names. In Airtable, he keeps a highly visual record for each legislator, replete with profile photos to help remember faces, color-coded political affiliations, house or senate districts (with maps of exact district boundaries), and notes. He then uses Airtable's relational functionality to link each legislator to the nursing-related congressional committees to which they belong. He also created a separate linked table to list each congressperson's chief of staff, along with their contact information.
"It's great to go into a meeting with elected officials and have tons of information about them in my phone," Cates says. "I don't have to rely on printed information and endless lists of people — it's all integrated in one place. This base keeps me from having nine different contact lists."
Cates appreciates that he can use Airtable on any platform. "The fact that it isn't tied to an OS or an Office suite helps tremendously, now that I have a MacBook at home," he says. "No formatting issues anymore!"
Teamwork at TNA
Airtable has become much more than a solo tool for Andrew. He loops in other team members at TNA to share their collective knowledge around issues and legislators.
Not only is Airtable easy to share, but people on my team can add their comments.
Cates also wants to bring Airtable to the entire nursing community at large — all 250,000 nurses. He's experimenting with the best way to embed a public Airtable Form to allow association members to contribute ideas and feedback about the policy issues most important to them.
Beyond the Capitol
Cates's passion for advocacy extends beyond his day job. He recently self-published a book entitled Texas Ethics Laws. Intended for attorneys, candidates, consultants, and legislative staff, it offers a one-stop-shop guide to navigating the waters of the Texas Ethics Commission's laws on campaign finance and lobbying.
When Cates needed to organize customer pre-sales, shipments, and inventory, he knew Airtable would be the easiest way to organize it all. It lets him keep tabs on what books have shipped — and how many copies still need to be ordered. "Previously, I used Google Drive, and I find Airtable a lot easier," reports Cates. "The checkbox feature makes it easy to see whether or not a book has shipped."
Whether he's advocating for nurses, editing books, or creating a customized database, Cates believes in confronting the status quo and exploring new ways of doing things.
Shaking up the political world takes time — but Cates knows that the end results are worth it. And Airtable is the tool he counts on to help him accomplish his goals.
Check out Andrew Cates's Political Contacts Management template here.
Airtable: Organize anything you can imagine.
Airtable works like a spreadsheet but gives you the power of a database to organize anything. Sign up for free.