Announcing a revamp for the Airtable iOS app, available today in the App Store
That's right: we decided it was time for an upgrade. Starting today, there's a whole new Airtable available for iPhone users. (Android and iPad users — we have something for you too! Click here to sign up for our beta.)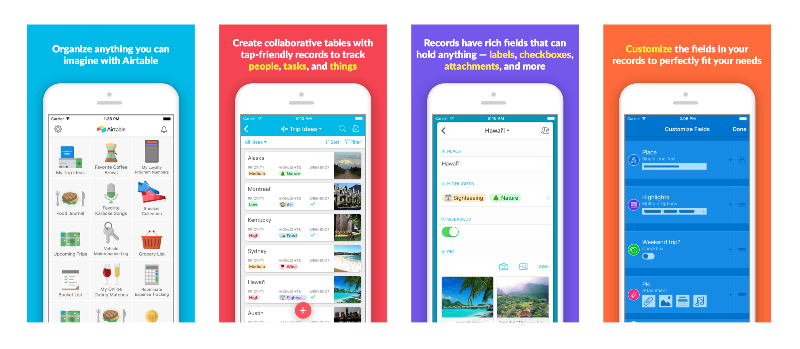 So what's new?
Bringing Design to the Database
Databases get a bad rap. They're often considered complicated, technical, and not particularly friendly.
We blame design — or the lack of it, really. Previous database apps have just assumed that their users already understand how a database works. But when you really think about it, there's no good reason why the database shouldn't be as intuitive as other, more ubiquitous productivity tools like spreadsheets or documents.
We think the first step is making sure everyone has a solid conception of how a database works. Once you've got a clear mental model of a database as a collection of structured records in a table, you can organize virtually anything.
We wanted to distill core database concepts into interactions and designs that anyone could understand — and we took the challenge to do so in the tiny setting of a mobile device. Through countless user studies, we refined and polished each interface to convey everything from the hierarchy of tables, records, and fields to the proper way to use views and record-linking functionality.
There's a new onboarding flow, video tutorials for important features, inline help tips — even basic settings screens got an overhaul. So if you're already an old hand at databases, you get a delightful new interface that makes it even easier to get stuff done — and if you're just getting started, there's help right when you need it.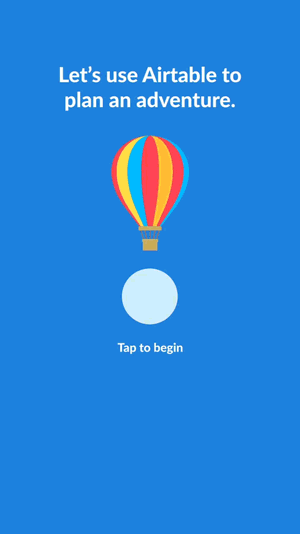 A Brand New "Blueprint Layout" Editor
Setting up the fields in a record is one of the most important parts of the database-building experience. Fields are the building blocks of the database, and there should be something magical and fun about piecing together the right fields for your needs.
With our new blueprint layout editor, we said goodbye to bland configuration screens, and instead welcomed in a colorful new experience that makes each field type feel special.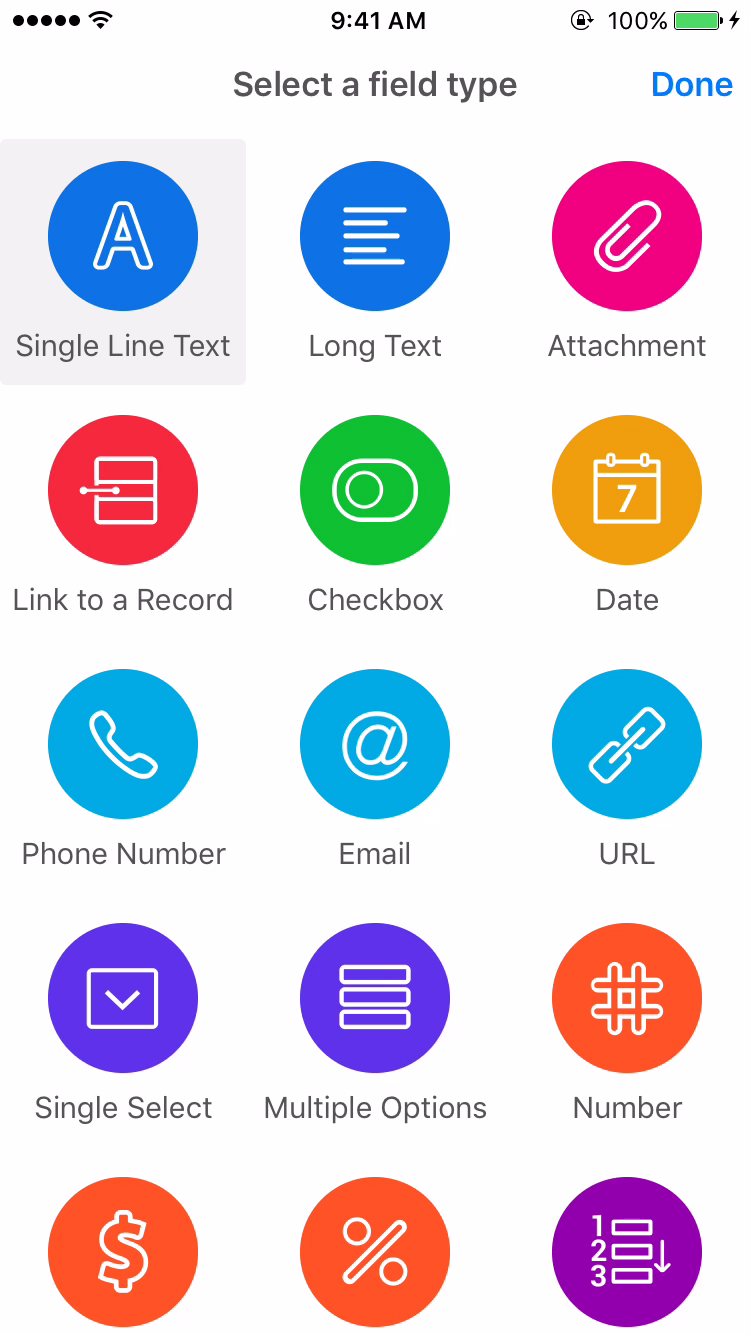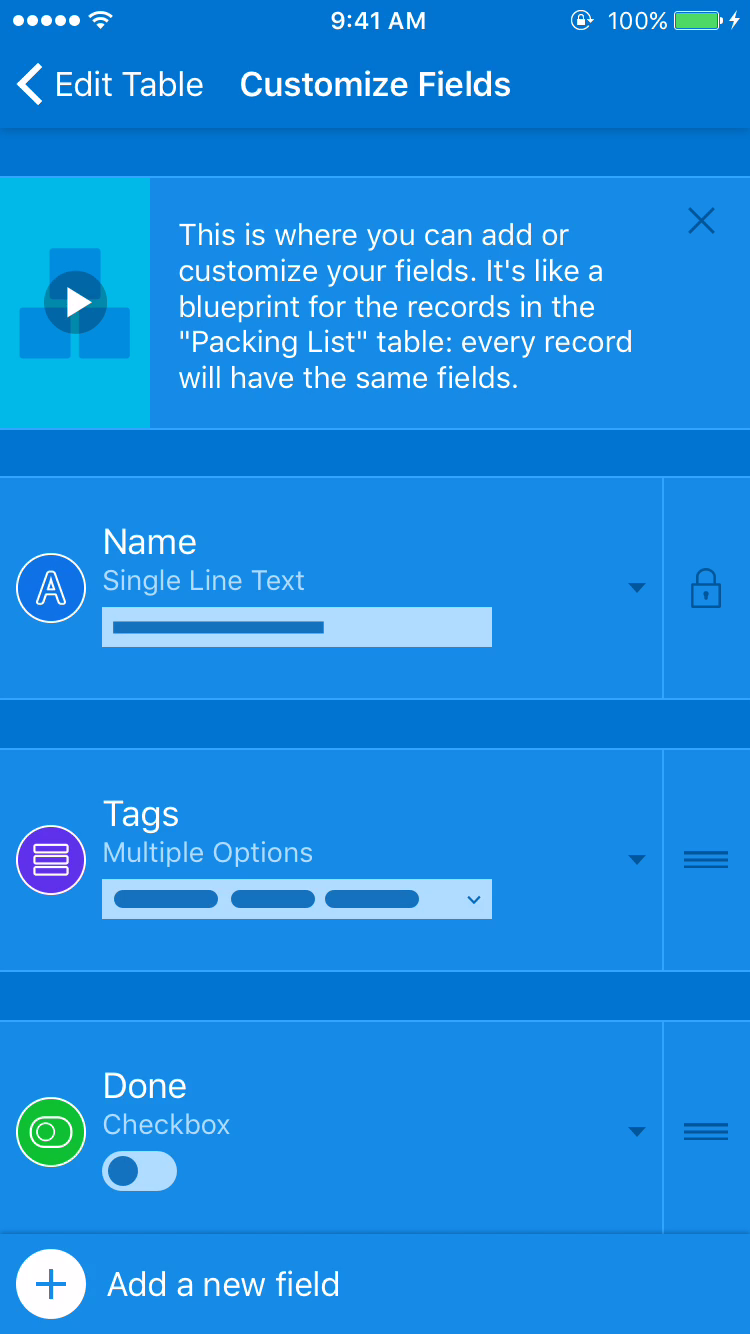 Everything is 3D Touch-ified
Quickly access recently used databases by 3D touching the app icon. Preview URLs, addresses, and dates in long text fields via 3D touch. It's an entirely new way to interact with your data on mobile. No pressure.
Oh, the Templates You'll Use
We redesigned the template gallery and filled it to the brim with dozens of new templates to help you get started. This goes beyond basic schema suggestions — every sample record was carefully crafted to inspire your next organizational adventure.
And we were thorough. We've got you covered whether you need to keep track of your indie film production or the veterinary history of your herd of cattle. (Seriously.) We even made a template to help you recruit a mascot for your sports team. Fair warning: we might have gotten a bit carried away. The mascots have resumes.
This is all to say: you are strongly encouraged to read the example records.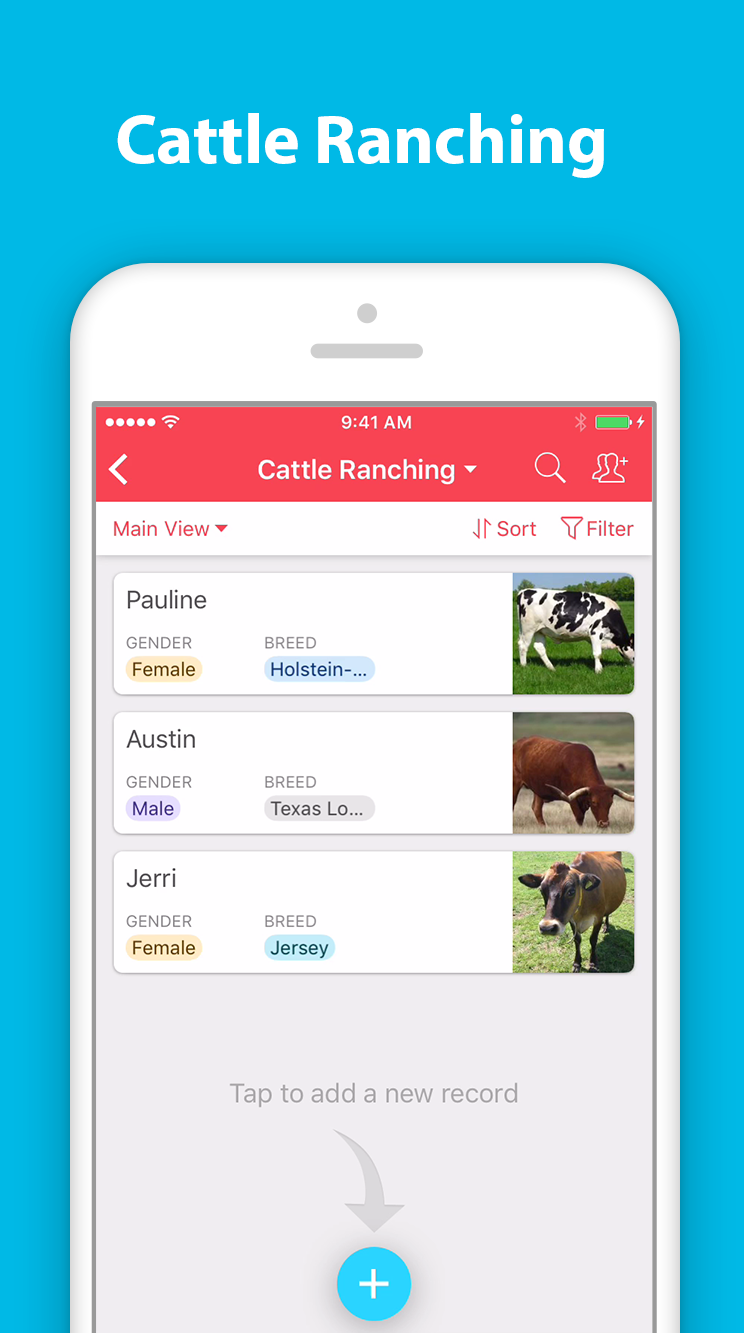 The TL;DR, in Bulletpoint Form
Fine, we'll get right to the point. Here's what's new:
A bright, polished visual redesign across the entire app with delicious new colors

A completely new illustrated and interactive onboarding experience to help you hit the ground running faster with Airtable

An in-app series of short, animated videos to explain powerful database concepts

Inline help tips that reveal themselves progressively as the app is used

A newly redesigned template gallery with dozens of new templates to help you get started with interesting and relevant use cases — or build your own

A colorful new "blueprint layout" editor for adding or changing field layouts

iOS 9 spotlight search to provide fast access to your databases

3D Touch the app icon to quickly access recently used databases

3D Touch to preview URLs, addresses, and dates in long text fields

Help resources and templates accessible directly from the home screen

Many, many small usability tweaks and bugfixes
What are you waiting for?! Go get the new version right now.
Questions, comments, or suggestions? We'd love to hear from you: support@airtable.com.
Psst: want to sign up for our Android and iPad betas? Let us know here.