With the new Zapier Slack Action, you can instantly send important ideas, tasks, files, and more to Airtable without leaving Slack.
If you need to connect to services you know and love, Zapier's your best friend, and now you can use Zapier to connect Slack and Airtable more closely than ever before. With Zapier's new Slack Action, you can push any Slack message to Airtable in just a few clicks without ever leaving Slack—ensuring that your ideas, action items, and tasks don't get lost in the shuffle.
After setting up the Zap using Zapier's New Pushed Message trigger, all you need to do is click the ... (ellipsis) button that appears beside any Slack message, then select the "Push to Zapier" option. The message contents—along with other helpful information like the channel name, username, and any optional text you might want to add—is sent over to Airtable to create a new record.
This opens a lot of great ways to expedite different types of workflows, from idea generation to task management. Keep reading for some ideas you can use right now that will hopefully help to inspire a few of your own, too.
---
#ideas 💭
Great ideas come up in conversation but often get lost in memory. While Slack does a great job of keeping track of everything you say in chat so you can look it up later, you have to actually remember what you're looking for in order to find it. So when a great idea comes up—whether you're brainstorming potential projects, next week's tweets, or new guests for your podcast—you can avoid losing it by telling Zapier to log it as an Airtable record.
#pitches 💬

If you get a great pitch during a Slack brainstorming session, you don't have to stop the flow to save it for later. Just push the message to Zapier, add any notes that may come in handy, and you'll have a new article idea already in the editorial queue.
#inspo ✨
Slack is a great way to share inspirational content with the rest of your team. If your team is constantly dropping interesting and discussion-worthy links, news, videos, and files in Slack, you can save the best of the best in an Airtable base with just a few clicks.
#buzz 🐝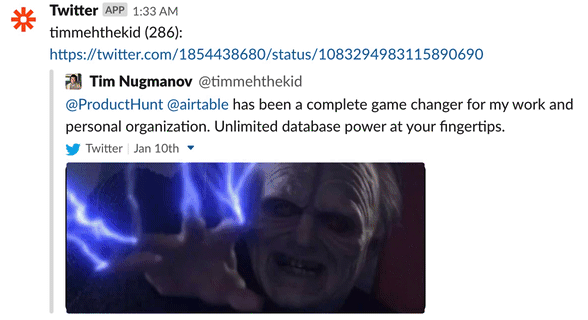 If you're already using Zapier to automatically put relevant social media posts into Slack—for example, if you've got a Slack channel set up to share new Twitter mentions of your brand, or if you get Slack notifications for new Instagram photos and videos using a certain hashtag—you can easily save your favorite social posts for later with a Zapier Slack action.
#feedback 🗣
Many companies use Slack to communicate with customers directly and to create a community. When customers give you product feedback in your Slack community, you can log it in your customer feedback base without leaving the conversation or performing any tedious copying and pasting.
#bugs 🐛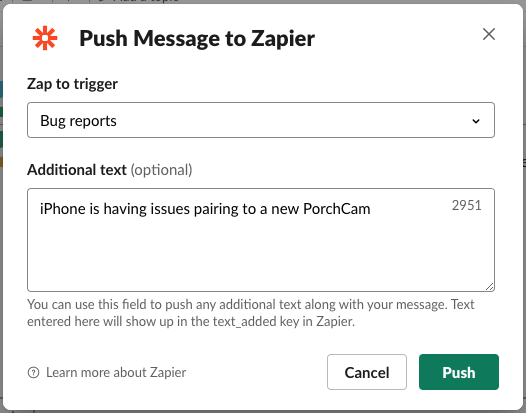 When a teammate surfaces a bug or an issue in Slack, you can save yourself a lot of work by implementing a Zapier Slack Action that lets you log product issues straight to your Airtable bug tracker. Add your own notes with the additional text box Zapier provides.
There's more!
These are just a handful of ideas to inspire you to make great use of this new Zapier integration and save yourself a lot of time, but you're not limited to these suggestions. If you have a particular workflow in mind, give it a try! Anything you can say in Slack, you can add to Airtable with Zapier.
And since Zapier connects to over a thousand apps, you can use the Zapier Slack Action to save Slack messages to Evernote, or to create personal tasks in Todoist. You can even chain together many different apps with Zapier's Multi-Step Zaps!
Ready to get started? We've got a tutorial to help you. It only takes a few minutes to set up a Zap, so you'll be working more efficiently before you know it.