The pace of change is accelerating—can the way you work keep up?
Ask anyone on your marketing team and you'll hear the same story. Across the board, we're seeing higher volumes of work, more responsibilities, and far more competition for customers' attention than we ever have before. And that's on top of doing our jobs in the middle of a global pandemic.
It's not to say that marketers aren't adaptable. Far from it. In just a few short years, marketing has completely reinvented itself—about a dozen times. There's always a new social algorithm to learn, or a social media platform to master, or consumer need to meet.
But this moment is different. Because it's not just marketing that's changing. It's work itself.
Here's what I've seen:
Content is ubiquitous: Content consumption has become a reflex. We fact-check stories from friends, read a dozen reviews while we shop online, and scroll through social media between meetings. Content is the bridge that connects us to customers. It's not just why they buy: it's how they experience our brand. But even with huge investments in content, marketers are scrambling to meet increased demand. That leaves marketers caught up in the minutiae of production—instead of focusing on customer experience.
Marketing drives growth, not just campaigns: Marketers are now expected to not only launch brilliant campaigns, but to influence decisions throughout the customer journey—and ultimately, drive measurable results. To pull that off, marketing teams have to connect all the disparate plans, products, sales, operations, and teams in the company. So the marketing toolkit that worked for your team five years ago—or frankly, even a year ago—isn't much use for the way we operate today. We need a new operating model: one that brings our people, data, processes, and insights together.
Remote work changed work: Collaboration has always been hard. Add multiple time zones, external vendors, and WiFi problems to the mix...and that's really hard. Even simple tasks, like syncing on campaign progress, have transformed from a quick hallway chat to a slurry of pings, emails, and Zoom check-ins. Looking back, it's clear that many workflows weren't ready for distributed work. Many still aren't. Even as we begin to imagine what returning to an office might look like, it's unlikely we'll ever return entirely to our old ways.
We can't navigate this new landscape with the same old compass. At Airtable, we know that as work evolves, our need to adapt at scale does, too. That's why I'm excited to share some of our new capabilities that'll help marketers bring greater agility, flexibility, collaboration, and scale to their teams. Here's what's new:
Invite new ways of working with resilient, future-ready workflows
Our research shows that 46% of marketing leaders lack the timely data they need to make strategic decisions. When the information you need isn't universally available—and more importantly, accessible—you're stuck spending would-be productive time on information sleuthing. And it's nearly impossible to move fast enough or make timely strategic decisions. That's why information needs to be visible—to the right people, at the right time—in a central, single source of truth.
But it's hard to align around one source of truth when your most crucial data comes from multiple places. Enter multi-source sync.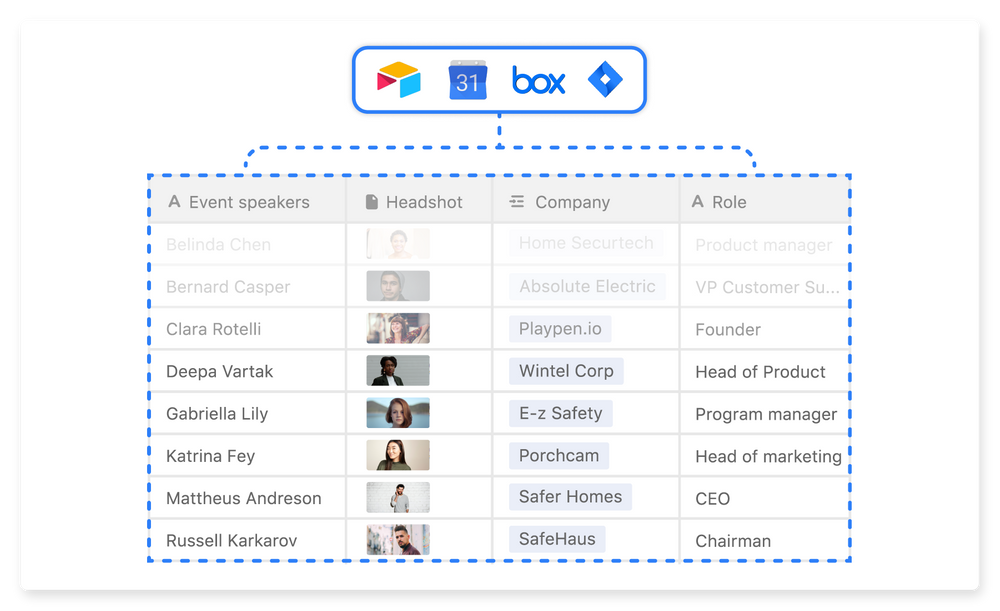 Multi-source sync lets you pull in information from other bases, plus other tools—like Google Calendar, Box, and Jira—into one, unified space. Every knocked-down silo leads to more efficient and informed decision-making.
Our new suggested automations are designed to streamline your work even further, with pre-populated "if-then" actions. For example, you can create a recurring email digest, or send a Slack message when your base is updated. Best of all, to get started all you have to do is select from a menu of pre-built automations and put them to work.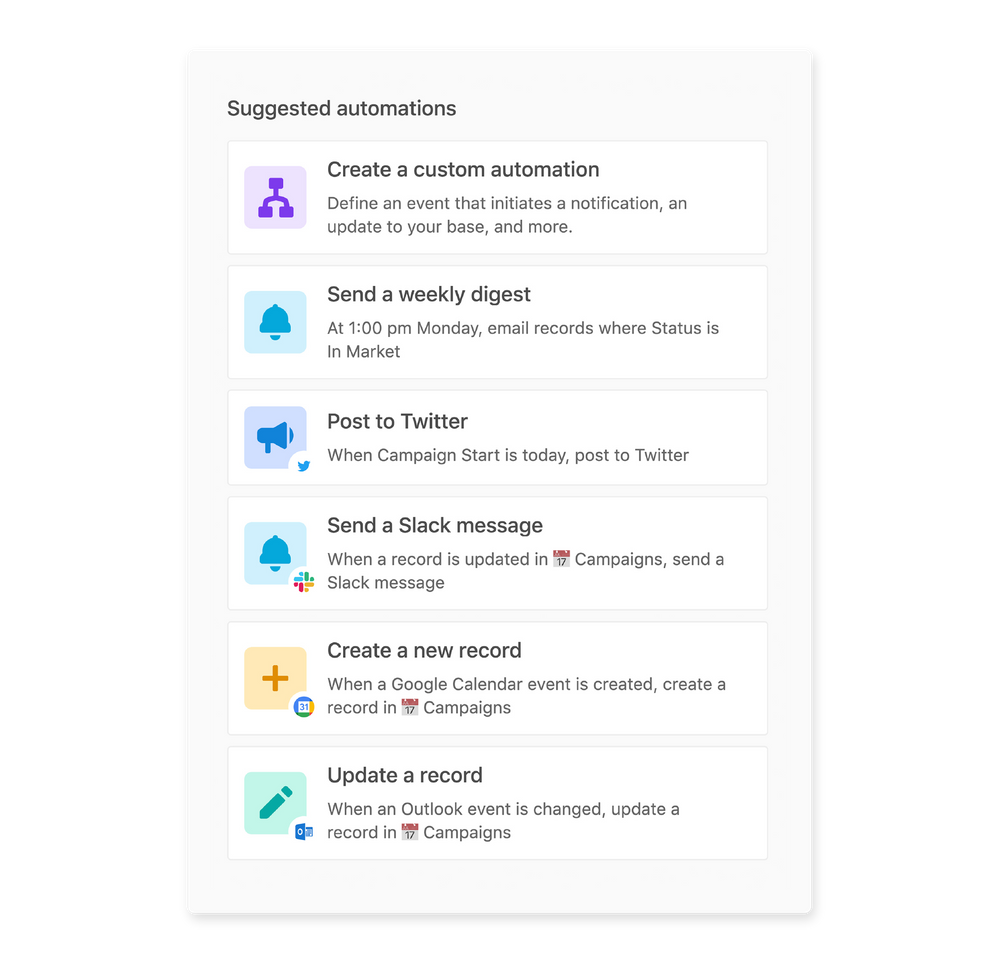 Enable flexible, personalized ways of working
The information you work with is going to change—so the way you view it has to be flexible. From Kanban to calendars and grids to galleries, Airtable's flexible views let your team make their own perfect window into the same data and information. And now, we're adding a new view to that lineup: the Gantt view.
The new Gantt view keeps everything on track and makes it almost impossible for deadlines to slip through cracks. It takes a visual approach to campaign management, which helps contributors understand a project's context and align with their peers. At the same time, managers and project drivers can see high-level timelines and dependencies at a glance. And since it's available as a view type, it's easy to toggle between your Gantt views and other key views in your base.

To help you customize your workflow even more, we've also added a marketing collection to Marketplace. It's a collection of apps, scripts, and more based on our most popular marketing add-ons. And again, no coding required.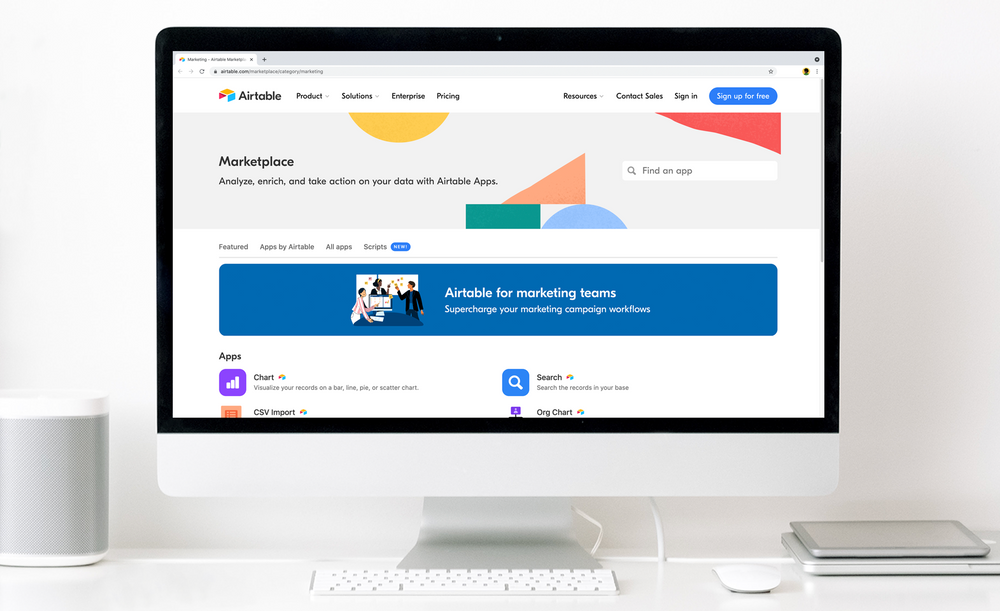 Take the chart app for example. With it, you can build reporting dashboards directly into your base. Or, you use scripts to create custom task templates. Combined with view options, you can build your own powerful, customized workflow that evolves with your work.
Your new way of working starts now
The shifts we've seen—increased customer expectations, greater ownership of business goals, and the rise of decentralized work—have fundamentally changed marketing. Agility at scale requires a new mindset, and a new way to work.
The experiences we've announced today were designed to help marketers keep up with changes, and keep scaling. We're excited to see what you and your team build with Airtable. We're far from finished—this is only the start.
Ready to take your workflows to the next level? Learn more about marketing campaign management, or how your team can build engaging, personalized content and experiences with Airtable.